It Won't Be Easy For Republicans To Get Rid Of Donald Trump
Despite his remarks about John McCain, Donald Trump is likely to be around for some time to come.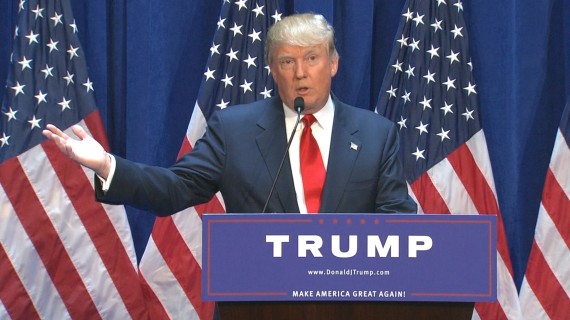 Since Saturday, the political news media has been almost completely fixated on Donald Trump, and specifically the remarks he made a gathering in Iowa where he downplayed John McCain's military service and the five-and -a-half years he spent as a prisoner in North Vietnam. With the notable exception of Ted Cruz, Trump's remarks have been universally condemned by his fellow Republican candidates as well as others such as the Republican National Committee, and even Hillary Clinton, and Secretary of State John Kerry. More recently, The Des Moines Register has published an extraordinarily caustic editorial calling on Trump to end his "bloviating side show' and the New Hampshire Union-Leader has published a highly sarcastic editorial poking fun at the playboy lifestyle Trump led while McCain was being held prisoner. Despite all of that, though, there seems to be little sign that Trump is going away any time soon, and two recent polls that suggest that he may not have been harmed by the McCain's as much as many had hoped.
First up, a new Monmouth poll out of Iowa shows Trump in second place behind Scott Walker and the only candidate other than Walker in double digits:
A poll shows that before Donald Trump told Iowans that Arizona Sen. John McCain isn't a war hero, the New Yorker was in second place with likely GOP caucusgoers here.

A Monmouth University poll taken July 16-19 put Wisconsin Gov. Scott Walker strongly in the lead with the support of 22%. Trump fared the next best, trailing Walker by 9 points, according to a news release Monday.

On Saturday, the third day of the Monmouth poll, Trump told a mass gathering of religious conservatives that just because McCain was a prisoner of war in Vietnam it doesn't make him a war hero.

"He's not a war hero. He is a war hero because he was captured," Trump, a real estate mogul turned reality TV star, said during his time on stage during the Family Leadership Summit in Ames. "I like people that weren't captured, OK? I hate to tell you."

Those comments triggered a firestorm, including criticism from some Iowa Republicans. Trump later sent out news releases defending himself as a staunch backer of veterans, but continued to rake McCain for failing to prevent illegal immigration and the "tremendous amounts of crime" it has caused, and for failing to improve "the horrible treatment that our veterans are receiving."

On Sunday, the fourth day of polling, Monmouth "did not find any significant change in support for Trump," the university's news release says.
A second poll released late yesterday from The Washington Post and ABC News, meanwhile, put Trump in the lead nationally but suggested that there may have been a drop off in support after his remarks about McCain:
Businessman Donald Trump surged into the lead for the 2016 Republican presidential nomination, with almost twice the support of his closest rival, just as he ignited a new controversy after making disparaging remarks about Sen. John McCain's Vietnam War service, according to a new Washington Post-ABC News poll.

Support for Trump fell sharply on the one night that voters were surveyed following those comments. Telephone interviewing for the poll began Thursday, and most calls were completed before the news about the remarks was widely reported.

Although the sample size for the final day was small, the decline was statistically significant. Still, it is difficult to predict what could happen to Trump's support in the coming days and weeks as the controversy plays out.

Even with the drop in support on the final night of the survey, Trump was the favorite of 24 percent of registered Republicans and Republican-leaning independents. That is the highest percentage and biggest lead recorded by any GOP candidate this year in Post-ABC News polls and marks a sixfold increase in his support since late May, shortly before he formally joined the race.

Wisconsin Gov. Scott Walker, who announced his candidacy a week ago, is in second place, at 13 percent, followed by former Florida governor Jeb Bush, at 12 percent. Walker's support is strongest among those who describe themselves as "very conservative."

The next seven, ranging in support from 8 percent to 3 percent, are: former Arkansas governor Mike Huckabee, Sen. Marco Rubio (Fla.), retired neurosurgeon Ben Carson, Sen. Rand Paul (Ky.), Sen. Ted Cruz (Tex.), former Texas governor Rick Perry and New Jersey Gov. Chris Christie.

The rankings are more important than early national surveys in previous campaigns because only the top 10 candidates, based on an average of the most recent national polls, will qualify for the first Republican debates. The first debate will be held Aug. 6 in Cleveland. Fox News Channel is the sponsor of that event and established the rules for eligibility.

The bottom six candidates in the Post-ABC News survey are Ohio Gov. John Kasich, who plans to announce his candidacy Tuesday, Louisiana Gov. Bobby Jindal, former New York governor George Pataki, former senator Rick Santorum (Pa.), businesswoman Carly Fiorina and Sen. Lindsey O. Graham (S.C.). Their support ranges from 2 percent to less than 1 percent.
The fact that the Post/ABC poll showed what pollsters described as a "significant" drop in Trump's support on the final of the poll when news about his McCain remarks had become widespread public knowledge, likely gives Republicans who have been watching Trump's rise with consternation some hope that, perhaps, The Donald has finally stuck his foot in his mouth far enough to end his surge among Republican voters. As I said when I wrote about this on Saturday, the fact that support for the military is so strong among Republicans was good reason to believe that what Trump said would end up hurting him with even the populist voters that seem to be rallying to his side. When you look at the details, though, and examine the reasons why Trump has become so popular, it's unclear whether that optimism is well-placed.
First of all, the Monmouth poll should stand as a counter-example to what the Post/ABC shows.  In that poll, Trump's numbers did not decline at all even on the days after his remarks about McCain were reported. Given that, it's entirely unclear if what the Post/ABC pollsters experienced on Sunday was the beginning of trend or a statistical blip. Secondly, it should be noted that the polling of Republican voters that was done on Sunday constituted just 8% of the entire sample of prospective Republican voters in the poll. Given that, it's hard to say that the results from that one day are indicative of much of anything other than the statistical and demographic peculiarities of that particular days polling. Additionally, it's difficult tos ay exactly why Trump's numbers were lower on Sunday than on any of the previous three days of polling. There could have been any of  a number of demographic reasons for that, and when you're dealing with such a small sample to begin with, it's not entirely proper to draw conclusions based on just one day of polling. Over the course of the entire poll, Trump's numbers are very strong, and if it weren't for the statistical blip of the final day he would have ended up somewhere closer to 30% in the final polling. That's a very strong number, and it's somewhat wishful thinking for people to assume that one flip remark about John McCain is going to be the end of the Trump Bubble.
The second reason that Republicans hoping for a quick end to the Trump circus should temper their optimism is because it seems as though they are seriously misunderstanding the reasons for his popularity right now. As I said last week, one of the reasons that Trump is doing well in the polls right now is because he is saying things that a lot of Republicans like to hear. This isn't just true of immigration, although that's certainly the largest part it, but a number issues along with the fact that Trump seems to be tapping into the same kind of navitist populism that the Tea Party, along with candidates such as Michele Bachmann, Herman Cain, and Newt Gingrich have in the past. Additionally, the fact that he is such a frequent media target is something that plays into a long-standing meme of media bias that has a long history on the right. Just yesterday, Rush Limbaugh jumped to Trump's defense just for that reason, and Sarah Palin said that Trump is as much of a hero as John McCain. Because of this, and for other reasons that Conor Friedersdorf mentions in his piece at The Atlantic, the idea that Trump is just going to fade away quickly is probably just a fantasy.
Josh Marshall pointed out yesterday exactly why it will be hard for Republicans to get right of Trump as easily as they might hope: