New Poll Shows Biden, Sanders, and Warren Tied At The Top Of Democratic Field
A new poll shows Joe Biden dropping significantly among national Democrats to the point where he is effectively tied with Bernie Sanders and Elizabeth Warren.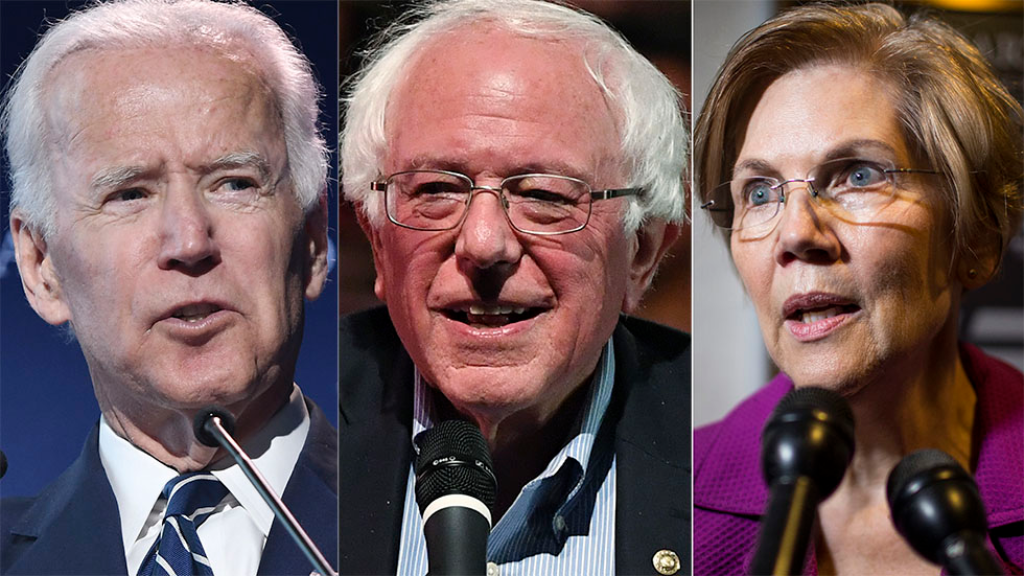 A new poll from Monmouth University of the national race for the Democratic nomination shows what could be a significant development in the race for the nomination:
Bernie Sanders and Elizabeth Warren have surged to tie with Joe Biden atop the Democratic presidential field, according to a poll that suggests the three are solidifying their status as the top tier in the massive field.

The Monmouth University poll, released Monday, shows Sanders and Warren deadlocked among Democratic voters at 20 percent, with Biden a point behind, at 19 percent. No other candidate cracks double digits: Kamala Harris is in fourth place, at 8 percent.

Compared with the Monmouth poll in June, Sanders has ticked up 6 points, and Warren 5 points. Biden dropped 13 points, from 32 percent in June.

The poll shows Biden's slippage coming across the Democratic electorate, rather than from a specific demographic or ideological group. He is down 14 points among white and nonwhite voters. He's down 14 points among men, and 13 points among women. He's down 15 points among voters younger than 50 years old, and 9 percent among voters 50 and older.

Biden also slipped 18 points among Democratic voters who described themselves as moderate or conservative, and 9 points among self-identified liberals.

"The main takeaway from this poll is that the Democratic race has become volatile," said Patrick Murray, director of the Monmouth University Polling Institute. "Liberal voters are starting to cast about for a candidate they can identify with. Moderate voters, who have been paying less attention, seem to be expressing doubts about Biden. But they are swinging more toward one of the left-leaning contenders with high name recognition rather than toward a lesser known candidate who might be more in line with them politically."

The Monmouth poll is the first major national poll all year to show a candidate other than Biden in the lead. It differs from some surveys conducted over similar time periods. A CNN/SSRS national poll, conducted Aug. 15-18, showed Biden at 29 percent, significantly ahead of Sanders (15 percent) and Warren (14 percent).

The Monmouth poll, which was conducted Aug. 16-20, surveyed 298 Democratic voters. The margin of error is plus or minus 5.7 percentage points.

Aside from the top three candidates — plus Harris in fourth place — no other candidate earns 5 percent support. Cory Booker and Pete Buttigieg are at 4 percent, and entrepreneur Andrew Yang is at 3 percent. Tying for eighth place at 2 percent are Julián Castro, Beto O'Rourke and Marianne Williamson.
One of the biggest factors that this poll measures that appears to account for most of Biden's 13 point drop can be found in the poll demographics, where support for the former Vice-President dropped from 20% in the previous Monmouth poll to 6% in the poll. The puzzling thing about the drop, though, is that it's unclear exactly what the cause of it could be, especially given the fact that, other than the YouGov poll, all of the other recent polling seems to show Biden maintaining a strong lead over the rest of the field while Warren, Sanders, and Harris were battling it out for second place. Yes, it's true we've seen a few minor gaffes from the former Vice-President in that time but none of them have been that significant nor have they received the kind of coverage in the media that would account for a drop like this. Additionally, while we have seen Warren and Sanders rising in the polls, there's nothing from the headlines that would appear to account for what appears to be such a radical change in the state of the race. This is why we should wait to see what other polling has to say before jumping to any conclusions.
In addition to this poll, there are three other polls that have been released since the last time we looked at the national polling just about a week ago:
The latest Economist/YouGov poll is largely consistent with the Monmouth poll in that it shows former Vice-President Biden at 22%. followed by Senator Sanders at 19%, Senator Warren at 18%, Senator Harris and Mayor Pete Buttigieg tied at 8%, former Congressman Beto O'Rourke at 3%, Senator Cory Booker and Congresswoman Tulsi Gabbard tied at 2%, and all other candidates at or below 1%;
The latest CNN poll has Biden at 29%, Sanders at 15%, Warren at 14%, Harris and Buttigieg tied at 5%, O'Rourke at 3%, Booker tied at 2% with Julian Castro and Tulsi Gabbard, and all other candidates at or under 1%; and finally,
The latest Politico/Morning Consult poll shows Biden at 31%, Sanders at 20%, Warren at 13%, Harris at 9%, Buttigieg at 5%, O'Rourke, Booker, and Andrew Yang tied at 3%, and all other candidates at or under 1%
Harry Enten at CNN tries to put all these new polls into perspective:
So does Monmouth's poll mark a turning point in the Democratic race for president? Or is this merely an outlier that later polls won't back up? My inclination is to say that it's an outlier and to pay attention to the average, though the truth is that we just don't know.

Let's place the Monmouth poll into context of what other polls have found.If you average Monmouth's poll with the three other high-quality national polls taken this month from CNN/SSRS, Fox News and Quinnipiac University, you get a clear Biden lead: Biden at 28%, Warren 19% and Sanders 14%..When you break it down further, you see that Monmouth did not poll at a vastly later date than others or among a different set of voters.

Monmouth conducted its poll on August 16-20 among voters who say they are Democrats and independents who say they lean toward the Democratic Party.

Interestingly enough, CNN did its own poll of the race August 15-18 among this same defined group. Unlike Monmouth, CNN put Biden up with 29% to Sanders' 15% and Warren's 14%.

The CNN poll looks a lot more like other polls of the race taken this month when it comes to Biden. Fox News was in the field from August 11-13 (within a week of the Monmouth and CNN polls) and showed Biden at 31%, Warren 20% and Sanders 10%. Unlike CNN and Monmouth, Fox didn't preassign voters to the Democratic primary based on party identification. Instead, they asked all voters which primary they'd vote in.

Fox News' poll mirrors a Quinnipiac University poll taken from August1-4. Done among the same subset of voters (Democrats and Democratic-leaning independents) as CNN and Monmouth, Quinnipiac found Biden 32%, Warren 21% and Sanders at 14%.

You'll note that in all of these other polls, Biden's doing at least 10 points better than he was doing in the Monmouth poll. It seems unlikely to me that Biden lost so much ground within the two-day period of CNN ending its own poll.
Still, as Enten notes there are still reasons to believe the Monmouth poll may be accurate:
First, the only real difference between Monmouth's poll and others is that Biden is down. The Monmouth results for Sanders and Warren are within the margin of error of the other polls. Warren's at 20% or 21% in three of these four polls listed above, and the one poll she isn't at 20% or 21% has her within the margin of error of 20%. Sanders' average across the four polls is 15%, and each poll result has him within the margin of error of that average.

Second, there are other polls that don't meet CNN's standards that show similar results to the Monmouth poll. While we don't report on those polls for a slew of reasons, it does suggest there is a universe in which Biden isn't doing as well as well as some other polls have found.

Third, Monmouth is a very good pollster. Maybe Biden really has lost a lot of ground or maybe he wasn't that strong as other high-quality polls have found. After all, Warren does seem to be generating a lot of enthusiasm (see her crowd in Seattle).
All of this has resulted in some big changes in the RealClearPolitics average:
Joe Biden — 27.2%
Bernie Sanders — 16.7%
Elizabeth Warren — 16.2%
Kamala Harris — 7.5%
Pete Buttigieg — 4.8%
Beto O'Rourke — 2.8%
Cory Booker — 2.5%
Andrew Yang — 2.0%
Julian Castro — 1.5%
Tulsi Gabbard — 1.3%
Amy Klobuchar — 1.2%
All other candidates averaging at or under 1%.
The update RealClearPolitics chart also shows a shift in the race based on the new poll numbers: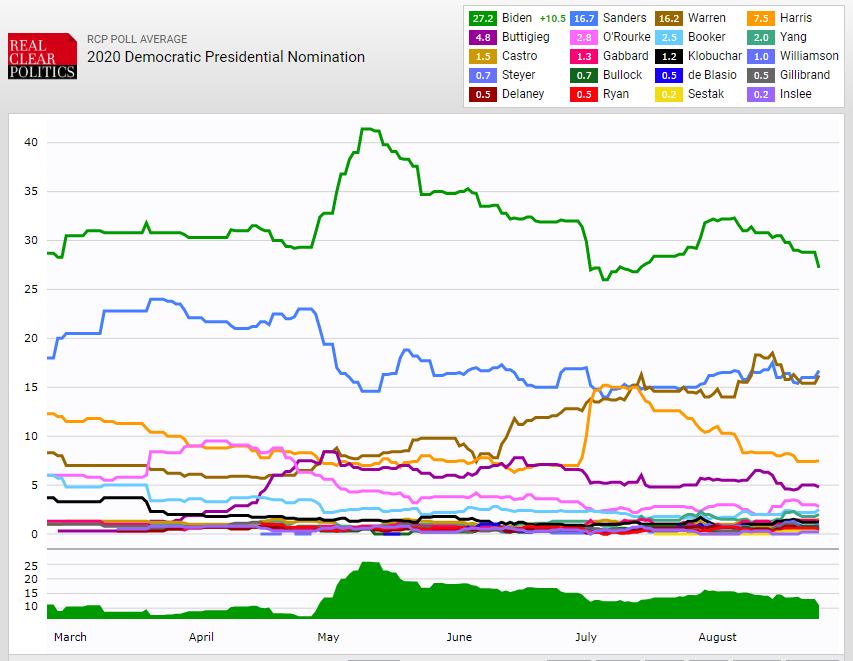 Thanks to the fact that both this Monmouth poll and the YouGov poll are included in the calculation of the average, the drop in Biden's numbers is apparent. Also apparent is what appears to be the continued fading of Kamala Harris to the point where she appears to be sinking into second-tier status just ahead of Pete Buttigieg. Beyond that, Booker and O'Rourke continue to barely hang on above 2% while the rest of the field languishes below 2%. Absent some major changes, this suggests that the race for much of the fall will be focused on a contest between Biden, Sanders, and Warren for the top three spots in the race, while Harris and Buttigieg continue to cling on to their second-tier spots. For the rest of the candidates, the numbers appear to be mostly bad news since they reflect the growing consensus that these candidates should follow the lead of the several candidates we saw drop out of the race last week. With ABC set to announce eligibility for the third debate later this week, I wouldn't be surprised to see many of the candidates drop out of the race before or immediately after Labor Day next Monday.
As for the change at the top of the race, as I said we'll have to wait for additional polling to see if it also reflects this new reality. If it does, then we will have entered a new and potentially significant part of the race that could define the entire race from now until next June when the final primaries are held. If it isn't, then that suggests that this poll is most likely an outlier and the race really isn't that much different from where it has been for most of the summer. In any case, with 162 days to go until the Iowa Caucuses things appear to be getting interesting to say the least.
Update: This post was updated to add the analysis from Harry Enten.
Update 8/27/2019: The new Morning Consult poll suggests strongly that the Monmouth poll is an outlier.