Biden Continues To Lead Democratic Field, Sanders Slips
Just over a month after he entered the race, Joe Biden has a commanding lead over his fellow Democrats while Bernie Sanders has several candidates hot on his heels.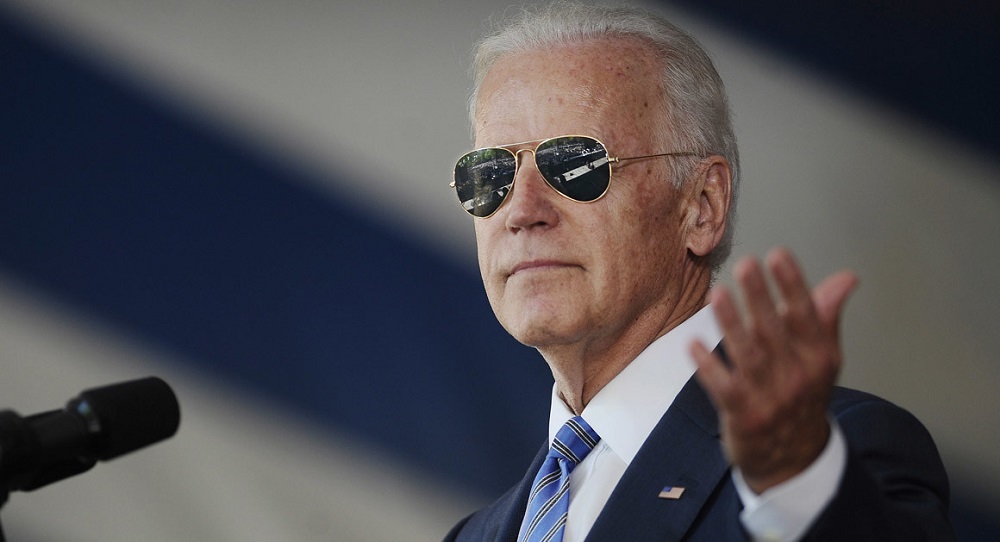 It's been a bit over a month since former Vice-President Joe Biden entered the race for the Democratic nomination for President. In that time, he has seen his fortunes rise significantly as poll after poll has shown him with substantial leads over his would-be challengers. Additionally, Biden's fundraising has reportedly been going very well, something we'll no doubt learn in August when the next round of Federal Election Commission reports is due to be released.
Now, a new national poll shows Biden continuing to grow his lead over his opponents:
Former Vice President Joe Biden leads his nearest presidential primary contender by 18 points, further solidifying his status as the crowded field's front-runner, according to a poll released Tuesday.


A Morning Consult poll shows Biden with the support of 38 percent of Democratic primary voters, beating out Sen. Bernie Sanders (I-Vt.), his nearest competitor, who was supported by 20 percent of the respondents.

Biden and Sanders are the only two candidates who had support in the double-digits. They are followed by Sen. Elizabeth Warren (D-Mass.) with 9 percent, South Bend, Ind., Mayor Pete Buttigieg (D) and Sen. Kamala Harris (D-Calif.) with 7 percent, and former Rep. Beto O'Rourke (D-Texas) with 4 percent.

The former vice president's support extends to 42 percent over the primary field when narrowing the survey to primary voters in early states, which Morning Consult said included Iowa, New Hampshire, South Carolina or Nevada. Sanders remains at 20 percent among such voters.


Biden and Sanders have emerged as the crowded field's top two candidates, setting up what could be a prolonged fight between the party's centrist and progressive flanks. However, when asked who their second choice would be if their chosen nominee failed to win the nomination, Biden supporters chose Sanders and Sanders supporters chose Biden.


The two candidates also have the highest favorability ratings among all their opponents, with Biden garnering a 76 percent approval rating and Sanders getting a 74 percent approval rating.


Biden has enjoyed a surge of support since announcing his White House bid in April, topping every national poll since his launch, largely appearing to be at the expense of support for Sanders.
These numbers are consistent with other recent poll numbers:
In the RealClearPolitics average, Biden leads the field with 34.8%, Bernie Sanders is at 16.4%, Elizabeth Warren is at 9.8%, Kamala Harris is at 7.4%, Pete Buttigieg is at 6.0%, Beto O'Rourke is at 3.8%, Cory Booker is at 2.2%, Amy Klobuchar is at 1.8%, and all other candidates are below 1.5%. The chart shows us that, while Biden is off his post-entrance highs, he's still doing well while Bernie Sanders has seemingly stalled, and Elizbeth Warren seems to be rising out of the rest of the field:
There are a few interesting tidbits in thee numbers outsider of Biden's lead. First of all, it shows the momentum that Elizabeth Warren appears to be developing that is bringing her closer and closer to Bernie Sanders. Second, Beto O'Rourke's efforts to turn his campaign around don't appear to be working and, indeed, he appears to be sinking the polls even further. Meanwhile, South Bend, Indiana Mayor Pete Buttigieg appears for the moment to be stalled in the middle of the field, but the good news for him is that he does not appear to be falling behind for the moment. Finally, Senator Amy Klobuchar, who until recently had been wallowing at 1% seems to be moving up in the polls. it's unclear exactly what the cause of this might be but it's worth keeping an eye on.
In addition to these national numbers, Biden also enjoys a large lead over his rivals in two important early primary states:
Joe Biden is dominating the entire field of Democratic opponents in two key early states, according to new polls that show his lead is even bigger in targeted head-to-head matchups against other high-ranking candidates.

The two polls of likely Democratic primary voters, completed last week by Tel Opinion Research, a Florida-based firm, show the former vice president with a 21-percentage point lead over the second-place candidate, Sen. Bernie Sanders, in New Hampshire and an even bigger Biden lead over him of 27 points in South Carolina.

Most other candidates polled in the single digits or didn't register at all. Unlike most public polls, respondents were asked an open-ended question about which candidate they preferred and were not read a full list of the roughly two-dozen Democrats running for the nomination.
But that doesn't mean Biden's big lead is solely a function of name recognition. In head-to-head matchups between the top two vote-getters,

Biden's lead grew to 55 points over Sanders in South Carolina and 44 points in New Hampshire — a state that the neighboring Vermont senator won in his insurgent 2016 bid against Hillary Clinton.


The surveys also showed that Biden's name ID of nearly 100 percent among likely voters in both states was nearly as high as that of the other candidates, who were recognized by at 8 in 10 voters or more. Biden, however, was better-liked by voters in both state polls.
These numbers are largely consistent with the trend we have seen in both states since Biden in both states.
In New Hampshire, for example, a Monmouth poll conducted in early May showed Biden garnering 36% of the vote, with Sanders slipping down to 18%, Pete Buttigieg at 9%, Elizabeth Warren at 8%, Kamala Harris at 6%, Beto O'Rourke, Cory Booker, and Amy Klobuchar at 2%, and all other candidates below 2%. Another poll, conducted just before Biden entered the race by The Boston Globe and Suffolk University, put Biden at 20%, Sanders and Pete Buttigieg tied at 12%, Elizabeth Warren at 8%, Kamala Harris at 6%, Beto O'Rourke and Cory Booker at 3%, and all other candidates at 2% or lower. All of this puts the RealClearPolitics average, which does not include the new poll noted above for some reason, puts Biden at 28%, Sanders at 18%, Buttigieg at 10.5%, Elizabeth Warren at 8%, Kamala Harris at 6.0%, Beto O'Rourke and Cory Booker at 2.5%, and all other candidates below 2%.
These numbers from the Granite State are significant primarily because they demonstrate quite adeptly the quandary that Biden entering the race has created for Senator Bernie Sanders. In 2016, Sanders managed to pull off a big win over Hillary Clinton, giving his seemingly insurgent campaign a boost that led to a fight between the two candidates that lasted until the last primary in June of that year. This time around, Biden has jumped out to a significant lead over the Vermont Senator, who also seems to be facing challenges to his rear from Pete Buttigieg and Elizabeth Warren, both of whom are poised to overtake him in that state if the opportunity presents itself. The fact that he is showing weakness now doesn't bode well for his campaign.
In South Carolina, the numbers are similarly consistent with the most recent polling. A poll from Charleston's The Post and Courier taken at the beginning of May, for example, showed Biden at 46%, Sanders at 15%, Kamala Harris at 10%, Pete Buttigieg and Elizabeth Warren at 8%, Cory Booker at 4%, and Beto O'Rourke tied with Andrew Yang, an entrepreneur who has been in the race since November of last year, at 2%, and all other candidates below 2%. To my knowledge, this is the only poll at either the national or state level showing Yang registering anything other than token support. This stands in marked comparison to an Emerson poll taken before Biden entered the race that showed Biden at 27%, Sanders at 21%, Harris at 9%, Booker at 6%, Elizabeth Warren and Beto O'Rourke at 5%, Kirsten Gillibrand at 3%, and all other candidates below 2%. The RealClearPolitics average for the Palmetto State, meanwhile, puts Biden at 41.5%, Sanders at 18%, Kamala Harris at 9.5%, Warren at 6.5%, Cory Booker at 5%, Pete Buttigieg at 4.0%, and Beto O'Rourke at 3.5%. All other candidates are averaging below 2%.
The numbers in South Carolina are less surprising due to the fact that this was a state where Sanders struggled to do well largely due to his inability to connect with African-American voters. In the primary, Hillary Clinton won the state by 47 percentage points thanks largely due to her strong support from the African-Americans that dominate the Democratic electorate in the state. As it has elsewhere in the nation, the underlying poll data shows that those voters are currently strongly for Biden, but also giving a boost to candidates such as Kamala Harris and Cory Booker. If either of those candidates is going to make a breakthrough, this state may be the one that gives it to them.
The bottom line from these new polls and the state polls seems pretty straightforward. Right now, Joe Biden is the unquestioned leader in the race for the Democratic nomination for President, and his entry into the race has had a negative impact mostly on the fortunes of Bernie Sanders, who now finds himself having to watch in his rearview mirror for potential threats from Elizabeth Warren and other candidates. There also seem to be at least some signs that candidates like Pete Buttigieg and Amy Klobuchar are gaining steam while others, such as Beto O'Rourke are continuing to slide. The rest of the field, meanwhile, seems as though they are shaping up to be the also-rans and the candidates most likely to drop out early. How that will be impacted by the debates that begin in June will be interesting to watch.
Update: An updated poll released this afternoon from The Hill and Harris shows Biden expanding his lead:
Former Vice President Joe Biden has a commanding lead in the race for the Democratic presidential nomination, according to a new national poll released exclusively to The Hill that finds him ahead of his closest competitor, Sen. Bernie Sanders (I-Vt.), by nearly 20 points.


Thirty-six percent of Democratic respondents said that Biden is most likely to get their vote to become the party's 2020 presidential nominee, according to the Harvard CAPS/Harris Poll survey. He's followed by Sanders in second place, who scored 17 percent.

The survey is only the latest putting Biden atop the pack of Democrats running for president. Since announcing his presidential bid last month, the former vice president has maintained a wide lead in most national and state polls, while Sanders has routinely placed second.


The poll shows Sen. Kamala Harris (D-Calif.) placing third with 8 percent support. She's followed by Sen. Elizabeth Warren (D-Mass.) and South Bend, Ind., Mayor Pete Buttigieg, who are tied at 5 percent each.
Former Rep. Beto O'Rourke (D-Texas) comes in fifth place with 4 percent, according to the survey.


Mark Penn, the co-director of the Harvard CAPS/Harris Poll, said that Biden is in a strong position in the primary contest, but that other candidates remain viable.


"Biden continues to have a strong position but will need to grow to win it," Penn said. "Absent an upset in Iowa or New Hampshire, three candidates, Biden, Harris and Sanders, are emerging from the pack."


Thirty-five percent of respondents see Biden as the candidate with the strongest chance of defeating President Trump in 2020, more than any other Democratic hopeful. Sanders sits more than 20 points behind Biden, with 11 percent saying that he has the best chance at beating the president in a general election match-up.