Biden Leads, Warren Rises, Kamala Falls In Wake of Second Debate
One week out from the second Democratic debate, Elizabeth Warren appears to be the biggest beneficiary. while Kamala Harris appears to be falling behind.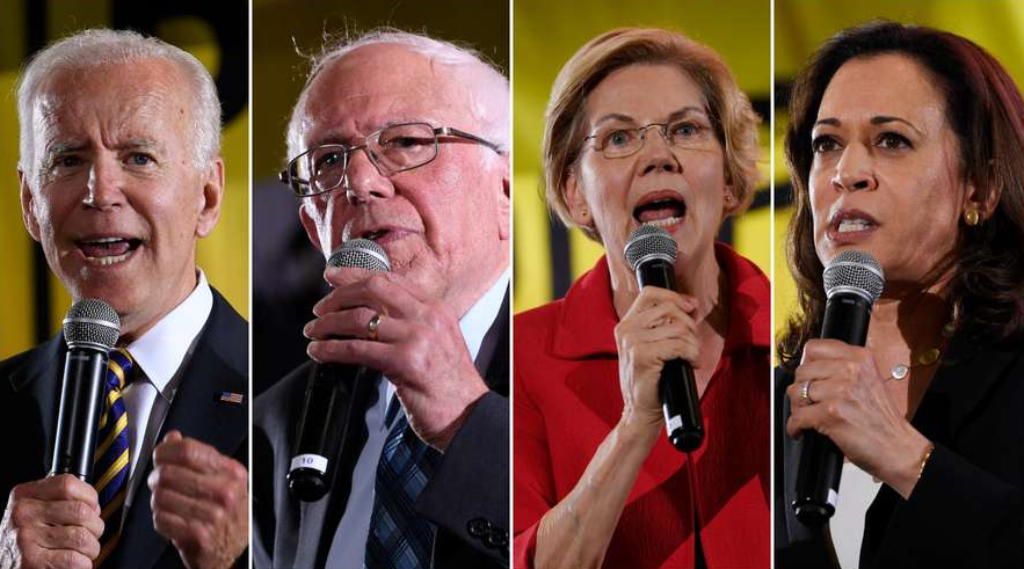 With the July debates between the 2020 Democratic candidates for President, which were held on Tuesday and Wednesday of last week, a trio of new polls shows that Senator Elizabeth Warren appears to have benefited the most from the debates, but that former Vice-President Biden continues to lead the field.
The first of these polls, from Politico and Morning Consult, shows that voters mark Warren as the candidate who did the best overall in the debates, and she appears to be moving ahead of Senator Bernie Sanders and Senator Kamala Harris:
Sen. Elizabeth Warren easily prevailed in last week's primary debates in Detroit, according to a poll out Tuesday.

Three out of 10 respondents dubbed Warren the winner for her debate performance last week, a POLITICO/Morning Consult poll of registered Democratic primary voters found. Sen. Bernie Sanders and former Vice President Joe Biden rounded out the top three with 18 percent and 14 percent of respondents dubbing them the top performer, respectively.\\

Warren also received the highest percentage of "excellent" ratings from voters on her debate performance, with 44 percent of primary voters giving her top marks. Sanders came in second, with 32 percent giving him an "excellent" rating, followed by Biden, who 27 percent said put on an "excellent" performance.

Voters were least impressed with the performance of New York Mayor Bill de Blasio; just over a quarter — 26 percent — of voters called his performance "poor." This could be in part because of de Blasio's willingness during the debate to criticize former President Barack Obama's record on deportations, despite Tuesday's poll finding that Obama enjoys a 94 percent favorability rating among Democratic primary voters.

Respondents were also cool on Sen. Kamala Harris, despite her being one of the breakout stars of the first debate because of sparring with Biden.

"Democratic primary voters were underwhelmed with Senator Kamala Harris' debate performance last week as her poll bounce continues to fade," Tyler Sinclair, Morning Consult's vice president, said in a statement. "Notably, 43 percent of Democratic primary voters said Harris performed 'excellent' at the June debates, compared to 20 percent who said the same about last week's Detroit debates."

Despite voters decisively saying Warren put on the best performance out of the 20 candidates featured over the two nights, they were not as confident in her ability to beat President Donald Trump in next year's general election.

That distinction went to Biden, who 42 percent of primary voters said has the best chance of unseating Trump — more than twice the percentage that said the same of his next closest competitor. Sanders came in second, with 17 percent giving him the best chance of beating the president, followed by Warren, who 13 percent of voters said had the best chance of knocking Trump out of office.
In the candidate preference part of the poll, the numbers break down like this:
Joe Biden — 33%
Bernie Sanders — 19%
Elizabeth Warren — 14%
Kamala Harris — 9%
Pete Buttigieg — 6%
Beto O'Rourke — 3%
Cory Booker — 3%
Andrew Yang — 2%
All other candidates under 2%
The numbers are roughly the same in the new Quinnipiac poll:
Massachusetts Sen. Elizabeth Warren enjoyed a bump in her polling numbers following the second round of Democratic presidential primary debates last week, but she's still trailing former Vice President Joe Biden, according to a new poll from Quinnipiac University out Tuesday.

Biden leads with 32% of support from Democrats and Democratic-leaning independent voters, followed by 21% for Warren, 14% for Vermont Sen. Bernie Sanders, 7% for California Sen. Kamala Harris, 5% for Mayor Pete Buttigieg, 2% for former Rep. Beto O'Rourke and 2% for New Jersey Sen. Cory Booker.

Warren is up 6 percentage points since Quinnipiac's last poll, taken before last week's debate in Detroit. Other candidates remain relatively steady, while Harris took a 5 percentage point dip.

Much of Warren's bump came from those Democratic voters who consider themselves "very liberal." Four in 10 said they would support her in the most recent poll, up from 29% in July.

Biden continues to pace the field for the candidate who would be the best leader (33%), but Warren has gained since Quinnipiac's last poll (up from 17% in July to 22%). Warren also gained in supporters who said she has the best policy ideas (up from 26% in July to 32%), while 17% said Biden and 16% said Sanders.

Regardless, half still think Biden has the best chance of winning against Trump in 2020. Democratic voters slightly prefer a candidate who is more electable (50%) over someone who shares their views (46%). The opposite was true last time the question was asked in March (51% said shares views, 45% most electable).

Warren is also considered to be the one who "won" the debate, according to Democrats and Democratic-leaning independent voters who watched, listened or paid close attention to the debates. Fewer, 15%, said Biden did the best job, 8% for Sanders and Harris each, 7% said Booker, 4% Buttigieg, 3% Gabbard and 2% each name O'Rourke, Yang and Williamson.

Meanwhile, no candidate was overwhelmingly picked for doing the worst job among Democratic voters who watched, listened or paid close attention. Almost 1 in 10 said Biden did the worst job, the same for author Marianne Williamson, while 7% said Harris, 6% said former Rep. John Delaney and 6% said New York City Mayor Bill de Blasio.
The full Democratic field looks like this in the Q-poll:
Joe Biden — 32%
Elizabeth Warren — 21%
Bernie Sanders — 14%
Kamala Harris — 7%
Pete Buttigieg — 5%
Cory Booker — 2%
Beto O'Rourke — 2%
All other candidates under 2%
Finally, as it has for much of the race to date, the new Economist/YouGov poll shows a tighter race than most other polls:
Former Vice President Joe Biden leads the crowded Democratic field by 6 points in an Economist-YouGov poll released on Wednesday.

The poll found Biden as the first choice for 22 percent of those surveyed, followed by Sen. Elizabeth Warren (D-Mass.) with 16 percent and Sen. Bernie Sanders (I-Vt.) with 13 percent.ADVERTISEMENT

Sen. Kamala Harris (D-Calif.) and South Bend, Ind., Mayor Pete Buttigieg(D) rounded out the top five, both with 8 percent, according to the poll.

The survey, conducted Aug. 3-6 among 1,500 U.S. adult citizens, found Biden continuing to maintain stronger numbers among African American voters than the general primary electorate, with 33 percent identifying him as their first choice, followed by 13 percent for Warren and 10 percent for Sanders.

The poll has an overall margin of error of plus or minus 2.6 percentage points and 2.9 percentage points among registered voters.

Both Warren and Sanders have lost ground from a July 27-30 poll, which also showed Biden in first place at 26 percent and Warren at 18 percent.

Here's the full field in the poll:
Joe Biden — 25%
Elizabeth Warren — 18%
Bernie Sanders — 15%
Kamala Harris — 8%
Pete Buttigieg — 7%
Tulsi Gabbard — 3%
Beto O'Rourke — 2%
Cory Booker — 2%
Andrew Yang — 2%
All other candidates under 2%
Moving on to the RealClearPolitics polling average, we find that Biden remains in the lead while Sanders is slowly slipping into third place behind Warren:
Joe Biden — 31.0%
Bernie Sanders — 15.8%
Elizabeth Warren — 15.5%
Kamala Harris — 8.3%
Pete Buttigieg — 5.5%
Beto O'Rourke —- 2.5%
Cory Booker — 2.3%
All other candidates under 2%
Even with only a handful of polls since the second debate, there's been clear movement: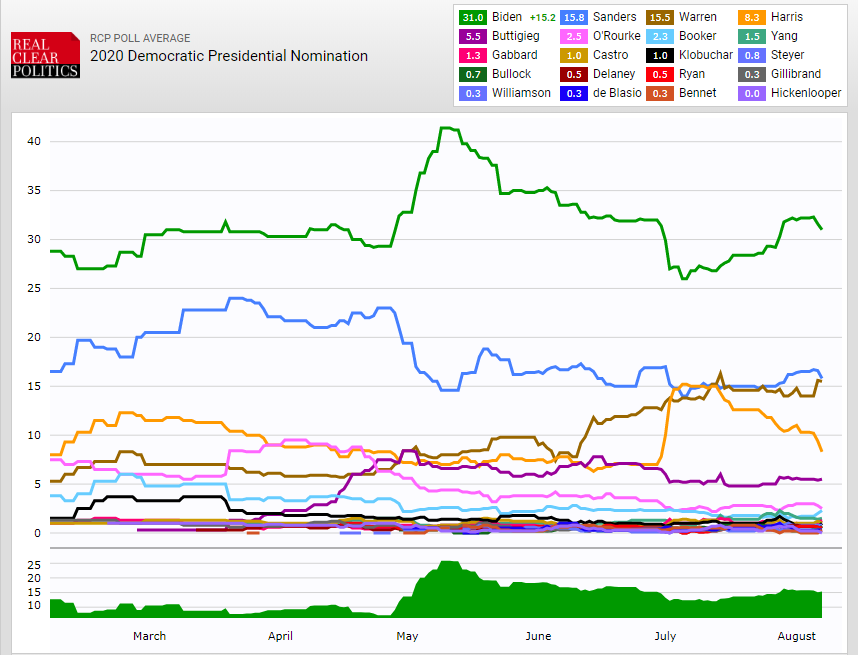 The biggest takeaway from all these numbers, of course, is the fact that Elizabeth Warren appears to be benefiting the most from the second debate. To be fair, of course, she was rising in the polls prior to this after a period during which many pundits were getting ready to write her campaign off due to the fact that she was being overshadowed by Biden and Sanders after their entry into the race. Slowly but surely, though, Warren continued with her strategy of releasing new policy proposals on a regular basis and began rising in the polls. The pace of that acceleration continued after the first debate, from which she also came out as a perceived winner, and Warren's slow rise accelerated to the point where she, and fellow Senator Kamala Harris, became part of the lead group of candidates along with Senator Sanders and the former Vice-President.
On the other hand, Senator Harris appears to have lost significant momentum after the second debate. Her confrontation with Vice-President Biden was, of course, the primary reason for her rise in the polls after the first debate, but it appears as though she has, at least for now, hit her peak and is falling behind Biden, Sanders, and Warren. Whether that continues or whether she's able to turn it around remains to be seen. So far, though, she seems to be the candidate who lost the most ground as a result of the second debate.