Donald Trump, Immigration, And The Republican Party
Once again, Donald Trump is succeeding because he is saying things many Republicans agree with.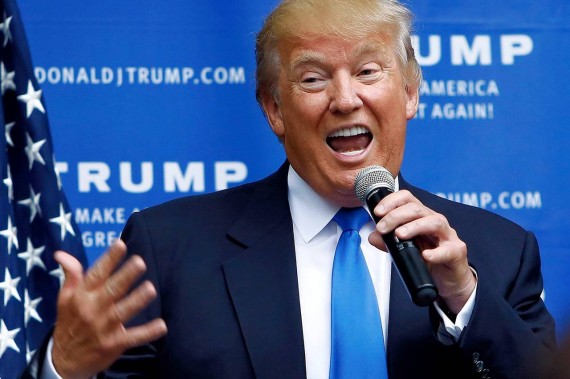 Greg Sargent has found a poll result inside the new CNN/ORC poll that goes a long way toward explaining both the Donald Trump phenomenon and the problems that the Republican Party will face on immigration regardless of how long he stays in the race:
This new poll finding, courtesy of CNN, is not all that surprising, but it is very illuminating of the demographic challenges the GOP faces right now: A big majority of Republicans believes that the government's main focus on immigration should be not just on stopping the flow of illegal immigrants, but also on deporting those already here.

The poll asks:

What should be the main focus of the U.S. government in dealing with the issue of illegal immigration — developing a plan that would allow illegal immigrants who have jobs to become legal U.S. residents, or developing a plan for stopping the flow of illegal immigrants into the U.S. and for deporting those already here?

By 56-42, Americans support developing a plan to legalize undocumented immigrants over stopping their flow and deporting those already here. Independents agree by 58-39, and moderates by 59-40.

But Republicans favor stopping the flow of undocumenteds and deporting those already here by 63-34. So do conservatives, by 55-43. "Those already here," of course, amount to some 11 million people.

Now, it's certainly possible that GOP support for deportation is inflated somewhat by the inclusion of securing the border on that side of the question. But even when the question is framed a bit less starkly, as a recent Post/ABC News poll did, a majority of Republicans does not think the undocumented should be allowed to live and work here even if they pay a fine and meet other requirements. This should not obscure the fact that a substantial number of Republicans are, in fact, open to legalization; it's just that more of them apparently aren't.
These results shouldn't really come as a surprise to anyone as we have seen a similar disconnect between what the Americans as whole believe with regard to immigration and what people who self-identify as Republicans or conservatives believe about that topic. To a large degree, it has been the case for some time now that Republicans have a far more restrictive position on the issue and that they are far less inclined to support granting any kind of legal status to the estimated 11 million undocumented immigrants that are in the country. It's also true that the right has come to be dominated by the likes of Laura Ingraham, Ann Coulter, Mark Levin and others who quite blatantly take the position that even legal immigration should be restricted in the name of "protecting" American jobs or American "culture." There are exceptions to the rule, of course, such as people like Jeb Bush and Marco Rubio who have called on the party to be more open on immigration, but they are the exception that proves the rule. The fact that Rubio himself has walked back his support for the Senate immigration bill that he helped write because of the negative attacks he received for his role in that process is a strong indication of just who is controlling the debate inside the GOP on immigration notwithstanding the support of big money groups like Chamber of Commerce  for immigration reform.
As Frank Rich noted last week, given the realities of immigration politics inside the GOP, it's no surprise that Trump is succeeding:
Whatever else is to be said about Trump, he is a master salesman. And in the GOP presidential marketplace, he has a near-monopoly on the product he is selling now: hard-line, unapologetic, xenophobic opposition to both immigration reform and Mexican immigrants. Immigration is the fault line of the GOP. The party's establishment — from its corporate backers toThe Wall StreetJournal editorial page to Jeb Bush (when he's not hedging) — want immigration reform. They know that no national Republican ticket can win without Hispanic voters. But the base that dominates the primary electorate loathes immigration reform — so much so that even Marco Rubio, the son of Cuban immigrants, had to retreatfrom his original embrace of it to be a viable presidential contender. Hence, the question you ask is classic Catch-22: If the ultimate Republican presidential candidate does appropriate some part of Trump's message to win the nomination, he will be as doomed as Mitt Romney was after he embraced "self-deportation" for undocumented immigrants in 2012. Or more doomed, given the trajectory of the Hispanic population explosion in America.

For all the other much-discussed factors contributing to the Trump boom — the power of celebrity, his "anti-politician" vibe, his freak-show outrageousness, his Don Rickles-style putdowns  — it is the substantive issue of immigration that remains the core of his appeal to his fans. That's why Rush Limbaugh and Ann Coulter are defending him; it's why Bill Kristol did until last weekend. And those Republicans who are now demanding that he desist are mostly hypocrites. John McCain himself, after all, enabled and legitimized those Trump partisans he now dismisses as "crazies" by putting Sarah Palin on the ticket in 2008. Other GOP leaders waited too long to disown the conspiracy theories about the president's birth certificate that Trump would eventually exploit to reboot his political aspirations. Romney ostentatiously courted and received Trump's endorsement in 2012. Many of the Republican politicians now condemning Trump for attacking McCain's heroism in Vietnam were silent (or worse) when John Kerry's Vietnam heroism was Swift Boated in 2004.

The GOP can blame the media all it wants, but the party has no one to blame but itself for weaponizing Trump.
Rich, of course, is absolutely correct, and you can get a very good sense of the conservative zeitgeist that Trump has tapped into in Molly Ball's piece in The Altantic covering Trump's viist to Laredo last week. For better or worse, and mostly for worse, Donald Trump has tapped into what can only be described as an anti-immigrant, xenophobic vein inside the deepest part of the hard right wing of the Republican Party. That, combined with the fact that the anti-Washington populism that is also a part of his rhetoric is something that has always resonated well with the public whole, is the main reason why he continue to surge in both national and state polls. The immigration part of Trump's appeal, though, is the part that really tells us something about what's going on with the hardcore base of the Republican Party. In some sense, Trump has only torn open something that was largely hidden until now and the fact that so many Republican and conservative pundits and politicians are recoiling from him is largely a reaction to the fact that he has exposed something that they helped to create.
As I've said before, Donald Trump is succeeding right now because he is saying things that a lot of Republicans agree with. Indeed, once you take out the caustic rhetoric there is little substantive difference between the position that Trump has mapped on immigration and the position that you hear from most of the other Republican candidates for President. To some extent, Jeb Bush and Rick Perry have tried to differentiate themselves from Trump on this issue, but for the most part the candidates who are talking about immigration haven't been saying anything that's all that different from what Trump is saying. Polls like this new one from CNN demonstrate quite aptly why this is the case. Most Republicans do not support immigration, have a negative opinion of undocumented immigrants that makes them unwilling to consider anything that approached "amnesty," and generally seem to believe that the entire answer to the problems inherent in the immigration system can be addressed with more "border security" notwithstanding the fact that they never seem to have an specific ideas about how the border could be made more secure. Even when Donald Trump gets out of the race, an event that will not be easy for anyone other than Donald Trump to hasten, the people he is appealing to will still remain, and the Republican Party will still find itself out of step with the rest of the nation when it comes to immigration.