Jose Antonio Vargas Is A Symbol For Immigration Reform, Not A Candidate For Deportation
Jose Antonio Vargas was brought to the U.S. at the age of 12 and never left. Now, some are suggesting he should be deported as soon as possible.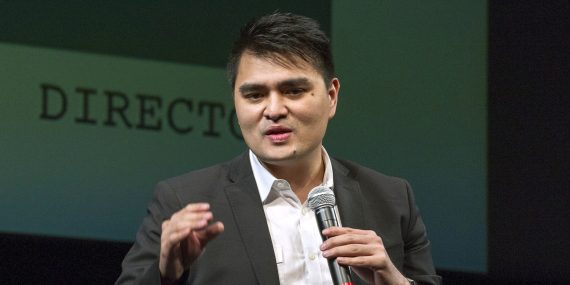 Jose Antonio Vargas has gained some degree of notoriety over the years first as a reporter and later because of the fact that he became the most publicly prominent illegal immigrant in the entire country. As a reporter he has worked for The Huffington Post, The San Francisco Chronicle, and The Washington Post, where he was part of the team that won a Pulitzer Prize for the newspaper's coverage of the Virginia Tech shootings and their aftermath in 2007. In 2011, though, Vargas penned a piece that was published in The New York Times Magazine in which he revealed that he was, in fact, living and working in the United States illegally.When he was a small child, it turns out, Vargas's mother had sent him from The Philippines to live with his Grandparents in the United States without completing any of the paperwork necessary for him to emigrate. Vargas went to school in the U.S, graduating from a High School in California and eventually obtained a Political Science Degree from San Francisco State University, although he had already started working in journalism at that point. Since the article was published, Vargas has become something of an advocate for immigration reform and for measures such as the DREAM Act, although he was not among those people who was able to take advantage of the administrative changes that President Obama made last year for some children of illegal immigrants. Most recently, Vargas produced a documentary for CNN called Documented, which chronicles both his personal story and his efforts to advocate for immigration reform.
For some people, the most bizarre part of the story of Jose Antonio Vargas is the fact that he is still a free man. He has, after all, admitted that he is in the country illegally and now lives openly knowing that Federal law enforcement could come place him under arrest at any time. He had a close call in 2012 in Minnesota when he was arrested for a minor traffic infraction, but ICE officials declined to either detain or even charge him with a violation of the law. ICE could have picked him up then and begun deportation proceedings, or they could do it any time. The fact that they don't seems odd when viewed from a distance, yet another example of our broken immigration system, and, for some, proof that the Obama Administration is not serious about things like border security and deporting illegal immigrants.
Vargas is back in the news now because he has gone down to the Texas-Mexico border to report on the ongoing border crisis, and in article at Politico he wonders if he'll be able to get out of the area without running afoul of the authorities:
I write this from the city of McAllen, which sits in the Rio Grande Valley near the border, just across from the Mexican city of Reynosa. In the last 24 hours I realize that, for an undocumented immigrant like me, getting out of a border town in Texas—by plane or by land—won't be easy. It might, in fact, be impossible.

(…)

When my friend Mony Ruiz-Velasco, an immigration lawyer who used to work in the area, saw on my Facebook page that I was in McAllen, she texted me: "I am so glad you are visiting the kids near the border. But how will you get through the checkpoint on your way back?" A curious question, I thought, and one I dismissed. I've visited the border before, in California. What checkpoint? What was she talking about?

Then Tania Chavez, an undocumented youth leader from the Minority Affairs Council, one of the organizers of the vigil, asked me the same question: "How will you get out of here?" Tania grew up in this border town. As the day wore on, as the reality of my predicament sunk in, Tania spelled it out for me: You might not get through airport security, where Customs and Border Protection (CPB) also checks for IDs, and you will definitely not get through the immigration checkpoints set up within 45 miles of this border town. At these checkpoints, you will be asked for documentation. ("Even if you tell them you're a U.S. citizen, they will ask you follow-up questions if they don't believe you," Tania told me.)

(…)

I do not have a single U.S. government-issued ID. Like most of our country's 11 million undocumented immigrants, I do not have a driver's license—not yet, at least. (Recently, California and Washington, D.C., passed laws granting licenses to their undocumented residents. Though New York City will start issuing municipal IDs to its undocumented population, the state of New York, where I currently live, does not issue driver's licenses.) Identification aside, since outing myself in the New York Times Magazine in June 2011, and writing a cover story for TIME a year later, I've been the most privileged undocumented immigrant in the country. The visibility, frankly, has protected me. While hundreds of thousands of immigrants have been detained and deported in the past three years, I produced and directed a documentary film, "Documented," which was shown in theaters and aired on CNN less than two weeks ago. I founded a media and culture campaign, Define American, to elevate how we talk about immigration and citizenship in a changing America. And I've been traveling non-stop for three years, visiting more than 40 states.

Of course, I can only travel within the United States and, for identification, when I fly I use a valid passport that was issued by my native country, the Philippines. But each flight is a gamble. My passport lacks a visa. If TSA agents discover this, they can contact CBP, which, in turn, can detain me. But so far, I haven't had any problems, either because I look the way I do ("You're not brown and you don't look like a Jose Antonio Vargas," an immigration advocate once told me), or talk the way I do—or because, as a security agent at John F. Kennedy International Airport who recognized me said without a hint of irony, "You seem so American."

I might not be so lucky here in the valley. I am not sure if my passport will be enough to let me fly out of McAllen-Miller International Airport, and I am not sure if my visibility will continue to protect me—not here, not at the border.
Igor Bobic at The Huffington Post that Vargas's current predicament puts the lie to claims that the southern border is unsecure:
Vargas' story highlights some of the struggles undocumented immigrants have faced for years. But it also shows, contrary to conventional wisdom, that security at the border is anything but lax.

In fact, according to the NDN/New Policy Institute, since 2002 federal funds to secure the border have tripled and the number of U.S. Border Patrol agents has doubled to a little over 21,000. Moreover, crime along the U.S. side of the border is down, and the growth of the undocumented immigrant population has stalled in recent years. "Obama era policies have stopped the flow – which is one reason why we have the resources to be apprehending those attempting to enter the country today," said NDN President Simon Rosenberg.

As Vargas put it, "The border is secure, that's why these kids are getting apprehended."

To Luis Malbonado, a DREAMer who lives near McAllen, a heightened security presence resembling an occupied military zone is all too familiar. Both his mother and sister were deported mere hours after being stopped by authorities in the city, a task made easier by their proximity to the border, he said.

"It's been three years since I haven't seen my mom, five years since I haven't seen my sister. Right now there's no way I can go and see them. I'm stuck," he told The Huffington Post.

Malbonado said residents of the Rio Grande Valley usually encounter checkpoints every few miles, and it was common to see border patrol and state trooper cars while driving on the highway. "It is so safe and secure that both my mom and my sister were deported [from] within the city," he added.

Malbonado also called on President Obama to visit the border, a trip that Republicans and even some Democrats have been calling for.

"He needs to come and see first hand and see what these kids look like," he said. "They do not have tattoos on their face. They do not look like the media is portraying them. These are kids. "

As for Vargas, the future is murky. He doesn't intend to leave the border until he finishes his job, so he is, at least for the moment, as much a resident of McAllen as the immigrant children he came to report on.
Jazz Shaw thinks that ICE needs to pick Vargas up now:
Let's identify why this is an important arrest for you ICE guys and gals to to make. It's true that the White House administration has added to our current border crisis by sending mixed messages to those who would enter the country illegally. That goes without saying. But coming in a close second is this guy. He's out there on an almost daily basis, showing up on a network which is broadcast to every nation in the world. And the message he's sending is clear. "Look at me! I'm here illegally. I don't have any documents. And I'm on the TeeVee! I produce films. I get paid to write columns in nationally syndicated sources. And nobody can lay a finger on me!"

Is that the message you want out there? Is this not adding to the "confusion" among Central American residents thinking of sneaking over the border? Obviously not. So here's what you need to be doing:

– First, you need to find and arrest this guy.
– Next he needs to be put in a detention center.
– Expedite his case to the front of the line and give him a speedy hearing before a judge where it will be revealed that he has no documents allowing him to be here.
– Put him on a plane and send him back to the Philippines where he belongs.
– Hold a major press conference letting everyone in the world know that you've done this and repeating that you will not tolerate those who knowingly and intentionally violate our laws.
– Let Mr. Vargas go to the back of the line and apply for citizenship in the normal fashion. Given the usual wait times, we should see him again in ten to fifteen years
There is a certain logic in the argument, of course, Vargas is here illegally, he admits he's here illegally, and every minute he stays is an ongoing violation of the law. He says that he isn't presently breaking any laws regarding identity theft and such — although one does wonder how he gets paid for the work that he does and how he pays his bills — but he is most assuredly violating the nation's immigration laws. Like Jazz, there are many who would argue that arresting and deporting Vargas would send a signal to others who would come here illegally, and that the law shouldn't stand for someone who is so openly and brazenly violating the law. Vargas is a criminal, and arresting and prosecuting criminals is what law enforcement is supposed to do, right?
While those are all valid arguments, it just doesn't strike me that Vargas is someone who ought to be a target for an immigration enforcement system that is already overburdened, and likely to become more so thanks to the ongoing border crisis. Like many people who are in a similar position, Vargas was brought to this country as a child and thus had no say in whether or not he wanted to become an illegal immigrant to the United States. Since graduating High School, he's gotten an education, been gainfully employed, won a prestigious journalism award, and had produced work that has employed many other people. He's apparently never been on public assistance and, outside of things related to his immigration status, he has never committed a serious crime, and most certainly has never committed a violent crime. He has also become an important part of the public debate on a very important issue. Regardless of whether or not he has a piece of paper saying he is in the country legally, is this really someone that we ought to be prioritizing as a candidate for deportation? I find it hard to say that the answer to this question is yes. In fact, I'd argue that Vargas is precisely the kind of illegal immigrant that we ought to want to grant legal status to so that he can more fully participate in the economy and the public life of  his adopted country. Rather than being a walking advertisement for deportation, he strikes me as more of a walking advertisement for why comprehensive immigration reform is necessary. There are many people in Vargas's position, he just happens to be the most prominent, public example.
The fact that Federal authorities have not apprehended Vargas in the three years since he went public is, I think, telling. There isn't any rational or practical reason why they couldn't, so the only logical conclusion is that someone has made the decision that Vargas is not a priority at this time. In part, this is due to the fact that the immigration hearing system is already overburdened and authorities have generally made the choice to concentrate their deportation efforts on people with violent criminal records and gang connections. Granted, not everyone who is deported fits these criteria, but based on reports this does seem to be the category of immigrants that ICE has prioritized. That choice makes sense for rather obvious reasons I would think. If you have limited resources, it make sense to concentrate your efforts on the illegal immigrants who are the source of real problems for society rather than people like Vargas who not only aren't really harming anyone and, arguably, are a net benefit to society. An additional factor that likely argues against bringing Vargas in, of course, is the fact that it would be an incredibly powerful spotlight on a system that is already dysfunctional. No doubt, if ICE arrested Vargas you'd see reports on the matter from many quarters of the media, most especially the outlets he has worked at previously and CNN, where he is becoming a frequent commentator on immigration issues.
Yes, Jose Antonio Vargas is here illegally. That doesn't mean he should be deported, though. Instead, I'd suggest it means that we need to fix our immigration laws so that people like him aren't constantly living in fear of being detained by ICE and sent back to a country that they have no real connection to other than the accident of birth,