New York Court Rules Child Of Illegal Immigrants Can Be Admitted To Practice Law
The highest court in New York state has ruled that an undocumented immigrant brought to the U.S. as a child can be admitted to practice law.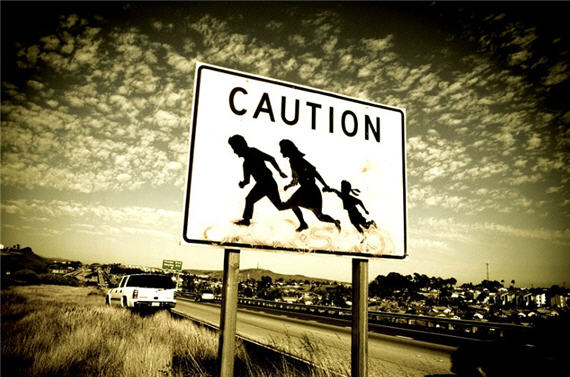 A New York court has ruled that an undocumented immigrant who came to the United States with his parents when he was a minor can be admitted to the bar:
His legal fight just to become a lawyer lasted three years. On Wednesday, Cesar Vargas, a Mexican-born 31-year-old New Yorker, became the first unauthorized immigrant in the state to be approved to work as a lawyer after the State Supreme Court's Second Department of the Appellate Division granted his application to the bar.

In overturning a 2013 decision by a committee appointed by the State Supreme Court that had denied his application based on his immigration status — but had asked the court to rule — the state judiciary did what the Legislature in Albany has not been able to do: establish at least a modicum of immigration reform.

The decision could be a test case, not only for the city, but also the country, affecting hundreds of would-be lawyers and empowering immigrants who arrived as children to the United States and have been granted a reprieve from deportation.

"This wasn't just about one person; this was about countless other students across New York State and across the country," Mr. Vargas said on Wednesday night. "This is a precedent I wanted to make. I think this is really great momentum that is going to extend to other policies."

Mr. Vargas, who has been granted the deferred action allowing him to work, is the third unauthorized immigrant lawyer to become eligible to practice law after court decisions in California and Florida in 2014.

But in both of those states, the legislatures have also enacted laws paving the way for the licensing of unauthorized immigrants.

In Albany, a bill to allow unauthorized immigrants to practice law died last year.

In its opinion, the court wrote that it found "no legal impediment or rational basis for withholding the privilege of practicing law in the State of New York from undocumented immigrants who have been granted DACA relief," the five-member appellate division said in its opinion, referring to the Deferred Action for Childhood Arrivals.

"We find that Mr. Vargas' undocumented immigration status, in and of itself, does not reflect adversely upon his general fitness to practice law," the opinion said, adding, "Mr. Vargas did not enter the United States in violation of the immigration laws of his own volition, but rather, came to the United States at the age of 5 at the hand of his mother."

(…)

[T]here was a bit of doubt, even amid the celebration on Wednesday night. Mr. Vargas was in court in Des Moines, where he was defending himself against charges of trespassing after he was arrested when he protested speeches by several elected officials, including Gov. Chris Christie of New Jersey. The event, Mr. Vargas said, was "quasi-public."

Mr. Vargas said he had no regrets about attending the conference, and was confident it would not jeopardize his bar application. Mr. Vargas said in an interview on Wednesday night that the appellate division was well aware of what happened: He had already submitted updates on the arrest and a pending court appearance. He hopes to hear that result on Thursday afternoon.

"In the end, if you are really going to be an advocate, you can't hide and you can't just wait in the shadows," he said.

After graduating from City University of New York Law School, Mr. Vargas passed the New York State bar in 2011. He has interned with a State Supreme Court judge, at the Brooklyn district attorney's office and with a United States congressman. He first submitted an application to the bar in 2012.You

Since then, unable to practice law, he has turned to advocacy, becoming a national leader in the immigration reform movement.
This isn't the first case of an undocumented immigrant being granted admission to the bar. The most recent case before this is that of Sergio Garcia, a resident of California who was brought to the United States as a child just like Mr. Vargas. Last year, the California Supreme Court ruled that Mr. Garcia could be admitted to the state bar after he had been through a similar legal battle. The difference in that case is that it doesn't appear that Garcia was covered under President Obama's 2012 Deferred Action For Childhood Arrivals (DACA) which granted temporary legal status to certain individuals who were brought to U.S. when they were minors. Because of that, at least at the time that he was admitted last year it was unclear that Garcia would actually be able to work legally even though he was admitted to practice law in California. That isn't a problem for Vargas since he's covered by DACA which, in addition to giving him temporary relief from deportation also gives him temporary legal work status. As long as that continues, he'll be able to practice law.
Some might object to the idea of someone who is, basically an illegal immigrant being allowed to practice law, but I really don't see a problem here. Vargas didn't come to the United States illegally by his own choice, he came here illegally because his parents brought him here. Like many in his position, he was raised in the United States, went to American schools, had American friends, and basically is as much an American culturally as any of us. Punishing him for something his parents did doesn't seem fair, and there doesn't seem to me to be anything about his immigration status that makes him per se ineligible to practice law in the United States. Ideally, of course, he would be in legal status and this wouldn't be an issue, but that's just another argument in favor of immigration reforms that includes means for people in his position to get themselves into legal status.
So, welcome to the legal profession Mr. Vargas. Soon you'll be as cynical burned out as everyone else.