Undocumented Immigrant Acquitted In Case Trump Turned Into A Political Issue
A not guilty verdict in a case that Donald Trump turned into a political issue.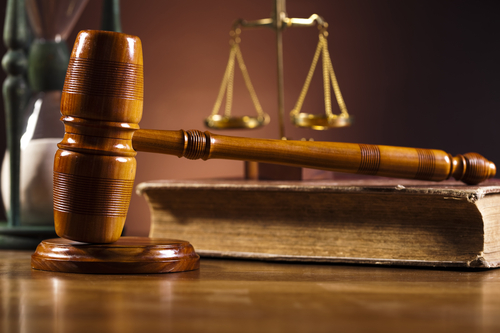 The undocumented immigrant who was at the center of a case that President Trump politicized and used in his campaign in arguments against so-called 'sanctuary cities' and in support of his border wall has been acquitted of murder and manslaughter in the 2015 shooting death of a San Francisco woman:
An undocumented Mexican immigrant was acquitted of murder and manslaughter charges on Thursday in the killing of Kathryn Steinle, whose death while out walking on a San Francisco pier became a touchstone in the national debate over immigration fueled by Donald J. Trump.

The man, Jose Ines Garcia Zarate, 45, who was also found not guilty of assault with a firearm, was convicted only of being a felon in possession of a firearm after a trial that lasted more than five weeks. His sentence could range from 16 months to three years. Mr. Zarate has already spent more than two years in county jail awaiting trial. A sentencing date had not yet been set.

Ms. Steinle's death in July 2015 fed into a fierce debate over whether immigrants without legal status — Mr. Garcia Zarate had been deported five times — should be dealt with more aggressively, and over the role local law enforcement should play.

"For anyone that would question the outcome in this case, this jury was deliberating for six days," Jeff Adachi, the San Francisco public defender, said after the verdict. "There was a tremendous amount of misinformation that was spread about this case from Day 1. You had then-candidate Trump espousing that this was an intentional shooting."

In a telephone interview, Alex Bastian, an assistant district attorney in the office of the San Francisco district attorney, George Gascón, said the verdict "was not the one we had hoped for."

"Both the prosecution and defense worked very hard in litigating this case," he said. "At the end of the day, however, it is up to the jury to determine what they believe is an appropriate verdict. They came back the way they did and we will respect the jury's decision."

After the verdict was read, the victim's father, Jim Steinle, told The San Francisco Chronicle, "We're just shocked — saddened and shocked."

"There's no other way you can coin it," he said. "Justice was rendered, but it was not served."

Mr. Trump invoked Ms. Steinle's killing as he campaigned for president and tried to rally national support for his hard-line immigration agenda, which ultimately helped to catapult him into office.

On Thursday night, Mr. Trump wrote on Twitter: "A disgraceful verdict in the Kate Steinle case! No wonder the people of our Country are so angry with Illegal Immigration."

In a statement, a United States Immigration and Customs Enforcement official said that after the conclusion of the case, the agency would "work to take custody of Mr. Garcia Zarate and ultimately remove him from the country."

Attorney General Jeff Sessions, a longtime hard-liner on immigration enforcement who has threatened to strip federal funds from cities like San Francisco because of sanctuary policies, responded to the verdict in a statement.

"San Francisco's decision to protect criminal aliens led to the preventable and heartbreaking death of Kate Steinle," he said. "The Department of Justice will continue to ensure that all jurisdictions place the safety and security of their communities above the convenience of criminal aliens. I urge the leaders of the nation's communities to reflect on the outcome of this case and consider carefully the harm they are doing to their citizens by refusing to cooperate with federal law enforcement officers."

(…)

Ms. Steinle, known as Kate, a 32-year-old medical equipment saleswoman, was walking along Pier 14 in San Francisco when she was struck by a bullet and collapsed into her father's arms. Mr. Garcia Zarate acknowledged firing the weapon, but said it was an accident.

Evidence was presented in court that the bullet had ricocheted before striking Ms. Steinle.

Mr. Garcia Zarate had been homeless at the time of the shooting and had multiple felony convictions. He had been set free from jail only months before the shooting, in defiance of requests by federal immigration authorities, who had asked that he be held longer so he could be deported again.

The backlash to his release crescendoed when Mr. Trump cited the case during the campaign.

In a major speech on immigration in August 2016, Mr. Trump argued that "countless innocent American lives have been stolen because our politicians have failed in their duty to secure our borders and enforce our laws."

Mr. Trump then named several young people who he said had become victims of policies he considered failures. Among those he named was Ms. Steinle, who Mr. Trump said had been "gunned down in the sanctuary city of San Francisco, by an illegal immigrant, deported five previous times."

"And they knew he was no good," Mr. Trump said of the man who had shot her.
More from the San Francisco Chronicle:
A jury handed a stunning acquittal on murder and manslaughter charges to a homeless undocumented immigrant whose arrest in the killing of Kate Steinle on a San Francisco Bay pier intensified a national debate over sanctuary laws.

In returning its verdict Thursday afternoon on the sixth day of deliberations, the Superior Court jury also pronounced Jose Ines Garcia Zarate not guilty of assault with a firearm, finding credence in defense attorneys' argument that the shot that ricocheted off the concrete ground before piercing Steinle's heart was an accident, with the gun discharging after the defendant stumbled upon it on the waterfront on July 1, 2015.

Garcia Zarate, a 45-year-old Mexican citizen who was released from County Jail before the killing despite a federal request that he be held for his sixth deportation, was convicted of a single lesser charge of being a felon in possession of a gun. He faces a sentence of 16 months, two years or three years in state prison. Garcia Zarate, who has already served well over two years in jail and gets credit for that time, will be sentenced at a date not yet determined.

The verdict set off a flurry of reactions. Defense attorneys said the case had been overcharged, while U.S. Attorney General Jeff Sessions blamed the killing on San Francisco's policy of refusing cooperation with immigration agents. Jim Steinle, who had been strolling on the pier with his daughter when she fell, told The Chronicle he was "saddened and shocked," adding, "Justice was rendered, but it was not served."

(…)

Prosecutors told the jury that Garcia Zarate brought the gun to the pier that day to do harm, aimed it toward Steinle and pulled the trigger. Assistant District Attorney Diana Garcia spent much of the trial seeking to prove the pistol that killed Steinle couldn't have fired without a firm pull of the trigger, while establishing that Garcia Zarate tossed the weapon into the bay before fleeing the scene.

Alex Bastian, a spokesman for the district attorney's office, said Thursday that prosecutors had found sufficient evidence for the charges at every step of the case.

"The verdict that came in today was not the one we were hoping for, but I think it's unequivocal that both sides gave it their all," Bastian said. "This really is about the Steinle family. They've shown incredible resolve during this whole process, and our hearts go out to them."

Defense lawyers said the shooting was an accident that happened when Garcia Zarate, who had a history of nonviolent drug crimes, found the gun wrapped in a T-shirt or cloth under his seat on the pier just seconds before it discharged in his hands. Lead attorney Matt Gonzalez said his client had never handled a gun and was scared by the noise, prompting him to fling the weapon into the bay, where a diver fished it out a day later.

Earlier Thursday, jurors paused their deliberations to ask if they could test the pistol's trigger. Judge Samuel K. Feng said no.

During the monthlong trial, jurors watched video from Garcia Zarate's four-hour police interrogation, in which he offered varying statements about his actions on the pier. At one point he said he had aimed at a "sea animal," and at another point, he said the gun had been under a rag that lay on the ground near the waterfront, and that it fired when he stepped on it.

Gonzalez said it was clear in the video that Garcia Zarate — who has spent much of his adult life behind bars, was living on the street before the shooting, and has a second-grade education — did not fully understand what the officers were asking him through an officer's Spanish translation.
Not surprisingly, President Trump didn't react well to the verdict:
A disgraceful verdict in the Kate Steinle case! No wonder the people of our Country are so angry with Illegal Immigration.

— Donald J. Trump (@realDonaldTrump) December 1, 2017
The Kate Steinle killer came back and back over the weakly protected Obama border, always committing crimes and being violent, and yet this info was not used in court. His exoneration is a complete travesty of justice. BUILD THE WALL!

— Donald J. Trump (@realDonaldTrump) December 1, 2017
The jury was not told the killer of Kate was a 7 time felon. The Schumer/Pelosi Democrats are so weak on Crime that they will pay a big price in the 2018 and 2020 Elections.

— Donald J. Trump (@realDonaldTrump) December 1, 2017
As a preliminary matter, it's important to note something that most of the online commentary from the right side of the political spectrum seems to be forgetting in the reactions I've seen since the verdict was announced last night. Specifically, I'm referring to the fact that the defendant's immigration status and the fact that he has apparently been caught residing in the United States illegally at least five times is, as a matter of law, irrelevant to the case that was before the jury. Yes, it's true that Steinle would likely be alive today if Garcia Zarate had not been where he was when he was, but that fact doesn't matter in a court of law. The only relevant questions are whether or not the prosecution had proven that he was guilty of either murder or manslaughter beyond a reasonable doubt. From the outcome of the case, which came after a trial that lasted several weeks and jury deliberations that lasted six days, it seems obvious that they didn't. Given the fact that it's unlikely that any of the people who are providing this instant reaction on social media followed the trial closely, were most likely not in the courtroom to hear all of the evidence and testimony that the jury did, and did not participate in deliberations, it's impossible to say that the jury got it wrong in this case. Indeed, given the fact that the jury deliberated for six days is a pretty strong indication that they considered the evidence seriously and that the issues in the case were far more complicated than the simplistic armchair legal analysis would have you believe.
As is likely the case with most people, I will readily admit that I did not follow this case closely while it was going on. Indeed, I wasn't really aware that it was taking place until the verdict was announced last night. Nonetheless, from the reporting that I have seen in the wake of the verdict, what happened does make some degree of sense. To listen to President Trump and much of the right, one would assume that the shooting occurred when Steinle was walking along the San Francisco waterfront with her father and that, for some reason, Garcia Zarate, who was homeless at the time and just happened to be in the area, used the gun that he had somehow obtained to kill her. In reality, Garcia Zarate had contended from the beginning that he did not intend to fire the gun and that it went off accidentally, ricocheted off the ground, and hit Steinle fatally injuring her.
As Sarah Rumpf notes in an article posted last night, at trial the defense presented evidence that the gun in question had a history of accidental discharge under certain circumstances and the testimony of an expert witness who testified that, based on the ballistics evidence produced by the prosecution, it was clear to him that the fatal bullet had ricocheted off the ground before it hit Steinle. Given that Garcia Zarate was only charged with First Degree Murder, Second Degree Murder, and Voluntary Manslaughter, among other charges including the gun possession charge that he was convicted on, the prosecution was basically required to prove that the shooting was intentional. As Rumpf put it, the defense put forward "a plausible explanation for how Garcia Zarate could have fired the gun and killed Steinle by accident. That's reasonable doubt. Had prosecutors charged him with a lesser crime, such as Involuntary Manslaughter or Negligent Homicide, they might have gotten a conviction. They failed to do so, though, and since double jeopardy attached when the jury was seated and sworn, they are precluded from bringing additional charges.
Patrick "Patterico" Frey, who is a former prosecutor in California, also has a post on the case:
On one hand, you have ordinary carelessness or an accident. This is not criminal. On the other hand, you have recklessness that is so different from usual care that the person is essentially indifferent to human life. That's what rises to the level of criminal negligence. Put another way: criminal negligence is not just any negligence that results in death. It's a reasonably high standard, as befits a criminal statute that carries prison time as a consequence for its violation.

Merely picking up a gun and having it accidentally go off is unlikely to be found to be criminally negligent. Waving it around or brandishing it is closer to the type of behavior that this crime targets.

Again, the jury looked at the factors in the Zarate case, including the fact that the weapon involved is prone to accidental discharge, the ricochet off the ground, and the ambiguous nature of the admissions made in Zarate's interview. Based on those factors and others, they decided that Zarate's actions were not so egregious to amount to indifference to human life. They may have thought it was an accident, and/or that he was careless but not reckless.

Was that irrational? I didn't see the trial, but based on the publicly known facts, I can't say that it necessarily was. This is not like the OJ case, where evidence of murder is overwhelming and clear. This was a tough case.

(…)

There's plenty to be angry about here. San Francisco's self-righteous sanctuary city policy clearly cost Kate Steinle her life. The man who handled the gun that shot her had no business being on the streets of San Francisco. He should have been deported, yet again. But thanks to leftist lawmakers, he wasn't, and a beautiful young woman died as a result.

But that fact alone does not make this verdict wrong. Once you understand the law, it's easy to see that the verdict may well have been correct.
In any case, Garcia Zarate is not walking free after last night's verdict. As noted, he was convicted on a felony gun possession charge and will be sentenced on that charge at a future date. Additionally, Federal authorities have said that they intend on taking custody of Garcia Zarate and deporting him after the state court proceedings are concluded. Whether that means he would serve his time in a California prison or whether he will be immediately deported is unclear. None of this will please Trump or the others who hijacked this case for political purposes, of course, but the justice system doesn't exist to please people it exists to dispense justice as defined by the law. Sometimes, it gets things wrong, but usually it doesn't and, in any case, as the great English legal philosopher William Blackstone put it, it is better than ten guilty men go free than one innocent man goes to prison. Whether Garcia Zarate falls into the first or second category is something we can each decide for ourselves, but from everything that's been written above this case, it's clear to me that the system worked the way it was supposed to. Perhaps next time, prosecutors won't overcharge defendants like they did in this case.
Update: This post was updated to include the link to and excerpt from the post by Patrick "Patterico" Frey.