Justice for Ahmaud Arbery
A just verdict---but just a verdict.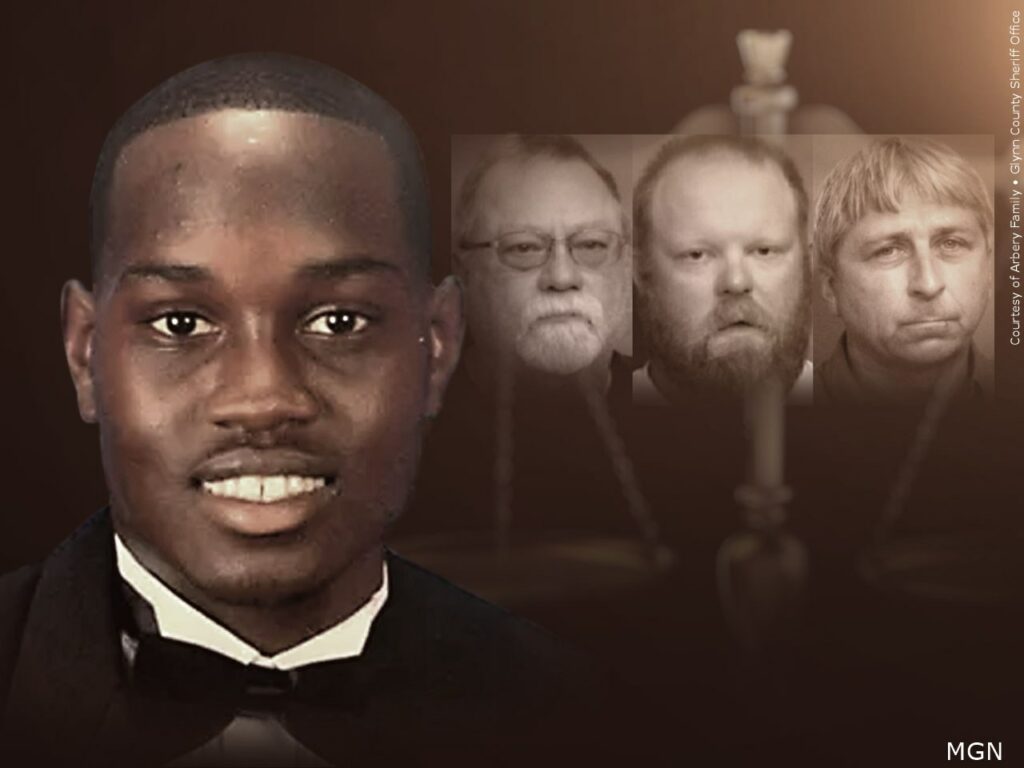 WaPo ("Jury finds all 3 men guilty of murder in Ahmaud Arbery's death"):
The three White men who chased and killed Ahmaud Arbery in coastal Georgia last year were convicted of murder Wednesday in a case that many saw as a test of racial bias in the justice system.

Travis McMichael, his father, Greg McMichael, and their neighbor William "Roddie" Bryan were found guilty of felony murder in the shooting of Arbery, a 25-year-old Black man. Travis McMichael was also convicted of malice murder, or intent to kill. All three men, who still face federal hate crime charges, will receive life in prison, potentially without parole.

Arbery's mother wept when the verdict came back after less than two days of deliberations. His father leaped from his seat to cheer. Black fathers rushed to the courthouse with their sons, while lawmakers and civil rights leaders hailed justice even as they said it was hard-won.

"This is a very consequential day, not just for Ahmaud Arbery but for families all over America," said Ben Crump, a prominent civil rights lawyer for Arbery's family who also represented the family of George Floyd. "We have to show that America must be better than what we saw in that video."

A prosecutor initially found the defendants justified in killing Arbery, saying they were carrying out a "citizen's arrest" for neighborhood break-ins when Travis McMichael shot in self-defense.

For more than two months, Arbery's family pushed for consequences in vain. Then a leaked video of the Feb. 23, 2020, killing thrust the case into the national spotlight, weeks before Floyd's murder by a White police officer in Minneapolis ignited mass protests against police brutality and racism.

That national conversation hung over the trial, which stretched more than five weeks, as lawyers fought over the courtroom presence of Black civil rights leaders and selected a nearly all-White jury over the prosecution's protests. For many, the trial took on even more weight after the acquittal last week of Kyle Rittenhouse. The White teenager successfully argued that he shot three people — killing two — in self-defense after driving to Kenosha, Wis., to help protect businesses when protests over the police shooting of a Black man turned destructive.

Prosecutors portrayed the Georgia defendants as dangerous vigilantes who cornered an unarmed man with their pickup trucks in suburban Satilla Shores. "This isn't the Wild West," prosecutor Linda Dunikoski told jurors, saying that the accused jumped to assumptions about a "Black man running down the street."

Lawyers for the defendants said the men pursued Arbery not because of his race but because they suspected him of burglary. The younger McMichael testified last week that he felt compelled to shoot in self-defense when Arbery ran at him, struck him and grabbed his shotgun.

Arbery died because he "chose to fight," defense lawyer Laura Hogue said in her closing. At one point she emphasized that Arbery had "long dirty toenails," drawing gasps in the courtroom and denunciations from Arbery's family.

Defense lawyers said Wednesday that they would appeal the verdicts after sentencing. Throughout the trial, they clashed with the judge over admissible evidence and sought mistrials — arguing at times that gallery outbursts, courtroom guests and outside demonstrators had compromised their clients' rights.
When I first commented on the case last May, I judged that Arbery was "an innocent man killed for no good reason. But, absent strong evidence to the contrary, this looks to me like ill-advised vigilantism gone wrong" and predicted that no Georgia jury would convict them. Partly, that was a function of misunderstanding Georgia law, which was remedied in the discussion on that post. Mostly, though, new evidence—including a video shot by one of the defendants—made malicious intent more clear by last June.
While they were articulated in the worst possible way by defense counsel throughout and after the trial, I continue to have concerns about individual trials acting as stand-ins for systemic issues. Local authorities initially declined to press charges and the state stepped in after a national outrage campaign—Arbery was killed just weeks after George Floyd—forced their hand. And, while I have zero doubt about the guilt of these defendants, I very much dislike national political figures weighing in on local cases. When there's a real threat of mob violence after an acquittal, there's always doubt as to whether the jury felt pressure to come back with a guilty verdict.
WaPo's Eugene Robinson declares "The guilty verdicts against Ahmaud Arbery's killers are justice for a lynching."
The killing of Ahmaud Arbery, a young Black man who had the gall to jog through a mostly White neighborhood, was nothing but a classic lynching of the kind that could have happened a century ago.

We can say that in plain English now, with no hemming and hawing, following Wednesday's jury verdict finding Arbery's killers guilty of murder, aggravated assault and false imprisonment — the same crimes that White lynch mobs once regularly committed against Black Americans with impunity.

Lawyers for the three defendants — Travis McMichael; his father, Greg McMichael; and their friend William "Roddie" Bryan — played the race card repeatedly throughout the trial, perhaps seeing it as the only card they had. In Brunswick, Ga., a town where almost 60 percent of the population is Black, they managed to seat a jury with only one Black member. They resorted to just about every racist trope used to denigrate and demonize Black men over the years, suggesting that the armed killers had reason to fear the slight Arbery's allegedly inhuman strength and malice. One defense lawyer, Laura Hogue, even went so far as to tell the jury that Arbery had "long, dirty toenails."

Those defense attorneys utterly failed. It took just 11 hours of deliberation for the almost all-White jury to find the three White defendants guilty of lynching a Black man. Maybe there's a glimmer of hope for justice in these United States after all.
I would like to think so, too. But, as The Atlantic's Adam Serwer reminds us, "The System Only Worked Because It Was Pushed."
It took video of the shooting going viral, in May of last year, for the men to be arrested. The clip showing Arbery's death became public a few weeks before the release of the video showing George Floyd being murdered by a police officer. In retrospect, the two share a disturbing connection: The videos contradicted the statements of local authorities that both Floyd and Arbery were responsible for their own deaths. Without the video evidence—and the national protest, outrage, and scrutiny they sparked—neither man's killers would have seen the inside of a courtroom. It took a series of extraordinary events to force the system to regard their deaths as crimes worth investigating.
Indeed, if the killers had not recorded themselves murdering Arbery, they would almost certainly have gotten away with it.
Robinson's colleague Robin Givhan declares this "A verdict not held hostage to history."
When Travis McMichael heard the nine guilty verdicts delivered against him, beginning with malice murder, he blinked, glanced downward and exhaled. His chest rose and deflated in his gray blazer as he listened to the judgment that his fellow citizens made regarding his culpability in the death of Ahmaud Arbery. McMichael's expression didn't change. He barely blinked as his lawyer's hand rested on his shoulder. But in that instant, with that quiet puff of air escaping his body, it was as though the ghosts of the past swept through him. And while no single trial can serve as a referendum on racial justice, the verdict was a vital piece of evidence proving the country is not a hostage to its history.

"Let the word go forth all over the world that a jury of 11 Whites and one Black, in the Deep South, stood up in the courtroom and said that Black lives matter," said civil rights activist Al Sharpton during a news conference outside the courthouse after the verdicts were read Wednesday afternoon.

McMichael, one of the three men accused and ultimately held responsible for Arbery's death, was the one who fired the gun that killed him. The other two had been part of the chase; they'd been accomplices in terror. The jury decided that Travis McMichael was alone in his malice but not in his guilt. His father, Greg, was convicted of felony murder, along with William "Roddie" Bryan. Greg McMichael's gaze was cast down, and he briefly closed his eyes as he listened to the jury's decision. Bryan's mouth was set in a grim line. Both men were deathly still. The life had not seeped out of them, but the bravado had. They did not look defiant or tough. The certainty that once hung so easily from their shoulders was gone.

[…]

Justice is supposed to be sweet, something that one might want to savor. But sometimes, the wait is so exhausting, so uncertain that when justice finally arrives all anyone can do is just take a deep breath to make up for all those days and months — and sometimes years — when folks were so busy hoping and fighting that they forgot to exhale. As Arbery's parents made their way through the crowd, they were helped along by law enforcement. Last year, officers had dawdled in rendering aid to their son as he laid bleeding and dying in the street. Last year, the system said their son had died committing a burglary when no such evidence existed. On Wednesday, men in uniform followed in the wake of Arbery's parents, protecting their back, giving them space and giving them room to breathe.

The men convicted of Arbery's murder also left the courthouse Wednesday. They were placed in separate cars. Travis McMichael shuffled as he walked; his ankles were tethered with chains. He was no longer wearing his tie. The men who had deputized themselves to target and hunt Arbery now face the possibility of life sentences without parole. The gang of three had fallen prey to their fear of a Black man running. The jury did not. The jury believed the facts, not tropes, innuendos or stereotypes. The jury saw the world through Arbery's eyes.

Justice finally arrived, and Cooper-Jones said it meant that her son could now rest in peace. His last breath had not been in vain.
This, ultimately, is what the jury was tasked to accomplish. While it's perfectly natural to draw broader conclusions about race and social justice from these high-profile trials, that's not what individual juries are supposed to do. Their job is to assess the facts and how they comported with the law. Ahmad Arbery should be alive and these men have to pay for hunting him down and killing him. They are not and should not be avatars for the state of race relations in the United States.
Public defender Sarah Lustbader writes in NYT about "What the Arbery and Rittenhouse Verdicts Couldn't Tell Us." Rather clearly, it was written before the Arbery verdict, which is shoehorned in. But her broader point matches my inclination on these matters:
[A] single trial is not a referendum on social justice, and looking to criminal convictions to solve our problems will only further entrench them. Whatever the outcome — acquittal in Mr. Rittenhouse's case and convictions for Mr. Bryan and the McMichaels — no single verdict can resolve the underlying systemic issues.

Blockbuster cases usually hinge not on lofty moral questions but on narrower factors, like the idiosyncratic laws and procedures of a particular jurisdiction. Central to the Rittenhouse case was Wisconsin's self-defense law, which allows a person to use deadly force if he or she "reasonably believes" it is necessary to prevent "imminent death or great bodily harm." There is no duty to retreat before using deadly force in Wisconsin, and, unlike most states, Wisconsin even allows a person who provokes violence to use self-defense after exhausting other means to avoid harm.

Convictions in high-profile cases like that of Mr. Rittenhouse are not paths to justice; they can't be, because the jury is tasked not with deciding overarching questions of fairness but rather with applying a specific set of laws to a specific set of facts.

[…]

The judge, Bruce Schroeder, also made headlines for his erratic, seemingly uninformed bluster and his general quirkiness. Some of his decisions seemed biased in favor of Mr. Rittenhouse, such as when he barred prosecutors from calling the people Mr. Rittenhouse shot "victims," saying that the term was "loaded," but allowed defense lawyers to call them "arsonists" and "looters" if the evidence supported such labels. But Judge Schroeder is no anomaly. He is 75 years old and the longest-serving circuit judge in Wisconsin. Anyone who has practiced criminal law or even attended a trial knows that plenty of judges are not the objective and omniscient arbiters of popular imagination: They are idiosyncratic and sometimes biased. I'd like to live in a world where judges, whatever their personal quirks, are similarly respectful of indigent clients, but a conviction here would not have made it so.

[…]

To get a sense of the way racism pervades our criminal justice system, I would recommend paying less attention to blockbuster cases and instead visiting a local criminal court on a random day and witnessing the parade of low-income people of color shuffled before the court, most of them accused of minor, victimless offenses. Pay attention as a judge decides, within minutes, how much money will be required for each person to get out of a cage. Listen to the defense lawyer describe the life circumstances of each client. And then ask what can be done. What structures, literal or figurative, must be dismantled, built or changed in order to create the change we seek?
Vox's Fabiola Cineas tries to explain "The significance of the guilty verdicts in Ahmaud Arbery's murder."
Arbery became an avatar of the Black Lives Matter movement after his death, and the verdict is a significant moment in the struggle to receive justice for slain Black Americans. Still, the decision comes at a time when many activists believe social justice progress is being undone by laws that seek to restrict voting rights access or limit the scope of American history that's taught in schools, while the Covid-19 pandemic continues to disproportionately affect historically underserved communities.

The verdict may come as a surprise, given that many activists and experts say the legal system tends to favor white men who claim self-defense: The defendants argued their actions fell under a Georgia citizen's arrest law, created during the slavery era, that has since been repealed.

"What was at stake in this trial was reframing what and who we believe the rule of law will protect and is meant to protect — whether that is white supremacist ideology or the standard of true justice," said Tiffany Jeffers, a professor of law and legal practice at Georgetown University Law Center. "This verdict hopefully quells white supremacist ideology and tells those individuals that [violence] is unacceptable."

Whether the verdict changes behavior or not, Arbery's death has already led to legal reform in Georgia, including the passage of a hate crimes law as well as the gutting of a slavery-era citizen's arrest law that the men used to defend their killing. These changes could eventually ripple across the country. But most states still have these laws in effect, giving citizens and vigilantes what some legal scholars say is undue power to act on their worst biases.

"I am glad that Georgia has already taken these steps, but it all depends on what ultimately happens because we can still have people administering the laws in ways that are racist," said Justin Hansford, a professor at the Howard University School of Law.
Given the Constitution's prohibition of ex post facto laws, the Arbery murderers were absolutely entitled to be judged under the extant citizens' arrest law, odious though it was. They were. They simply didn't meet the threshold.
The Dispatch's Stephen Gutowski highlights "The Similarity, and Stark Difference, Between the Kyle Rittenhouse and Ahmaud Arbery Shootings." Leaving aside the oddness of juxtaposing the shooter and the victims in the naming, he makes a distinction that I've tried to articulate in the back-and-forths with readers here.
McMichael was chasing Arbery down; Rosenbaum was chasing Rittenhouse.

That makes a world of difference. Legally, you can not initiate a fight and then kill somebody when you've lost the upper hand. You can't be the aggressor and then claim self-defense under most circumstances.

Self-defense lawyer John Monroe, who practices in both Wisconsin and Georgia, explained why that distinction is so important. He said videos of the Rittenhouse shooting showed Rittenhouse retreating with Rosenbaum in pursuit and turned to face him only after he'd been boxed in by cars.

"The cases are really very factually different," Monroe said on The Weekly Reload Podcast. "In the Rittenhouse case, Mr. Rosenbaum was chasing Mr. Rittenhouse on foot and Mr. Rittenhouse ended up being cornered more or less by physical objects so that he essentially ran into a corner, had to turn around, and that's when Mr. Rosenbaum lunged at him and tried to take his gun."

He said the Arbery case was almost the exact opposite. If anything, the video in that case suggests Arbery was the one being cornered and the one who acted in self-defense.

"Mr. Arbery was the one being chased," Monroe said. "He was on foot and he was unarmed. He was being chased by people who were armed and he essentially got cornered by multiple people chasing him. And then it appears that he lunges for the shotgun of the first guy who was aiming at him. So, there's more of a case there that Mr. Arbery was making a desperate attempt to defend himself because he was being attacked."
The juries in both cases did their duty. Kyle Rittenhouse is not a hero but, under the laws of Wisconsin, he was entitled to defend himself when chased down. Ahmad Arbery, even under the extant laws in Georgia, was entitled to run barefoot through a neighborhood without being gunned down.