The Ahmaud Arbery Shooting
A seemingly innocent black man has been killed, sparking a wave of outrage.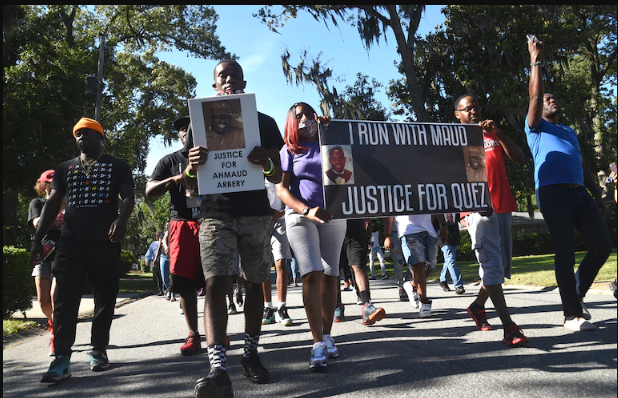 I seldom comment on local murder investigations, in that it's nearly impossible to know all the facts from afar. But there's been enough discussion of this one on my social media feeds and in the open fora here that it's worth starting a conversation about it.
The video, which is widely available online, is troubling. It shows a young man's life being ended. But it's hardly conclusive. It doesn't show anything that happened shortly before the shooting that would provide necessary context.
Arbery's family, outraged by weeks of local officials failing to file charges, have done a masterful job of portraying him as a clean-cut young man murdered for jogging.
The shooters, a retired police officer and his 34-year-old son, claim that they were pursuing him because he matched the description of a man seen burglarizing the neighborhood and they shot him in self-defense when he tried to attack them. Subsequent investigation shows that there had been no home burglaries in said neighborhood in the weeks prior to the shooting. That would seem damning, except for this from the NYT:
When the police arrived after the shooting, Gregory McMichael said that Mr. Arbery had looked like the suspect in a string of break-ins in the area.

Since last August, there had been at least three calls to police about a man trespassing on a property in the neighborhood, according to documents released by the Glynn County Police Department in response to a public records request. In the weeks before the shooting, Travis McMichael had also called to report that a firearm had been stolen from his truck.

In October, a caller reported that a man had been seen on a camera system for a property that was being built in the neighborhood. In November, the same caller again reported something similar.

On Feb. 11, another call was made to 911 by someone who said he had caught a man trespassing in a house. The caller, who said he had not seen the man before, had "just chased him" and was sitting outside the house, waiting for police to respond, in a red Ford 150 pickup, the same kind of truck that Travis McMichael reported a weapon stolen from weeks earlier.

The identity of the caller or callers was redacted from the reports.
I don't know what to make of that. McMichaels men, one of whom was a retired law enforcement officer, may genuinely have been trying to protect their neighborhood. Or they may have been lying in wait.
The actions of local law enforcement were, to say the least, not reassuring. Given both conflicts of interests in a small town, where prosecutors had a relationship with a retired cop, it's somewhat understandable. And, like it or not—and I don't—it's quite likely that chasing down a burglary suspect and then using deadly force when frightened is perfectly legal in Georgia.
But I'm equally leery of the actions of state authorities in recent days. We have a racially-tinged incident in a country where white cops and would-be cops routinely kill young black men and get away with it. Under pressure to do something where local authorities wouldn't, the state police have not only arrested the men but charged them with felony murder, which will almost certainly not be provable in court. Further, they have been denied bail despite, as best I can tell, having been model citizens before this incident and demonstrating no flight risk.
Facebook friends are calling this "murder" and assuming racist intent. But there's no evidence of which I'm aware, other than that they're white men from small-town Georgia, that these men are bigots. Much less that they intended to murder Arbery.
My strong guess, based on the cursory evidence I've seen, is that Arbery was indeed an innocent man killed for no good reason. But, absent strong evidence to the contrary, this looks to me like ill-advised vigilantism gone wrong.
The 64-year-old retired cop missed the action. His untrained, fatass son got scared when a young black man quite understandably tried to wrest his long gun away from him after shots had already been fired and shot him.
And, yes, there's a huge racial component to the issue. I have no evidence the McMichaels were particularly racist, much less intended to kill Arbery when they began pursuit. But one suspects they'd have perceived a 26-year-old white man running through their neighborhood dressed similarly as less threatening. And been less likely to give chase, much less use deadly force, given similar circumstances.
It's possible here to both be outraged that a young black man is dead and think the white men who killed him aren't guilty of murder. And, indeed, that's where I am given the limited information at my disposal.
Should it be legal for ordinary citizens to take the law into their own hands, chase down a criminal suspect while heavily armed, and put themselves in a situation where deadly force is a strong possibility? No. But it almost certainly is.
It's long been obvious, going back to at least the Treyvon Martin case, that it's dangerous to have untrained yahoos out there playing wannabe cop. Real police officers, even those with weeks of training and years on the job, too often get scared and trigger-happy. Sadly, especially when the suspect is a young, black man. But we don't need to compound the problem by empowering every citizen with a gun and a pickup truck trying to be a hero.
UPDATE: Commenters point me to David French's take on the situation. He agrees with me that this was vigilantism run amok but thinks the facts constitute murder under Georgia law.
His account of the facts are more detailed than the NYT stories I relied on but don't materially change my view of the situation: Arbery was regularly seen in the neighborhood, probably just jogging but also possibly taking a perfectly innocent look into an ongoing home construction project, and the McMichaels or somebody else had repeatedly called police to report him as suspicious. In this instance, they gave chase, called 9/11, and ultimately shot him.
Here's the key bit in terms of the legalities:
Georgia law does indeed permit a person to execute a citizen's arrest—in very narrow circumstances. The relevant false arrest statute holds that a "private person may arrest an offender if the offense is committed in his presence or within his immediate knowledge. If the offense is a felony and the offender is escaping or attempting to escape, a private person may arrest him upon reasonable and probable grounds of suspicion."
Once the citizen's arrest is properly made, Georgia law requires the citizen to take the suspect before a judicial officer or peace officer "without any unnecessary delay." 

It's also true, however, that an unlawful attempt to take and hold a person is itself a crime—false imprisonment. Under Georgia law, a person commits the crime of false imprisonment "when, in violation of the personal liberty of another, he arrests, confines, or detains such person without legal authority."

Moreover, according to Georgia case law, one cannot use the citizen's arrest statute "to question" a suspect. In fact, stating an intention to question a suspect can be evidence that the individual claiming a right to make a citizen's arrest is "uncertain and did not have immediate knowledge" that the victim had been the perpetrator of the alleged crime. 

Now, let's apply the law to the facts. On the day Arbery died, a 911 caller said a man matching Arbery's description was walking inside a vacant construction site. Another caller said, "There's a black male running down the street." Gregory McMichael claimed he recognized Arbery from "surveillance video" after "several break-ins in the neighborhood." 

The only "offense" committed in anyone's presence is the report of a person walking into a construction site. If that merits mounting up an armed three-person, two-vehicle posse to chase a man in broad daylight and menace him with weapons, then many of us are lucky to be alive and free. Just last week I walked into a house under construction in my neighborhood to check out the new floor plans. I didn't even think to check for an armed gang charging down the street.

The McMichaels' other possible argument is that the unspecified video footage from unspecified previous break-ins constituted sufficient "immediate knowledge" that a crime had been committed days or weeks ago, and that alleged older crime provided the McMichaels with "reasonable and probable grounds of suspicion that they were pursuing a fleeing felon." 

Justifying armed pursuit on that basis would represent a remarkable application and extension of the law. It would empower vigilantism. It would empower citizens to independently investigate crimes and seek to arrest suspects on their own authority. 

McMichael didn't merely report that Arbery ran by so that police could investigate. He didn't even simply follow him at a safe distance to keep him in sight until the police arrived. He moved aggressively to arrest Arbery, and he did so based mainly on his subjective interpretation of surveillance videos of alleged previous incidents. 

Georgia case law indicates that past incidents may not justify present citizen pursuit. A 2000 Georgia Court of Appeals opinion states that "the term 'within his immediate knowledge' enables a private citizen to use any of his senses to obtain knowledge that an offense is being committed." (Emphasis added.) 

There are other problems with his story. If you go back to the police report, McMichael not only failed to report that he was parked and waiting in the road for Arbery rather than pulling up alongside him, he claims they told Arbery, "Stop stop, we want to talk to you." A conversation is not an arrest, and an unarmed citizen is under no legal obligation to stop and "talk" to other armed citizens who are blocking his path. 

Moreover, there is a vast difference between benign open carry and using a gun to threaten a person. It's a crime under Georgia law to point a gun (loaded or unloaded) without legal justification. When Arbery was confronted by armed men who moved directly to block him from leaving, demanding to "talk," then Arbery was entitled to defend himself. Georgia's "stand your ground law" arguably benefits Arbery, not those who were attempting to falsely imprison him at gunpoint. 
That all strikes me as reasonable.
The McMichaels men were clearly out of line in organizing a mini posse to try to arrest a man for the offense of being nosy at a construction site. Whether they armed themselves with the intent to hunt down Arbery and kill him is unknowable but it strikes me as more likely they did so for self-protection. Either way, in French's telling, they were not legally entitled to take the actions they took leading up to Arbery's desperate lunge and subsequent homicide. The local prosecutor says otherwise but the arrest by Georgia state police would seem to indicate that French's interpretation is correct.
Do I think a Georgia jury is going to send a retired police officer and his son to jail for this shooting under this particular set of circumstances? I do not. And that would be true if it was an unarmed white man.
French goes further and asserts, "When white men grab guns and mount up to pursue and seize an unarmed black man in the street, they stand in the shoes of lynch mobs past." Now, as he says, "We will learn much more about this case before it's over, and perhaps we'll learn of exculpatory evidence not yet available in the public record."
But, again, one of the suspects is a retired police detective. On the one hand, that means he ought to be thoroughly familiar with the laws to which French points. On the other, we presumably have a long track record. Has he used deadly force in the past? Does he have a record of complaints based on racial profiling? That would seem important to know before we claim this was racially motivated.