Second Video in Ahmaud Arbery Case
We now have more context but not more relevant facts.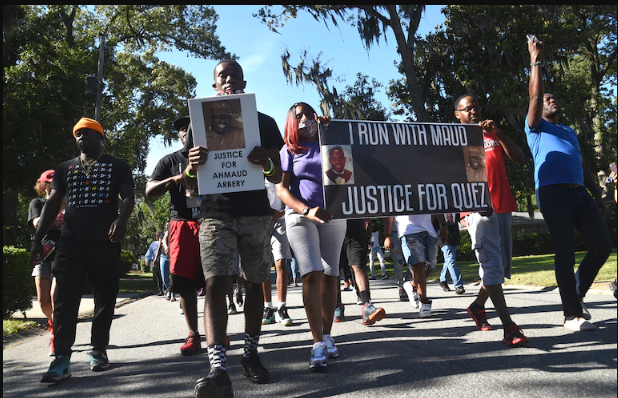 WaPo ("New video said to show moments leading up to Georgia jogger Ahmaud Arbery's death"):
Additional video emerged Saturday that is believed to show the moments leading up to the death of black jogger Ahmaud Arbery, whose fatal shooting sparked widespread outrage and demands for action against local law enforcement officials who waited more than two months to arrest suspects in the killing.

[…]

The Atlanta Journal Constitution published surveillance footage Saturday that shows a figure entering a house under construction that day shortly before the shooting, lingering for a few minutes and then jogging toward the location where the men later confronted Arbery. The Georgia Bureau of Investigation confirmed the video is part of its investigation but did not identify the figure.

Lee Merritt, an attorney for Arbery's family, tweeted a statement Saturday noting that the figure in the video is believed to be Arbery.
"He engaged in no illegal activity and remained for only a brief period," Merritt's statement read. "Ahmaud did not take anything from the construction site. He did not cause any damage to the property."

The video shows Arbery's "murder was not justified and the actions of the men who ambushed him were unjustified," Merritt's statement read.

Larry English, the man who owns the house under construction, told The Washington Post that the structure was not robbed.

"That's completely wrong. I've never had a police report or anything stolen from my property, or any kind of robbery," he said.
The video doesn't add much to our knowledge here.
On the one hand, it corroborates the claims of Arbery's killers that they saw him at the site or running away from the site. That bolsters the notion that they thought they were going after someone tbey suspected of criminal activity.
But, contrary to the initial claims of local prosecutors, that wouldn't have justified the actions taken by the perpetrators that led up to their shooting of Arbery. Even if they legitimately believed he was burglarizing a construction site, they had no right to chase him down with loaded firearms and then point them at him demanding he answer their questions.
At the same time, it would seem to belie the notion that these were Klansman who picked out a random black man out for a jog and hunted him down for a "lynching." More likely, they anointed themselves the Neighborhood Watch and proceeded to act with reckless regard for consequences, quite possibly fueled by alcohol.
If that's in fact what happened, it doesn't make Arbery's death any less tragic or outrageous. And, despite the claims of local prosecutors, it's clearly still a crime. But it seems unlikely to me that the state will be able to demonstrate the "abandoned and malignant heart" element of felony murder that they've charged. Reckless homicide seems to more likely finding here.