New Evidence in Arbery Shooting
The preliminary hearing revealed a damning case against the shooter of a young black man.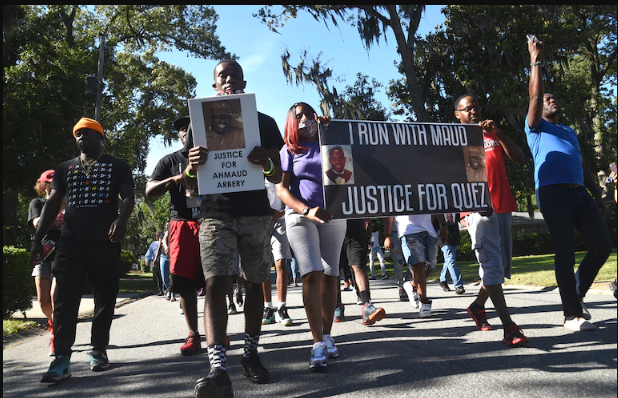 Disturbing testimony paints Travis McMichael as a vile racist who not only murdered Ahmaud Arbery but taunted him at his dying breath.
CNN ("Ahmaud Arbery was hit with a truck before he died, and his killer allegedly used a racial slur, investigator testifies"):
William Bryan told investigators he heard Travis McMichael use a racial epithet after fatally shooting Ahmaud Arbery in Glynn County, a Georgia Bureau of Investigation agent testified Thursday at a preliminary hearing.

The hearing lasted about seven hours, with the judge ruling all three defendants — McMichael; his father, Gregory McMichael; and William "Roddie" Bryan — would stand trial on all charges.

The details of Arbery's last moments emerged amid a week of nationwide protests over another killing — that of George Floyd by police in Minneapolis — and demonstrators have also called for justice in Arbery's case.

GBI Assistant Special Agent in Charge Richard Dial testified that Bryan told police Travis McMichael said "f***ing n***er" after three blasts from his shotgun left Arbery dead in the street in the Satilla Shores neighborhood in February. Body camera footage also showed a Confederate flag sticker on the toolbox of McMichael's truck, he said.

On cross-examination, Dial testified Bryan mentioned the slur in a May 13 GBI interview, and to Dial's knowledge, Bryan had not previously made the allegation, including during a May 11 interview.

However, the agent said, there were "numerous times" on social media and via messaging services that McMichael used the same slur, once messaging someone that he loved his job because there "weren't any N-words anywhere."

In another instance sometime before the shooting, he replied in an Instagram message that things would be better if someone had "blown that N-word's head off," Dial testified. Dial did not say to whom McMichael was referring. Dial was not asked for more context.
Arbery's mother, Wanda Cooper, told CNN's Chris Cuomo she was devastated when she heard Dial's testimony.

"I often imagine the last minutes of my son's life. I didn't imagine it would be that harsh, but to learn that that statement was made in the last seconds of his life … it was very heartbreaking," she said.

Bryan, too, had several messages on his phone that included "racial" terms and indicated he may have prejudged Arbery when he saw him that day, Dial said.

"There's evidence of Mr. Bryan's racist attitude in his communications, and from that I extrapolate the reason why he made assumptions he did that day," he said. "He saw a man running down the road with a truck following him, and I believe he made certain assumptions that were, at least in part, based upon his racial bias."
NYT ("Judge Finds Probable Cause for Murder Charges in Arbery Case") adds:
The explosive revelation, suggesting overt racism was at play in the case, came in a hearing in Brunswick, Ga., that ended with Judge Wallace E. Harrell of Glynn County Magistrate Court determining that sufficient probable cause existed to support the murder charges brought against the three men.

There were several fiery moments in the hearing. At one point, after a lawyer for one defendant referred to the Book of Amos, the special prosecutor Jesse Evans cited another Bible verse.

"I've got one," he said. "What about 'Love thy neighbor'?" The three defendants, Mr. Evans said, had hunted down a "defenseless" man. "He was tormented, he was hunted, he was targeted," Mr. Evans said.

[…]

A federal civil rights probe into Mr. Floyd's death was announced last Friday by Attorney General William P. Barr. Lawyers for Mr. Arbery's family have said that a federal civil rights probe into the Arbery case is also underway.

In an interview on Thursday, L. Chris Stewart, the lawyer for Mr. Arbery's mother, said the revelation of the racist language should be enough to trigger indictments under the federal hate crimes statute.
"This is the proof they need to actually bring charges," he said.
In my first foray into this case, a May 9 post simply titled "The Ahmaud Arbery Shooting," I observed,
Facebook friends are calling this "murder" and assuming racist intent. But there's no evidence of which I'm aware, other than that they're white men from small-town Georgia, that these men are bigots. Much less that they intended to murder Arbery.

My strong guess, based on the cursory evidence I've seen, is that Arbery was indeed an innocent man killed for no good reason. But, absent strong evidence to the contrary, this looks to me like ill-advised vigilantism gone wrong.
Almost immediately subsequent to writing that, I learned that Georgia law is much less forgiving of vigilante activity than local authorities had claimed. But I maintained that, aside from our prejudices, there was no evidence from the video of ill intent.
Well, now we have it.
When I first read the headlines and social media reactions yesterday afternoon, the focus was on the words shouted by the younger McMichael when he shot Arbery. My initial instinct was that they comported with both the circumstances surrounding the case and my own prejudices about lower-class whites in the rural South, reinforced by the unfortunate mugshot of the shooter. My second thought, reinforced by my prejudices against the American justice system, was that it was entirely possible Bryan was coached into inflammatory testimony in exchange for leniency.
The broader report, though, reveals all manner of animus on the part of Travis McMichael that goes well beyond the banal racism that I had always acknowledged was a backdrop to the case.
I am, on principle, opposed to hate crime laws, which I see as the criminalization of unpopular ideas. But it's perfectly reasonable—and, indeed, required—to factor in racial animus in this case in terms of both charging and sentencing. The idea of mens rea, the guilty mind, is part and parcel of our legal system going back to the British common law.
My contention from the beginning was that should very much matter to us how McMichael viewed Arbery. There was no theory of the case in which he was not guilty of homicide. But the new evidence seems to indicate that he murdered a man because he of his race and enjoyed doing so. That's a more horrendous crime than an illegal chase of a suspected burglar that spun out of control.