Trump Still Leads The GOP Field, Anti-Trump Wave Still Not Manifesting Itself
A pair of new polls confirms that Republican hopes that Donald Trump would fade are failing to come true.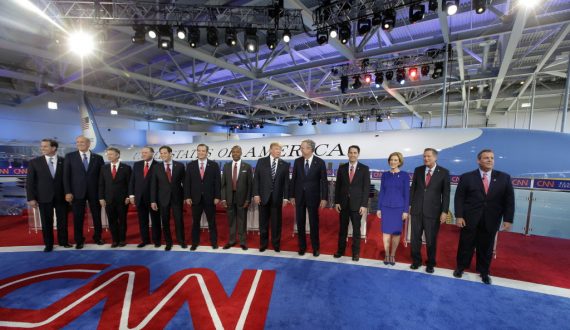 With one week out until the next Republican debate, two new polls show that Donald Trump and Ben Carson continue to be the overwhelming outright leaders of the field, while the anti-Trump wave that many pundits seemed to think was coming continues to fail to manifest itself.
First up, the new NBC News/Wall Street Journal poll shows Trump and Carson continuing to broaden their appeal among Republican voters:
Donald Trump and Ben Carson continue to broaden their appeal among Republican primary voters and have widened their lead over former Florida Gov. Jeb Bush and many other more-experienced candidates, a new Wall Street Journal/NBC News poll finds.

Mr. Bush, once considered the GOP's likely nominee, is also lagging behind his onetime protege, Florida Sen. Marco Rubio, who is emerging as a leading contender to rally the party's establishment wing against the rise of insurgent outsiders such as Messrs. Trump and Carson.

The new poll, conducted Oct. 15-18, underscores the durability—even the gathering strength—of anti-Washington candidates who had long been viewed as likely to be flash-in-the-pan political phenomena.

The poll also tested opinion on another aspect of the Republican Party's internal struggles, the question of who will succeed Rep. John Boehner (R., Ohio) as House speaker. GOP primary voters in the survey said it was more important to find a successor who would stand up for principles rather than seek compromise, even if that meant less work would get done, by a 56% to 40% split.

Nearly two-thirds of Republicans said they would be "comfortable and positive" if Rep.Paul Ryan (R., Wis.) became speaker. Mr. Ryan so far has refused to take the job, but many Republicans see him as one of the few figures who could appeal both to establishment and insurgent wings of the party.

In the presidential competition, candidates with little political experience continue to rule. Mr. Trump, the reality-television celebrity and businessman, was the first choice of GOP primary voters, with 25% support, up from 21% in a late September Journal/NBC News poll.

Mr. Carson, the retired neurosurgeon, placed second in the new survey, with 22% support, a slight rise over last month despite controversy over statements he made that an observant Muslim shouldn't be U.S. president.

Behind them was Mr. Rubio, who rose to 13% in the poll from 11% last month. He was the only other GOP candidate to draw double-digit support.

Mr. Bush, who led the field as recently as June, when he was first choice of 22% of GOP primary voters, drew 8% in the latest poll. That put him in the same league as Texas Sen. Ted Cruz, the antiestablishment conservative who entered the race as a long shot, and Carly Fiorina, the former Hewlett-Packard executive who gained traction after the first two GOP debates, but hasn't reached the top tier. Mr. Cruz had 9% support, and Mrs. Fiorina 7%.

Mr. Bush is losing among poll respondents such as Nicholas Montagnoli, a construction worker in California who prefers Messrs. Trump and Carson, and views their lack of political experience as an asset, not a liability.

"The circle [of people] that runs around staying in politics, they become so involved that they are not doing what they came to office to do anymore," said Mr. Montagnoli, who said he couldn't support Mr. Bush. "I think fresh people and nonpolitical people would do a lot better."

The poll also included a broader measure of candidates' acceptability, which illustrated how much the ground has shifted under Mr. Bush. When asked whether they could imagine themselves supporting a candidate, more GOP primary voters said they couldn't see themselves supporting Mr. Bush, at 44%, than Mr. Trump, at 36%.

For Mr. Trump, that is a dramatic improvement over March, before he announced his candidacy, when 74% of GOP primary voters said they couldn't see themselves supporting him.
Following Trump and Carson in the NBC/WSJ poll are Ted Cruz at 9%, Jeb Bush at 8%, Carly Fiorina at 7%, Mike Huckabee and John Kasich at 3%, Rand Paul at 2%, and every other candidate at 1% or less.
The numbers are similar in the new CNN/ORC poll:
Carly Fiorina's time near the top of the Republican polls may have come to an end, as another national CNN/ORC poll out Tuesday suggests. Just 4 percent of Republican or Republican-leaning voters said they would cast their votes for her in a primary election, down from 15 percent in September.

Overall, Donald Trump led the field with 27 percent, followed again by Ben Carson with 22 percent, up 8 points from last month's survey. Former Florida Gov. Jeb Bush and Florida Sen. Marco Rubio each earned 8 percent, followed by former Arkansas Gov. Mike Huckabee and Kentucky Sen. Rand Paul at 5 percent. New Jersey Gov. Chris Christie, Texas Sen. Ted Cruz and Fiorina pulled in 4 percent, while Ohio Gov. John Kasich earned 3 percent, former Pennsylvania Sen. Rick Santorum 2 percent and South Carolina Sen. Lindsey Graham 1 percent.

Appearing later in the morning on CNN's "New Day," Trump commented that he and Carson have both "hit a chord" in the electorate.

On whether the two could team up as a presidential ticket, Trump remarked, "Well, I like him. He likes me. Stranger things have happened, that I can tell you. But it's too early to think about that."

Responding to Fiorina's drop, Trump expressed surprise that the former Hewlett-Packard executive fell by so much so quickly.

The poll helped to solidify spots in next week's CNBC debate for a number of candidates who were on the bubble. Huckabee, Paul, Christie and Kasich are all now at 3 percent or above in an average of qualifying public polls since the previous debate, giving them some cushion above the 2.5 percent threshold to participate in the main debate.

And the survey appears to mean that Graham — who has been at zero percent in each of the first seven polls — has earned a ticket to the undercard debate, where he will join Santorum, Louisiana Gov. Bobby Jindal and former New York Gov. George Pataki. Former Virginia Gov. Jim Gilmore (zero percent) still has failed to qualify.
To a large degree, these polls confirm what we saw in the Fox News poll that was released last week, namely that the slide that Donald Trump had seen in the wake of the September Republican Debate had come to and end, that Ben Carson was continuing to rise in the polls but largely not at Trump's expense, and that the remainder of the field was pretty much stuck where they had been or declining. In the RealClearPolitics national average, Trump is at 26%, followed by Carson at 21% and in both cases the trend line for the past several weeks has been largely upward. Following the top two, we have Marco Rubio at 10.2%, which seems to be an indication of the possible rise for the Florida Senator that I've noted before. After Rubio comes Jeb Bush at 8.0%, a number which comes on the same day as a poll showing him sinking to 9% in his home state of Florida while Rubio stands at 14.9% behind Trump and Carson. The numbers are largely the same from Pollster, and the calculations there that include only the polls that CNBC will consider when it issues its debate invitations later this week continue to show that both Chris Christie and John Kasich will fail to make the cut for the main debate stage, while Rand Paul will get through notwithstanding previous doubts about his standing in the polls. That would leave eight candidates on the stage for a two-hour debate, which is certainly saner and more rational than the ten and eleven we saw in the first two Republican debates.
If nothing else, these poll numbers continue to put the lie to whatever hopes that more establishment Republicans may have hoped about how the 2016 race for the Republican nomination might unfold. Donald Trump has led in every reputable national poll that has been released since early July, and Ben Carson has been surging since the first Republican debate in office. More establishment candidates like Jeb Bush and Marco Rubio, meanwhile, have seen their numbers sink and remain largely stagnant both at the state and national level. Other candidates that many analysts believe could bridge the gap between the establishment GOP and conservatives and thus have the means to be able to take Trump on, such as Scott Walker and Rick Perry, have dropped out of the race already. Two other such candidates, John Kasich and Chris Christie seem as though they might not be far behind unless their position in the polls and fundraising continue. Carly Fiorina, meanwhile, seems to have outlived her welcome since her poll numbers have declined since appearing on the main stage given the fact that her poll numbers have consistently fallen since that September debate. Of the remaining candidates, Ted Cruz and Mike Huckabee have largely stayed in place in the middle of the pack, while Rand Paul, John Kasich, and Chris Christie have all fallen in the polls and the guys at the bottom of the polls have stayed there much as everyone expected they would. If there is an anti-Trump wave out there, it certainly has not manifested itself among Republicans at this point, and given the fact that Trump's closest competitor is someone who is unlikely to really take him on aggressively there's no reason to believe that it is going to end any time soon.