Trump & Carson Remain At The Top, Christie & Kasich In Danger Of Missing Main Debate Stage
Donald Trump and Ben Carson are still the top two candidates in the GOP race, while Chris Christie and John Kasich appear to be in danger of being relegated to the "KIds Table" debate at the end of the month.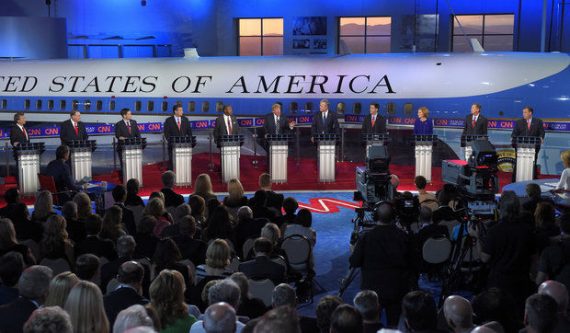 A new poll from Fox News Channel shows that Ben Carson has reached a point where he is essentially statistically tied with Donald Trump in the race for the Republican Presidential nomination, but the real news seems to be what this poll and others that have been taken recently say about who will be invited to be on the main stage at the next Republican Debate:
Ben Carson is giving Donald Trump a run for his money, according to the latest Fox News national poll.

Support for Carson in the race for the Republican nomination has nearly doubled in the last two months, he is seen by voters as being more ethical than others, and he has the largest number of GOP primary voters who say they would definitely vote for him.

That makes him well-positioned to overtake Trump.

In addition, the poll tested an array of general election match-ups and Carson is the only Republican to get 50 percent support.  In a Carson vs. Hillary Clinton contest, he has the advantage by a 50-39 percent margin.

Running down the GOP race:  Trump remains in the top spot with 24 percent, closely followed by Carson at 23 percent.  Ted Cruz is third with 10 percent.  Those are the only three who receive double-digit backing from Republican primary voters.

Next, it's Marco Rubio (9 percent), Jeb Bush (8 percent), Carly Fiorina and Mike Huckabee (5 percent each), and Rand Paul (3 percent). The remaining candidates garner one percent or less.

Carson has climbed 11 points since mid-August when he registered at 12 percent, while support for Trump has mostly held steady.

Support for fellow outsider Fiorina is only about half what it was after the September debate, in which she was widely hailed the winner.

Voters are also asked to name their second-choice candidate.  When first and second-choice preferences are considered together, Carson (41 percent) actually has the edge over Trump (37 percent).

The new poll finds the largest number of voters, 42 percent, thinks Carson is more ethical than the typical politician.  President Barack Obama (35 percent) and Vice President Joe Biden (34 percent) come closest to matching Carson's appeal on this measure.

Far fewer voters consider Clinton (21 percent), Cruz (22 percent), Trump (22 percent) and Bush (24 percent) more ethical than the average politician.

Half of voters say Clinton (50 percent) is less ethical than the typical official, and nearly half say the same of Trump (49 percent).  Thirty-nine percent say Obama is less ethical than others.

(…)

Never say never.  Eighteen percent of GOP primary voters would "never" vote for Trump.  That's down significantly from the 33 percent who said so in August and the 59 percent in June.

For now, Carson gets the lowest never-vote-for number of the candidates tested — six percent.  Rubio also does well with a low nine percent "never" rating.  Bush does the worst at 22 percent.

On the positive side, 46 percent of GOP primary voters would "definitely" vote for Carson.  That's more than double the number that felt that way in August (20 percent).  Thirty-seven percent would "definitely" vote for Trump, 34 percent for Rubio, 31 percent for Cruz, 30 percent for Fiorina and 26 percent for Bush.
Carson's rise in the polls is something that we have seen consistently develop since before the second Republican debate on September 16th, and the headline that most people will draw from this is that Trump is weakening while Carson is gaining strength. Looking inside the numbers, though, this doesn't really tell the entire story. It's true that overall Donald Trump has seen his numbers decline nationally since the second debate, however as I noted last week it seems clear that fall that began at that point has leveled off to some degree. In this Fox News poll, for example, Trump's 24% compares favorably to the 26% he was at in the last Fox News poll taken less than a month ago and is in fact within the margin of error for that poll. Additionally, it should be noted that Carson's close proximity to Trump in this poll is not consistent with other recent national polling that has been done so far. In the CBS News poll that was released last week, for example, Carson (21%) was six point behind Trump (27%), and in the RealClearPolitics national average Trump is averaging 23.4% whereas Carson is at 19.1%. So, while Carson has risen in the polls over the past month, it's not clear how substantial that rise has actually been and it doesn't really appear to have come at Trump's expense so much as it has come at the expense of other candidates, some of whom may find themselves relegated to the undercard debate at the end of this month.
Outside of Trump and Carson, there are no other candidates in double digits in either the Fox News poll or the poll averages, and many of them are in danger of slipping into oblivion. Florida Senator Marco Rubio, who has gotten some press as a rising star in recent weeks despite his somewhat disappointing fundraising numbers, is in third place in the national poll averages and seems well-positioned to rise further if he can. Behind Rubio is a former rising star, former Hewlett-Packard CEO Carly Fiorina, who has clearly slipped in polling since the second debate although she did raise an impressive $6.8 million in the recently concluded fundraising quarter. After Fiorina comes Jeb Bush and Ted Cruz, both of whom are holding steady around seven percent in the national poll averages. This aren't great numbers, obviously, but they're good enough to keep them in the race.
The candidates who are in trouble to one degree or another, outside the obvious choices of people like Rick Santorum and Bobby Jindal who have been polling below 1% since this race began, are candidates like Mike Huckabee, Chris Christie, Rand Paul, and John Kasich, one or more of whom could find themselves excluded from the main stage of the October 28th debate on CNBC. Last month, CNBC announced that only those candidates polling at 2.5% or above in a select group of polls — basically those conducted on behalf of the broadcast and cable networks and Bloomberg News — will be invited to the main debate. The remainder will be invited to the undercard debate as long as they've polled 1% in at least one poll between September 16th and October 17th. Using that criteria, here's what the GOP race looks like using only the polls that CNBC will consider, as determined using Pollster's interactive tools: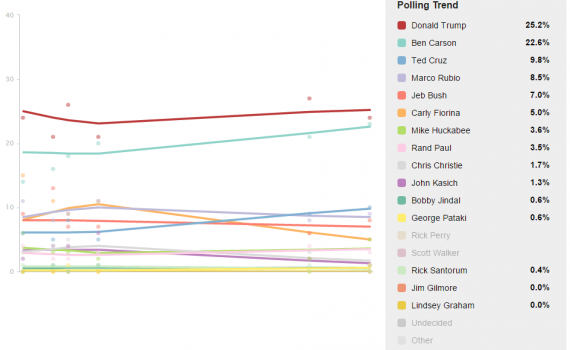 Based on these numbers, both New Jersey Governor Chris Christie and Ohio Governor John Kasich, who have slipped significantly in the national polling, would be excluded from the main debate stage at the end of the month. Indeed, assuming that these calculations are similar to those that CNBC will use to determine who is invited to the next debate, it would seem almost impossible for either candidate to perform well enough between now and whatever polling is released between now and Saturday to get to the threshold that has been established for an invitation to the main debate.
When these criteria were first announced, I noted that there were several candidates on the bubble, and while it appears that Rand Paul and Mike Huckabee have done well enough in the relevant polls to ensure a spot on the main stage, Christie and Kasich have largely disappeared from the spotlight. This will likely spell trouble for the viability of their campaigns going forward. Making the undercard debate in the first debate in August, or even the second debate last month, was not necessarily fatal to anyone's campaign. It did help Carly Fiorina get enough of a bump in the polls to get into the main stage debate last month, and Rick Perry never did recover from being relegated to what pundits have taken to calling the "Kid's Table" debate in August, but beyond that failure to make it into the prime time debate hasn't necessarily had much of an impact on the race. That may not be true going forward, though. The fact that Christie and Kasich may end up being forced to share a debate stage with candidates who are averaging 1% or less in the relevant polls is something that is likely to diminish the image of campaigns that a lot of people, including a lot of donors, are already beginning to write off. It's possible, I suppose, that one or both of them could do so well compared to the rest of the rouge's gallery making up the undercard debate to get them rising in the polls again, but that's not likely and with the time when people actually start voting getting closer and closer, the amount of time for them to fix the downward trajectory of their campaigns is running short.