Big Trouble On Team Carson
As we head into Christmas, there doesn't seem to be much peace on Earth or good will toward men among Ben Carson's advisers.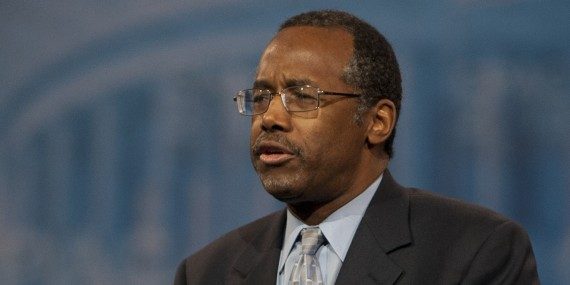 As his poll numbers decline and he sees himself becoming eclipsed by Ted Cruz and Marco Rubio in the polls, there appears to be some chaos in Ben Carson's Presidential campaign as we head into what is ordinarily a pretty quiet week during ordinary campaign years. It started yesterday when Carson, along with his long-time close adviser Armstrong Williams talked to The Washington Post about expected campaign shake-ups amid Carson's own frustrations over how things have gone over the past month:
Republican candidate Ben Carson is seeking to take control of his struggling presidential bid amid an increasingly public clash between his top advisers, saying Wednesday that blame for his drop in the polls lies with his campaign and that he plans to shake up his staff in the coming days.

Sitting alone in the basement of his Maryland house, Carson said in an interview with The Washington Post that no one's job is safe, complained about budgetary management in a campaign that has spent millions, and called some of his top staffers overpaid and ineffective in broadcasting his message.

"I'm looking at every aspect of the campaign right now. Everything is on the table, every job is on the table. And we're going to analyze it very carefully," Carson said. "It's not perfect, and we're going to work on it."

"I want to see more efficiency in terms of the way money is utilized," he added, saying he is frustrated with his campaign being described by critics as a "rat hole" for small-dollar donations.

Carson initially declined to say whether his campaign manager, Barry Bennett, would remain in charge. He was coy and responded by saying changes could come as soon as "tomorrow" and certainly before the Iowa caucuses on Feb. 1.

The comments caught many of his advisers off guard, leading to confusion within the campaign's ranks about his strategy and team for the final stretch before the primaries. They also raised questions about who is making decisions and who holds more influence with Carson. "Dr. Carson is back in charge," said press secretary Deana Bass when asked about the potential campaign changes. As for Bennett's role, Bass said of Carson: "This is his campaign, and these are his decisions."

Just hours later, Carson sought to minimize the scale of the shake-up in a statement saying his senior advisers would remain in place "with my full confidence."

"We have come a long way and accomplished great things together, and together we look forward to winning in Iowa and beyond," Carson said. "We are refining some operational practices and streamlining some staff assignments to more aptly match the tasks ahead."

But according to two Republicans close to Carson, the retired neurosurgeon has been interviewing consultants for prominent roles in the campaign without Bennett's knowledge. They said Logan Delany, a Carson confidant, is spearheading the process. The two Republicans spoke on the condition of anonymity to discuss private conversations.

Disagreements within the campaign's highest ranks have broken out into the open on numerous occasions, pointing to a persistent and sharp division between Armstrong Williams — Carson's longtime business manager who is not formally part of the campaign — and Bennett, a Republican operative. Williams and Bennett have been battling over Carson's image and approach, Republicans said, to the point where they often communicate directly to Carson with competing messages.

On Wednesday, the two also offered competing portraits of a campaign in rapid decline.

"We had our standard 3:30 p.m. call and I asked him about the story. He said he has 100 percent faith in the team," Bennett told The Post on Wednesday. "Dr. Carson was talking about the campaign and the mechanics, not the people."
Just hours after sitting down for that interview, though, Carson was seemingly in full reverse:
Ben Carson, whose campaign has come under increasing stress as his polling numbers have declined, suggested on Wednesday a major shake-up was coming, only to seemingly reverse himself hours later.

"My senior team remains in place with my full confidence," Mr. Carson, the Republican presidential contender, said in a statement issued by his campaign spokesman late in the day.

In interviews with reporters earlier at his Maryland home, Mr. Carson had suggested the opposite, declaring "Everything is on the table, every job is on the table."

The Associated Press, which reported Mr. Carson's earlier remarks, said he had spoken without the knowledge of his campaign manager, Barry Bennett. The Washington Post reported Mr. Carson complained that his top aides were overpaid and that his campaign was not spending money efficiently.

But in his later statement, Mr. Carson's played down any suggestion that heads would roll.

"I have one-hundred percent confidence in my campaign team," he said. "We have come a long way and accomplished great things together, and together we look forward to winning in Iowa and beyond. We are refining some operational practices and streamlining some staff assignments to more aptly match the tasks ahead."

(…)

Staff changes at the top of struggling campaigns are common, but the dysfunction of the Carson campaign has played out openly. His manager, Mr. Bennett, and a spokesman, Doug Watts, have publicly feuded with an outside adviser, Armstrong Williams, a longtime Carson friend who has Mr. Carson's ear. Another longtime friend, Terry Giles, hired Mr. Bennett and other operatives but was exiled from the campaign over internal differences.

Mr. Giles on Wednesday said he was not in any talks to return to Mr. Carson's side. Asked on if he thought Mr. Carson was being well served by his staff, Mr. Giles said in a text message, "Ask me that question in two weeks."
Not long after the above piece appeared on The New York Times' website, Robert Costa, one of the two reporters who wrote The Washington Post piece chimed in on Twitter:
What happened today was surreal: Armstrong and Carson invited WaPo and AP for candid staff shake up intvw w/o Bennett knowing…

— Robert Costa (@costareports) December 23, 2015
Once Bennett gets word of possible coup chatter, he connects with Carson who plays down his rogue intvw comments in private 330pm call — Robert Costa (@costareports) December 23, 2015
Then Bennett issues camp /Carson statement trying to put out fire. Yet at same time Armstrong is on phone w/ candidate talking thru things

— Robert Costa (@costareports) December 23, 2015
And then moments ago Armstrong and another Carson insider call WaPo to insist Carson meant exactly what he said in AP, WP intvs — Robert Costa (@costareports) December 23, 2015
What does this all tell us? Carson orbit is divided. Candidate unhappy. mgr not out but blamed for woes. Shake up coming but details unclear

— Robert Costa (@costareports) December 23, 2015
Clearly, what we're seeing unfold here, and largely in public thanks to the fact that both sides of a rather obvious split on Team Carson are talking to the media at the same time that they're trying to talk to each other to deal with their differences, is a campaign that is in rapid decline and is entering the chaos phase as various people around the candidate try to find someone other than themselves to blame. In ordinary circumstances, this is usually the first sign that a campaign is in the free fall stage and that the end will come sooner rather than later, either in the form of mass resignations or firings that lead the candidate to bring in a bunch of new people who have no idea who they're working with or in a final death spiral that brings the campaign to a quicker than expected end.
The reality, of course, is that Carson's problems have nothing to do with who's running his campaign and everything to do with him. The true source of all of Ben Carson's problems can be traced to the events of the past six weeks or so, when he finally started to be subjected to scrutiny once it appeared as if he might be a real contender against Donald Trump in Iowa. To put it mildly, the more we learned about Ben Carson, the worse he looked even to the very conservative voters who were initially attracted to him. He demonstrated ignorance about the way government operates as well as the details of domestic policy issues. He demonstrated what can be called at best an odd relationship with the truth, including many of the details of the personal biography upon which he based much of his campaign. Typical of many candidates, this increased pressure led Carson to begin attacking the media notwithstanding the fact that it was clear that he was not being treated unfairly. What proved fatal to the Carson campaign, though, was the one area where he had never displayed much awareness to begin with, foreign policy, especially in the wake of the terror attacks in Paris. Starting in the most recent Republican debate on Fox News Channel, Carson displayed utter incoherence about basic foreign policy matters, something that has even been confirmed by those brought in to advise him on the issue.  The result of all this was a rapid decline in the polls that has continued to this day. At the beginning of November, for example, Carson had a small lead over Trump in the RealClearPolitics national polling average, garnering a 24.8% average to Trump's 24.6%. In the nearly six or so weeks that have followed, he's fallen to fourth place with an average of 10.0% in national polling. In Iowa, he peaked in the same early November time period with a nine point lead over Trump in the polling average. Now, he's down in fourth place behind Ted Cruz, Trump, and Marco Rubio. In both averages, as well as in states like New Hampshire and South Carolina, Carson's decline has been just as rapid and just as steep. A decline of that nature isn't one that can be said to be solely due to campaign advisers.
That being said, there do seem to be some issues with Carson's campaign. The Wall Street Journal, for example, noted earlier this week that his campaign was burning through cash at an extraordinary rate. In October alone, for example, the campaign apparently "raised $8.8 million in October and spent $9.5 million—putting the retired neurosurgeon's effort under water months before the first early-state voters caucus and cast ballots." While this kind of burn rate might make one think that Carson is putting up a lot of ads, that simply hasn't been true so far. Nor is it apparently the case that he's been spending campaign money jetting around in a private plane. Instead, much of the explanation for the burn rate seems to lie in the direct-mail fundraising efforts that he has used to raise money throughout the campaign. While this method of fundraising can be quite successful in getting people to send in money, it is also the most expensive, least efficient way to do so. In the end, the campaign ends up losing money as it both pays ordinary expenses and the expenses related to fundraising.
Added together, none of this bodes well for Carson, but at this point it seems clear that even cleaning house at Team Carson isn't going to save him.