Ben Carson, Political Ignoramus
While a brilliant and accomplished man, he's absolutely clueless about politics and world affairs.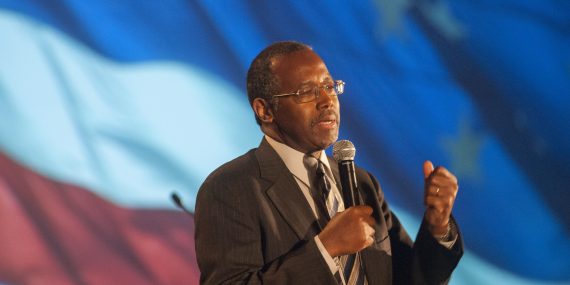 My co-blogger Doug Mataconis argues at length that Ben Carson's repeated conflation of the budget and the debt ceiling is proof that he's a zealot appeasing the worst elements of the Tea Party. As someone who has been a political news junkie for decades, Doug simply can't believe someone could be so clueless, especially when the interviewer is desperately trying to explain the distinction. But everything I've seen of Carson going back to the first debate leads me to believe that, yes, he's that clueless.
Seven years ago, almost to the day, I wrote a post titled "Sarah Palin, Ignoramus." I explained, in part,
She's likable and, I presume, of above average intelligence.  She is, however, utterly lacking in knowledge or training about matters of public policy, law, or international affairs that one expects a vice presidential nominee to bring to the table.

I didn't call her an idiot or a moron. I don't think she's too stupid to learn about any of those things but she's demonstrably spent the first 44 years of her life without displaying the curiosity to do so.

Scott Adams (of "Dilbert" fame) says we're all idiots, just about different things.  Sarah Palin knows more about moose hunting and snowmobiling than I'll ever know.  Unfortunately, those things are of only tertiary help for one who could, in a little over four months, be a heartbeat away from the presidency.
Based on his credentials, I'd guess Carson has a higher IQ than Palin and, indeed, me. But based on his media interviews and the two Republican debates thus far, he makes Palin look like a Rhodes Scholar.  (Aristotle? Plato? Socrates? Morons.)
To some degree, that's not shocking. While she ultimately demonstrated that she was unprepared for the vice presidency, she had significant political accomplishment. She'd first been elected to the Wasilla City Council in 1992–16 years before McCain tabbed her to be his running mate–and was elected mayor in 1996, serving two terms. She ran and lost for lieutenant governor, was appointed to the Alaska Oil and Gas Conservation Commission, and ultimately elected governor in 2006.
While nothing about her performance on the national level suggests that she was particularly studious about policy, it's reasonable to presume she developed some significant knowledge about local and state government over the span of that career. She simply didn't have the curiosity about national and international politics that would have prepared her to seriously discuss those issues. (In fairness to her, the strategy of Team McCain in preparing her for and handling her media appearances did her no favors, either.)
Carson's career has been nothing short of extraordinary. He's not only a retired neurosurgeon, impressive enough on its own, but was a pioneer and leader in his field. He's an incredibly talented and accomplished man. Nor was he a mere technician. The list of awards he's received over the years—I'm relying on Wikipedia here—shows a breadth of involvement in the community:
-In 2000, he received the Award for Greatest Public Service Benefiting the Disadvantaged, an award given out annually by Jefferson Awards.
-In 2001, he was elected by the Library of Congress on the occasion of its 200th anniversary to be one of the 89 who earned the designation Library of Congress Living Legend.
-In 2004, he was appointed to serve on The President's Council on Bioethics.
-In 2005, Carson was awarded the William E. Simon Prize for Philanthropic Leadership.
-In 2006, he received the Spingarn Medal from the NAACP, their highest honor for outstanding achievement.
-In 2008, the White House awarded Carson the Presidential Medal of Freedom, the nation's highest civilian honor.
-In 2008, Ford's Theatre Society awarded Carson the Ford's Theatre Lincoln Medal, for exemplifying the qualities embodied by President Abraham Lincoln—including courage, integrity, tolerance, equality, and creative expression—through superior achievements.
-In 2008, U.S. News & World Report named Carson as one of "America's Best Leaders"
-In 2010, he was elected into the National Academy of Sciences Institute of Medicine, considered one of the highest honors in the fields of health and medicine
One would expect a man with those credentials to be interested in world affairs, if too busy to spend hours a weak reading news and commentary. But by all recent indications, he simply doesn't know much about the world of politics and policy. Your average 24-year-old TownHall or Heritage staffer knows more about the issues—or, at least, can talk about them in a more nuanced fashion—than Carson. The good doctor seems to have barely mastered the broadest talking points.
I'd be willing to chalk this all up to priorities. Again, a man who has pioneered radical advances in brain surgery, led academic and surgical departments, and been a philanthropist on the side might be a tad busy. What I can't fathom is why he hasn't seen fit during the months he's been actively running for the most powerful policy job on the planet to throw his considerable energy and brain power into boning up.
UPDATE: (Originally written in the comment thread.) With Palin, a career politician, I was somewhat contemptuous that she'd displayed so little curiosity about and put so little mental energy into her chosen profession. I'm not at all disappointed in Carson for having devoted his mental energy into saving people's lives and making them better. But, if he's even remotely serious about being president—or just using the campaign as a platform to get a message out—he needs to throw himself into it in the way Arnold Schwarzenegger did when he ran for Governor of California. Or, hell, Barack Obama did when he ran for President in 2008.