Ben Carson Spends $31,000 On A Dining Room Table For His Office
Ben Carson has expensive taste in office furniture.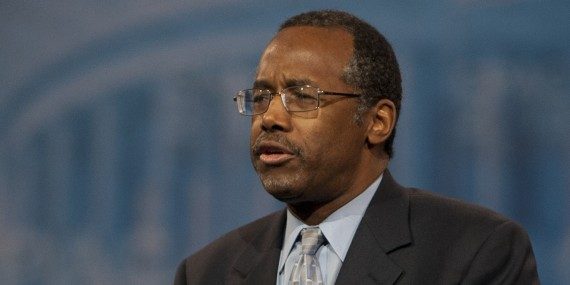 Secretary of Housing and Urban Development Ben Carson has reportedly spent $31,000 for a dining room table for his office even while his agency is cutting programs for the poor:
WASHINGTON — Department of Housing and Urban Development officials spent $31,000 on a new dining room set for Secretary Ben Carson's office in late 2017 — just as the White House circulated its plans to slash HUD's programs for the homeless, elderly and poor, according to federal procurement records.

The purchase of the custom hardwood table, chairs and hutch came a month after a top agency staff member filed a whistle-blower complaint charging Mr. Carson's wife, Candy Carson, with pressuring department officials to find money for the expensive redecoration of his offices, even if it meant circumventing the law.

Mr. Carson is also facing questions on another front. Under pressure earlier this month, he requested that HUD's inspector general investigate his son's involvement in a department-sponsored listening tour of Baltimore last summer. Department lawyers had warned Mr. Carson that including Ben Carson Jr., an entrepreneur who does business with the federal government, could create a conflict of interest.

Mr. Carson "didn't know the table had been purchased," but does not believe the cost was too steep and does not intend to return it, said Raffi Williams, a HUD spokesman.

"In general, the secretary does want to be as fiscally prudent as possible with the taxpayers' money," he added.

Department officials did not request approval from the House or Senate Appropriations Committees for the expenditure of $31,561, even though federal law requires congressional approval "to furnish or redecorate the office of a department head" if the cost exceeds $5,000.

Mr. Williams said department officials did not request congressional approval because the dining set served a "building-wide need." The table is inside the secretary's 10th-floor office suite.

The decision was made by a "career staffer" who selected the company, Sebree and Associates, which is based in Mr. Carson's longtime hometown, Baltimore, from a list of preapproved federal contractors, Mr. Williams said.

Neither Mr. Carson nor his wife — who expressed a strong interest in sprucing up the drab, wood-paneled, 1960s-era secretary's suite, according to several current and former department staff members — requested that the 50-year-old table be replaced, Mr. Williams said.

But he had remarked how the previous table was covered in scratches, scuff marks and cracks. Mr. Williams emailed several pictures of the old table, which looks polished and not visibly scarred, during events held by Mr. Carson's predecessor, Julián Castro.

The new table, listed as "household furniture" in federal procurement documents, has not yet arrived.

About a month before it was ordered, Helen G. Foster, a former top HUD official, filed a complaint with the Office of Special Counsel, a federal whistle-blower agency, claiming that she had been demoted and transferred after resisting Mrs. Carson's attempts to get around the $5,000 redecoration law.

The pressure began in January 2017, before Mr. Carson was even confirmed, when HUD's interim secretary, Craig Clemmensen, told Mrs. Foster to help secure redecorating funds for Mrs. Carson, a frequent visitor to the department's Washington headquarters who serves as an informal adviser to her husband, the complaint said.

Mr. Clemmensen, acting on Mrs. Carson's behalf, told Mrs. Foster to "find money" to purchase better furniture for the office — and he quipped that "$5,000 will not even buy a decent chair," according to the complaint, which was reported by The Guardian newspaper.

Mrs. Foster refused to comply, and said she then sent HUD officials the text of the law requiring congressional approval for the purchases. After she was removed from her position as the department's chief administrative officer, she was made head of the agency's unit overseeing Freedom of Information Act requests, which she viewed as an act of retribution.

She "has suffered much humiliation and a loss of reputation, and harm to career advancement, as a result of this retaliatory reassignment," according to a letter written by her lawyer, Joseph Kaplan, to the head of the special counsel investigations unit on Nov. 3.
As The Guardian notes that this is happening at the same time that the Trump Administration is requesting more than $6 billion be cut from HUD programs designed to help the poor and homeless, so the optics of this situation are rather obvious. Even if one concedes that this is some reason for the head of the Department of Housing and Urban Development to have a dining room table in his or her office, and that the existing one, which apparently has been in use for decades, needed to be replaced, spending this much money while simultaneously spending what seems like an absurd amount of money for table and chairs seems utterly absurd. Additionally, the fact that agency rules and existing laws were apparently being willfully ignored during the procurement process and that career agency employees were being punished for questioning the expenditure are particularly troubling.
While it is unclear from these reports just how involved in this process Carson himself was, it comes amid other recent reports about how Carson's family has sought to benefit from his position in the White House. In late January, for example, The Washington Post reported that members of the Carson family had gained positions at or contracts with HUD that were benefiting them personally, and earlier this month it was reported that the department's Inspector General was looking into those reports:
The Department of Housing and Urban Development's inspector general is looking into the role HUD Secretary Ben Carson's family has played at the agency, a spokesman told CNN.

Carson called earlier this month for the inspector general to "review" the role his family has played at the department after The Washington Post reported that HUD officials expressed ethics concerns about their role. Carson's son and daughter-in-law helped organize a listening tour for the agency in Baltimore last summer.

Asked Tuesday by CNN whether HUD's Inspector General has opened an investigation into the role Carson's family has played at the department, HUD IG spokesman Darryl Madden said there is "an open matter."

"We have an open matter," Madden said. "However, it is our policy not to comment any further during its pendency."

Madden declined to clarify the statement, responding to follow-up questions by saying: "We are standing by the statement."

HUD spokesman Jereon Brown referred questions on the investigation's launch to the inspector general's office. "We have nothing to add to the previous statement requesting the investigation," Brown said in an email.

Carson asked for an IG investigation after media reports about the Baltimore listening tour.

The department's lawyers warned that Carson's son's participation might risk violating federal ethics rules and the department's deputy general counsel raised those concerns directly with Carson, according to an internal memo released publicly through the Freedom of Information Act. Linda Cruciani, the deputy general counsel, left the meeting believing Carson' son and daughter-in-law would not participate in the listening tour.

"In my role as HUD secretary, I try to be as inclusive as possible and talk with a wide variety of people because when it comes to increasing access to affordable housing, no rock should remain unturned," Carson said in a statement earlier this month. "From my very first day at HUD I have insisted that HUD operate in an open and ethical manner, in every way. To clear up any suspicion I am calling for the HUD inspector general to review this matter."

Carson would be the sixth Cabinet-level member of President Donald Trump's administration to be the subject of an inspector general's investigation concerning federal ethics rules.
 While he has generally followed in the grand tradition of previous HUD Secretaries of being the Cabinet Secretary that people mostly forget about, Carson's first year in office hasn't actually gone very smoothly. In the initial weeks after President Trump's election victory in 2016, Carson told the media that he would forgo a Cabinet position because he didn't believe he was qualified, a statement that, among other things, led one to wonder why he had ever run for President. In the end, though, he ended up accepting the offer to head up the housing agency even though his background seemed more suitable to be Secretary of the Department of Health and Human Services or, perhaps, Surgeon General. In any case, Carson soon proved that his initial assessment of his skills was largely correct and that he literally didn't have any idea what he was doing in his new position. I suppose it could be worse, he could have spent the money on Pyramid Grain.