The Beginning Of The End Of Ben Carson Seems To Have Arrived
In the news from the campaign trail and in the polls, there are clear signs that Ben Carson's days as a top contender in the GOP Presidential race are coming to an end.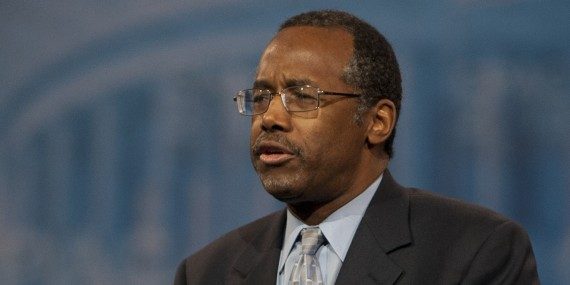 Ever since the first Republican debate in August, Ben Carson has been rising in the polls both nationally and at the state level, most prominently in Iowa where he has been of obvious appeal to the evangelicals who dominate the Republican Party in the Hawkeye State. The more prominent Carson has become, though, the more he has been subjected to media scrutiny and found wanting and, now, there are signs that his star may be falling in the same way that those of candidates such as Michele Bachmann and Herman Cain did four years ago:
Donald Trump has by now demonstrated that he's not merely another fad candidate in the Republican presidential race. Dr. Ben Carson, on the other hand, still has a lot to prove.

At the start of the month, Carson overtook Trump in the national polling averageand in the key early states of Iowa and South Carolina. He also moved into a close second behind Trump in New Hampshire. And he seemed to have the potential to rise higher, with Republicans giving Carson the highest marks of any candidate — by far — on personal favorability.

But with this rise to the top has come a new level of scrutiny from the press and from his opponents. And there are now clear signs that Carson is not holding up well under the spotlight.

Three weeks ago, an NBC News/SurveyMonkey online poll showed Carson tied with Trump at 26 percent. But now the poll shows that Carson has fallen 10 points behind Trump and is tied for second place with a surging Ted Cruz. There is evidence of slippage elsewhere, too.

In New Hampshire, Carson pulled within two points of Trump in a WBUR poll at the start of the month. But this week, that same poll shows Carson falling back to 13 percent — 10 points behind Trump and tied with Marco Rubio. A new Fox News poll in the Granite State has Carson at just 9 percent — tied for fourth with Jeb Bush.

The NBC News/SurveyMonkey poll paints a clear picture of what's happening: At the heart of Carson's rise has been the support of white evangelical voters, who hold particular sway in Iowa (where they accounted for nearly 60% of all caucus-goers in 2012) and South Carolina (where they made up 64 percent of the 2012 primary electorate). At the start of this month, Carson was comfortably ahead with white evangelicals, netting 33 percent of their support. But in the last three weeks, Carson has lost a quarter of that support. At the same time, Cruz has leaped from 7 percent to 22 percent among white evangelicals — pulling into a virtual tie with Carson and Trump.

The movement is even more striking with Republicans who describe themselves as "very conservative." With this group, Carson's support has been sliced in half in the last three weeks, from 30 percent to 15 percent, while Cruz has jumped from 25 percent to 40 percent.
Picking up on the same theme, Politico's Katie Guleck finds signs that conservatives in Iowa who have been rallying around Carson are starting to look elsewhere, specifically to Texas Senator Ted Cruz:
Hours after terrorists attacked a hotel in Mali and a week after Islamic State fighters struck Paris, Ted Cruz took the floor here to deliver a harsh critique of President Obama's Middle East posture and pledge a hardline approach to Syrian Muslim refugees.

It was exactly what this crowd of mostly conservative Christians wanted – and an ominous sign for Iowa's weakened frontrunner, Ben Carson.

Across the state and at a major gathering of politically active evangelicals on Friday night, foreign policy was top-of-mind for the voters and state lawmakers once considered natural constituents for Carson. But after a week of confused comments from the former neurosurgeon and a dismissive critique by his own advisors, Iowans are now consistently voicing doubt about Carson's credentials to be commander-in-chief.

Indeed, they said the terrorist attacks have reordered the candidates in their mind, lifting Cruz and Sen. Marco Rubio and, for many, making Carson an afterthought.

"He's a great guy, he's fun to listen to, but I didn't hear anything substantive," said Alan Hilgerson, a Des Moines-based physician who said national security is an "extremely high" priority for him as he considers the 2016 contenders vying for Iowa. Of Carson, he continued, "I don't know that I'd want him as my president."

Worse yet for Carson, at the Family Leader Forum organized by social-conservative icon Bob Vander Plaats, voters said the more they thought about Carson's foreign policy credentials, the less comfortable they were with him.

Marilu Erdahl – who drove two-and-a-half hours in the snow to see the candidates speak, making her exactly the kind of Republican the candidates count on during the wintry caucuses – said she entered the event torn between Cruz and Carson. But as she talked through the importance of national defense, she decided on Cruz. "He has experience, he's shown what he can do," she said of Cruz. "With the state of affairs we're in right now, I think it is very important. It's vital…We need someone who knows the ropes, who's not the establishment but who doesn't need on-the-job training."

She went on: "I guess I've maybe made up my mind."

Carson and Cruz have been racing toward this collision in Iowa for weeks. Both have been courting the same Christian conservative community that makes up a crucial bloc of the state's caucus electorate. But the turning point came when security and foreign policy were forced to the top of the GOP agenda by the terrorist attacks.

Carson landed here fresh off a string of fumbles that included struggling to name countries he'd ask to join a coalition to fight the group known as ISIS or ISIL and smarting from a New York Times story the featured one of his own foreign policy advisers saying the candidate was struggling to grasp key issues.

The momentum, according to activists, state lawmakers and other voters here, now appears to be with Cruz. And he seems to know it.

"On the Republican side, I think the Paris attacks infuse a greater seriousness to the search for who is prepared to be commander-in-chief, who has the experience, who has the judgment, who has the understanding of the very real and growing threats facing America," Ted Cruz told POLITICO in an interview in Iowa.

"The overlay of the Paris attacks, even today, the horrific attack in Mali, makes clear that we need a president who's prepared on Day 1 to understand the nature of the threats facing America and to lead this country in standing up to these threats and defending our citizens from the growing menace of radical Islamic terrorism," he said on the sidelines of the Family Leader event.

(…)

In interviews with voters and activists at stops in conservative western Iowa and then at the presidential forum in Des Moines, it was clear they do not see Carson as equally up to the challenge. In fact, the characteristics once cited by voters here as boosting Carson – his soft-spoken nature and disinterest in attacking his competition, for example — are now seen as problematic.

"Carson, he's a wonderful guy, but we like Cruz better," said Judy Kirby of Des Moines, who said she is gravely concerned about foreign policy in the wake of several high-profile terrorist attacks. Cruz "seems more knowledgeable, he seems stronger."

Voters described Carson as "lacking fire in the belly," as being a nice person but too "soft-spoken," and said he doesn't come across as sufficiently tough. That's in contrast to both Donald Trump, a tough talker who pledges to "bomb the sh** out of" ISIL, and Cruz and Rubio, who have both sought to demonstrate Senate-acquired policy chops.

"It's probably one of [Carson's] weakest stances," said Chris Boley, a business owner who attended the Family Leader event and is now leaning toward Rubio. "That doesn't mean he can't get up to speed, but he has some catching up to do…In this day and age, with how important national defense is, with terrorism in the Middle East, you've got to be real studied."
Seemingly confirming the conclusions that these reports are reaching, a slew of new national and state polls show Ben Carson clearly beginning to slip in the polls while candidates like Marco Rubio and Ted Cruz begin to rise.
On the national level, the new ABC News/Washington Post poll, Donald Trump remains at the top of the field at 32% and Carson holds steady at 22%, however both Marco Rubio and Ted Cruz show signs of inching up on the man in second place. Rubio has moved up one point from 10% to 11%, and Cruz has moved from 6% to 8%. In the new Fox News poll, though, Trump has jumped four points from 24% to 28% while Carson has slipped five points from 23% to 18%. In that same poll, both Rubio and Cruz saw their numbers increase three points from the last Fox poll and are now tied at 14%, nine points behind Carson. In both polls, there was little movement on the part of the other candidates. Looking at the national poll averages, Trump now has a 7.7 point lead nationally over Carson according to RealClearPolitics, and a 22 point lead according to Pollster. More importantly, the charts at both sites show what seems to be the beginning of a dip for Carson in the national polling numbers.
It's in the state-level polling, though, that we see the best evidence that Ben Carson's days as a top contender for the Republican nomination appear to be coming to an end.
CBS News is out with new polling in three early primary states, and while Donald Trump continues to lead strongly in all three the real story is about what's happening below him. In Iowa, for example, where Carson had started to surge, Trump is back at the top of the field at 30%, and Carson has fallen to third place at 19%. Texas Senator Ted Cruz has surpassed Carson in the the Hawkeye State to take second place behind Trump at 21%.  Marco Rubio comes in fourth in that poll as the only other candidate in double digits. This gives Trump a 4.7 point lead in the poll average in Iowa, and while Carson is in second in the average he is clearly sinking. In New Hampshire, Trump is at 32% in the new CBS poll followed by Marco Rubio at 13% and Ted Cruz and Carson tied at 10%, while a new Boston Globe poll in the Granite State gives Trump 22%, followed by Rubio at 11%, Carson at 10%, and Cruz at 9%. These two polls leave Trump with a 16.6 point average lead according to RealClearPolitics, with Rubio, Cruz, and Carson, in that order, behind him. Finally, in South Carolina, Trump is at 35% in the new CBS poll, with Carson at 19%, Rubio at 16%, and Cruz at 13%. This gives Trump a 5.7 point lead in the Palmetto State, with Carson the only other candidate averaging above 20% but clearly fading.
All of these numbers, taken together, seem to clearly indicate that Ben Carson is heading downward.
On some level, Carson's fall from grace, if that's what we're really seeing begin to unfold here, doesn't really come as much of a surprise. Notwithstanding the fact that he quickly became something of a star among the evangelical right and other parts of the conservative base of the Republican Party,Ben Carson has always seemed like he never really belonged on the stage with the rest of the candidates. He lacked the electoral and government experience of the vast majority of the fellow candidates, and even the business experience of Donald Trump and Carly Fiorina. More importantly, he has never really acted like a fairly eager candidate for President and has never really demonstrated the "fire in the belly" enthusiasm you usually see from someone running for the highest office in the land. To some degree, of course, his more soft-spoken style and, for the most part, seeming nonchalance when it came to responding to attacks by the media or fellow candidates was something that set him apart in a way that likely attracted voters and certainly has made him intriguing to a media more used to the style of Trump and Chris Christie. As time went on, though, Carson has not really held up to scrutiny and it seems as though the Paris attacks are causing the bloom to come off the rose as voters start to get more serious about their choices next year.
From the beginning, Carson's stardom on the right took a path that suggested he would be, at best, another example of one of those conservative shootings that rises to prominence only to dim out quickly under scrutiny. After gaining notereity by speaking out against the President to his face at a National Prayer Breakfast, Carson went on to gain prominence by making a long series of utterly outrageous statements about public policy issues and ascribing malicious motives and even mental illness to those who disagree with him such as President Obama. This only seemed to increase Carson's prominence on the right, though, and his entry into the Presidential race was well-received, as demonstrated by surprisingly good fundraising numbers in both of the reporting quarters we've seen so far and, as I said, rising poll numbers. Recent weeks, though, have revealed Carson's weaknesses.
In both debates and appearances on television, Carson has demonstrated ignorance about the operating of government as well as the details of important domestic public policy issues. In addition to this, of course, he has displayed what can only be called an odd relationship with the truth, including many of the details of his personal biography.  Under pressure, Carson resorted to attacking the media even though it is rather obvious that he is not being treated unfairly. Perhaps the thing that is proving fatal to Carson now, though, is foreign policy. Starting in the most recent Republican debate on Fox News Channel, Carson has displayed what can only be called utter incoherence on basic foreign policy matters, something that has even been confirmed by those brought in to advise him on the issue. Given the prominence that foreign policy now appears to be taking on in the race, the fact that voters may be looking elsewhere isn't entirely surprising, nor is it surprising that it would be Carson, rather than Trump, that would be top tier candidate that would seem the most likely to lose ground because of the new focus of the race.
As for who might benefit if we really are seeing the beginning of the end of the Carson surge, we're already seeing that Cruz is a good possibility at least in Iowa largely because he appeals to many of the same voters that Carson does and because he's been building up a more solid foreign policy resume than Carson could ever hope to have. Indeed, there have been several observers who have been anticipating that we would see a Ted Cruz surge at some point before the Iowa Caucuses. Cruz's campaign, in fact, has clearly been laying the groundwork for such an contingency, although it has seemed as though they've been anticipating that it would be Trump, not Carson, who would be the candidate to fall from grace. That's one of the reasons that Cruz has seemingly been the only candidate on the main debate stage to refrain from vigorous attacks against Trump. The logic of that being that Cruz would benefit more by not annoying Trump supporters than he would by attacking Trump. If the Senator from Texas does indeed end up rising at the expense of Carson, he can expect to become the focus of Trump's attacks just as Jeb Bush, Marco Rubio, and Carson himself have been notwithstanding the fact that there has been something of a de facto truce between the two men until this point.
Beyond Cruz, a decline by Carson, if it continues to manifest itself in the polls, would likely also help Marco Rubio, who is actually performing better in the polls than Cruz both nationally and in New Hampshire and South Carolina at the moment. Like Cruz, Rubio has built up a reputation inside the GOP as a go go voice on foreign policy on the right. That, of course, portends the possibility that Cruz and Rubio will end up having to fight it out for the position that Carson may or may not be ceding.
All of this depends, of course, on the idea that Carson is indeed starting to fade. These reports are early, but that certainly seems to be where things are headed. If that's how it pans out then December could see some real shake ups in the Republican field.