Ben Carson's Foreign Policy Incoherence Continues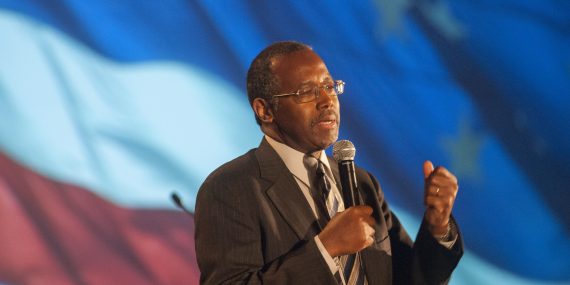 Like many of the Republican candidates for President, Ben Carson's appearance on Fox News Sunday this morning was dominated by questions about the attacks in Paris and what they mean for American foreign policy going forward. As with many of Carson's previous comments in this highly complex policy area, what we got was another incoherent mess of a word salad that makes one wonder why he is doing so well in the race for the Republican nomination for President:
Republican presidential candidate Ben Carson struggled Sunday to attach specifics to his plan to defeat the Islamic State militant group, again illustrating the former neurosurgeon's difficulty discussing foreign-policy matters.

Speaking on "Fox News Sunday," Carson could not name a specific country or leader he would call to assemble an international coalition to counter the Islamic State, despite being asked three times by host Chris Wallace.

"My point being that if we get out there and we really lead and it appears that we're making progress, that all of the Arab states and even the non-Arab states who are, I think, beginning to recognize that the jihad movement is global" will join, Carson said.

He suggested that he would shoot down a Russian plane if it violated a U.S.-led no-fly zone over Syria, even when told that the decision could prompt Russia to shoot down a U.S. plane in response.

"If they violate it, we will, in fact, enforce it. We'll see what happens. For us to always be backing down because we're afraid of a conflict, that's not how we became a great nation, Chris," he said.

"If we establish a no-fly zone and we make clear the rules, and they violate it — that's why you have a no-fly zone. That's the very definition of a no-fly zone. You can't fly there."

And he continued to argue that China is directly involved in the Syrian conflict, alleging that the Chinese have sent arms to Syria and that these weapons are "very sophisticated and are obviously going to require support in order to operate."

(…)

At one point, the interview entered odd territory as Carson suddenly brought up neurological principles in response to a question about whether the United States should allow Syrian refugees to enter the country.

"To bring them over here is … a suspension of intellect," Carson said. "The reason the human brain has these big frontal lobes as opposed to other animals is because we can engage in rational thought-processing … Animals, on the other hand, have big brain stems and rudimentary thinking because they react. We don't have to just react, we can think."
That last part, my friends, is what someone who has no idea what they're talking about in the area where they've been asked a question does, they bring in lots of smart-sounding words that may be applicable in the field they are trained in but which makes absolutely no sense in response to the question they were actually asked. If nothing else, I think this would establish that the incoherence that Carson demonstrated last Tuesday during the debate was not a fluke. This man really doesn't know what he's talking about when it comes to foreign policy, an area that seems destined to only become a more important part of the race for the White House in the wake of the Paris attacks. The fact that he is currently sitting solidly at second place in national polls, in Iowa, and in New Hampshire truly makes one wonder what Republicans are thinking. Assuming they are thinking, that is.