Ben Carson Wants To Turn The Department Of Education Into Thought Police
Instead of eliminating the Department of Education, Ben Carson wants to give it a new, bizarre, and dangerous mission.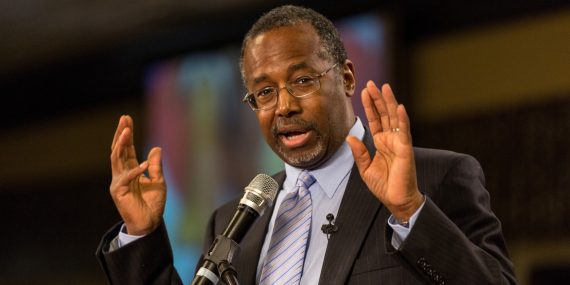 Ben Carson apparently thinks that the Department of Education should be used to monitor so-called "bias" in public universities:
Ben Carson says he would not get rid of the Department of Education, a position contrary to several of his Republican White House primary rivals.

Instead, the retired neurosurgeon said the agency should be used to monitor America's colleges and universities for "extreme political bias."

"I actually have something I would use the Department of Education to do," Carson said on Glenn Beck's radio show on Wednesday.

"Would it be pack boxes for the State Department? The IRS?" Beck joked.

"No, it would be to monitor our institutions of higher education for extreme political bias and deny federal funding if it exists," he responded.

"I like that," Beck rejoined.
Given the fact that Carson has a long history of saying ridiculous things about public policy issues that are largely based on what can only be described as profound ignorance on this part, it's easy to dismiss what he's said here just as one would dismiss many of the other things he's said. After all, this is the same many who has equated the Affordable Care Act to the September 11th attacks, made frequent use of Nazi analogies to criticize the President,  and said that "progressives" want to turn the United States into Nazi Germany. He has also compared abortion to human sacrifices by civilizations of the past and claimed that prison rape is proof that being gay is a choice. However, this isn't just the ranting of a guy on talk radio or Fox News Channel, these are comments made by the person who is currently running second in the polls for the Republican nomination for President of the United States, and the man who according to a new Quinnipiac poll is actually leading Donald Trump in Iowa now. He raised $20 million in the quarter that concluded on September 30th, and is apparently so confident in his current position that he has spent most of October on a book tour rather than campaigning. While it's unlikely that he will be the Republican nominee in 2016, it's also undeniable that Ben Carson is now a force in the Republican Party and that means that what he says has consequences, and that he probably wouldn't be saying it if he didn't believe it would appeal to the voters he's trying to attract. For that reason alone, it shouldn't be dismissed.
On it's merits, of course, Carson's proposal is both nonsensical and highly dangerous.
It's nonsensical in the sense that Republicans have long argued that the Department of Education either shouldn't exist at all, or that it should serve mostly as just a central coordinator for the distribution of Federal education funds to the states and localities that ought to have primary control over education policy. Instead, Carson proposes and idea that would mostly likely require a vast expansion of the Department of Education, not for the purpose of improving educational quality but for the purpose of policing alleged political bias on college campuses. This is an issue that has been one that conservatives have been talking about for decades and been the centerpiece of claims that professors and students who express conservative political beliefs have been punished in some way or another. In that sense, I suppose, it's not surprising that Carson would jump on it for political purposes. Notwithstanding that, though, the lack of logic displayed by a candidate who claims to favor limited government is really quite something to see even if the hypocrisy isn't surprising at all.
The danger in Carson's suggestion is the same danger that conservatives who talk about political bias on campuses are always complaining about. In essence, he is suggesting the creation of a Federal College Thought Police that would punish professors, administrators, and possibly even students who engage in what "political bias," whatever the heck that might be. The chilling effect that this would have on academia is so obvious that barely needs to be pointed out. Professors and Administrators who are afraid that exploring controversial topics could endanger funding are obviously going to avoid exploring those topics. The idea that a classroom lecture could end up being used to support a charge of "political bias" would obviously chill speech significantly as well, and cause professors to wonder if their students are spying on them, or if their students are part of Ben Carson's Department of Education. Add into this the fact that what Carson is proposing is the kind of suppression of debate and discussion that would violate the First Amendment, and the insanity of Carson's idea becomes even more apparent.
As I said, it would be easy to dismiss what Carson says, but the fact that he's doing so well in the polls suggests that, like Donald Trump, he's saying things that Republicans agree with, and that's something that should concern all of us.