Ben Carson: Prison Sex Proves Being Gay Is A Choice
Ben Carson is inching closer to running for President, and he's continuing to pander to the most extreme elements of the Republican Party.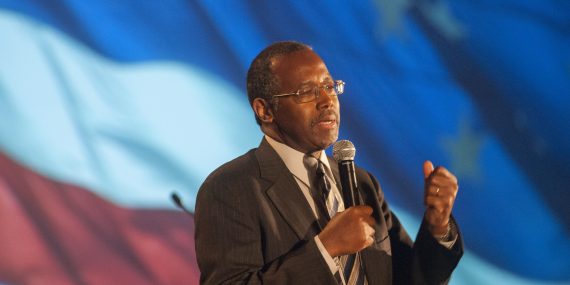 Ben Carson, the retired John Hopkins University Neurosurgeon who recently took one step closer to formally entering the race for the Republican nomination for President with the formation of a Presidential Exploratory Committee, told CNN's Chris Cuomo that prison sex proves that homosexuality is a choice:
Ben Carson says homosexuality is a choice because many people "go into prison straight — and when they come out, they're gay."
The neurosurgeon and potential Republican candidate for president in 2016 made the comment in an interview with CNN's Chris Cuomo that aired Wednesday on "New Day."

Asked whether being gay is a choice, Carson responded: "Absolutely."

Because a lot of people who go into prison go into prison straight — and when they come out, they're gay. So, did something happen while they were in there? Ask yourself that question," Carson said.

That argument, Carson said, "thwarts" the notion that homosexuality isn't a choice, which is at odds with the majority of the medical community, including theAmerican Psychological Association, who says "most people experience little or no sense of choice about their sexual orientation." Slate's Mark Joseph Stern also outlined the scientific arguments against this particular belief last year.
Carson's argument is made even more absurd, of course, by the fact that no small amount of the sex that takes place in prisons is non-consensual and that prison rape is such a widespread, albeit under-reported, problem that few people realize that because of it men actually outnumber women in the number of rape victims in the United States. So, essentially, what Carson is arguing here is that consensual homosexual relationships are the equivalent of rape. Leaving that aside, though, as the article quoted above notes, Carson's claim goes against decades of medical science as well as the personal testimony of tens of thousands of gays and lesbians have indicated that their sexual orientation was anything but a choice. Despite that, of course, the argument that "being gay is a choice" is one that has been a mainstay of anti-gay conservatives for decades now. The idea, of course, is that if homosexuality is a choice then that means that gays and lesbians aren't entitled to equal rights and that homosexuality is some kind of deviancy that society should seek to "cure." In reality, it strikes me that the "choice vs. nature" debate is really quite irrelevant. Even if homosexuality were completely a choice, there's no rational reason that people who are gay or lesbian shouldn't be treated equally and entitled to equal rights. How they choose to live their lives is nobody else's business unless they are harming the life, liberty, or property of others and, since that clearly isn't the case then there's no reason to discriminate against people because of their chosen lifestyle.
This isn't the first extreme thing we've heard from the mouth of Ben Carson, of course. At various times since he became a conservative media star several years ago, Carson has equated the Affordable Care Act to the September 11th attacks, made frequent use of Nazi analogies to criticize the President, and said that "progressives" want to turn the United States into Nazi Germany, compared abortion to human sacrifices by civilizations of the past. While it's easy to dismiss Carson's remarks as those of an idiot, that's obviously not the case given the fact that he was a skilled neurosurgeon and served as both the head of pediatric neurosurgery and as a professor at Johns Hopkins University Hospital. You don't get to that point in your career by being stupid. Instead, it's rather apparent that Carson is quite simply cynically pandering to the most extreme elements of the Republican Party's conservative wing, where comments like this are more likely to be met by a nod of the head than a roll of the eyes. Much like Herman Cain in 2012, he's not a serious candidate for President, he's pandering to this particular base of the GOP for, well, I'm not exactly sure what purpose but I'm sure the idea of increased speaking fees and maybe a talk radio gig are involved in it somehow. This probably won't be the last we'll hear from Carson before he ends his campaign and drops out of the race, which will most likely happen before the first vote is cast in the Iowa Caucuses in February 2016, but don't kid yourself at any point into believing he actually has any chance of being the Republican nominee, or that he even has any intention of being a serious contender.