Ben Carson's Odd Relationship With Truth
As Ben Carson rises in the polls, it's worth noting his many examples of having what can only be called a very odd relationship with truth and the basic facts of history.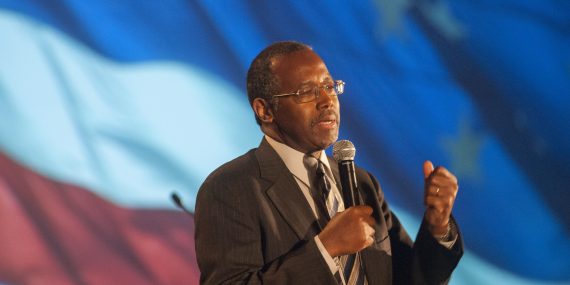 Going back to even before he was a candidate for President, Ben Carson was making the news in the U.S. thanks largely to his history of making inflammatory and bizarre statements about American politics and American political figures. For example, he has equated the Affordable Care Act to the September 11th attacks, made frequent use of Nazi analogies to criticize the President,  and said that "progressives" want to turn the United States into Nazi Germany. He has also compared abortion to human sacrifices by civilizations of the past and claimed that prison rape is proof that being gay is a choice. More recently on the campaign trail, he has talked about using the Federal Department of Education to police and crack down on so-called "political bias" on college campuses across the country," and has generally displayed an extraordinary amount of apparent ignorance even on things one would ordinarily expect a candidate for President to be familiar with on a passing level, such as how the Federal Government actually works. Despite all of this, or maybe even because of it, Carson has risen steadily in the polls since the first Republican debate in August to the point where he can legitimately be said to be a co-frontrunner with Donald Trump both in national polling and in early primary states such as Iowa and has put forward rather impressive fundraising numbers for a candidate who had never run for office before. Finally, and perhaps most relevant to the subject of this post, he has become, along with Trump the candidate that Republicans trust the most on issues like the economy, foreign policy, and control over the nation's nuclear weapons.
In the past several days, though, Carson has been in the news thanks in large part to claims that he made in the past, and during the course of the campaign today. Some of these statements are important, some are unimportant, but the fact that Carson seems to have little regard for what truth and facts actually raises serious questions about him and the candidates who support him.
One example dates back more than two decades when Carson was not really a political figure and provides a window into the man's theology and faith. In this case, Carson makes claims about the famous Egyptian Pyramids that simply don't scare with historical reality:
Republican presidential hopeful Ben Carson believes the Egyptian pyramids were used for grain.
In a college commencement speech 17 years ago, Carson told the graduates of Andrews University in Michigan that it is his "personal" belief that the pyramids were built as storehouses for grain and not, as archaeologists say, for the interment of dead pharaohs.

"My own personal theory is that Joseph built the pyramids to store grain," Carson said in taped remarks first reported by Buzzfeed on Wednesday. "Now all the archeologists think that they were made for the pharaohs' graves. But, you know, it would have to be something awfully big if you stop and think about it."

On Thursday, Carson defended his views on the campaign trail in Miami.

"Some people believe in the Bible, like I do," Carson told reporters. "And don't find that to be silly at all and believe that God created the earth and don't find that to be silly at all. The secular progressives try to ridicule it anytime it comes up and they're welcome to do that."

At another stop, he said, "I think that's a plausible explanation to how they got built…I happen to believe a lot of things that you might not believe because I believe in the Bible."

Carson questions authenticity of Trump's faith

Asked about his pyramid theory a day earlier, Carson explained his reasoning.

"The pyramids were made in a way that they had hermetically sealed compartments," he said. "You wouldn't need hermetically sealed compartments for a sepulcher. You would need that if you were trying to preserve grain for a long period of time."
The Washington Post has a more detailed look at Carson's stated beliefs about the Pyramids, and to say that it clashes with what most of us has come to understand what these last remnants of the Wonders of the Ancient World is something of an understatement. Most of us, I would imagine, were taught or came to understand through some form of popular history that the Pyramids were meant to be tombs for one or more of the Pharoahs of Ancient Egypt, a burial monument that differed from later tombs that were placed in more secure location but nonetheless intended to be similar to those tombs the place where their deceased God-Kings would journey to what they believed was the afterlife. Carson, though, ties the Pyramids to the Biblical story of the Hebrew patriarch Joseph who allegedly became the second most powerful man in Egypt in his time and was said to have anticipated a major famine and saved Egypt by ordered grain to be stored in granaries. Leaving aside the fact that many historians doubt if this Joseph actually existed or if any part of his story is true, Carson's theory, based in the same literal interpretation of the Bible that causes him to believe in Young Earth Creationism and reject Evolution, the simple fact of the matter is that his claims do not withstand even rudimentary scrutiny. As Kristina Killgrove has pointed out in Forbes, Egyptologists have pointed out that the Ancient Egyptians left behind written records in the form of heiroglyphics that make it clear that the Pyramids were in fact elaborate burial chambers.  Asked about all of this during the course of this week, Carson has simply said that this is what he believes and that there is evidence to support his claims, even though there actually isn't, and that questioning his statements amounts to an attack by "secular progressives."
Carson has made claims of more recent historical vintage on the campaign trail, specifically the idea he set forth in a Facebook post early in the week, and that has been repeated in campaign speeches he has made in the past, that the men who drafted the Declaration of Independence had no elective office experience when they drafted that document in the summer of 1776. In many respects, this claim on Carson's part fits neatly within the kinds of myths that many on the right spread about the Founding Fathers that also include the ideas of David Barton regarding the nature that religion played in the nation's founding, which have been widely rejected by historians, and the long history that many politicians have of relying on quotes from Colonial Era leaders that have been misattributed or simply made up out of thin air. As The Washington Post's Glenn Kessler pointed out yesterday, though, the idea that America's Founders had never held office before or had no political experience is simply untrue. Indeed, of the 51 men who signed the Declaration of Independence, at least 31 had some previous political experience. Carson has subsequently edited his Facebook post to state that none of the men had any federal office political experience, but this attempt to cover an obvious untruth is nonsense because, of course, the Federal Government would not exist for another thirteen years at the time the Declaration of Independence was signed in July 1776.
In addition to claims about history that are simply not true, Carson has also apparently made claims about his own personal history that are at the very least wholly unverifiable. When he was first starting to rise in the polls, for example, Carson claimed that he had once been threatened at gunpoint at a Popeye's Chicken restaurant in Baltimore and told the story about how he diffused the situation by talking to the man. Attempts by some reporters to try to verify the story, which admittedly may be difficult to do with a decades old incident that apparently never resulted in an arrest or even a police report, have proven entirely unsuccessful. More recently, Carson has been talking about incidents that form the core of his most well-known book in which he recounts a history as a youth in which he was violent and threatened both friends and family. Once again, efforts to try to verify any elements of this story have proven not to be fruitful, and Carson has questioned the motives of anyone who would dare to question his own well-crafted biography.
As I said, some of these claims of Carson's less important than others. In the grand scheme of things I'm not sure that the fact that Dr. Carson believes something completely false about the Egyptian Pyramids is especially important. Along with his beliefs on evolution, cosmology, and religion, though, it does open a window into the extent to which Carson's faith influences both his thinking and how he perceives the world, something that I would argue is important in understanding how he or any candidate thinks. Carson's claims about the Founding Fathers are somewhat more concerning in that they reveal either a lack of basic knowledge of American history or, more likely, a willingness to spread half-truths and lies about America's Founding Generation when it fits a political narrative, something that conservative politicians of recent vintage seem to have a habit of doing. Finally Carson's claims about his personal history are concerning largely because of the way that he has used them to shape the image that he projects to the public. While it's generally been true that politicians often exaggerate elements of their past to create an image, when it is done it says something about the character of the person doing it that, at the very least, Americans should know about.
It will be up to voters to decide how to evaluate all of these claims that Carson has made that have debunked, questioned, and discredited. One suspects that many of his most die-hard supporters won't care at all, and will dismiss those who question him as being part of a conspiracy to silence him. This will likely be especially true of those attracted to Carson because for religious reasons, to whom the reports by the media regarding Carson's comments about the Pyramids, or about Evolutionary Theory and Cosmology, will seem like another "secular" attack on people of faith. Arguing with such people, I have found, is largely pointless. Nonetheless, that does not mean that Carson should not be called out for his fabulist nonsense. This man is running for President of the United States and currently leading or sharing the lead for the nomination of one of the nation's two major political parties. The fact that he believes in nonsense and appears comfortable with making up facts or basing his historical understanding on myth is important because it shows how he thinks, and why he doesn't belong anywhere near the Oval Office.