Ben Carson Overtakes Donald Trump In New National Poll
One unqualified outsider with a history of saying outrageous things replaces another unqualified outsider with a history of saying outrageous things, at least according to yet another new poll.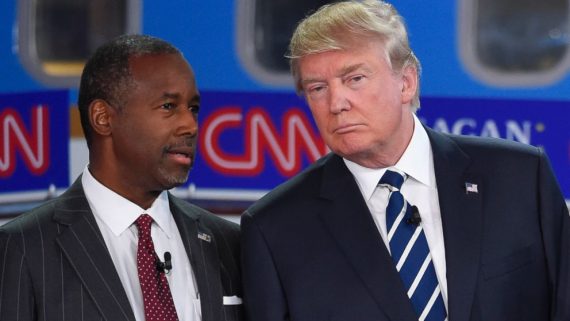 Following on the heels of a series of polls out of Iowa that show him passing Donald Trump in the race for the Republican nomination, retired neurosurgeon Ben Carson is now leading Donald Trump in a national poll conducted by CBS News and The New York Times:
Ben Carson has surpassed Donald Trump and now narrowly leads the Republican field in the race for the nomination in the latest national CBS News/New York Times Poll.

Twenty-six percent of Republican primary voters back Carson, giving him a four-point edge over Trump (22 percent). Support for Carson has quadrupled since August.

The rest of the Republican presidential candidates lag far behind in single digits. Marco Rubio is now in third place (eight percent), followed by Jeb Bush (seven percent) and Carly Fiorina (seven percent). All other candidates are at four percent or lower.

Carson has made gains across many key Republican groups. In a reversal from earlier this month, he is now ahead of Trump among women and is running neck and neck with him among men. Carson's support among evangelicals has risen and he now leads Trump by more than 20 points with this group.

Carson performs well among conservative Republicans and those who identify as Tea partiers. Trump does well with moderates and leads Carson among those without a college degree – although Trump had a larger advantage with non-college graduates earlier this month.

But the state of the race can change. Seven in 10 Republican primary voters say it is too early to say for sure that their mind is made up about which candidate they will support. This percentage is about what it was at a similar point in the Republican race four years ago.

While Carson may have moved to the top of the pack, Trump's supporters are more firm in their candidate choice than Carson's. More than half of Trump voters say their minds are made up about which candidate to back, compared to 19 percent who are currently backing Carson.
More from The New York Times:
Ben Carson has taken a narrow lead nationally in the Republican presidential campaign, dislodging Donald J. Trump from the top spot for the first time in months, according to a New York Times/CBS News survey released on Tuesday.

Mr. Carson, a retired neurosurgeon, is the choice of 26 percent of Republican primary voters, the poll found, while Mr. Trump now wins support from 22 percent, although the difference lies within the margin of sampling error.

The survey is the first time that Mr. Trump has not led all candidates since The Times and CBS News began measuring presidential preferences at the end of July.

No other candidate comes close to Mr. Carson and Mr. Trump. Senator Marco Rubio of Florida received 8 percent while former Gov. Jeb Bush of Florida and Carly Fiorina, the former Hewlett-Packard chief executive, are each the choice of 7 percent of Republican primary voters.

Senator Rand Paul of Kentucky, Senator Ted Cruz of Texas, former Gov. Mike Huckabee of Arkansas and Gov. John R. Kasich of Ohio each received support from 4 percent of those surveyed.

The poll represents a single waypoint in a long nominating process that has already seen considerable volatility. The third Republican debate is on Wednesday, which could further scramble the unsettled field. Such early polls have proven unreliable predictors of the eventual winner, and the first nominating contest, the Iowa caucus, is still more than three months away.

Indeed, the new survey shows that the vast majority of Republicans have not firmly made up their minds: Seven in 10 of those who expressed support for a candidate said it was too early to say for sure who they would support. Just 28 percent indicated that their minds were made up.

More than half of the Republican primary voters surveyed said they were now paying "a lot" of attention to the campaign, essentially unchanged from a CBS News survey in early October.

Over the same period, Mr. Carson has gained five percentage points, while Mr. Trump has fallen by five percentage points.
If nothing else, this poll suggests that the rise we've seen in Carson's favor in the Hawkeye State is something more than just a fluke and that we're likely to see more evidence in the coming days and weeks that Ben Carson is posing a serious challenge for Donald Trump, who has essentially been the undisputed and untouchable leader in the GOP race since July. On the surface, it's hard to see what exactly it is that might be accounting for this. The most recent national polls released before the debate did show Carson getting a little bit closer to Trump, but they certainly weren't hinting at the kind of rise that we're seeing here, or what is clearly a fall on Trump's part that has been sufficient enough to cause him to slip in to second place. In Iowa at least, one could point to a large ad buy from Club for Growth, as well as commercials from the Carson campaign that have started to run in South Carolina and seem likely to spread elsewhere, as a possible cause for what's happening in the polls there. It's not at all likely, though, that a media campaign that's largely been limited to one state would have this kind of impact on the race.
A more probable explanation for the poll shift we seem to be seeing, I suppose, is the fact that this poll seems to indicate that Republican voters are starting to pay closer attention to the race than they have to date. This would suggest, of course, that a great deal of Trump's rise over the past three to four months has been as much about his celebrity status and the media attention that his outrageous statements get from the press as it has been about actual support in the polls, but that conclusion runs in the face of polling data that shows that Republicans have started to take Trump more seriously as time goes on. Additionally, it's hard to say that there's been any individual event that one could point to as the reason for either Carson's rise or Trump's fall as reflected in theAse polls. For that reason, Trump's seemingly decline now, which may end up proving to be temporary, is as puzzling as his rise in the polls was when he entered the race. This is especially true when you take into account that the person who seems to be replacing him at the top of the polls, while admittedly far less bombastic than Trump, isn't really any better when it comes to policy positions or rhetoric. Ben Carson may be much more soft-spoken than Trump, but he's no less ridiculous in many of the things he believes. This is, after all, the man who has a long  history of inflammatory rhetoric that most recently appeared to include the suggestion that Holocaust victims were partly to blame for their fate and the suggestion that the Department of Education should be turned into some kind of monitor to weed out "political bias" in higher education. He's just as much of an ignoramus on basic policy issues as Trump is. And now he appears to be moving into the top spot in the race for the Republican nomination just three months before the Iowa Caucuses. For months now, Republicans have been hoping for the day when Donald Trump would start declining in the polls, and they've reached it. The fact that he's being replaced by someone equally as ridiculous as he is, though, probably means that they aren't exactly popping the champagne corks right now.
The fact that this potentially important shift in the polls is happening now promises to make the next several weeks quite interesting. The next Republican debate, of course, will be held tomorrow in Colorado and there will be another debate two weeks later in Wisconsin. Among other things, it will be interesting to see how Trump reacts to the fact that he is no longer the undisputed leader in the Republican field. At least initially, his response has been to dismiss the numbers and try to continue with the message that his campaign is a winning one, something he repeated this morning on Morning Joe when apparently first learned about the new CBS/New York Times numbers. That argument isn't going to hold up, though, if more polling comes out that mirrors what we've been seeing for the past several days, and considering the fact that a large part of Trump's campaign of late has been to cite the polls as evidence that he's "winning" while everyone else is losing. One can expect that Trump will likely try to attack Carson more vigorously, which we've already seen in Trump calling Carson "super low energy" and raising questions about his faith, but the problem Trump and other candidates face there is Ben Carson is not an easy candidate to attack not the least because he tends not to fight back and because his soft-spoken nature even in response to these attacks ends up making the attacker look like something of a bully. Additionally, with Trump now apparently showing signs of vulnerability it's likely that we'll see some of the other Republican candidates, all of whom continue to languish in the single digits, go after Trump more vigorously than they have in the past. Whether that will work is something only time will tell, and it's well worth remembering that Trump very could bounce back from these setbacks. If he does, and if he then continues to rise in the polls then he could end up being very well-positioned once the voting actually starts in February. This is far from being over yet. Indeed, we haven't even approached the end of the beginning.