Carson and Mannatech
Semantics aside, Carson has a clear relationship with a company whose products are nothing but junk science.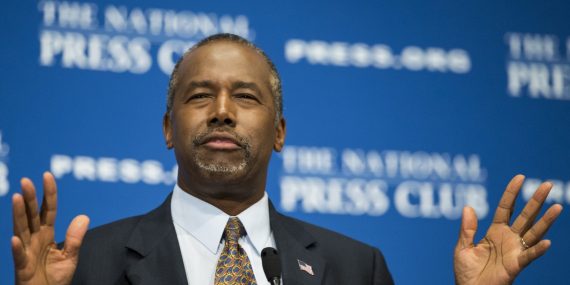 I only watched a small portion of the CNBC debate live this past week but one of the parts that I did catch was the following:
QUINTANILLA: One more question. This is a company called Mannatech, a maker of nutritional supplements, with which you had a 10-year relationship. They offered claims that they could cure autism, cancer, they paid $7 million to settle a deceptive marketing lawsuit in Texas, and yet you're involvement continued. Why?

CARSON: Well, that's easy to answer. I didn't have an involvement with them.That is total propaganda, and this is what happens in our society. Total propaganda.

I did a couple of speeches for them, I do speeches for other people. They were paid speeches. It is absolutely absurd to say that I had any kind of a relationship with them.

Do I take the product? Yes. I think it's a good product.
My first reaction at the time (which has not changed upon re-reading the transcript) was:  how can you say that "I didn't have an involvement with them" and assert "total propaganda" and then go on and state "I did  a couple of speeches for them" which were "paid speeches" but then assert "It is absolutely absurd to say that I had any kind of a relationship with them"?  Doing paid speeches for a company is not a relationship?  He could have tried to define the specifics of the relationship, but to essentially say "yes, I have been to their house several times, but I don't know those people and to say we have a relationship is propaganda" is a profoundly weird approach to this situation.
Even if Carson can make the case that he has no "relationship" with the company, the fact that he takes the product and endorses it as a "good product" raises questions about his main strength:  his medical judgment.  Mannatech strikes me as nothing more than a modern example of the patent medicine types of the late 19th/early 20th centuries (ye olde snake oil salesmen).   This does not strike me as the kind of thing that an allegedly brilliant neurosurgeon would buy into.
This is illustrated in the following video (and also undercuts the notion that Carson has no relationship with Mannatech):
In regards to the glyconutrients claim that Mannatech makes (and that Carson endorses in the video), see Schnaar and Freeze: "A "Glyconutrient Sham"" in the journal Glycobiology.:
One marketing tool that some glyconutrient salespeople have used to infer the efficacy of glyconutrients is reference to Mannatech patents. Exemplary is US patent 6,929,807 (issued 2005, available at http://www.google.com/patents), which includes an impressive list of >100 scientific references including published papers by distinguished glycobiologists, including those on the Editorial Board of Glycobiology. The patent includes a long list of disorders and diseases "… treated by administration of glyconutrients…" (alone or in combination with other nutraceuticals). The list of treated diseases, each listed with positive treatment results, is breathtaking: aging, stroke, multiple sclerosis, ALS, muscular dystrophy, cerebral palsy, macular degeneration, Down syndrome, immune deficiency, Tay-Sachs, Huntington's, Alzheimer's, Parkinson's, spinal cord injury, Crohn's, Tourette's, lupus, rheumatoid arthritis, alcoholism, atherosclerosis, asthma, allergy, silicon breast implant, agent orange, Gulf War syndrome, hepatitis, influenza, common cold, AIDS, cancer, and poor athletic performance (among others). Although the claims allowed by the patent office do not address the therapeutic efficacy of glyconutrients, the Texas Attorney General's lawsuit claims, "… Mannatech and its associates heavily rely on its … patent for credibility and validation."

[…]

Glycoscience is synonymous with glycobiology (e.g. see http://glycosciences.de; http://glycosciences.org.uk). However, the URLs "http://glycoscience.org" and "http://glycoscience. com" point to the same Mannatech-maintained website.10According to the Texas Attorney General's lawsuit, the site "… purports to 'provide information on nutritional saccharides – glyconutritionals – that form the scientific underpinnings for Mannatech's product line …'" and was designed "… to give Mannatech's products an air of legitimacy …." However, the lawsuit goes on to state that studies reported there "… have little, if any, scientific value." According to the lawsuit, "… some of the studies referenced on the glycoscience.com website are legitimate studies that have been published in recognized journals. Those studies, however, are generic studies that have been done in the field of glycobiology and provide no support for the claims being made …" and furthermore, "… doctors in the field of glycobiology have strenuously objected to [Mannatech] using their work to mislead consumers into believing Mannatech's products can cure diseases. Nevertheless, [Mannatech] continue[s] to encourage associates to use the studies in order to convince their non-medical … customers that Mannatech's products have these incredible curative properties". (See footnote 5).
The fact that Mannatech claims a religious aspect to their business may help shield Carson from criticism from some of his supporters, but this does not take away from the fact that his association with Mannatech is an association with (and endorsement of) junk science.  For a man who is basing a huge amount of his appeal on his medical expertise, however, this situation strikes me as seriously calling his judgement into  question.  This is especially worrisome since he claims he will consult experts if elected to the presidency.  If he can't discern experts from charlatans in the medical field how is he going to pick legitimate experts on foreign and economic policy?