Software Patents are Crumbling
The courts have been striking them down at a dizzying pace since June.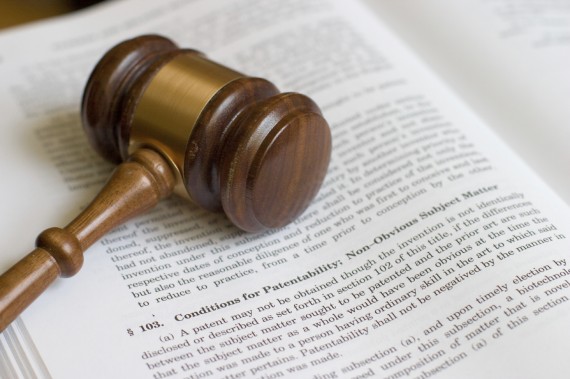 Timothy B. Lee notes that, since the Supreme Court's ruling in Alice v CLS Bank in June, a slew of patents on software have been struck down by lower courts.
In recent weeks, the courts have been following the Supreme Court's lead and ruling that these patents are illegal:

These rulings might seem like common sense, but it's important to remember that every single one of these patents was examined and approved by the patent office. That's because until recently, this kind of "invention" was considered eligible for patent protection. The patent office has issued hundreds of thousands of software patents over the last two decades, and many of them look like this.
It's not at all obvious why some of these rulings are "common sense." Pretty much EVERYTHING done by computers was previously done by human beings using more laborious methods. For that matter, so was pretty much everything done by any patented device one can imagine. By this logic, a vastly improved can opener or corkscrew, to use two simple non-computer machines, would be unpatentable because we can already open cans and wine bottles. Indeed, even the very first can opener and corkscrew would be unpatentable because, well, rocks.
Beyond that, it strikes me as fundamentally not the job of courts to make these decisions. Judges are notorious morons when it comes to technology. The Constitution gives the power to award patents to Congress, which long ago delegated the day-to-day process of reviewing and issuing them to the Patent Office, which is staffed by technical experts. They're Constitutionally entitled to substantial deference in applying their expertise, with Congressional oversight—and, yes, I know that it has been sorely lacking across the board in recent years—as the primary backstop. The courts have no obvious role here aside from litigating the enforcement of claims, which should be on the basis of similarity of the new device/software to the patent, not on the desirability of the patent in the first place.
Now, I'm sympathetic to the notion that we grant far too many patents and, especially, that the period of exclusivity is far, far too long.  Maybe there should be some sliding scale based on the novelty of the idea and difficulty of implementation.
Lee references, for example, Amazon's patent on 1-click shopping. It seems patently obvious (pun originally unintended) that others ought be able to copy that by now. At the same time, it's a pretty big innovation and I have no problem with Amazon enjoying exclusive rights to it for some limited period of time. Given that the concept itself seems pretty obvious and was likely to be implemented by some other company reasonably soon, maybe Amazon ought to have enjoyed something like a 3-year head start on the competition. That's enough to reward innovation yet not so long as to stifle the spread of good ideas.
Regardless, though, this is a job for Congress. I know the system is currently broken. That's frustrating as hell. But it doesn't invalidate the Constitution. Rather, it places the burden on the citizenry to demand better performance from their elected representatives or to elect better representatives.