Despite Obvious Shortcomings, Ben Carson Rises In The Polls
Ben Carson has no government experience, he has a history of saying things that don't seem grounded in reality, and he lacks the resources for a credible campaign. And yet, he's closing in on Donald Trump in the polls.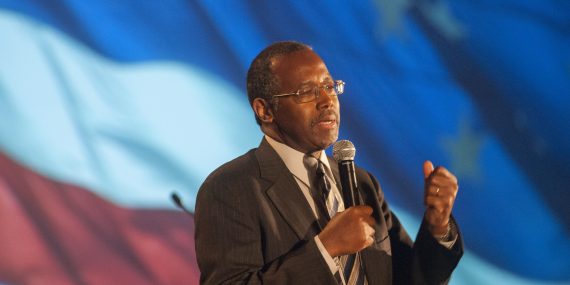 With only one day left before the next Republican Presidential debate, a new national poll from CBS News and The New York Times shows retired neurosurgeon Ben Carson pulling closer to Donald Trump:
As big names fall, and Donald J. Trump sees only a modest gain, Ben Carson no longer has to look ahead to see who is leading in polls: He can just look to his side.

Mr. Carson has amassed considerable new support from Republican primary and caucus voters and is now running nearly even with Mr. Trump as their pick for the party's presidential nomination, according to a new New York Times/CBS News poll.

Far more than other Republican contenders, Mr. Carson, a retired neurosurgeon, has capitalized on his outsider message — a mix of anti-establishment views, delivered in a calmer tone than Mr. Trump's, and socially conservative positions — to draw voters away from rivals and leap ahead in the poll, which will be published on Tuesday. The proportion of Republican voters favoring Mr. Carson rose to 23 percent from 6 percent in the previous CBS News poll, which was taken just before the first televised Republican debate in early August. Over that same period, Mr. Trump made modest gains, to 27 percent from 24 percent.

Mr. Carson pulled at least some of his support from Republicans who are more typical political figures. Jeb Bush fell in the poll, to 6 percent, from 13 percent, and Gov. Scott Walker of Wisconsin tumbled to 2 percent from 10 percent. No other candidates fell as much as those two, according to the poll. Mr. Carson drew more support from college graduates than Mr. Trump, while those without a college education were more likely to favor Mr. Trump.

Over all, 37 percent of Republican voters say their minds are made up about which candidate they will support as their party's presidential nominee, while 63 percent say it is still too early to say. Slightly more than half of Mr. Trump's backers say they have decided, while 46 percent said they could still switch candidates. Those who said they had made up their minds are twice as likely to support Mr. Trump over Mr. Carson. Women were less likely than men to support Mr. Trump and more likely than men to support Senator Marco Rubio of Florida.

The only other significant gain was made by the third outsider in the Republican field, Carly Fiorina, the former chief executive of Hewlett-Packard, who drew support from 4 percent of voters, compared with a trace amount in midsummer.
Carson has been rising in the polls quite steadily ever since the first Republican debate on August 6th, during which he seems to have come across in a manner that many Republican primary voters, and quite a few pundits, liked. To be honest, there wasn't anything all that special about what Carson said at the debate, he repeated most of the standard conservative policy positions that he's said in the past. He did avoid his long-standing habit of comparing things such as the Affordable Care Act to the Holocaust or slavery, though, and he also managed to come across as far more mild-mannered than most of the other people on the stage that night. Perhaps that that's the reason that we've seen him rising in the polls lately, though one suspects that it also has a lot to do with the fact that, like Donald Trump, he is very much the political outsider. Even before the debate, Carson was doing fairly well in the polls, both on the national level and especially in early primary states where conservative voters are dominant such as Iowa and South Carolina. In the six weeks since the debate, though, he has rapidly moved up in the polls. On the national level, Carson went from an average of 5.8% in the polls to 17.8% today. In Iowa, he's gone from 7.0% to 20.8% in the same time period. In New Hampshire, he's risen from 6.0% to 11.8%, and in South Carolina, where Carson was already doing well in the polls, he's gone from 10.8% to 16.8%.
As Philip Bump notes, Carson's rise in the polls right now is starting to look a lot like Donald Trump's rise since he entered the race for the White House in mid-June. In both cases, you have candidates who have taken off at an extraordinary rate notwithstanding the fact that neither one of them has been very specific about what they would actually do as President or how they accomplish it. Additionally, as I noted above, both Trump and Carson seem to be appealing to the same type of people who are attracted to political outsiders. What's interesting, of course, is that these are two candidates who could not possibly any more different when it comes to their personal style. Where Trump is brash, outspoken, and self-confident to the point of being an egomaniac, Ben Carson is quiet, soft-spoken, and often loathe to boast of things he accomplished in his career as a doctor. When it became clear that Carson was becoming something of a threat in polls, Trump proceeded to attack him, and while Carson initially fired back, he ended up apologizing, which is of course something that Donald Trump would never do. This kind of personal dynamic, makes the fact that they are now in first and second place in the race for the nomination quite interesting, especially as we head into a debate where CNN is reportedly going to encourage the candidates to engage with each other.
On some level, the idea of Ben Carson as a credible candidate for the Presidency makes even less sense than the idea of Donald Trump as a credible candidate for President. Notwithstanding the fact that he is quite obviously a skilled surgeon and an intelligent man, for example, Carson has a long history of make statements that seem more appropriate for a comment thread on the Internet than a Presidential campaign. He has equated the Affordable Care Act to the September 11th attacks, made frequent use of Nazi analogies to criticize the President, and said that "progressives" want to turn the United States into Nazi Germany, and compared abortion to human sacrifices by civilizations of the past. More recently, he claimed that prison rape is proof that being gay is a choice. While this rhetoric may play well with a certain segment of the Republican base, it is not the kind of thing that will play well in a General Election.  Additionally, much like Trump, Carson to date has displayed a stunning lack of substance in his political rhetoric, and in some notable cases distinct gaps in his knowledge in areas that someone running for President ought to be well-informed about.
More importantly, unlike Trump Carson does not have access to an unlimited supply of money to finance a Presidential campaign. While his fundraising during the quarter that ended on June 30th was respectable, it was hardly sufficient to fund a major campaign going forward and it seems unlikely that Carson would be able to compete with the likes of Trump, Bush, and others when it comes to having the resources needed to mount a major campaign for the nomination. More likely than not, Carson will be this election cycle's version of Herman Cain, although hopefully he won't end up having to shut down his campaign under the same circumstances as the former pizza mogul.