Ben Carson Flunks Foreign Policy, History
Ben Carson doesn't seem to know much about foreign policy or history. And he doesn't belong on anyone's list of serious Presidential candidates.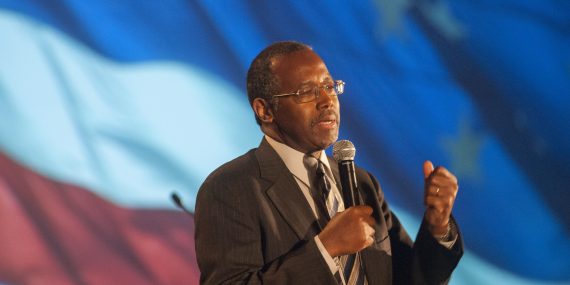 In an appearance on what would generally be seen as a "friendly" format for conservative candidates, Ben Carson didn't seem to know that the Baltic states were in NATO and placed the roots of "radical Islam" at a date thousands of  years before Islam even existed:
Ben Carson, the retired neurosurgeon poised to seek the Republican presidential nomination, appeared not to realize Wednesday that the Baltic states are members of the NATO alliance. He also claimed that the rage being expressed by radical Islamist groups dates back to Old Testament days.

Those were among several odd answers from the first-time candidate as he defended his lack of foreign policy chops during a radio interview with Hugh Hewitt, the conservative commentator who will moderate a GOP presidential debate later this year.

Like several other Republican presidential prospects, including a few of the governors in the field, Carson showed the limits of his knowledge about the world, even as national security has come to dominate a larger share of the debate.

Hewitt asked if NATO should be willing to go to war if Russian leader Vladimir Putin attempts to do in the Baltic states (Estonia, Latvia or Lithuania) what he's already done in Ukraine.

"I think they would be willing to go to war if they knew that they were backed up by us," Carson said. "We need to convince them to get involved in NATO and strengthen NATO."

"Well, the Baltics, they are in NATO," Hewitt responded. [In fact, they've been member states since 2004.]

After a commercial break, Carson explained that he was confused. "Well, when you were saying Baltic state, I thought you were continuing our conversation about the former components of the Soviet Union," he said.
The Baltic states, of course, were former components of the Soviet Union, having been absorbed into the nation when in 1940 and remaining part of the nation until the Soviet Union collapsed at the end of the Cold War. Indeed, these nations have been in the news quite a lot over the past year given Russia's moves against Ukraine as well as threats of future territorial expansion elsewhere in Eastern Europe. One would think that anyone who has even been paying a moderate amount of attention to the affairs of the world would realize these facts, not to mention someone purporting to be a candidate for President of the United States.
Carson didn't do much better when the subject shifted to ISIS and terrorism:
Much of the interview focused on the current turmoil in the Middle East. Carson said he's been reading a lot about Al Qaeda and "the radical Islamic movement in general."

The 63-year-old argued that "the origin of their rage" dates all the way back to the book of Genesis in the Old Testament and that the groups are mainly focused on claiming land.

"First of all, you have to recognize they go back thousands and thousands of years, really back to the battle between Jacob and Esau," Carson said.

Hewitt interjected that Islam's Prophet Muhammad was not born until nearly 600 years after the death of Jesus, and that Islam is really only a 1,400-year-old religion: "How do you go back to Jacob and Esau, which are B.C?"

"I'm just saying that the conflict has been ongoing for thousands of years," Carson said. "This is not anything new, is what I'm saying."

Carson doubled down by asserting that "the Islamic faith emanated from Esau."

"It has been a land issue for a very long period of time," he said. "Possession is very important to them. And one of the things that we're doing incorrectly right now is not recognizing that they are expanding their territory. Not only the land that they've taken in Iraq, but what they've taken in Syria, they're creating an Islamic state. And we can bomb it all we want. But unless we actually can take the land back, we're really not doing them any damage."
To some extent, of course, what Carson is saying here mirrors what many on the right seem to think about Islam. It also demonstrates quite well the extent to which Carson and people like him tend to view the world through a Biblical, and quite often apocalyptic, lens. Tying issues arising in Iraq in the 21st Century to the stories in the Book Of Genesis, which only a relatively small group of Evangelical Christians consider to be literal history, is a rather bizarre way to view an incredibly complex situation. It does have the advantage, though, of providing the people who engage in this type of "analysis" with a rather simplistic view of the world that make the distinction between "good" and "evil" rather clear, and tends to justify whatever it might be that the forces of "good," invariably the United States and its allies, do in their war against the "evil" of Islam. The fact that such a war only tends to create more enemies, of course, is something that never seems to actually occur to these people. The fact that Carson clearly ascribes to this worldview probably isn't surprising given his comments on other issues facing the world, is rather alarming given the fact that Carson is supposed to be a well-educated man and, at the very least, suggests that he really doesn't belong anywhere near the levers of political power.
Carson, meanwhile, seems to think that his ignorance about some of the most important foreign policy issues facing the world is a good thing:
"I've read a lot in the last six months, no question about that," Carson said. "There's a lot of material to learn. There's no question about that. But … we spend too much time trying to get into these little details that are easily within the purview of the experts that you have available to you. And I think where we get lost is not being able to define what our real mission is, and not being able to strategize in terms of how do we defeat our enemies."

"I could spend the next six years learning all the details of all the SALT treaties and every other treaty that's ever been done and completely miss the boat," he added.
This kind of Palinesque celebration of ignorance has become far too common among hardcore conservatives in recent years, something that others on the right have lamented given the fact that conservatism was once dominated by figures that celebrated the virtues of intellectualism and intelligence. Like Carson, though, there is now an entire subculture on the right of people who think that not knowing things about the world, or indeed not being curious about the world beyond the closed ideological bubble that they live in, is a good thing. In Carson's case, given the fact that his education at the University of Michigan and Yale, and his career as one of the top pediatric neurosurgeon's in the country, indicate that he's quite obviously not an unintelligent person, one has to wonder how he can rationalize his own life with his apparent willful ignorance and his celebration of that ignorance as a good thing. At the very least, it indicates that he doesn't deserve to be taken seriously as a candidate.