Trump And Carson Lead, Bush Sinking, Christie In Debate Trouble In Latest GOP Polls
Fluctuations continue, but the Republican Presidential field appears to be sorting itself out as we near the beginning of a new phase of the campaign.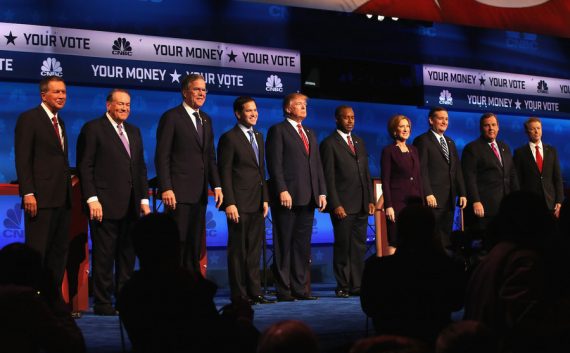 Two new national polls show show that the wild fluctuations in the Republican field that James Joyner wrote about earlier this week are continuing, but they also show that the make up of next Tuesday's Fox Business Channel debate could be quite different from what we've seen in the three previous debates. The numbers also show signs of a possible new division the ranks of the candidates between those leading the race, those that seem to have the best potential to contend for the a place at the top of the field, and those whose campaigns are fading as we get closer to the beginning of the final stretch before voting actually starts.
First up, a new Quinnipiac poll has Trump and Carson on top with Marco Rubio and Ted Cruz both seeming to get benefits from their debate performances last week, and Jeb Bush's campaign not doing well at all:
Jeb Bush's support among Republicans nationally has plummeted to the low single digits in the latest Quinnipiac University survey released Wednesday, as the former Florida governor's campaign seeks to hit refresh with its "Jeb Can Fix It" tour.

Donald Trump and Ben Carson, meanwhile, continued to lead the field, with Carson outperforming Hillary Clinton in a hypothetical general-election matchup.

In the latest poll, conducted after last week's third GOP debate in which Bush delivered a mediocre performance, just 4 percent of Republican and independent Republican-leaning voters said they would support Bush in their state's primary. In the September survey, Bush earned 10 percent, trailing Trump, Carson and Carly Fiorina. And in terms of favorability, no one polled lower than Bush, at a net-negative of 33 points. Just 25 percent of all registered voters surveyed said they had a positive opinion of him, while 58 percent said they had a negative one.

For its part, the Bush campaign has tried to manage expectations among the media.

"FYI political press corps. Jeb's going to have a few weeks of bad polls," campaign communications director Tim Miller tweeted Monday. "Comebacks take time, we recognize and are prepared for that."

Trump earned 24 percent from Republican voters this time, while Carson moved into a virtual tie at 23 percent. Florida Sen. Marco Rubio jumped into third place with 14 percent, followed by Texas Sen. Ted Cruz with 13 percent. Other candidates took in 3 percent or less support, with 9 percent undecided.
Then, late yesterday afternoon, Fox News Channel released a poll that seemed to confirm the numbers we saw from Quinnipiac:
Is the race for the Republican nomination finally shaking out?  Four candidates get double-digit backing — and then there's a steep drop-off to the rest of the field.

The latest Fox News national poll on the 2016 election finds that Donald Trump has the edge, as GOP primary voters by wide margins identify him as the best candidate on the economy, as well as the one most likely to beat presumptive Democratic nominee Hillary Clinton.  The poll also finds Ben Carson remains within striking distance of Trump.

Here are the numbers:  Trump has the backing of 26 percent of Republican primary voters and is closely followed by Carson at 23 percent.  The next tier includes two first-term Cuban-American senators: Ted Cruz and Marco Rubio at 11 percent each.  Those four capture the support of 7 in 10 primary voters (71 percent).

From there, Jeb Bush, Mike Huckabee, John Kasich, and Rand Paul receive 4 percent each.

Carly Fiorina garners 3 percent, down from 5 percent last month and 9 percent in September.

The poll, released Wednesday, is one of two national telephone polls conducted entirely since the October 28 CNBC Republican debate.

Since mid-October, support for Kasich is up 3 percentage points, Trump and Rubio are up 2 points, and Cruz is up 1 point.  Carson has held steady while Bush has dropped by 4 points.

Chris Christie has 2 percent now, up from 1 percent last month.

Men (31 percent) are more likely than women (21 percent) to support Trump.  The top choice among women GOP primary voters is Carson at 25 percent.

The favorites among white evangelical Christians include Carson (33 percent), Trump (23 percent) and Cruz (12 percent).  Those three are also the top picks among the Tea Party movement, although in a different order: Trump (26 percent), Cruz (24 percent) and Carson (19 percent).

When each primary voter's first and second-choice preferences are added together, Carson (43 percent) has the edge over Trump (41 percent).

Trump supporters go for Carson (36 percent), Rubio (10 percent), Bush (9 percent), and Cruz (9 percent) as their second-choice picks.

(Emphasis added)
The candidate who fares the worst in both of these polls, relatively speaking, is without question, Jeb Bush. While the former Florida Governor has sunk significantly in the polls nationally and at the state levels since Donald Trump entered the race, and even more so since the race began, he has at the very least managed to maintain a position somewhere in the middle of the pack. In this position, he could at least make the case to supporters and donors that, while his numbers are less than ideal, they were at least respectable enough to keep him within striking distance of being right the back in the race. In both of these polls, though, each of which were conducted entirely after the last Republican debate, he has slipped into four percent territory along with with candidates such as Carly Fiorina, Mike Huckabee, John Kasich, and Rand Paul. By contrast, in the three recent polls that were conducted over a period that extended before and after the debate —- from CBS/NY Times, IDB/TIPP, and NBC/Wall Street Journal — Bush averaged seven percent. It should also be noted that the two most recent polls out of New Hampshire, from Monmouth University and television station WBUR, both of which were conducted completely after the last debate, have Bush at seven percent in the Granite State. It's possible, of course, that the two new polls showing Bush at four percent are outliers to some extent, of course, but it's also possible that we're seeing a real impact from what pretty much everyone, including Bush himself, agrees was a disappointing debate performance that came on the heals of a high profile meeting with donors and advisers in Texas the weekend before prompted by an October that was already filled with bad news for the man once considered the most formidable candidate in the race. If that's the case, then Bush's uphill battle to get himself back into contender status is going to be even more difficult than it appeared.
Beyond Bush, it seems as though the race is beginning to sort itself out into three, possibly four, separate groups, at least according the national polls. At the top, of course, we have Donald Trump and Ben Carson, who are essentially now tied at the top of the RealClearPolitics polling average, although the much broader Pollster average shows Trump leading by more than four percentage points. Next, we have Senators Marco Rubio and Ted Cruz, both of whom have seen their number rise since the October 28th debate and who are now averaging 11.0% and 8.8% respectively. Rubio's rise into prominence is something I've made note of already, and it's continued in recent days with what seems to be a rolling announcement of endorsements from fellow Senators and other Republican officials. Cruz's rise has been quieter, but is nonetheless just as real and the success he's had at fundraising since getting the race suggests he'll remain a factor in this race going forward. In the next group we have Jeb Bush, Carly Fiorina, John Kasich, Rand Paul, and Mike Huckabee, who are averaging between 5.8% (for Bush) and 2.6% (for Huckabee) and all of whom have seen their numbers fall steadily since the debates began to become the focus of the race. In the final group we have the guys who have been stuck in the undercard debates from the beginning, George Pataki, Lindsey Graham, Bobby Jindal, and Rick Santorum, along with former Virginia Governor Jim Gilmore who has failed to perform well enough to be invited to anything other than the first undercard debate in August. In ordinary years, this last group would probably have ceased to exist by now, but for many reasons, including the fact that the undercard debates continue to give them free media time, they've all decided to hang on. How long that lasts is basically up to them at this point, but they are basically non-factors in this race who are, with the possible exception of Jindal, who is doing much better in Iowa than anywhere else, best ignored by anyone trying to understand what's going on in the race.
Somewhere in between that middle of the pack group and the undercard group sits New Jersey Governor Chris Christie, whose fate may end up being sealed in the coming week. At the end of today, Fox Business Network will announce which candidates it is inviting to the main stage debate and which will be at the undercard debate next Tuesday. The criteria announced last week provide that candidates must average at least 2.5% in the four most recent national polls to qualify for the main stage, a number which at least initially seemed to put Christie, Rand Paul, and Ohio Governor John Kasich, in danger of failing to qualify. Based on these two most recent polls, though, it seems clear that Christie is the one who's really in trouble. No matter which four of the five debates conducted in whole or in part since the last debate you select, Christie averaging 2.25%, and if you take all give of them he's averaging 2.0%. Based on that criteria alone, he would not qualify for the main stage not withstanding the fact that he has recently seemed to move upward in the polls in New Hampshire, hitting seven percent in the new WBUR poll,tying him for fifth place with Jeb Bush, and five percent in the new Monmouth University poll. There has been some speculation that FBN may find a way to get Christie on the main stage due to his performance in the Granite State, but it's unclear how much discretion they actually have based on their own criteria. Needless to say that if Christie fails to make the main stage debate it will be a massive hit to a campaign that has struggled to garner support since he entered the race on the last day of June. Two other candidates who may get bad news tonight are George Pataki and Bobby Jindal, neither of whom has garnered the one percent in any national poll that would entitle them to a place in the undercard debate.
Given the fluctuations we've seen in this race, both recently and over the course of this year, it is dangerous to start talking about the race sorting itself out. Things could change with the next round of polling, or after the next debate. Nonetheless, the closer we get to the beginning of 2016 and the time when candidates and voters will really be focusing on this race, it does appear that the GOP race may finally be sorting itself out a bit between front-runners, potential contenders, a middle pack made up mostly of people who have been fading for months, and a group that can safely be ignored. We may see some changes in which candidates falls into which group, in fact history tells us we probably will, but as we get closer to the time when voting starts this race may just be settling into something recognizable even if it the way candidates are sorted, and who's leading, is unusual to say the least and extremely troubling to say the most.