Trump Surges Ahead Again In Post-Debate Polling
The first post-debate polls of the GOP race have more good news for Donald Trump.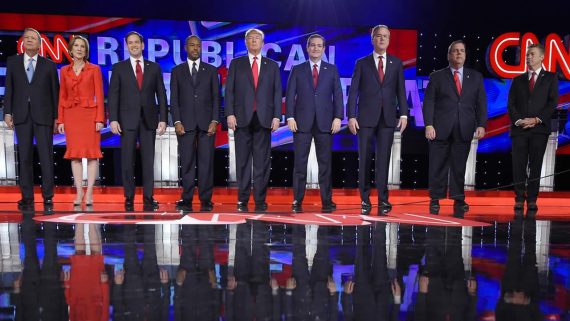 The first polls taken entirely in the wake of the fifth Republican debate shows that Donald Trump continues to move forward and maintain his leadership, while Ted Cruz rises and Ben Carson continues to fade into the background. Additionally, a new poll out of New Hampshire shows New Jersey Governor Chris Christie surging into fourth place, suggesting that he may be a bigger part of the story of this campaign in the new year than many were anticipating.
First up, there's a new national poll from Fox News Channel, taken entirely after the December 15th debate, that has Trump increasing his lead and his overall poll numbers by eleven points since the last time Fox polled the race:
Donald Trump, a candidate even Republicans once considered a side show, increases his lead yet again in the nomination race, according to the latest Fox News national poll.

The poll also finds Ted Cruz ticking up, Marco Rubio slipping, and Ben Carson dropping.

Trump hits a high of 39 percent among Republican primary voters, up from 28 percent a month ago.  The increase comes mainly from men, white evangelical Christians, and voters without a college degree — and at the expense of Carson.

(…)

Trump's 11-point jump in support comes after his comments about stopping non-U.S. Muslims from coming into the country.

Seven in 10 GOP primary voters are in favor of a temporary ban.

Back in June, the Fox News poll asked whether voters felt the real-estate mogul and reality TV star was a serious candidate or a "side show."  At that time, 64 percent of GOP primary voters said Trump was a side show, rather than a serious candidate (29 percent).  Today, it's the reverse — 33 percent of GOP voters say he's a side show and 65 percent say serious candidate.

Support for Trump in the GOP race is more than double that for Cruz, who comes in second with 18 percent.  That's up four points since mid-November and nearly twice the 10 percent he had in October.

Rubio garners 11 percent, down three points from 14 percent last month.

Carson drops to 9 percent. He was at 18 percent last month and had a high of 23 percent support earlier this fall.

After that, Jeb Bush, Chris Christie, Carly Fiorina, and Rand Paul get three percent each.  All others receive two percent or less.

The favorites among white evangelical Christians are Trump (39 percent), Cruz (26 percent) and Carson (12 percent).  Since last month, Trump is up 14 points among this group, Cruz is up 8 and Carson is down 12.

Trump's backing among men went from 28 percent in November to 46 percent now.  (He mostly held steady among women at 30 percent.)

Forty-five percent of GOP primary voters without a college degree go for Trump — up from 30 percent in November. At the same time support for Carson fell 9 points among this group.

For comparison, support among those with a college degree is more mixed: Trump (31 percent), Cruz (19 percent), Rubio (16 percent) and Carson (10 percent).

(…)

By wide margins, Trump is seen as the candidate most qualified to handle the economy (52 percent) and most effective against the Islamic extremist group ISIS (49 percent).  Cruz comes in a distant second on both (13 percent economy, 17 percent ISIS) — and no other candidate gets into double-digits.

Views are more mixed when primary voters are asked who is most qualified to be commander-in-chief.  Trump is the top pick at 31 percent, followed by Cruz at 21 percent.  Next it's Rubio at 11 percent and Bush at 8 percent.  Trump (+12 points) and Cruz (+8 points) both improved on this measure since early November.  Only six percent see Carson as most qualified to be commander-in-chief now — an 11-point drop since last month.
There are two data points that are potentially troublesome for Trump, but they are minor ones for the time being. First of all, Trump's lead shrinks somewhat when the field is narrowed to the top four candidates in the race. In this scenario, Trump has 41% to Ted Cruz's 25%, followed by Marco Rubio at 17% and Ben Carson at 12%. This puts Trump's lead over Cruz at a smaller rate than it is in a wider poll, but to be honest that's somewhat to be expected when the field narrows and isn't necessarily problematic at this stage of the race. Additionally, a head-to-head race between Trump and presumptive Democratic nominee Hillary Clinton has Trump losing by nearly ten percentage points while other Republicans, such as Marco Rubio, who narrowly leads Clinton, Ted Cruz, who is tied with her, and Ben Carson, who is only two points behind. As I've noted before, though, these head-to-head General Election polls this early in the cycle don't necessarily tell us anything. There was polling at this point in the 2012 cycle, for example, that showed Mitt Romney within the margin of error or even beating Barack Obama, for example, and, most famously, polling in December 1979 showed President Jimmy Carter handily beating Ronald Reagan in a head-to-head match, and we all know how that turned out. As the race moves forward, a candidate's performance in these hypothetical General Election matches may start to matter to voters looking for a candidate who can win in November. For now, though, they're not really worth talking about, and Trump's number here is unlikely to blunt his seemingly unstoppable rise in the polls.
Trump also sees his numbers rise in a second post-debate national poll from Public Policy Polling, where both his overall number and his lead have risen by six points since the previous PPP poll:
PPP's newest national Republican primary poll finds Donald Trump holding his largest lead yet in the wake of Tuesday night's debate. He's at 34% to 18% for Ted Cruz, 13% for Marco Rubio, 7% for Jeb Bush, 6% for Ben Carson, 5% for Chris Christie, 4% each for Carly Fiorina and Mike Huckabee, 2% each for John Kasich and Rand Paul, 1% each for Lindsey Graham and Rick Santorum, and less than 1% each for Jim Gilmore and George Pataki.

Trump is the biggest gainer since our last national poll in mid-November, going from 26% to 34%. He's also become more broadly popular with GOP voters, with his favorability rating going from 51/37 up to 58/34. Trump's hold on the Republican electorate holds true with most segments of the party. He leads with 36% among voters most concerned with having a nominee who's conservative on the issues, and with 34% among voters most concerned about being able to beat a Democrat in the fall. He leads among both Evangelicals with 35%, and among non-Evangelicals with 33%. He leads with both women (34%) and men (also 34%). He leads with both younger voters (38%) and seniors (32%).

There are only 2 groups of the electorate Trump doesn't lead with- the closely related groups of Tea Party and 'very conservative' voters. Cruz has the upper hand with each of those. He's at 38% with 'very conservative' voters to 32% for Trump, with no one else getting more than 8%. And he's at 41% with Tea Party voters to 32% for Trump with no one else getting more than 9%.  Cruz has been the second biggest gainer since our last poll, going from 14% to 18%. There are other positive signs for Cruz in the poll. He's the most frequent second choice of GOP voters with 14% picking him on that front to 10% each for Carson and Trump. He's also the second pick of Trump voters specifically (25% to 13% for Carson) so he's well positioned to benefit if Trump ever does falter.

Marco Rubio is really treading water. He was at 13% last month, and he's at 13% this month. He's losing second choice support- 13% said he was their next man up in November, now it's just 9%. Rubio has also seen a pretty big drop in his net favorability rating among GOP primary voters- it's gone from +30 at 55/25 in November to now +15 at 49/34. He's certainly still in the top tier but if anything his position is weakening rather than getting stronger.

Ben Carson's moment now really appears to have passed. He's dropped down to 6%, after being at 19% in mid-November. Interestingly his favorability rating has barely budged- it was 61/24 last month and it's 61/26 this month. But increasingly even though GOP voters continue to really like Carson, they no longer see him as Presidential material.
The underlying numbers in the PPP polls are basically similar to the Fox News poll, and what both polls tell us is that Donald Trump continues to move forward as the leader of the Republican field as we get closer to the final month before voting starts in the 2016 election cycle, and that his strength only seems to be growing. The fact that his is occurring in the wake of both Trump's controversial plan to bar Muslims from immigrating to the United States for an unspecified period of time and a debate performance that really wasn't any better than any of Trump's other debate appearances, and which included a moment in which he seemed to be unable to speak intelligently about even basic facts about defense policy, is yet another indication of just how loyal his supporters actually are. It's also worth noting that Trump's numbers, which now show him moving into the 30s and touching the 40s, are consistent with a trend that began before the debate, as demonstrated by pre-debate polling from both ABC News and Monmouth University.
Looking at the national polling averages, the trend that we've seen developing over the past month is becoming even more apparent. In the RealClearPolitics average, Trump (33.8%) now has a more than seventeen point lead over Ted Cruz (16.6%) with Cruz followed by Marco Rubio (12.4%). Ben Carson remains in the top four and averages 11%, but his downward trajectory is now firmly established and he now seems to be bleeding supporters to the men in the top three of the race. As this trend continues, one would expect the retired neurosurgeon to be out of doubt digits relatively quickly. After Carson, Jeb Bush hangs on by a thread with a 4.2% average in the polls, followed by Chris Christie at 3.1%. After Christie, every other candidate is averaging under 3% and seemingly on the road to utter irrelevance to the point that it's not even clear if they'll qualify for invitations to the debates that will be held in January. The numbers in the Pollster average are similar, as are the trends, but it's worth noting that in this average Ben Carson is already below double digits in the average and clearly sinking further.
At the state level, there's only been one reliable poll in the early primary states, a poll out of New Hampshire conducted by Franklin Pierce University and The Boston Herald. In that poll, Trump remains at the top with 26%, putting him fourteen points ahead of Marco Rubio and Ted Cruz, who are tied at 12% each. The big story out of this poll, though, may be the fact that Chris Christie has surged into third place in the poll at 11%, continuing a trend that began for him in the Granite State in mid-October and likely reflects the fact that he has spent a lot of time campaigning there in the same town hall style format that worked so well for him in two campaigns in New Jersey. After Christie, Jeb Bush comes next at 10%, which is slightly better than he's done in other recent polling but still likely disappointing for a campaign that probably expected to be doing better at this point. After Bush, there's John Kasich at 8%, Carly Fiorina at 6% and Ben Carson at 5%, Rand Paul at 3% and every other candidate polling below 1%. The polling average for the Granite State is mostly consistent with this latest poll, with RealClearPolitics showing Trump (28.3%) sixteen points ahead of Marco Rubio (12.3%) and Chris Christie in third place at 10.7%. Ted Cruz at 9.3%, Jeb Bush at 8.7%, John Kasich at 7.3%, Ben Carson at 5.3%, Carly Fiorina at 4.7%, Rand Paul at 2.3%, and, again, every other candidate averaging below 1%. The numbers are essentially similar, with some variation in the Pollster average.
While it's a small universe to work from, and we haven't seen any post-debate polling from Iowa as of yet, these polls seem to confirm what we have been seeing over the past month, namely that the race for the Republican nomination is narrowing to what arguably is a four man race. At the top, of course, there's Donald Trump whose dominance continues to  confound analysts, Republican insiders, and sane people alike. Seemingly nothing Trump does or says has changed his position or diminished his strength, outside of Iowa where Ted Cruz's appeal to the heavily evangelical base of the Iowa Republican Party threatens to push Trump into second place. After Trump, there's Ted Cruz and Marco Rubio, who continue to be engaged in a pitched battle and after then, I'd argue that Chris Christie is a contender for fourth place if he continues performing well in New Hampshire. Ben Carson certainly doesn't seem to be entitled to that spot due to the fact that his numbers are falling like a rock and it seems unlikely at this point that he'll be able to reverse the trend. Christie, on the other hand, has the potential to become the "surprise" candidate in New Hampshire, something that could help him going forward. The problem for Christie, though, is that it's unclear where he goes after the Granite State. He's far behind in Iowa, South Carolina, and Florida, and it's hard to see how he could do well in the largely southern states that will dominate the early weeks of March. Nonetheless, given how well Christie is doing in New Hampshire right now it's worth keeping an eye on him.
As for the rest of the candidates, it's hard to see any of them becoming contenders given the position that they are in. Jeb Bush's expectations were clearly too high in the beginning, and the antipathy to the Bush name in general and Jeb Bush in particular among conservatives is clearly a very high hurdle for him to overcome. Like Bush, John Kasich has the resume one would think would serve a candidate for President well, but his perceived moderation as well as a record as Ohio Governor that includes things like accepting the Medicaid expansion available under the Affordable Care Act seem to have fatally damaged him. Carly Fiorina's August/September boomlet, meanwhile, was clearly exactly that since she's been unable to sustain those numbers, while Rand Paul seemingly wins the prize for the candidate who was doing better before he started campaign for President than he is as an actual candidate. As for the rest of the pack, they need to be out of the race already, and seem to have stayed on this long only because of the exposure given by the undercard debates. Since we're unlikely to see those going forward, we may see these candidates begin to drop out of the race.
We'll likely see some additional polls released in the coming days, but seeing as we're coming to the beginning of the holidays we are likely entering a point where most polling companies will shut down until after the new year. At that point, I suppose, we'll see if anything has changed.