Republicans Trust Trump And Carson On The Economy, And Nukes, More Than Anyone Else
Republicans have apparently gone insane.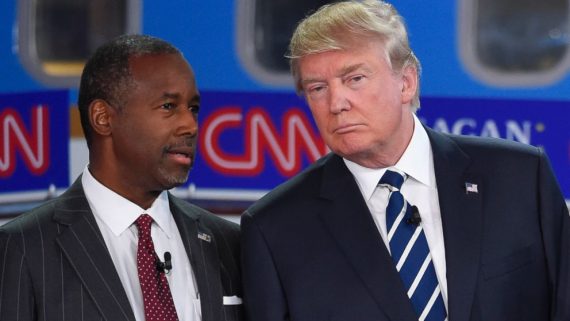 Of all the Republican candidates for President, the two who are trusted most by Republican voters are Donald Trump and Ben Carson:
Donald Trump is the Republican candidate most trusted to manage the economy, deal with foreign leaders and serve as commander in chief, according to a new Reuters/Ipsos poll of Republicans conducted after the party's third debate.

And more Republicans would trust him with the nation's nuclear weapons than most of the rest of their party's presidential primary field.

In terms of overall support, Trump was favored by 31 percent of Republicans polled by Reuters/Ipsos in an online survey conducted Oct. 28 to Nov. 2 that had a credibility interval of plus or minus 4.4 percentage points. Retired neurosurgeon Ben Carson placed second with 18 percent. Senator Marco Rubio of Florida and former Governor Jeb Bush tied for third place with 10 percent each.

For anyone still confused about why Trump is holding strong onto a double-digit lead in most presidential primary polls, look no farther than at how much Republican voters trust him. The growing trust shows Trump's campaign message – that his experience in business means voters should pick him to negotiate trade deals or take on Russia's Vladimir Putin – is resonating.

On the question of whether voters trust the candidates to manage the economy, 59 percent said "yes" to Trump.

None of the other Republican candidates came even close. Carson was second, with 36 percent saying they trust him to manage the economy. Rubio was third with 27 percent, followed by retired business executive Carly Fiorina at 25 percent.

It's not just on the economy where Trump shines. Asked whether they trusted the various Republican candidates to be commander in chief, Trump and Carson were tied, at 40 percent each.

On the question of whom they trusted to deal with foreign leaders, Trump again took top marks, with 41 percent saying they would trust the New York real estate mogul. Carson was a close second at 39 percent. Rubio, who has made foreign policy a central part of his campaign and stressed his experience on the Senate Foreign Relations Committee, was third at 31 percent.

Asked about handling the nation's nuclear weapons – another insight into voters' views on foreign policy – 34 percent of Republicans said they would trust Trump. He trailed only Carson, with 39 percent saying they would trust Carson to have his finger on the proverbial button. Only 27 percent said they would trust Rubio.

(Emphasis added)
On some level, these numbers aren't entirely surprising. As James Joyner noted this morning, Trump and Carson are at the top of the new NBC/Wall Street Journal poll as well as the Reuters/Ipsos poll discussed here. They are also at the top, by far, of the national poll averages at RealClearPolitics as well as the state averages in Iowa, New Hampshire, South Carolina, and Florida. Typically, when voters are strongly behind a candidate they will also be telling pollsters that they have a favorable opinion of that candidate, and that they trust them when it comes to the important issues of the day. Indeed, it would be incredibly shocking if any candidate were receiving such strong support as Trump and Carson at the same time that polling was showing that voters don't like them on a person level and don't think they can be trusted to handle issues like the economy, foreign policy, and can be trusted to have the authority to launch nuclear weapons. So, in that sense, it's arguably the case that one can overstate the importance of a poll like this since it is, in reality, just a reflection of the fact that Donald Trump and Ben Carson are the top tier Republican Presidential candidates right now, and that doesn't seem as though it's likely to change any time soon.
Notwithstanding those caveats, though, there really ought to be something quite troublesome about the fact that a majority of Republicans think, at least for the moment, that these two men are the ones who can be most trusted when it comes to the important issues facing the country. On the one hand we have a bombastic real estate developer who has spent three decades doing little more than play at being a celebrity and who has spent his Presidential campaign appealing to the worst things in American politics while at the same time demonstrating nothing that indicates he has the ability to do the job that being President requires. On the other, we have an admittedly talented retired neurosurgeon who, while he comes across as a nice man personally, and probably is what he seems in that regard, has demonstrated vast political ignorance along with a history of making outrageous statements that have no basis in reality. The idea that either one of them is leading in the polls right now, or that Republicans apparently trust them on the important issues facing this country to the exclusion of people who have served multiple terms as Governors of major states or spent years in the Senate dealing with these issues on a daily basis. Admittedly, many of the candidates in the Republican field other than Trump and Carson leave much to be desired themselves but the fact that they are presently being eclipsed by two ignoramuses is a sad indictment of the state of the Republican Party in 2015. For their own sake, and the sake of the country, one can only hope that Republican voters come to their sense at some point.