Even Ben Carson's Own Advisers Admit He's Clueless On Foreign Policy
Even the people hired to advice Ben Carson on foreign policy seem to recognize that he is clueless on the subject, and has no apparent desire to educate himself.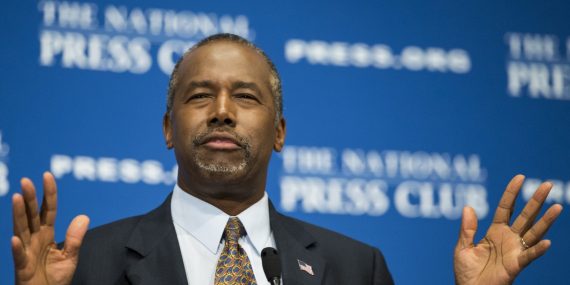 To the utter surprise of I am fairly sure nobody, even people who have been advising Ben Carson are admitting that he is completely out of his league when it comes to foreign policy issues:
Ben Carson's remarks on foreign policy have repeatedly raised questions about his grasp of the subject, but never more seriously than in the past week, when he wrongly asserted that China had intervened militarily in Syria and then failed, on national television, to name the countries he would call on to form a coalition to fight the Islamic State

Faced with increasing scrutiny about whether Mr. Carson — who leads in some Republican presidential polls — was capable of leading American foreign policy, two of his top advisers said in interviews with The New York Times that he had struggled to master the intricacies of the Middle East and national security and that intense tutoring was having little effect.

"Nobody has been able to sit down with him and have him get one iota of intelligent information about the Middle East," Duane R. Clarridge, a top adviser to Mr. Carson on terrorism and national security, said in an interview. He also said Mr. Carson needed weekly conference calls briefing him on foreign policy so "we can make him smart."

As the deadly assaults in Paris claimed by the Islamic State reframe the presidential race, the candidates' foreign policy credentials are suddenly under scrutiny. And Mr. Carson has attracted extra attention because his repeated dubious statements give rise to questions about where, as a retired neurosurgeon without government experience, he turns for information and counsel on complex global issues. What is unusual is the candor of those who are tutoring him about the physician's struggle to master the subject.

In last week's Republican debate, speaking of the turmoil in Syria, Mr. Carson said that "the Chinese are there."

Both the White House and China denied that China had intervened militarily in Syria.

This week, Mr. Carson's advisers said that his source for claiming Chinese involvement in Syria was a telephone conversation he had had with a freelance American intelligence operative in Iraq.

According to notes of the briefing kept by a Carson aide who was also on the line, the operative had said, "Multiple reports have surfaced that Chinese military advisers are on the ground in Syria, operating with Russian special operations personnel."

Mr. Clarridge, a former C.I.A. agent who had connected Mr. Carson with the operative in Iraq, said on Monday that the information was wrong. The operative in Iraq had "overleaped" in suggesting Chinese troops are in Syria, Mr. Clarridge said, adding of the operative, "You know how it goes when people are desperate for some headline."

Mr. Clarridge, described by Mr. Carson's top adviser, Armstrong Williams, as "a mentor for Dr. Carson," is a colorful, even legendary figure in intelligence circles, someone who could have stepped out of a Hollywood thriller. He was a longtime C.I.A. officer, serving undercover in India, Turkey, Italy and other countries. During the Reagan administration, he helped found the agency's Counterterrorism Center and ran the C.I.A.'s Latin American division.

Indicted on charges of lying to Congress in the Iran-contra scandal (he was later pardoned), Mr. Clarridge today runs a private network of intelligence sources, including, he said, experts on Iran, China and the Middle East, who have all briefed Mr. Carson in phone calls or Skype sessions.

Mr. Clarridge, who contacted Mr. Carson nearly two years ago to offer his services without pay, has helped the candidate prepare for debates. But the briefings do not always seem to sink in, Mr. Clarridge acknowledged. After Mr. Carson struggled on "Fox News Sunday" to say whom he would call first to form a coalition against the Islamic State, Mr. Clarridge called Mr. Williams, the candidate's top adviser, in frustration. "We need to have a conference call once a week where his guys roll out the subjects they think will be out there, and we can make him smart," Mr. Clarridge said he told Mr. Williams.

Mr. Williams, one of Mr. Carson's closest friends, who does not have an official role in the campaign, also lamented the Fox News interview. "He's been briefed on it so many times," he said. "I guess he just froze."
None of this should come as a surprise to anyone who has been paying attention to Carson has he rose up in the ranks of Republican Presidential candidates. During last week's debate in Wisconsin, for example, Carson made a series of claims about the status of matters in Syria, such as the claim that China was somehow involved alongside Russia in aiding the Assad regime in Damascus. In that debate, Carson also displayed a complete lack of coherence in trying to answer a question regarding the President's decisions to extend the American mission in Afghanistan and send a small number of Special Forces operatives into Syria to assist "moderate" Syrian rebels. That incoherence continued on Sunday during an appearance on Fox News Sunday in which Carson seemed to have no idea what he was talking about at all. Beyond his incoherence, though, the fact that one of Carson's primary military and foreign policy advisers is a retired General who seems dedicated to imbuing the American military with a quasi-religious mission that is both utterly insane and completely inappropriate.
Carson is a problematic candidate well beyond his foreign policy incoherence, of course.
He has a long history of mating utterly outrageous statements about public policy issues and ascribing malicious motives and mental illness to people who disagree with him such as President Obama, for example. He has displayed ignorance about the basic ways in which government operates and the details of important domestic public policy issues that a candidate running for President ought to aware of quite handily. In addition to this, of course, he has displayed what can only be called an odd relationship with the truth, including many of the details of the personal biography that has largely served as the basis for the arguments that both he and his supporters have made in support of his candidacy. When questioned about these matter, he has resorted to attacking the media even though it is rather obvious that he is not being treated unfairly given the fact that he is not just a candidate for President, but presently in second place in the polls for the Republican nomination for President for reasons that only Republicans themselves can explain.
It's somewhat extraordinary for a candidate's own advisers to be this frank about their candidates obvious weaknesses during the middle of a campaign, and perhaps this is a sign that all is not going smoothly inside the Carson campaign. Whatever the explanation for these reports, though, one cannot say that there is not ample evidence in the public record to support what the advisers are saying, and more. In a rational universe, Ben Carson, despite the fact that he is clearly a smart man who has had a brilliant medical career in which her performed feats that few men can, does not belong anywhere near the White House and certainly does not deserve to be taken seriously as a candidate. The fact that he continues to be taken seriously, though, says as much about his supporters and the party he's running in as it does about the candidate.