Sexism in Women's Tennis?
Recent controversies over rules enforcement have some crying Foul!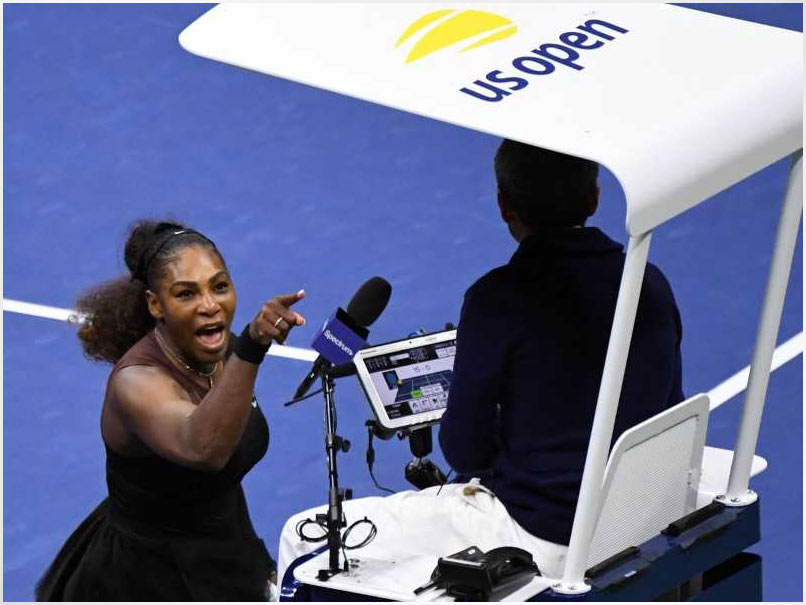 Serena Williams, almost certainly the best woman tennis player of all time, had another meltdown yesterday. It may have cost her a record-setting 24th Grand Slam title.
ESPN News Services describes it this way:
Serena Williams was penalized a game for calling the chair umpire a thief during an extended argument as the US Open women's final descended into chaos, with fans booing and play delayed before Naomi Osaka wrapped up a 6-2, 6-4 victory for her first Grand Slam title.

The biggest issue for Williams on the scoreboard Saturday was that she was outplayed by a younger version of herself in Osaka, a 20-year-old who is the first player from Japan to win a major singles tennis title and idolizes the 36-year-old American.

During the trophy ceremony in Arthur Ashe Stadium, thousands of fans jeered repeatedly, and both Osaka, the champion, and Williams, the runner-up in her bid for a record-tying 24th Grand Slam trophy, cried.

Williams put an arm around Osaka's shoulder and told the crowd: "I know you guys were here rooting, and I was rooting, too, but let's make this the best moment we can. … We're going to get through this, and let's be positive. So congratulations, Naomi. No more booing."

[…]

This was Williams' third high-profile conflict with an official at Flushing Meadows, following her tirade after a foot fault in the 2009 semifinals against Kim Clijsters and a dispute over a hindrance call in the 2011 final against Sam Stosur.

What the 2018 final will forever be remembered for is the way Williams clashed with chair umpire Carlos Ramos, demanding an apology after he initially issued a warning in the second set's second game for a code violation for receiving coaching, which is not allowed during Grand Slam matches.

The WTA released a statement after the match, urging celebration of both players while saying, "There are matters that need to be looked into."

The US Open later issued a statement saying that Ramos' decision was "final and not reviewable by the Tournament Referee or the Grand Slam Supervisor who were called to the court at that time."

Williams objected right away, saying she would "rather lose" than cheat. After the match, in an interview with ESPN, Williams' coach, Patrick Mouratoglou, acknowledged that he had tried to signal Williams but said he didn't think she had seen him. He added that he thinks every player gets coaching during matches.

"Well, I mean, I'm honest, I was coaching. I mean, I don't think she looked at me, so that's why she didn't even think I was. I was like 100 percent of the coaches on 100 percent of the matches, so we have to stop this hypocrite thing," Mouratoglou said. "Sascha [Bajin, Osaka's coach,] was coaching every point, too. This chair umpire was the chair umpire of most of the finals of Rafa [Nadal], and Toni's coaching every single point, and they never gave a warning. I don't really get it. It's strange."

Mouratoglou added that he had never been called for a coaching violation: "Not once in my life, and you can check the records, you'll see."

Briefly, Williams appeared to be working her way back into the match, breaking Osaka for the only time to go up 3-1 in the second set. But Williams played a poor game right after that to get broken immediately, and she smashed her racket on the court, destroying it. That drew a second code violation, automatically costing Williams a point. When she realized that the next game had started with Osaka ahead 15-love, Williams told Ramos he should have retracted the initial warning for coaching.

"I have never cheated in my life!" Williams said. "You owe me an apology."She resumed arguing with Ramos later, saying, "You stole a point from me. You're a thief, too."

He responded by issuing a third code violation, which results in a lost game. That made it 5-3 for Osaka.

Ramos called both players over to explain his ruling, and Williams began laughing, saying: "Are you kidding me?" She asked to speak to tournament referee Brian Earley, who walked onto the court along with a Grand Slam supervisor. Williams told them the whole episode "is not fair" and said, "This has happened to me too many times."

"To lose a game for saying that is not fair," Williams said. "There's a lot of men out here that have said a lot of things, and because they are men, that doesn't happen."

Soon thereafter, the match was over.
On its face, there's no problem here. Williams was receiving coaching, in violation of the rules, and was penalized the exact amount specified by the rules. Williams subsequently committed an equipment abuse, in violation of the rules, and was penalized the exact amount specified by the rules. Williams then immediately verbally abused the umpire, questioning his integrity,  in violation of the rules, and was penalized the exact amount specified by the rules. She was frustrated that she was being outplayed by a younger, fitter opponent. She was frustrated by the call. She, not by any means for the first time, lost control of her emotions in a critical match. And it cost her.
But Williams thinks something else is going on. That she's being held to different standards than male players of her stature. And she may be right.
Veteran sportswriter Sally Jenkins thinks so:
Chair umpire Carlos Ramos managed to rob not one but two players in the women's U.S. Open final. Nobody has ever seen anything like it: An umpire so wrecked a big occasion that both players, Naomi Osaka and Serena Williams alike, wound up distraught with tears streaming down their faces during the trophy presentation and an incensed crowd screamed boos at the court. Ramos took what began as a minor infraction and turned it into one of the nastiest and most emotional controversies in the history of tennis, all because he couldn't take a woman speaking sharply to him.

Williams abused her racket, but Ramos did something far uglier: He abused his authority. Champions get heated — it's their nature to burn. All good umpires in every sport understand that the heart of their job is to help temper the moment, to turn the dial down, not up, and to be quiet stewards of the event rather than to let their own temper play a role in determining the outcome. Instead, Ramos made himself the chief player in the women's final. He marred Osaka's first Grand Slam title and one of Williams's last bids for all-time greatness. Over what? A tone of voice. Male players have sworn and cursed at the top of their lungs, hurled and blasted their equipment into shards, and never been penalized as Williams was in the second set of the U.S. Open final.
The role of officials varies from sport to sport. There's arguably none where they play a bigger role than in tennis, where they rule on every single point.
In football and basketball, the two sports to which I pay by far the most attention, there is a tradition of "swallowing the whistle" in key moments, especially in the most meaningful games. But that tradition is only sporadically adhered to and there are plenty of instances fans can point to where bad calls by officials decided playoff games, even championship games.
In baseball, home plate umpires notoriously toss not only players but managers who dare question their authority. The tradition of de-escalation that Jenkins refers to simply doesn't exist in America's erstwhile pastime.
I haven't been an avid tennis fan in a long time, so have caught only bits and pieces of games and a lot of highlights from the last two decades or so of the game. One can't imagine a Roger Federer acting the way Williams does all too often. But there have been top male players, including John McEnroe, the favorite of my youth, who routinely berated officials when frustrated. And I don't recall their being penalized in a similar fashion. (McEnroe was repeatedly fined and got to the point where he risked being disinvited from future Wimbledon tournaments. But I don't recall his ever being penalized a game.)
"I just feel like the fact that I have to go through this is just an example for the next person that has emotions and that want to express themselves and wants to be a strong woman," she said afterward.
I'm not sympathetic to that argument. Williams is strong in pretty much every sense of the word. But it's not "strong" to melt down in stressful situations.
It was pure pettiness from Ramos that started the ugly cascade in the first place, when he issued a warning over "coaching," as if a signal from Patrick Mouratoglou in the grandstand has ever been the difference in a Serena Williams match. It was a technicality that could be called on any player in any match on any occasion and ludicrous in view of the power-on-power match that was taking place on the court between Williams and the 20-year-old Osaka. It was one more added stressor for Williams, still trying to come back from her maternity leave and fighting to regain her fitness and resume her pursuit of Margaret Court's record of 24 Grand Slam singles titles. "I don't cheat," she told Ramos hotly.
While I'm not particularly sympathetic to "everyone breaks the rule" argument, the implicit corollary—that the rule is only enforced against women, against Williams in particular, or out of vindictiveness is a legitimate complaint. That strikes me as an empirical question subject to falsification. Given that he was in the chair for the finals of a Grand Slam, though, one presumes Ramos is a highly-respected umpire. Indeed, as the previously-cited ESPN News story reports, "Ramos chaired the women's singles finals at the French Open in 2005 and at Wimbledon in 2018. He has chaired seven men's singles finals across all four Grand Slams and the men's singles final at the 2012 London Olympics." That's a remarkable resume. He deserves to have the presumption of integrity absent demonstration otherwise.
When Williams, still seething, busted her racket over losing a crucial game, Ramos docked her a point. Breaking equipment is a violation, and because Ramos already had hit her with the coaching violation, it was a second offense and so ratcheted up the penalty.
Correct. Again, I mostly blame Williams. I don't see how Ramos turns a blind eye to something that egregious happening in front of him.
The controversy should have ended there. At that moment, it was up to Ramos to de-escalate the situation, to stop inserting himself into the match and to let things play out on the court. In front of him were two players in a sweltering state, who were giving their everything, while he sat at a lordly height above them. Below him, Williams vented, "You stole a point from me. You're a thief."

There was absolutely nothing worthy of penalizing in the statement. It was pure vapor release. She said it in a tone of wrath, but it was compressed and controlled. All Ramos had to do was to continue to sit coolly above it, and Williams would have channeled herself back into the match. But he couldn't take it. He wasn't going to let a woman talk to him that way. A man, sure. Ramos has put up with worse from a man. At the French Open in 2017, Ramos leveled Rafael Nadal with a ticky-tacky penalty over a time delay, and Nadal told him he would see to it that Ramos never refereed one of his matches again.

But he wasn't going to take it from a woman pointing a finger at him and speaking in a tone of aggression. So he gave Williams that third violation for "verbal abuse" and a whole game penalty, and now it was 5-3, and we will never know whether young Osaka really won the 2018 U.S. Open or had it handed to her by a man who was going to make Serena Williams feel his power. It was an offense far worse than any that Williams committed. Chris Evert spoke for the entire crowd and television audience when she said, "I've been in tennis a long time, and I've never seen anything like it."
I tend to agree with Jenkins that Ramos should have let the "You're a thief" thing go. This was the finals of a Grand Slam and the paying customers came to see a legend try to eke out one more victory in the twilight of her career.
But, absent other evidence, it's outrageous to insinuate that Ramos acted as he did because his delicate male ego couldn't take being challenged by a strong woman. The cited Nadal example is really not comparable.  After repeatedly being warned for slow play for toweling off between points, Nadal vowed, "Give me the warnings you can because you will not referee me any more." That's whiny and petulant but not abusive. Williams was questioning Ramos' integrity.
Competitive rage has long been Williams's fuel, and it's a situational personality. The whole world knows that about her, and so does Ramos. She has had instances where she ranted and deserved to be disciplined, but she has outlived all that. She has become a player of directed passion, done the admirable work of learning self-command and grown into one of the more courteous and generous champions in the game. If you doubted that, all you had to do was watch how she got a hold of herself once the match was over and how hard she tried to make it about Osaka.

Williams understood that she was the only person in the stadium who had the power to make that incensed crowd stop booing. And she did it beautifully. "Let's make this the best moment we can," she said.
Williams indeed handled the aftermath with the class of a champion. But that doesn't mean she shouldn't be expected to control her "competitive rage." Beyond that, if umpires are supposed to adjust themselves to what the "whole world knows" about athletes, shouldn't the same be true of athletes? Because Ramos' reputation as a stickler for the rules is well known among tennis aficionados.
Ramos has been at the center of several violations matters the past few years. Many of the calls he made were against high-profile male players, and in most cases, the men complained about the calls. Another matter even involved Serena's sister, Venus, who was warned over the same coaching signals issue for which Serena was called on Saturday.

Here's a look at some of Ramos' history:

– In May 2016 at the French Open, Ramos asked Venus to tell her coach to stop giving hand signals. Venus defended herself and said she wasn't cheating or looking at her coach.

– In 2017 at the French Open, Novak Djokovic was given a fault on his serve by Carlos Ramos for time violations. He then received a code violation for unsportsmanlike conduct after yelling.

– In 2018 at Wimbledon, Ramos gave Djokovic a code violation for slamming his racquet into the ground. Djokovic later complained about a double standard from Ramos, who did not penalize Kei Nishikori for something similar.

– In 2017 at the French Open, Ramos called a time violation on Rafael Nadal. Nadal thought the call was selectively enforced and said he was not satisfied with it.

– In 2016 at the French Open, Ramos called Nick Kyrgios for a code violation for yelling at a towel boy. Kyrgios accused Ramos of having a double standard and was described as "mystified" by the penalty.

– In August 2016 at the Olympics, Ramos called Andy Murray for a code violation for saying "stupid umpiring."

– In July 2017, Ramos called Andy Murray for a time violation for playing too slowly. Murray acknowledged he had been warned before receiving the violation but was still bothered by it.

A USTA official told Larry Brown Sports that the judges/officiating crew information is released prior to the start of play in the morning. That means both Williams and Naomi Osaka would have known Carlos Ramos would be the chair umpire for the match beforehand. A good amount of preparing for a match includes knowing about one's opponent. But in order to be fully prepared for a match, players should also know and prepare for the playing conditions, court conditions, fan atmosphere, umpires/judges, and everything that could influence the match.
At the Atlantic, Gillian B. White argues that it goes beyond this particular incident between Williams and Ramos.
The U.S. Open final is the latest in a series of recent moments that have left fans of women's tennis outraged. Just last week at the U.S. Open, Alize Cornet was penalized for briefly taking her shirt off in order to turn it around, after realizing that it was backwards. Many tennis fans ridiculed the call, noting that male tennis players take their shirts off frequently without getting in trouble.

And only a few weeks ago, the French Open said it would introduce a dress code that would ban outfits like the catsuit worn by Williams during the French Open—a suit she wears to prevent blood clots, after a pulmonary embolism in 2011 left her "on her death bed," Williams said at the time.

"It will no longer be accepted," the French Tennis Federation President Bernard Giudicelli said. "One must respect the game and the place."

Taking a game away from Williams for using the word "thief" during such a high-stakes match is unlikely to do much to quash the notion  that a double standard exists between men and women in today's competitive tennis field. And the stakes of that double standard can feel even higher for women of color. The support for Williams on Saturday—and throughout her career—comes not just from appreciation for her rare talent, but in part because some fans have an enduring memory of how difficult it is for women of color to make it in expensive, mostly white sports.
Tennis was one of the first sports to open itself up to women, albeit in a parallel tour and, until recently, for much smaller paydays. But there do seem to be double standards.
The Cornet penalty was silly. She came out from a break from the extreme heat with a fresh shirt on—backwards. She quickly turned it around, exposing a sports bra underneath. That's hardly problematic.
The "catsuit" is a different matter. It's simply not standard tennis attire. I've never seen a male player wear anything approaching it. Given that Williams seemingly had a legitimate medical rationale for it, one would think some sort of accommodation could have been achieved. But it's not "sexist" to ban it.
White also alludes to the issue of race. While tennis has had star black players, including Arthur Ashe—whose name is on the stadium in which yesterday's incident played out—there's little doubt that many of the rules and traditions of the game stem from tennis' country club roots. [Bill Jempty, editor of the defunct OTB Sports, reminds me that Althea Gibson, who won five Grand Slam titles, was successful at pro tennis a decade before Ashe.]
In her most famous meltdown before yesterday's, Williams told a lineswoman that, "If I could, I would take this fucking ball and shove it down your fucking throat" and made allusions to her upbringing in Compton. McEnroe never said anything quite like that. Nor did Jimmy Connors, another great player known for berating the umps. But then they grew up in the traditional tennis culture.
One wonders if the honor culture of her old neighborhood (not all that dissimilar from that of the Deep South) didn't play into yesterday's events as much as or even more than sexism. Williams seemed genuinely offended that the umpire was accusing her of cheating. He wasn't. The call was on her coach for signaling, which the coach admitted after the game that he was doing. But Williams couldn't let it go, repeatedly demanding an apology and an acknowledgment that she's an honorable player.
UPDATE: Following some ledes from Twitter, I'm reminded that John McEnroe was not only constantly fined for his outbursts but was suspended from the game for two months back in 1987 and disqualified from a Grand Slam, the Australian Open, in 1990. In the case of the latter, the progression was harsher than that applied to Williams: "the previous year's four-step process to default had been changed to a new three-step rule: first a warning, then a point penalty, then a default." Presumably, the rules have subsequently been changed back. Granting that McEnroe wasn't in the finals when this happened and was no longer the top player in the game, being tossed from the tournament for a third violation is much harsher than simply losing a game.  (Jimmy Connors also received a 10-week ban in 1986, although that was for the particularly egregious act of storming off the court during a match.)
This incident, at the 1987 U.S. Open, is particularly instructive:
John McEnroe wasn't pushed to the very edge of U.S. Open elimination by Ivan Lendl or Boris Becker or even Slobodan Zivojinovicn Saturday. He almost took himself out of the tournament with another temperamental outburst.

When watching McEnroe at the U.S. Open, the question is not: Will he blow up? With McEnroe, blowing up at Flushing Meadow is only a matter of time.

McEnroe, once more, came ever so close to departing the National Tennis Center early.

He was just one tantrum, one word, actually, away from being defaulted from his third-round match against Zivojinovic. Finally, McEnroe realized his predicament, shut up and got down to work, defeating the 24-year-old player from Yugoslavia, 6-4, 5-7, 6-7, 6-4, 6-3, in a four-hour match.
It's what Williams should have done yesterday.