Naomi Osaka Quits French Open Rather than Face Reporters
A star player has opted out of a Grand Slam, citing "mental health."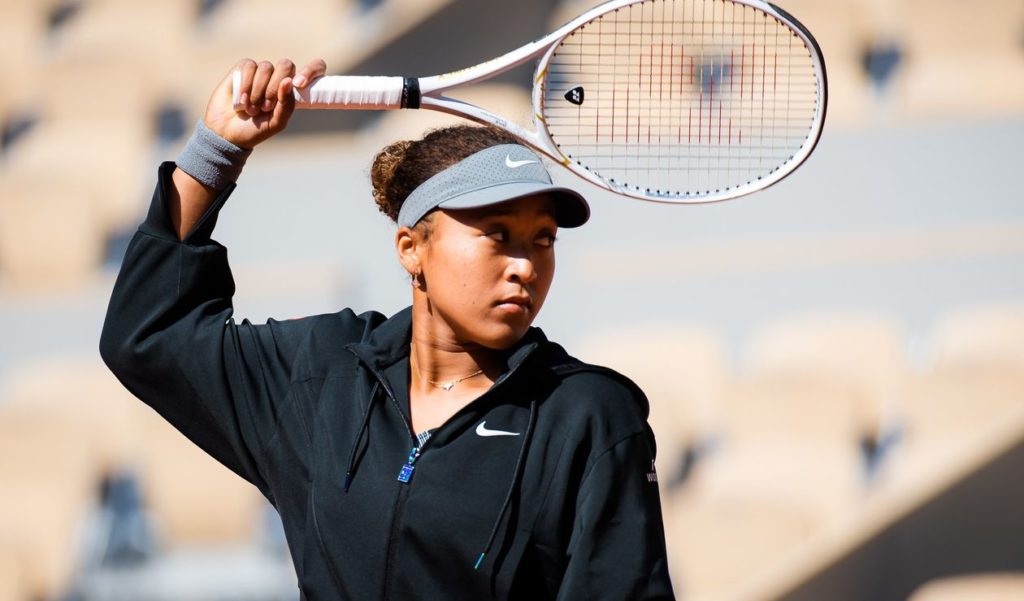 The biggest young star in women's tennis has withdrawn from a major tournament rather than talk to the news media, generating significant controversy. WSJ:
Women's tennis world No. 2 Naomi Osaka withdrew from the French Open on Monday, dramatically concluding a standoff over her decision not to grant interviews during the tournament, which she had attributed to caring for her mental health.

Osaka, the highest-earning female athlete in the world and a winner of four major titles, had touched off the debate over the weekend and is now leaving Paris before even playing the second round. In her exit, she revealed a long-running struggle with depression and cast doubt on the rest of her season.

Osaka had already been fined $15,000 by the Roland-Garros organizers for failing to appear in a mandatory news conference after her first-round victory here on Sunday. (She still answered three questions on the court and honored a long-standing agreement with a Japanese broadcaster.)

"I never wanted to be a distraction and I accept that my timing was not ideal and my message could have been clearer," she wrote in a statement posted to her social media accounts. "More importantly I would never trivialize mental health or use the term lightly. The truth is that I have suffered long bouts of depression since the U.S. Open in 2018 and I have had a really hard time coping with that."

Osaka, who was raised primarily in the U.S. and represents Japan, had stunned the French Open shortly after landing in Paris when she informed organizers that she would not be carrying out her media duties during the tournament, because she "often felt that people have no regard for athletes' mental health."

"I feel for Naomi. I wish I could give her a hug," Serena Williams said. "Like I said, I've been in those positions. We have different personalities. People are different. I'm thick, other people are thin. You just have to let her handle it in the way she wants to and in the best way that she can."

Though players are contractually obligated to face the press after matches at Grand Slam events, Osaka had indicated she was prepared to pay any fines thrown her way. But the argument intensified on Sunday when all four Grand Slam tournaments issued a joint statement threatening her with increased financial penalties and possible suspension.

"First and foremost, we are sorry and sad for Naomi Osaka. The outcome of Naomi Osaka withdrawing from Roland-Garros is unfortunate," said French tennis federation president Gilles Moretton, who oversees the tournament. "We wish her the best and the quickest possible recovery. And we look forward to having Naomi in our tournament next year."

Osaka has never shied away from standing up to tournament organizers for issues she believes in. During the Western & Southern Open last summer, she forced the suspension of her semifinal match as athletes across several sports protested police violence against Black people following the shooting of Jacob Blake in Kenosha, Wis. Osaka had previously flown to Minneapolis to join marches after the death of George Floyd.

And in the U.S. she quickly found support from superstars in other sports.

"You shouldn't ever have to make a decision like this," the Golden State Warriors' Steph Curry tweeted, "but so damn impressive taking the high road when the powers that be don't protect their own. Major respect."

In Paris, however, her fellow players have not all been as enthusiastic. While several of her counterparts here have said they could see why she might find speaking to the media immediately after matches to be a taxing exercise, they insisted that the media also played a significant role in making them global celebrities.

"I understand her," 13-time French Open champion Rafael Nadal said over the weekend. "But…without the press, without the people who normally are traveling, who are writing the news and achievements that we are having around the world, probably we will not be the athletes that we are today."

Billie Jean King, a 12-time major winner and activist, echoed the sentiment in a message she posted before Osaka's withdrawal.

"While it's important that everyone has the right to speak their truth, I have always believed that as professional athletes we have a responsibility to make ourselves available to the media," she wrote on Sunday.
The NYT adds:
Ms. Osaka described herself in her Monday Instagram post as an introverted person who suffers from anxiety before she has to speak with the press. "Anyone that has seen me at the tournaments will notice that I'm often wearing headphones as that helps dull my social anxiety," she wrote.

She said reporters had never been unkind to her, but "here in Paris I was already feeling vulnerable and anxious so I thought it was better to exercise self-care and skip the press conferences."

Ms. Osaka's sister, Mari, a former professional tennis player, indicated that Naomi Osaka's anxiety was caused in part by her struggles to win on clay courts like the one at the French Open. The press asks about her sister's poor performance every time she plays on clay, which hurts her, Mari Osaka said in a post on Reddit.

By avoiding news conferences, her sister could "block everything out. No talking to people who is going to put doubt in her mind."

Naomi Osaka said she had written to tournament officials privately to apologize for the distraction she had created and had offered to speak with them after the tournament about potentially changing rules requiring players to engage with the media that she described as "outdated." Before returning to the tour, she said, she would discuss with tournament officials ways they could make things better for the players.
The explanation, frankly, doesn't help her case. Some of her defenders had been taking her initial "mental health" claims at face value while others have pointed to a propensity for rather sexist questions to be directed at young women athletes. If she was being harrassed in these press conferences, I would be sympathetic to her plight (and angry at organizers for not putting a stop to it). But that she has anxiety about being asked about her tennis game?
Nadal and King are right: media obligations are important because helping reporters do their jobs helps grow the game. It's why purses for winning tournaments—or, indeed, winning individual matches—are so high. And Osaka is not only one of the biggest stars in her sport but, as a Black and Asian woman, she's rather unique. She has a responsibility to promote and grow the game. Beyond that, if some athletes are allowed to opt out of their obligations by merely claiming "mental health" reasons, it obviously gives them a competitive advantage over those whose time and attention are divided.
The best counterargument I've seen, and it's at least implied in Osaka's claim that the requirement to attend press conferences is "outdated," is that the age of social media means stars can promote themselves and the game through their Instagram and other accounts. While certainly true—and, indeed, Osaka is doing so—that's certainly not the same thing as taking questions from the press. It's simply part and parcel of being a professional athlete.