Naomi Osaka And The Changing Definition Of What It Means To Be 'Japanese'
Lost in all the news about Serena Williams and her arguments with an umpire during last night's match is the fact that Naomi Osaka represents the face of what appears to be a Japan that is changing for the better.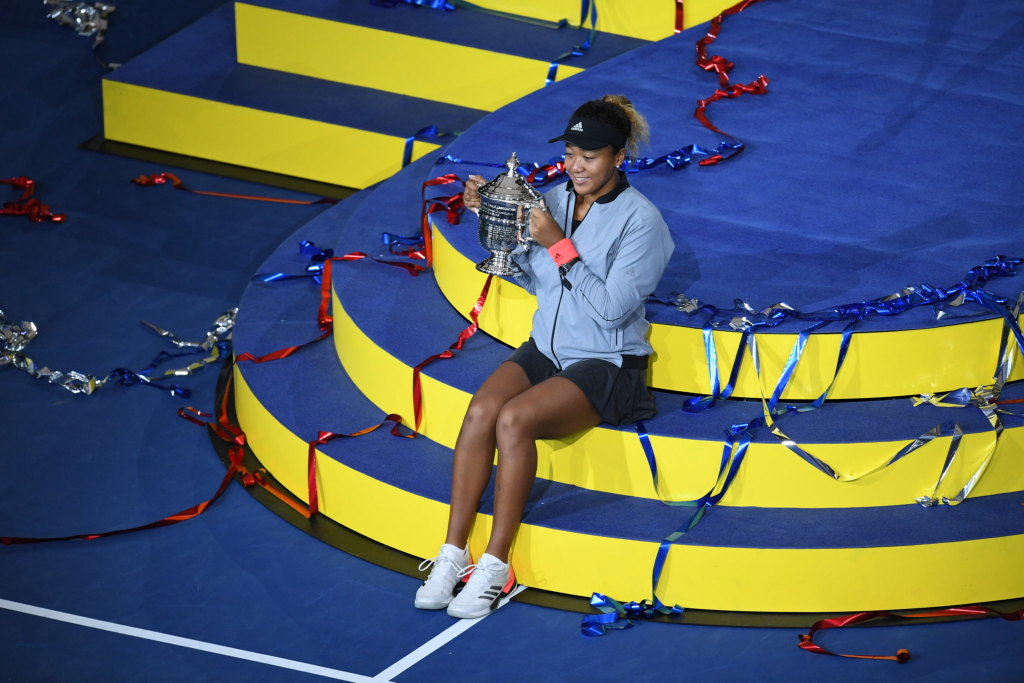 While most of the coverage of last night's U.S. Open Women's Final between Serena Williams and Naomi Osaka is getting attention mostly due to Williams' arguments with the umpire throughout the game and the penalties that were imposed against her, the woman who beat her has an interesting story all her own that's getting lost in the feeding frenzy:
TOKYO — When the Ohno family watched Naomi Osaka beat Serena Williams at the United States Open early Sunday morning from Tokyo, there was no question in their minds that Ms. Osaka was a true Japanese champion.

"Her face looks Japanese," said Ryutaro Ohno, 14, shortly after playing a few tennis matches with his younger brother and parents at a court near the base of Tokyo Tower.

His mother, Naoko, 49, showed a snapshot on her cellphone of her sons posing with Ms. Osaka, the daughter of a Haitian-American father and Japanese mother, when the tennis star played in the Pan Pacific Open in the Japanese capital last year.

"Her soul is Japanese," said Ms. Ohno. "She doesn't display her joy so excessively. Her playing style is aggressive, but she is always humble in interviews. I like that."

In becoming the first Japanese-born tennis player to win a Grand Slam championship, Ms. Osaka, 20, is helping to challenge Japan's longstanding sense of racial purity and cultural identity.

Her emergence comes at a time when Japan is also grappling with a declining population, a looming demographic crisis that has prompted the country to open its doors slightly to accommodate an increase in foreign residents and descendants of Japanese immigrants who want to return to Japan.

Yet even as a new generation starts to embrace a broader sense of what it means to be Japanese, a conservative strain in the country clings to a pure-blood definition of ethnicity. Still, the Japanese media warmly welcomed Ms. Osaka's victory as the country's own.

"The first Japanese achievement," read a headline on a special edition of the Sankei Shimbun on Sunday, over a large picture of Ms. Osaka, who moved to the United States when she was 3, kissing the trophy.

On Twitter, Prime Minister Shinzo Abe congratulated Ms. Osaka. "Thank you for giving energy and inspiration to all of Japan in this troubled time," he wrote, referring to two natural disasters of the past week: a typhoon that ripped through Western Japan and an earthquake that rocked the northern island of Hokkaido.

Many fans woke near dawn to watch Ms. Osaka in the final. At the headquarters of Nissin, an instant-noodle company that is one of Ms. Osaka's corporate sponsors, 150 employees gathered to watch. Nissin's chief executive, Koki Ando, told the Nikkei newspaper that her victory was "hanpa nai ne," Japanese slang for "awesome" or "extraordinary."

Kei Nishikori, Japan's biggest male tennis star, used emojis to congratulate Ms. Osaka on Twitter, interspersing a series of thumbs up, trophies, flexed arms and fist bumps with several Japanese flags. Mr. Nishikori reached the semifinals of the tournament, but lost to Novak Djokovic.

The celebration of Ms. Osaka struck some in Japan as hypocritical. Many biracial people — known as "hafu" in Japanese, a term that comes from the English word "half" — say that they are not truly accepted.

"I feel sick to see people who say that Naomi Osaka is a Japanese or the pride of Japan," a user with the handle @phie_hardison wrote on Twitter. "You can't embrace a 'hafu' as Japanese only in such times. They are usually discriminated against, aren't they?" The post had been shared more than 3,600 times as of 10 p.m. on Sunday in Japan.
The fact that Osaka has been embraced at all does stand in contrast to the manner in which some other biracial Japanese who have made international news have been treated in recent years:
Three years ago, when Ariana Miyamoto, a half-black, half-Japanese woman was crowned Miss Universe Japan, the judges received some criticism online from people who said she did not look sufficiently Japanese.

Baye McNeil, an African-American columnist who writes for the Japan Times about the black experience in Japan and who has lived in the country for 14 years, said the celebration of Ms. Osaka presented a racially progressive view that did not align with a messier reality.

"This country prides itself on being homogeneous," Mr. McNeil said. He said that to have a woman of mixed cultural heritage rise in the spotlight placed many Japanese "in an awkward position of sending a message to the world that they're in a place that everyone knows they're not."

But Japan, however slowly, may be changing. The year after Ms. Miyamoto won the beauty contest, another mixed-race woman, Priyanka Yoshikawa, took the crown.

Megumi Nishikura, co-director of the documentary "Hafu: The Mixed-Race Experience in Japan," said, "Anybody who is able to represent Japan in a public way who is 'hafu' will open Japanese minds and hearts to being more accepting."

"We live in a world where people have a limited view on nationality and race and ethnicity and say that you can only be one, you can't be more," added Ms. Nishikura, who was raised in Japan by a Japanese father and Irish-American mother and who now lives in New York. "I think Naomi Osaka really presents a very interesting challenge for people who are still attached to these antiquated ideas that you can only be one."

In Tokyo on Sunday, there were signs those antiquated ideas might be shifting. "I think the definition of what is Japanese is becoming vague," said Masako Mikami, 52, who works at a gaming software company in the city. "I think Japanese society is changing to become more generous. Naomi Osaka is one of the next generation of Japanese people."
As the article notes, the extent to which the Japanese public has embraced Osaka, the child of a Japanese mother and Haitian-American father who has spent much of her life in the United States, is a big change for what has until very recently been a very racially and culturally homogenous society that was often not welcoming to children of mixed-race couples. This has included not only the children of Japanese and non-Asian parentage, but also children who have a parent or ancestor who is Korea, Chinese, or of some other Asian ancestry. This became a particularly difficult issue in the years after the Second World War when the children of Japanese soldiers who had been stationed in China, Korea, and elsewhere in Asia began coming home. For decades, these children and their descendants were treated like second-class citizens in a nation where racial purity is an idea that goes back thousands of years. The fact that the Japanese public has been so accepting of Osaka, as well as the other developments noted above, is a hopeful sign that this may be changing.
In all honesty, this is the story that ought to be coming out in the wake of Osaka's win last night, along with the fact that a 20-year-old woman who grew up idolizing the Williams sisters not only managed to get into the finals of the U.S. Open to play against one of them but won the match. Instead, the coverage today in the American news media's attention has been focused on Williams and her arguments with the umpire. While I suppose its understandable given the fact that Williams has been among the top-ranked tennis players in the world for the  better part of the past decade and has become an American cultural icon and celebrity as a result, the fact that Osaka's victory has been overshadowed is, I suppose, understandable. Nonetheless, Osaka, who is both a Japanese and American citizen, deserves credit for a victory that even Williams fans agree was not due to the penalties imposed on Williams during the course of the match. And the fact that she appears to represent a change in the culture of her native Japan is something worth taking note of in and of itself.