No, Ben Carson Is Not Being Subjected To 'Unfair' Scrutiny
Ben Carson and his supporters would have you believe that he is being subjected to unprecedented and unfair scrutiny. That assertion is completely false.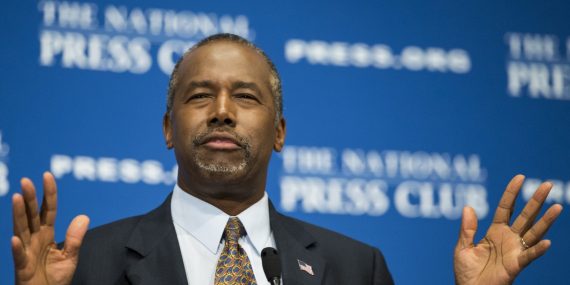 With questions about central elements in his biography coming under scrutiny, including his claim of being offered a scholarship to West Point, claims regarding his time in High School and at Yale University that The Wall Street Journal has called into question, and questions about his time in Detroit that the conservative Detroit News and CNN has called into question. Ben Carson and his supporters have gone into defensive mode by going on the offense against the media. To listen to the candidate and his supporters, the issue isn't with problems about Carson's credulity about the events of his own life, but about media bias, including the claim that the media allegedly never "vetted" President Obama as a candidate the way that they are questioning Carson today. It's a standard and predictable position for conservatives to take, of course, since "media bias" has been a central part of their view of the world for decades now, but as Chris Cillizza points out, the truth is that Ben Carson isn't being unfairly targeted, he is being treated to same kind of scrutiny you'd expect for a candidate who was relatively unknown prior to this year and is now a frontrunner for his party's Presidential nomination:
Carson's message, boiled down to its simplest terms, is this: I am being unfairly targeted by a liberal media uncomfortable with the idea of a non-politician with deep religious conviction as the frontrunner for a major party's presidential nomination.

To which I would say: He's got it half right. Carson is being scrutinized because he is the frontrunner for a major party's presidential nomination. The same way Donald Trump — and his finances — are. The same way Marco Rubio — and his finances — are. The same way Hillary Clinton — and her e-mails – are. The same way frontrunners for nomination — Democratic and Republican — are.

When you are in the handful of people running for the most powerful job in the country, the job of the press is to educate the public about who you are — based on the things you have done in your life. Carson, unlike Rubio or Clinton or Jeb Bush, doesn't have a record of votes or positions taken in elected office that help paint a picture of what sort of president he might be.

So, how then can reporters try to understand and explain Carson to the public? By telling — and examining — his remarkable personal story, which sits at the center of his I-am-not-a-politician appeal. And, even if you l-o-v-e Carson, you have to admit that not everything exactly checks out about that background at the moment.

(…)

[T]he idea that the questions raised about inconsistencies in his personal story are somehow out of bounds or the result of some sort of "witch hunt" is equally ridiculous. And, simply because Carson says it doesn't make it any more true.

It's called vetting. It's how the press helps the public learn everything they can about the people running for the presidency. If you want to run for the big job, you have to be ready for all that comes with it. This ain't bean bag, after all.
Cillizza is, I would submit, largely correct.
What Ben Carson is going through now is no different from what other frontrunners have gone through in past Presidential campaigns, especially candidates with limited public records upon which people can make judgments about them as a candidate and a person. Before the advent of the digital age, we saw Joe Biden and Gary Hart subjected to media scrutiny regarding allegations of plagiarism in the case of Biden and extra-marital affairs in the case of Hart that forced both men from the race. In that same election, media reports about a prison furlough program first made public by one of Michael Dukakis's Democratic opponents, a question from CNN anchor Bernard Shaw to Dukakis during a debate, and coverage about Dukakis riding around in a tank helped undermine his campaign. In 1984, Walter Mondale's selection of the first woman in American history to be on a major-party Presidential ticket was overshadowed by reports about her husbands ties to organized crime in New York City. Mario Cuomo faced scrutiny on similar issues throughout his political career even before he was considered a potential Presidential candidate. In 1992 and long after he became President, Bill Clinton face press and legal scrutiny about his extramarital affairs, his and his wife's business dealings, and was the focus of a host of bizarre conspiracy theories involving everything from drug running to the death of Vince Foster, many of which made their way into "mainstream" press coverage from time to time. Ultimately, of course, it was the relentless pursuit of many of those stories that led to the investigations that eventually led to President Clinton's impeachment and acquittal in the Senate. In 2000, both Al Gore and George W. Bush saw their biographies, their grades in college, reports about a DUI when they were young, and other seemingly irrelevant matters become public stories. In 2004, John Kerry faced scrutiny over his record in the Vietnam War and his anti-war activities after he returned home.  In 2012, meanwhile, we saw Mitt Romney attacked over some story about a family vacation and events while he was in Prep School and Rick Perry scrutinized over the name of a hunting lodge he bought that he didn't even select. To take things even further back, perhaps the first example of a candidate for office undergoing media scrutiny in the what was quickly becoming the modern era of national media was Richard Nixon, who ended up buying time on national television to address allegations that he had been the recipient of "slush fund" money prior to being selected as Dwight Eisenhower's Vice-Presidential running make. If one goes back further into history, one can find countless examples of candidates being subject to scrutiny and scurrilous rumors going all the way back to the Election of 1800, an election so brutal to both candidates that it could have been memorialized in modern-day attack ads.
A central part of the response from Carson and his supporter, and from many conservatives who don't necessarily support Carson but have still rallied around him in the past several days, of course, has been the idea that the press is treating him differently than it treated President Obama when he was a candidate for President. The problem with this argument is that it has absolutely no connection to reality, as anyone with a memory that goes back to 2007 and 2008 or, at least, access to the Internet, should be able easily realize. From the time that he became a Presidential candidate, Barack Obama was under intense media scrutiny not only because his candidacy seemed to undermine the conventional wisdom at the time that Hillary Clinton was the inevitable 2008 Democratic nominee, but also because he was a relatively unknown quantity in American politics. Many of the claims in his book Dreams Of My Father became the subject of investigations in "mainstream" media outlets, for example, and when Fox News Channel, which is as much a part of the "mainstream" media as CNN or MSNBC, wasn't focusing its attention on Barack Obama. The scrutiny on Obama extended well beyond Fox, though. As the race between Obama and Clinton entered the trench warfare phase in March and April of 2008, Obama found himself having to answer questions about his connections to Jeremiah Wright, the Pastor of the church he attended in Chicago, as well as reports about his remarks he had made to supporters in California about voters in Pennsylvania clinging to "guns and religion." Many of these questions, including the discredited stories about the President having been born somewhere other than Hawaii and the claim that he was a "secret Muslim," followed Obama into the White House, and even the 2012 campaign found itself focusing on seemingly irrelevant questions about Obama's biography and ridiculous demands to see the President's college transcript that seemed more rooted in trying to prove the birther nonsense by other means than anything else. As even that cursory retelling shows, the assertion that President Obama was not scrutinized by the media is, quite simply, utterly absurd and largely an argument that people on the right make because they are still apparently unwilling to accept that, notwithstanding all the allegedly "bad" things that were in the President's past he still managed to win two Presidential elections. The better way of looking at that, of course, is that the American people looked at these claims and, in the end, rejected them when it came time to vote for President. When you hear someone arguing that the President wasn't properly "vetted," then, it really means that they're upset that voters didn't agree with the assertion that all of this information in the President's past was reason to reject his bid for the White House.
Finally, and not to belabor the point, it's worth noting that Hillary Clinton has faced significant scrutiny throughout her political career, including in this campaign, The stories about her use of a private email server and the connections between her tenure as Secretary of State and donations to the Clinton Foundation first appeared in The New York Times, and they received widespread coverage from every major media outlet. The coverage was so intense that Clinton's poll numbers began slipping throughout the summer and speculation began to grow about whether Vice-President Biden might enter the race in part to "save" the Democratic Party. If the media really were as biased as Carson claims, then why were these stories covered in the intense manner that they were?
Taken in the light of all of this history, it is obvious that Carson's claim that he is being subject to unfair scrutiny is quite simply nonsense. This is a man who presently stands at or near the top of the polls nationally, and in Iowa and New Hampshire, meaning that he at least potentially has a shot at being the nominee of his party. Since he has never held or run for public office before, he's also someone who is relatively unknown to many Americans who has relied largely on his biography to make the case that he should be taken seriously as a candidate. Given that, asking questions about the factual basis for that biography, or about the outrageous things he has said about public policy issues, his seeming ignorance on policy issues, his odd relationship with the truth, a view of history that seems to have no basis in reality, and his position on issues like Cosmology and Evolution is not only inevitable but entirely appropriate.
Ben Carson is purporting to run for President of the United States. As such, all of this is fair game for reporters to investigate and voters to consider in deciding whether or not they should support him. In the end, it's possible that many voters will decide that much of this isn't relevant to them and continue supporting Carson. Some voters may even become more attracted to Carson because of the media scrutiny. That's their right. To suggest as Carson and others do, however, that the questions should not even be asked, or do do as Carson did last week in a press conference and demand reporters justify the questions they asked him, is entirely inappropriate. Reporters aren't perfect, of course, and their personal biases do sometimes influence what they cover and how they cover it, but that doesn't mean that a candidate like Carson should not be forced to answer questions. The media is doing its job, and Carson's complaining is little more than whining.