The American Right And The Demonization Of Barack Obama
In order to succeed on the right today, you have to do more than just say the President is wrong. You have to say that he's evil.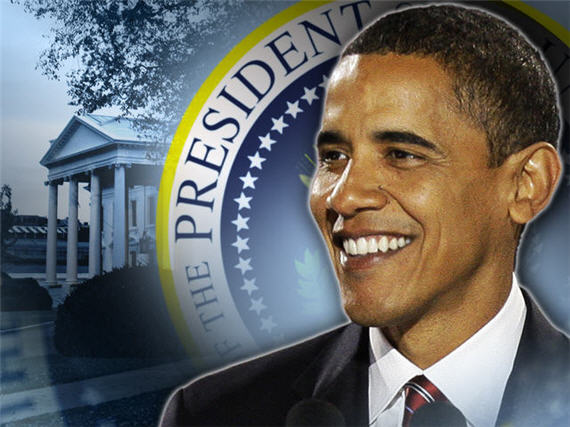 In today's Washington Post, E.J. Dionne returns to a familiar theme, the extent to which Republican, specifically hard-core conservative, opposition to President Obama manifests itself as personal hatred and outright demonization:
They say that President Obama is a Muslim, but if he isn't, he's a secularist who is waging war on religion. On some days he's a Nazi, but on most others he's merely a socialist. His especially creative opponents see him as having a "Kenyan anti-colonial worldview," while the less adventurous say that he's an elitist who spent too much time in Cambridge, Hyde Park and other excessively academic precincts.

Whatever our president is, he is never allowed to be a garden-variety American who plays basketball and golf, has a remarkably old-fashioned family life and, in the manner we regularly recommend to our kids, got ahead by getting a good education.

Please forgive this outburst. It's simply astonishing that a man in his fourth year as our president continues to be the object of the most extraordinary paranoid fantasies. A significant part of his opposition still cannot accept that Obama is a rather moderate politician quite conventional in his tastes and his interests. And now that the economy is improving, short-circuiting easy criticisms, Obama's adversaries are reheating all the old tropes and cliches and slanders.

(…)

[T]here is something especially rancid about the never-ending efforts to turn Obama into a stranger, an alien, a Manchurian Candidate with a diabolical hidden agenda. Are we trying to undo all the good it did us with the rest of the world when we elected an African American with a middle name popular among Muslims?

In my experience, even Americans who voted against Obama were proud that our nation showed friend and foe alike that we are a special place. We know it's wrong to judge people by their race or lineage, and we so value religious freedom and openness that we elected a Christian convert who is the son of a Muslim father and an agnostic mother to lead us at one of our most difficult moments.

Yet many in the anti-Obama camp just can't stop themselves from playing on fears that electing a man who defies old stereotypes was a terrible mistake. Thus did the Rev. Franklin Graham assert Tuesday on MSNBC not only that Muslims regard Obama as "a son of Islam" (because his father was Muslim) but also that "under President Obama, the Muslims of the world, he seems to be more concerned about them than the Christians that are being murdered in the Muslim countries." Graham slightly softened his comments on CNN Wednesday, but it remains troubling that he chose to turn a legitimate concern about the persecution of Christians into a slander.
This is a phenomenon that we've all been witness to ever since President Obama was elected, if not before then. It started with the whispered assertion by some that the President was not actually born in the United States, or that he was somehow ineligible to be President due to something written by a Swiss legal scholar in a book that was not even available in the United States until several years after the Constitution had been drafted. While many on the right would deny that this was ever a mainstream belief, the reality is that it was also not something that prominent spokespersons on the right sought to discourage or reject until it became too much of an embarrassment to the movement. Other rumors spread about the President have included the assertion that he is a "secret Muslim," that he secretly traveled to Pakistan during a time when it was impossible for Americans to get a visa to visit the country, and that his very Presidency is part of some vast conspiracy to undermine the United States.
During the  2008 campaign itself, we saw the full force of conservative talk radio, and on more than a few occasions, the Republican Vice-Presidential nominee, attack claim that then-Senator Obama was a socialist with ties to radical preachers and 1960s radicals. The campaign didn't work, of course, and in fact it became clear by October 2008 that the more conservatives attacked Obama, the worse the Republicans did in the polls. By the time it was over the GOP had suffered its biggest loss to a non-incumbent Democrat since 1992. One would have thought that this would have led to a period of introspection on the right, and perhaps the realization on the right that trying to scare the crap out of people was not really an effective strategy. By the time of President Obama's Inauguration, though, it seemed like the demonization meme had won out, as exemplified most fully in Rush Limbaugh's statement that he hoped the President failed. When some Republicans spoke up to disagree with what Limbaugh was saying, pointing out for example that rooting for the President to fail is akin to rooting for the nation to fail, they found themselves quickly denounced amid the ever-increasing din of anti-Obama fervor. The "Obama as evil" rhetoric increased, of course, after the birth of the Tea Party movement, which often found itself being spoken for by extremist elements who would question the President's religious faith, his place of birth, and even whether he had actually graduated from Columbia University.
Scott Galupo argues that this has been a central part of the opposition to the President from the beginning:
Out of political convenience or cultural distance, Beltway conservatives refuse to see this: Hardcore conservative opposition to Obama has always been cultural and theological. The pop-theological mainstream of American evangelicals has so thoroughly assimilated the ideal of American capitalism that any deviation, however modest, from it is tantamount to radical godless humanism. And, in an extension of an older intradenominational debate, conservative Catholics like Santorum deeply mistrust the ideal of "social justice" as championed by the Catholic left.
Galupo is correct, of course, and the fact that much of the policy that people like Santorum criticize the President for isn't really any more radical than those adopted by his Republican predecessor demonstrates quite clearly that what we're actually dealing with here isn't a policy dispute, it's a personal one. For better or worse, hard-core American conservatism has become invested in the idea that you can't just disagree with President Obama, you have to hate him and assume the absolutely worst about him. That's why you see candidates like Jon Huntsman and Mitt Romney pushed to the side by these voters in favor of the Santorum's, Gingrich's, and Bachmann's of the world. How this can possibly be healthy for either the GOP itself, or the nation as a whole, I really don't understand, but if we've learned anything so far it's that the hatred that Dionne and Galupo complain of is with us to stay, and that's it's going to be a very nasty year.