John Lewis's Ridiculous Arguments Against Reasonable Voting Regulations
Ensuring the integrity of the voting process is a worthy goal, not evidence of discrimination.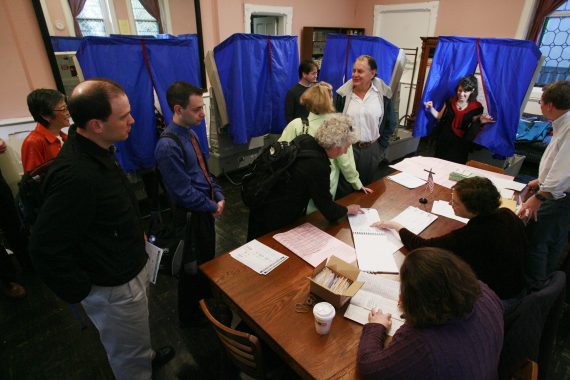 Congressman John Lewis had an Op-Ed in yesterday's New York Times that effectively compared the current push by Republican legislatures around the country to rationalize voting procedures with poll taxes and other Civil Rights Era measures that were used to prevent minorities from voting, his argument, like much of the liberal argument against such measures is totally ridiculous:
As we celebrate the Martin Luther King Jr. Memorial, we reflect on the life and legacy of this great man. But recent legislation on voting reminds us that there is still work to do. Since January, a majority of state legislatures have passed or considered election-law changes that, taken together, constitute the most concerted effort to restrict the right to vote since before the Voting Rights Act of 1965.

Growing up as the son of an Alabama sharecropper, I experienced Jim Crow firsthand. It was enforced by the slander of "separate but equal," willful blindness to acts of racially motivated violence and the threat of economic retaliation. The pernicious effect of those strategies was to institutionalize second-class citizenship and restrict political participation to the majority alone.

We have come a long way since the 1960s. When the Voting Rights Act was passed, there were only 300 elected African-American officials in the United States; today there are more than 9,000, including 43 members of Congress. The 1993 National Voter Registration Act — also known as the Motor Voter Act — made it easier to register to vote, while the 2002 Help America Vote Act responded to the irregularities of the 2000 presidential race with improved election standards.

Despite decades of progress, this year's Republican-backed wave of voting restrictions has demonstrated that the fundamental right to vote is still subject to partisan manipulation. The most common new requirement, that citizens obtain and display unexpired government-issued photo identification before entering the voting booth, was advanced in 35 states and passed by Republican legislatures in Alabama, Minnesota, Missouri and nine other states — despite the fact that as many as 25 percent of African-Americans lack acceptable identification.

Having fought for voting rights as a student, I am especially troubled that these laws disproportionately affect young voters. Students at state universities in Wisconsin cannot vote using their current IDs (because the new law requires the cards to have signatures, which those do not). South Carolina prohibits the use of student IDs altogether. Texas also rejects student IDs, but allows voting by those who have a license to carry a concealed handgun. These schemes are clearly crafted to affect not just how we vote, but who votes.
John Lewis played a prominent role in the protests of the Civil Rights Era, including leading the March on Selma in 1965 and being beaten by police after trying to cross the Edmund Pettis Bridge. He deserves both credit and respect for the role he played in bring Jim Crow to an end. That's why it's so unfortunate to see someone of his caliber waving the flag of Jim Crow in a situation like this. Accusing people who want to ensure the integrity of the voting process of racism is both vile and incorrect. To deny that there are legitimate reasons to be concerned with these issues is to merely put blinders on for what are quite obviously partisan reasons. Sadly, I don't think Lewis cares so much about civil rights when it comes to this issue as he does about the fact that enforcing voting regulations, and taking steps to ensure that only people who are legally entitled to vote are allowed to do so, would hurt his party. Turning that into an argument over racism is just pathetic.
As far as some of the proposals that Lewis criticizes, there are legitimate reasons to at least consider these ideas without tainting them with the smear of racism. Requiring people who vote to present some form of identification at the polling place is eminently reasonable. Without such a requirement, someone can walk into a polling place with only a few pieces of information, say they are person X and get a pass into the voting booth. Here in Virginia, a voter can present any one of a number of forms of valid identification to prove both their identity and their address, not just a driver's license. At the same time, I don't see a Photo ID requirement as being overly burdensome, especially since every state Motor Vehicle agency will, for a small fee, issue a non-driver's license Photo Identification that can be used for such purposes. Proving that who you say you are in order to vote doesn't strike me as unreasonable, and since it has a rational basis, doesn't strike me as being overly burdensome to minorities.
Lewis also brings up the issue of college student voting. This has been a contentious issues in college communities for years, primarily because most students are merely transitory residents with no ties to the communities in which they live. After their four years, most of them move on rather than establishing residence in the community. Can they really be considered residents of the community where their college is for voting purposes? Many communities say no, for what I think are entirely valid reasons. When I was in college and law school the vast majority of my fellow students were registered to vote in their hometowns, not where their school was located. Allowing them to use student ID to register to vote would be akin to giving them the opportunity to vote twice in two different locations. Moreover, I can see plenty of valid reasons why communities would not want college students voting in local elections when none of them pay taxes, use the school system, or participate in the daily life of the community. Again, this isn't a question of racism or discrimination against the poor, Lewis's arguments notwithstanding. However, it is interesting to note that college students are more likely to vote Democratic, so Lewis's concern about this issue is likely motivated by partisan concerns.
Lewis also bemoans the fact that several states are cutting back on early voting, which some people believe makes it easier for people to vote and increases voter participation:
In Georgia, Florida, Ohio and other states, legislatures have significantly reduced opportunities to cast ballots before Election Day — an option that was disproportionately used by African-American voters in 2008. In this case the justification is often fiscal: Republicans in North Carolina attempted to eliminate early voting, claiming it would save money. Fortunately, the effort failed after the State Election Board demonstrated that cuts to early voting would actually be more expensive because new election precincts and additional voting machines would be required to handle the surge of voters on Election Day.
Lewis repeats the conventional wisdom that early voting makes it easier for people to vote and thus increases voter turnout. As I noted back in October, however, the most recent comprehensive study of the practice found that early voting had exactly the opposite effect:
Early voting offers convenience and additional opportunities to cast a ballot. Common sense tells us that this should mean higher turnout. But a thorough look at the data shows that the opposite is true: early voting depresses turnout by several percentage points

Our research, conducted with our colleagues David Canon and Donald Moynihan at the University of Wisconsin, is based on a three-part statistical analysis of the 2008 presidential election. First, we analyzed voting patterns in each of the nation's 3,100 counties to estimate the effect of early voting laws on turnout. We controlled for a wide range of demographic, geographic and political variables, like whether a county was in a battleground state.

Controlling for all of the other factors thought to shape voter participation, our model showed that the availability of early voting reduced turnout in the typical county by three percentage points.
Lewis's anecdotal evidence about African-Americans utilizing early voting disproportionately in 2008 was, in all likelihood, a manifestation of the immense enthusiasm in that community for Barack Obama's candidacy. There's no reason to believe that it holds up in other elections. Early voting costs states money, which is not an invalid concern in the current economic climate, and if it isn't actually increasing turnout then states are completely correct in determining that it is not a worthwhile investment of time, money, and resources.
The election process in this country is needlessly out of date, and needlessly insecure. As we upgrade and update it, we surely need to keep in our minds the concern that such reforms will be used to disenfranchise people. However, to imply, as Lewis does, that even the most elementary reforms are evidence of racism and the return of Jim Crow, is little more than paranoid hyperbole. Congressman, I expect better of you
Photo via Boston.com