Joe Biden Is Thinking About Taking On Hillary Clinton
Reports are saying that Joe Biden is taking another look at running for the Democratic nomination for President. But would he really do it?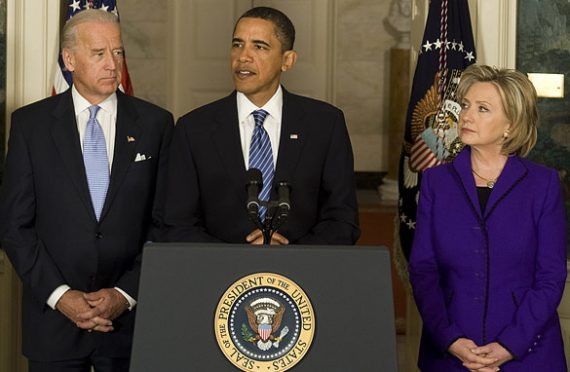 The New York Times is reporting that Vice-President Joe Biden is reportedly taking a "new look" at running for President:
Vice President Joseph R. Biden Jr. and his associates have begun to actively explore a possible presidential campaign, an entry that would upend the Democratic field and deliver a direct threat to Hillary Rodham Clinton, say several people who have spoken to Mr. Biden or his closest advisers.

Mr. Biden's advisers have started to reach out to Democratic leaders and donors who have not yet committed to Mrs. Clinton or who have grown concerned about what they see as her increasingly visible vulnerabilities as a candidate.

The conversations, often fielded by Mr. Biden's chief of staff, Steve Ricchetti, have taken place in hushed phone calls and over quiet lunches. In most cases they have grown out of an outpouring of sympathy for the vice president since the death of his 46-year-old son, Beau, in May.

On Saturday, Maureen Dowd, the New York Times columnist, reported that Mr. Biden had been holding meetings at his residence, "talking to friends, family and donors about jumping in" to challenge Mrs. Clinton in Iowa and New Hampshire, the first two nominating states.

One longtime Biden supporter said the vice president has been deeply moved by his son's desire for him to run.

"He was so close to Beau and it was so heartbreaking that, frankly, I thought initially he wouldn't have the heart," Michael Thornton, a Boston lawyer who is a Biden supporter, said in an interview. "But I've had indications that maybe he does want to — and 'that's what Beau would have wanted me to do.' "

Mr. Biden's path, should he decide to run, would not be easy. Mrs. Clinton has enormous support among Democrats inspired by the idea of electing a woman as president and her campaign has already raised millions of dollars. Mr. Biden, who is 72, has in the past proven prone to embarrassing gaffes on the campaign trail, and he would also face the critical task of building a field operation.

One Democrat with direct knowledge of the conversations described the outreach as a heady combination of donors and friends of Mr. Biden's wanting to prop up the vice president in his darkest hours, combined with recent polls showing Mrs. Clinton's support declining, suggesting there could be a path to the nomination for the vice president.

(…)

The support Mr. Biden has garnered speaks to growing concerns among Democrats that Mrs. Clinton could lose in Iowa and New Hampshire, as the populist message of one of her opponents, Senator Bernie Sanders of Vermont, draws swelling crowds.

"The reality is it's going to be a tough, even-Steven kind of race, and there's that moment when a lot of party establishment would start exactly this kind of rumble: 'Is there anybody else?' " said Joe Trippi, a Democratic strategist.

At the same time, the slow trickle of news about Mrs. Clinton's use of private email when she was secretary of state and the coming Benghazi hearings may be distracting some voters from the core message of her campaign: the need to lift the middle class.

"It's not that we dislike Hillary, it's that we want to win the White House," said Richard A. Harpootlian, a lawyer and Democratic donor in Columbia, S.C. who met with Mr. Ricchetti before Beau Biden died. "We have a better chance of doing that with somebody who is not going to have all the distractions of a Clinton campaign."

A spokeswoman for the Clinton campaign declined to comment.

(…)

Mr. Biden could still decide not to run. Confidants say that he has not made up his mind, but that they expect him to make something official by the end of the summer or early September. Other than by not ruling out a run and by holding preliminary meetings, Mr. Biden has not openly fueled the speculation about his candidacy. As of Saturday he had no trips planned to Iowa or New Hampshire in the coming weeks. But an intermediary recruited by the vice president's office has been in touch with potential staffers who have not yet signed on to the Clinton campaign.

Kendra Barkoff, a spokeswoman for Mr. Biden, said, "As the Biden family continues to go through this difficult time, the vice president is focused on his family and immersed in his work."
The Times report comes on the same day as a Maureen Dowd column that discusses the issue of Biden getting into the race and clearly seems be based on reports from someone very close to the Vice-President, if not Biden himself:
Joe Biden is also talking to friends, family and donors about jumping in. The 72-year-old vice president has been having meetings at his Washington residence to explore the idea of taking on Hillary in Iowa and New Hampshire.

He gets along with Hillary and has always been respectful of the Democratic Party's desire to make more history by putting the first woman in the Oval Office.

But going through the crucible of the loss of his oldest son, Beau, to brain cancer made the vice president consider the quest again.

As a little boy, Beau helped get his father through the tragedy of losing his beau

tiful first wife and 13-month-old daughter in the car crash that injured Beau and his brother, Hunter.

When Beau realized he was not going to make it, he asked his father if he had a minute to sit down and talk.

"Of course, honey," the vice president replied.

At the table, Beau told his dad he was worried about him.

My kid's dying, an anguished Joe Biden thought to himself, and he's making sure I'm O.K.

"Dad, I know you don't give a damn about money," Beau told him, dismissing the idea that his father would take some sort of cushy job after the vice presidency to cash in.

Beau was losing his nouns and the right side of his face was partially paralyzed. But he had a mission: He tried to make his father promise to run, arguing that the White House should not revert to the Clintons and that the country would be better off with Biden values.

Hunter also pushed his father, telling him, "Dad, it's who you are."\

(…)

When Beau was dying, the family got rubber bracelets in blue — his favorite color — that said "WWBD," What Would Beau Do, honoring the fact that Beau was a stickler for doing the right thing.

Joe Biden knows what Beau wants. Now he just has to decide if it's who he is.\
Whatever one might think about whether Joe Biden will actually enter the race for President, or what his prospects would be if the did, it seems fairly clear from these reports, as well as others that came in the wake of Beau Biden's death, that the Vice-President's camp wants to keep open the possibility that he could enter the race. I've argued before that this is exactly what Biden would be likely to do even if he weren't running because keeping the speculation open about his entry into the race means that he is, at least for some brief period of time, something more than just a lame duck Vice-President looking at the end of his political career. Additionally, the fact that we continue to see stories regarding Hillary Clinton's private email server, contributions to the Clinton Foundation, and the question of whether or not she or others who communicated with her via email mishandled classified information while Clinton's favorability numbers continue to look bad means that Biden likely believes it would be premature at this point to rule out running for President. While the possibility is remote, the prospect that Clinton's campaign could implode for some reason would seem to be reason enough for Biden to not rule out getting into race, although if that happened there would obviously be a number of other Democrats, such as Andrew Cuomo and Elizabeth Warren, who might also look at jumping in to what would then be a wide open race.
Taking all of that into account, though, it still seems unlikely to me that Biden will actually run for President absent some extraordinary circumstance that compels to get into the race. While the Vice-President seems by all accounts to be in good health, he isn't exactly a young guy either. Biden will be 73 in November, and if he did get elected President he would turn 74 before Inauguration Day, making him the oldest President to ever be sworn into office. At the end of his first term, he would 78, and 82 at the end of a hypothetical second term. All due respect to the Vice-President but running for President is a long, grueling, physically and mentally exhausting endeavor, as he should know from his own experiences. If Biden were to seriously take Clinton on, it would likely be even more of a task. Is this really something he wants to do at this point in his life? That's only something he can answer, of course, but the signals up until now have all indicated that he won't run. Just from the polls, we can see how tough a race against Clinton would be for Biden. In the national polls, he's about as far behind Clinton as Bernie Sanders is right now, but he's currently far behind Sanders in third place in Iowa and New Hampshire at this point. Perhaps some of the people currently rallying around Sanders as the alternative to Clinton would jump over to Biden if he got into the race, but many Sanders supporters are behind him because of his progressive message, and Biden probably wouldn't be able to steal many of those voters away.