Biden For President?
There's another round of reports about Joe Biden running for President, but I wouldn't put much stock them.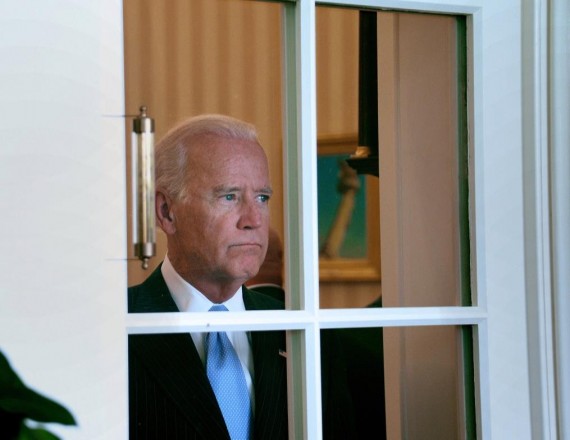 The Huffington Post is reporting that  sources close to Vice-President Joe Biden claim that he is allegedly still thinking about running for President:
Vice President Joe Biden is still very much considering a bid for the White House, people close to Biden say, and will make a final decision at the end of the summer, targeted for September.

The Iowa caucuses are scheduled for early February, meaning Biden would have roughly four months to barnstorm the first-in-the-nation state before the contest turned to New Hampshire.

Front-runner Hillary Clinton has faced a surprisingly tough challenge from democratic socialist Bernie Sanders, who is within striking distance in Iowa despite not being registered as a Democrat and trailing far behind in establishment support. Sanders' surge suggests Clinton could be once again beatable in a Democratic primary.

While Biden is seriously considering the bid, he has by no means decided to pull the trigger.

"He has said he would announce his decision at the end of the summer," said Ted Kaufman, a former Democratic senator from Delaware and longtime aide to Biden, when asked about Biden's plans. Kaufman recently went back to work for the vice president in the months preceding Beau Biden's death so that he could help his old boss and friend through the unspeakably difficult time.

The vice president's press secretary, Kendra A. Barkoff, denounced the speculation, but kept the door ajar. "The Biden family is going through a difficult time right now," said Barkoff. "Any speculation about the views of the vice president or his family about his political future is premature and inappropriate."
This report comes on the heels of another report that appeared in late in The Wall Street Journal that Biden's sons, both his son Hunter and his late son Beau, had urged their father to run for President in 2016:
When deciding whether to run for office, Vice President Joe Biden has made it a practice to seek his family's counsel. That advice has included at least two members of his immediate family—his sons—urging him to run for president in 2016, Biden friends and advisers say.

Before his death last month, elder son Beau Biden encouraged his father to get into the race, people familiar with the matter said. And Hunter Biden told a friend in recent weeks he, too, would like to see the vice president wage one more campaign for the White House.

The Biden family's wishes add an intriguing wrinkle to a Democratic presidential race that has unfolded in unpredictable ways. But a White House official said speculation about the vice president's political future was premature during this tough time for the family.

National polls show Hillary Clinton is the runaway front-runner. But one rival has gained ground in New Hampshire as revelations surface about Mrs. Clinton's use of a private email account as secretary of state and foreign donations to the Clinton Foundation. A survey last week showed Vermont Sen. Bernie Sanderstrailing Mrs. Clinton in New Hampshire by just eight points.

Mr. Biden, 72 years old, lost two previous bids for the White House, in 1988 and 2008, and he would enter the 2016 contest as a clear underdog. Yet as a sitting vice president with loyal supporters in states that hold early contests, he has the potential to scramble the Democratic field.

A Wall Street Journal/NBC News poll earlier this month showed that Americans' image of Mr. Biden is growing more positive. A total of 40% saw him in a favorable light, versus 31% who had a negative view of him. In November 2014, Mr. Biden's favorability rating stood at 35%, compared with 38% who viewed him unfavorably.

Dick Harpootlian, a former chairman of the South Carolina Democratic Party, had coffee with Mr. Biden at the White House in May, just days before Beau Biden's death at 46 from brain cancer. They talked through the possibility of launching a campaign, Mr. Harpootlian said. "It's no secret that Beau wanted him to run," he said. "If he does what Beau wanted him to do, he'll run."
Vice-President Biden has played something of a cagey came with political reporters and his fellow Democrats when it comes to the question of whether or not he would run for President. While he hasn't actually announced anything, and he seemingly has not taken any steps at all to even put together the rudimentary framework of a political campaign. At the same, though, Biden hasn't totally shut the door on 2016 and as recently as March there were news reports suggesting that Biden was genuinely conflicted the race and about the possibility of giving up one last chance at his achieving something that has clearly been a political dream of his for the past three decades. Now, we have these reports as well as the news that Hillary Clinton's favorability numbers continue to take a hit while Bernie Sanders gains at least some support in the polls and draws crowds that make headlines, which are at least leading some people to wonder if the Vice-President might not decide to jump into the race after all.
Looking at the polls, Biden isn't in much better shape against Clinton than any of the candidates that already in the race. He's in third place behind Bernie Sander in the national polls, but his average at 11.5% compared to Sanders at 16.3% isn't so bad for guy who isn't actually running right now. In Iowa and New Hampshire, though, he trails Sanders significantly although he's doing much better than candidates like Martin O'Malley, Lincoln Chafee, and Jim Webb. Biden actually outperforms Sanders in South Carolina and Florida, although it's worth  nothing that he trails Clinton significantly in both states and the most recent in either state is nearly a month old now. These numbers are hardly praiseworthy, but they're at least respectable and they suggest that if Biden did get in the race he'd at least be able to make a good run of it. In the end, though, it seems clear that he isn't really running.
I have no doubt that Joe Biden would like to be President. He's run for the office twice, after all, and while he came up short both times that's obviously not something you do unless you really want the job. Moreover, as a sitting Vice-President he is in a position that, historically, has been very favorable for people running for President, especially over the past century or so. From 1956 to 2004, for example, there were 13 Presidential elections, nine of which had the incumbent as one of the two major party nominees, four (1960, 1968, 1988, and 2000) had the incumbent Vice-President as the nominee, and two (1968 and 1984) had a major party nominee who had once served as Vice-President. Additionally, former Vice-President Dan Quayle was briefly a candidate for the Republican nomination in 2000 before dropping out after finishing eighth in the Ames Straw Poll. The chain was broken in 2008 when Vice-President Cheney declined to run for the Republican nominee (although its doubtful he would have' won), so the question is whether Biden will follow Cheney's example or jump into the race.
Despite Biden's likely ambitions, though, and the pull of history, it seems unlikely to me that he's actually going to enter the race. First, even though we are still some seven months away from the Iowa Caucuses and the start of the voting phase of the primary, time is actually far shorter than it appears. Running a serious campaign for President involves me than just making speech, and by all accounts there is no indication at all on the ground in states like Iowa and New Hampshire that Biden has done anything to form even the skeleton of a Presidential campaign. Indeed, many of the people in those states that some may have expected would support him have already started working for other candidate, mostly Hillary Clinton. Additionally, Biden seems to be fairly political astute and he can likely read the polls just as well as anyone. Absent some kind of implosion on her part, Hillary Clinton is the prohibitive favorite for the Democratic nomination. Taking her on now, after so much time that could have been done preparing a campaign has passed, would largely be a quixotic effort and while that may appeal to Bernie Sanders it doesn't seem like the kind of thing the Vice-President would be interested in. As I've said before, to the extent he is keeping this speculation alive, it is mostly to keep himself relevant in the waning years of the Obama Administration. Perhaps if Clinton implodes we'll see Biden jump in the race, but that would be a highly unusual event and seems rather unlikely.