Joe Biden Still Wants You To Think He's Running For President
Hillary Clinton continues to look more inevitable by the day, but Joe Biden doesn't want to go away just yet.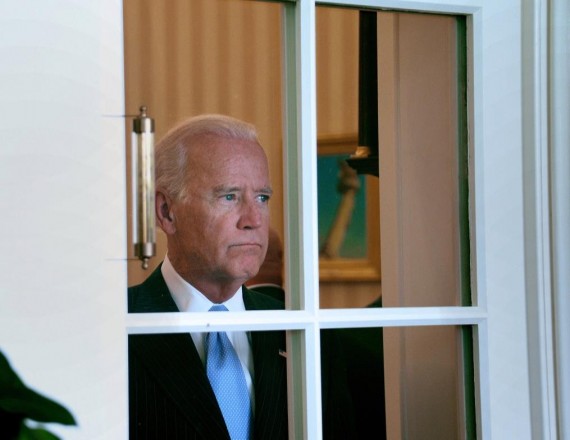 Most of the political media seems to have come around to accepting the fact that Hillary Clinton is the prohibitive front-runner for the Democratic nomination, and that she will win that nomination absent some mistake on her part that would be of historic proportions. However, don't tell that to Joe Biden:
Interviews with more than a dozen people close to the vice president paint a picture of a politician torn between a decades-long aspiration for the presidency, a deep commitment his family and a recognition of a political reality tilted against him.

For reasons both bigger and smaller than Hillary Clinton, Biden will not achieve the dream to which he's now come so close. But he refuses to rule himself out completely and will keep a presidential pilot light burning as long as possible. If nothing else, the fiercely loyal Biden will use these next two years to defend the legacy of the Obama administration and his role in it.

While Biden has been largely left out of Washington chatter about 2016, he has forced himself into the conversation whenever possible. He recently made a series of visits to promote the White House agenda to early voting states including Iowa, New Hampshire and South Carolina. Biden frequently appears in the same city the same week as Clinton does. And he readily tells interviewers he's taking a serious look at a run.

"It stands to reason that a man who has run for president twice on his own, the vice president who stands a heartbeat away from the presidency, and someone who has contributed to the success thereof certainly wants to be president and certainly feels that he would be a good president," said Luis Navarro, who managed Biden's 2008 campaign. "Regardless of when he would chose to make a decision, someone who is the sitting vice president is not someone to be underestimated."

(…)

Biden is hardly blind to the difficulty of running against Clinton. He spent 120 days campaigning in Iowa in 2008, but ended up winning less than 1% support in the Democratic caucuses that year.

The vice president is well liked by Iowa Democrats, with 78% of likely caucus goers holding a favorable view of him, according to January's Des Moines Register Iowa poll. And it's the state where Clinton also struggled most last time. But the same poll showed only 9% chose Biden as their top pick, compared to 56% for Clinton.

"She appears to be unstoppable," said Goodman, the Biden ally from Dubuque, Iowa. "The Iowa poll is pretty accurate, and if you look at the Iowa poll, the contest is over."

One of the vice president's biggest challenges would be fundraising. He hails from a small, reliably Democratic state where he didn't need to raise much money to win six elections in a row. He faced only token opposition in his last Senate race, and raised and spent about $4 million in the race before that in 2002, which was less than the average winning Senate candidate that year.

And it's well below the $50 million or more he would need to raise to mount a credible presidential primary campaign, let alone the $1 billion needed in a general election. Clinton raised more than $100 million in 2007 alone.
Historically, of course, a Vice-President would be seen as a natural candidate for President, especially at the end of a two-term Presidency. In Biden's case, however, we have the rather unusual situation of a former Secretary of State who is seen by nearly everyone inside her party as the natural successor to President Obama. There was a time, of course, when it was more common for Secretaries of State to either seek or be elected to the Presidency than it was for Vice-President's to do so. Thomas Jefferson, James Madison, and James Monroe all served as Secretary of State prior to becoming President, although Jefferson of course also served as Vice-President. Martin Van Buren and James Buchanan also served as Secretary of State before becoming President, but after Buchanan the string of Secretaries of State ascending to the White House comes to an end, in no small part because the job itself became one that was more likely to be handled by someone with diplomatic experience rather than political ambitions. In fact, Secretaries such as Henry Kissinger and Madelyn Albright would have been ineligible to serve as President in any case since they were not natural born citizens of the United States. With the possible exception of Colin Powell, who declined to enter electoral politics, Hillary Clinton is the first Secretary of State in some time to be a serious contender for the Presidency, although that is due in no small part to the fact that she is the first appointee to the position in some time who came from the political rather the diplomatic world.
In any case, Biden's role as the natural successor to Barack Obama effectively ceased when Hillary Clinton became Secretary of State. In part, of course, this is because of the fact that Obama and Clinton had just come out of a hard fought race for the Democratic nomination which ended up being one of of the closest nomination fights in recent history. Even after Obama's victory, Clinton remained personally popular both inside the Democratic party and nationally whereas Biden, who had also run in 2008 but dropped out very early in the process, was largely non-entity outside of official Washington. In a different era and involving different personalities, of course, Clinton would have been the natural choice for a running mate in the same way that Lyndon Johnson was the natural choice for John F. Kennedy in 1960. Instead, though, then Senator Obama picked Biden as what many recognized at the time to be more of an "elder statesman" whose experience on Capitol Hill and in foreign affairs would balance out Obama's thin resume in those areas. Clinton ended up at Foggy Bottom, but that position only served to make her more popular as time went on, while Biden faded into the Vice-Presidency emerging only for the many gaffes for which he has become legendary and, of course, as fodder for the writers at The Onion.
If, for some reason, Biden did decide to get into the race it's fairly clear that he'd end up doing as badly as he did in 1988 and 2008. For that reason, and because of the fact that he'll be 74 years old by the time Election Day 2016 comes around, it seems rather apparent that he will not enter the race this time around. Even so, I suppose it's understandable that Biden would want to keep the speculation alive as long as possible. After all,, Hillary could stumble badly out of the gate and the party could be looking for a name that everyone recognizes. Additionally, keeping his name in the mix even a little bit helps to keep him relevant inside the Democratic Party if only for a little while longer. And, finally, of course, I'm sure that now that he's gotten a heartbeat away from an office he's run for twice before, the thought of stepping away probably isn't appealing. Nonetheless, it seems fairly obvious that, barring something tragic and unforeseen happening between now and January 20, 2017, there will not be a President Joe Biden.