"Sad Joe Biden" Photo Goes Viral, Hilarity Ensues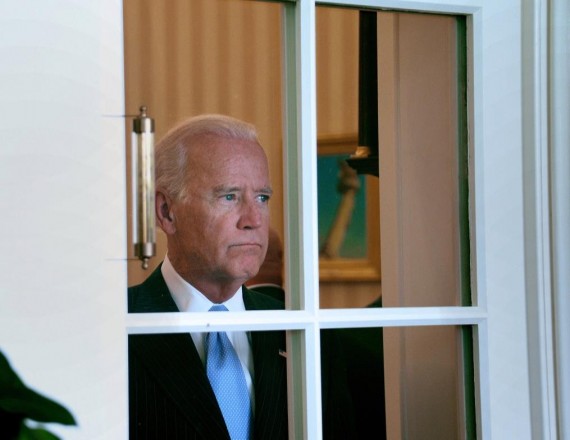 A photo of Vice-President Biden from September has become an immortal Internet meme:
It started in September, when the above photo was taken, and the Internet embraced the opportunity to try and understand what Biden could have been thinking. The meme could have died there, but it instead turned into a Hydra that kept regrowing favs.
The Fix's Jamie Fuller has some of the best from Twitter:
I don't give a damn what Lucas says. Han shot first. I saw it with my own eyes. pic.twitter.com/tmNHRoDgLl

— Popehat (@Popehat) December 7, 2014
Biden, who refused to eat his vegetables last night, watches from the window as O's motorcade leaves for ice cream. pic.twitter.com/s67fBjbGoC — Evan Thomas (@enixusEP) October 13, 2014
"If they want me to play Starsky or Hutch, or even the bad guy, I'm down. But Huggy Bear?" pic.twitter.com/rxJxjkq4Mf

— southpaw (@nycsouthpaw) December 8, 2014
I had a few of my own, including one that went semi-viral around Thanksgiving:
"You chase the turkeys around the North Lawn one year and the jerks stop inviting you to the pardon ceremony." pic.twitter.com/HKfpD9CTOj — Doug Mataconis (@dmataconis) November 26, 2014
And two that proved to be less popular:
"As God is my witness, I thought turkeys could fly." pic.twitter.com/wixveuegxA

— Doug Mataconis (@dmataconis) November 27, 2014
They never let poor Joe join in any reindeer games pic.twitter.com/bPRxgptjr7 — Doug Mataconis (@dmataconis) December 6, 2014
As Fuller notes, the meme has now been picked up by "professionals" at sites like Buzzfeed which is probably the first sign that its on the way out, but never fear Sad Joe Biden, we'll never forget you.