Trump Lawyer Dangled Pardon to Flynn and Manafort
John Dowd allegedly raised the possibility while the Mueller investigation was closing in on the two presidential advisors.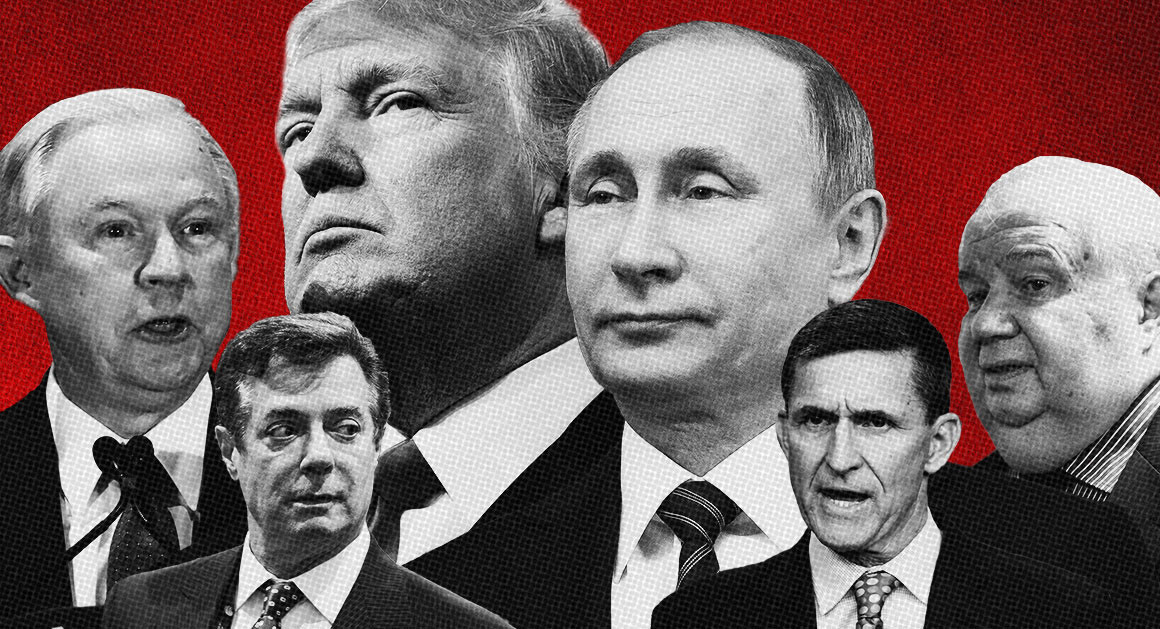 NYT ("Trump's Lawyer Raised Prospect of Pardons for Flynn and Manafort as Special Counsel Closed In"):
A lawyer for President Trump broached the idea of Mr. Trump pardoning two of his former top advisers, Michael T. Flynn and Paul Manafort, with their lawyers last year, according to three people with knowledge of the discussions.

The discussions came as the special counsel was building cases against both men, and they raise questions about whether the lawyer, John Dowd, was offering pardons to influence their decisions about whether to plead guilty and cooperate in the investigation.

The talks suggest that Mr. Trump's lawyers were concerned about what Mr. Flynn and Mr. Manafort might reveal were they to cut a deal with the special counsel, Robert S. Mueller III, in exchange for leniency. Mr. Mueller's team could investigate the prospect that Mr. Dowd made pardon offers to thwart the inquiry, although legal experts are divided about whether such offers might constitute obstruction of justice.

Mr. Dowd's conversation with Mr. Flynn's lawyer, Robert K. Kelner, occurred sometime after Mr. Dowd took over last summer as the president's personal lawyer, at a time when a grand jury was hearing evidence against Mr. Flynn on a range of potential crimes. Mr. Flynn, who served as Mr. Trump's first national security adviser, agreed in late November to cooperate with the special counsel's investigation. He pleaded guilty in December to lying to the F.B.I. about his conversations with the Russian ambassador and received favorable sentencing terms.

Mr. Dowd has said privately that he did not know why Mr. Flynn had accepted a plea, according to one of the people. He said he had told Mr. Kelner that the president had long believed that the case against Mr. Flynn was flimsy and was prepared to pardon him, the person said.

The pardon discussion with Mr. Manafort's attorney, Reginald J. Brown, came before his client was indicted in October on charges of money laundering and other financial crimes. Mr. Manafort, the former chairman of Mr. Trump's presidential campaign, has pleaded not guilty and has told others he is not interested in a pardon because he believes he has done nothing wrong and the government overstepped its authority. Mr. Brown is no longer his lawyer.

It is unclear whether Mr. Dowd, who resigned last week as the head of the president's legal team, discussed the pardons with Mr. Trump before bringing them up with the other lawyers.
While Mueller and company will undoubtedly investigate this matter, it's not obvious without a whole lot more information that this would constitute obstruction. First, while one presumes Dowd wouldn't offer a pardon without discussing it with his client, he might well have "broached" the matter without doing so. Second, even if Trump suggested that Dowd reach out and offer up a pardon, it very much matters what the quid pro quo was. Unless he was promising to pardon them if they were found to have committed perjury, there's no obvious problem.
Moreover, depending on the nature of the arrangement, a pardon might well help more than it hurts, since it would remove 5th Amendment protections. Keith Harper writing last July:
Most likely the President has been informed of one important fact about his pardon power, anyone he pardons is no longer under criminal jeopardy for federal crimes and, accordingly, Fifth Amendment protection for self-incrimination evaporates. Manafort, Page, Kushner, and Flynn at this point – pre-pardon – need not answer any questions from Robert Mueller, Congress or anybody. The Fifth Amendment of the United States Constitution provides no person "shall be compelled in any criminal case to be a witness against himself."

Once pardoned, however, there is no legal jeopardy for past federal crimes. Therefore, the Fifth Amendment can no longer be a shield and permit Trump's pardoned associates from refusing to answer questions under penalty of perjury. This creates a paradox for President Trump. When he pardons an individual, they are free from possible prosecution but they are also uncloaked of their most robust constitutional protection.

This may well be why President Trump has not pardoned Flynn, for example. Given the reported substantial contacts between Flynn and Russian government emissaries, given Flynn's patent falsities including on federal forms completed under penalty of perjury, Flynn's only protection presently from being compelled to testify – including possibly against the President and others – is the Fifth Amendment self-incrimination clause. Imagine if that was no longer a shield. Grand Jury, FBI Agents, Congress all could drill Flynn under oath. Any material prevarication would be punishable as perjury. At that point Flynn's personal interest will be to tell the truth, even if that truth incriminates the President who fired him.

So the pardon of presidential associates is a double-edged sword. On the one hand, he will ensure they are not prosecuted if they committed crimes in furtherance of the President's interest. On the other, once pardoned, the interest of the pardoned associates likely diverges from the President. If crimes were committed that implicate the President and his family – and I do not believe we have sufficient evidence to answer that conclusively at this time – prior to being pardoned, a Trump associate is 100% within their rights to simply say nothing. But not afterwards.
So, again, unless there was a promise to pardon them if they lied to protect Trump and got caught doing so, it's not obvious what the advantage would be.
UPDATE: It should be noted that Dowd and several other Trump-associated lawyers adamantly deny the story:
Mr. Dowd, who was hired last year to defend the president during the Mueller inquiry, took the lead in dealing directly with Mr. Flynn's and Mr. Manafort's lawyers, according to two people familiar with how the legal team operated.

He denied on Wednesday that he discussed pardons with lawyers for the president's former advisers.

"There were no discussions. Period," Mr. Dowd said. "As far as I know, no discussions."

Contacted repeatedly over several weeks, the president's lawyers representing him in the special counsel's investigation maintained that they knew of no discussions of possible pardons.

"Never during the course of my representation of the president have I had any discussions of pardons of any individual involved in this inquiry," Jay Sekulow, a lawyer for Mr. Trump, said on Wednesday.

Ty Cobb, the White House lawyer dealing with the investigation, added, "I have only been asked about pardons by the press and have routinely responded on the record that no pardons are under discussion or under consideration at the White House."

Mr. Kelner and Mr. Brown declined to comment.
As HarvardLaw92 notes in the discussion thread, such an offer could be grounds for disbarment.
UPDATE 2 (0624 March 29): Former Federal prosecutor and current Harvard Law professor Alex Whiting explains "Why Dangling a Pardon Could Be an Obstruction of Justice—Even if the Pardon Power is Absolute."
Some experts have argued that the pardon power is absolute and that the President's motives in issuing a pardon thus could not be questioned, while others contend that it could be a crime to issue a pardon for corrupt purposes (such as in exchange for cash). But the debate over the absolute nature of the pardon power is actually not relevant to the alleged incidents involving Trump's lawyer. Indeed, that entire debate can be set aside for the moment. Why? Because there's been no pardon. Instead, a pardon has only been dangled before Flynn and Manafort, and the analysis of whether that action could become part of an obstruction case against Trump raises entirely different considerations.

If Trump actually pardoned Flynn and Manafort, he would have to do so publicly and accept the political consequences of this profound act. As Jack Goldsmith suggests in the New York Times story, for those who believe that the pardon power is absolute and cannot be scrutinized by courts, the remedy for a corrupt pardon is in the political arena: elections or impeachment. What's more, if Trump actually pardoned Flynn and Manafort, then the two men could no longer assert their Fifth Amendment privilege against self-incrimination because their pardons would erase their federal criminal liability, and therefore Mueller could call both to testify in the Grand Jury and in any subsequent trial. If they continued to assert their Fifth Amendment privilege on the basis of state criminal exposure, Mueller could obtain an order granting them so-called "use immunity" which would ensure that their testimony could not be used against them in any way in state court either. Manafort and Flynn would then be compelled to testify, or risk jail for contempt of court.

The pardon dangle works completely differently—and in important respects has the opposite effects. First, this kind of dangle is not a public act. Therefore, as long as it remained secret, it could be done without incurring any of the political downstream consequences that come with actually pardoning someone. It hides the President from scrutiny rather than exposes him to it as a potential check on the use of the power. Second, the objective of the dangle appears to have been to foreclose the prospect of Flynn and Manfort's cooperating or testifying. Once again, this is the opposite effect of an actual exercise of the pardon. The message of the dangle was sufficiently clear: hang in there and keep fighting (do not cut a deal with the special counsel) because you will be pardoned before you spend a day in jail. The President and his lawyer's hope would have been that with the threat of jail eliminated, neither former aid would feel compelled to plead guilty and cooperate with Mueller to reduce his sentence. But, since they were not actually pardoned or not yet anyway, they still kept their Fifth Amendment privileges, and so Mueller could not simply demand they testify before the Grand Jury. In this way, the dangle could operate to stop any cooperation from Flynn and Manafort, who could then be pardoned later if and when they were indicted or even after their cases went through pretrial, trial and appeal. Indeed, you also have to put yourself back at the time these events all took place: before Manafort was indicted and Flynn pleaded guilty. That's when the dangle could work its magic.

Because a pardon dangle is secret and seeks to discourage cooperation with an ongoing investigation without public scrutiny or consequences, it should be analyzed differently than a pardon when it comes to an obstruction case. Because of the way a pardon dangle operates, it should acquire none of the deference that might be afforded an actual pardon, and if the dangle is found to be orchestrated with a corrupt motive, it should qualify as a potential act of obstruction of justice.

Dowd now vociferously denies that there was any dangle at all, but if one occurred it will be fairly easy to prove. Dowd also has every reason to try to deny it. Not only does it look bad in the court of public opinion. It is bad in the court of law. The fact that Dowd made the offer—as Trump's personal lawyer—means presumptively this was also no official act. As Marty Lederman has noted, Dowd himself may be prosecutable for involvement in what amounts to criminal activity here.  At bottom, a key to understanding this issue is not to be distracted by debates about the scope or absolute nature of the pardon power. The dangling pardon is a different creature, necessitating a very different analytic inquiry.
Whiting cites no precedent, though, which I take to mean that this is merely a theory he's advancing rather than a tactic that's been successful in the past. It's indeed an interesting theory. Still, most state governors have a pardon power and many of them have been run out of office and even jailed for various forms of corruption over the years so I'd be shocked, indeed, if none of them have ever dangled a pardon.