All Of The Turkeys Obama Has Pardoned Are Dead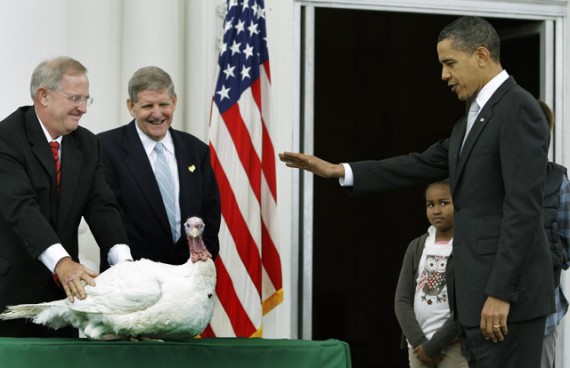 U.S. News & World Report informs us that every turkey that President Obama has pardoned is dead:
It's that time of the year again folks, when two lucky turkeys come to Washington, spend time at a swanky hotel, get some facetime with President Obama at the White House, before spending the rest of their days at a historic Virginia farm.

But those days are always short.

Gobbler and Cobbler – last year's set of turkeys who attended the annual Presidential Turkey Pardon – have both died, Whispers has learned. Gobbler, Cobbler's understudy, died in February. "Gobbler passed away suddenly. It was very quick. We don't know what the illness was," Rebecca Aloisi, vice president for marketing at Mount Vernon, where the turkeys went after their 15 minutes of fame at the official ceremony in 2012, told Whispers back in April.

Cobbler, 2012's official pardoned turkey, lived through the summer and was euthanized on Aug. 22. (The turkeys always come to Washington in pairs, and while one attends the pardoning ceremony, both get to live.)

Liberty, a turkey from 2011, had the longest lifespan of the crop, living to the ripe old age of 2, before being euthanized on April 26, due to heart failure. All three turkeys were meant for consumption before they were spared, and thus cursed with a bevvy of health problems related to obesity.
The same thing appears to have happened to the turkeys pardoned in 2009 and 2010. Of course, before they go, these turkeys do get a taste of the high life:
Once the two lucky turkeys arrive in Washington they'll be put up in the Willard Hotel. They will meet the press on Nov. 26 at a special ceremony before being taken to the White House the following day for the big gig. Afterward, they, too, will spend time at Mount Vernon until Jan. 6. But this year the turkeys will live out the rest of their (inevitably) short lives at another historic Virginia residence, Morven Park.
Where they'll likely be dead inside of a year. But at least they won't be the guest of honor at someone's table next Thursday, eh?
H/T: Naked DC