Rick Perry Faces Criticism Over Hunting Lodge With Racially Tinged Name
Why does what was painted on a rock 30-odd years ago matter today?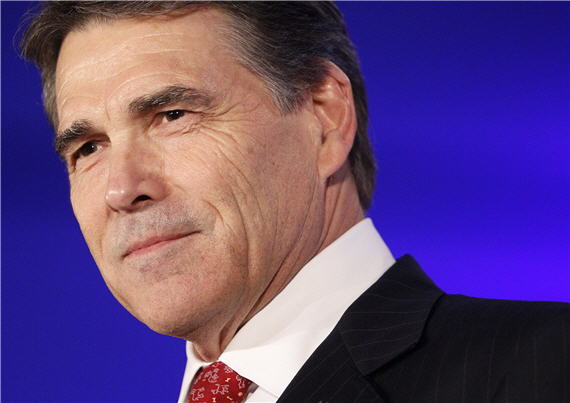 The Washington Post is out this morning with a story from Rick Perry's past that has already caused one of his rivals to issue a condemnation:
Paint Creek, Tex. — In the early years of his political career, Rick Perry began hosting fellow lawmakers, friends and supporters at his family's secluded West Texas hunting camp, a place known by the name painted in block letters across a large, flat rock standing upright at its gated entrance.

"Niggerhead," it read.

Ranchers who once grazed cattle on the 1,070-acre parcel on the Clear Fork of the Brazos River called it by that name well before Perry and his father, Ray, began hunting there in the early 1980s. There is no definitive account of when the rock first appeared on the property. In an earlier time, the name on the rock was often given to mountains and creeks and rock outcroppings across the country. Over the years, civil rights groups and government agencies have had some success changing those and other racially offensive names that dotted the nation's maps.

But the name of this particular parcel did not change for years after it became associated with Rick Perry, first as a private citizen, then as a state official and finally as Texas governor. Some locals still call it that. As recently as this summer, the slablike rock — lying flat, the name still faintly visible beneath a coat of white paint — remained by the gated entrance to the camp.

When asked last week, Perry said the word on the rock is an "offensive name that has no place in the modern world."

But how, when or whether he dealt with it when he was using the property is less clear and adds a dimension to the emerging biography of Perry, who quickly moved into the top tier of Republican presidential candidates when he entered the race in August.

He grew up in a segregated era whose history has defined and complicated the careers of many Southern politicians. Perry has spoken often about how his upbringing in this sparsely populated farming community influenced his conservatism. He has rarely, if ever, discussed what it was like growing up amid segregation in an area where blacks were a tiny fraction of the population.
That's largely true of anyone of Perry's age (61) who grew up in the southern United States, though, so I'm not sure that it says anything about Perry per se, and if it does then it would seem to disqualify any white southern make over the age of about 35 or so. Racism is an ugly thing, and southern segregation displayed it in one of it's ugliest forms, but is that really Rick Perry's fault? I'm not so sure, especially when you realize that place names that are racially insensitive is an issue Texas has been dealing with for decades:
 The name "Niggerhead" has a long and wide history. It was once applied to products such as soap and chewing tobacco, but most often to geographic features such as hills and rocks.

In 1962, the U.S. Board on Geographic Names changed more than a hundred such names, substituting "Negro."

"Typically these were in areas where African Americans were not all that common," said Mark Monmonier, a geography professor at Syracuse University who wrote a book on the subject of racially offensive place names.

The federal action still left many local names unchanged. In Texas, Lady Bird Johnson, the former first lady, lobbied to change the name of a mountain in Burnet, Tex., that had the same name as Perry's hunting spot. In 1968, it became "Colored Mountain." In 1989, the Texas NAACP began lobbying the state legislature to change many more names, such as "Nigger Creek" and "Niggerhead Hill," although there has been resistance from private landowners, according to news accounts.

In his responses, Perry said the managers of the Hendrick ranch appealed in recent years to federal officials to rename Niggerhead, although the name does not appear on U.S. topographic maps. Monmonier could not find it in a database maintained by the U.S. Board on Geographic Names. That suggests renaming the property would be a simple matter for its owners or possibly state officials, Monmonier said.

Chuck Wilson, the manager of the Hendrick ranch, said that particular parcel is now called "North Camp Pasture."
The operative question at this point seems to be at what point the rock containing this name was painted over. Perry told the Post that he remembers it occurring in the early 1980s when his father became one of the leaseholders of the hunting lodge, but the Post seems to dispute that:
Perry's version of events differs in many respects from the recollections of seven people, interviewed by The Washington Post, who spoke in detail of their memories of seeing the rock with the name at various points during the years that Perry was associated with the property through his father, partners or his signature on a lease.

Some who had watched Perry's political ascent recalled their reaction to the name on the rock and their worry that it could become a political liability for Perry.

"I remember the first time I went through that pasture and saw that," said Ronnie Brooks, a retired game warden who began working in the region in 1981 and who said he guided three or four turkey shoots for Rick Perry when Perry was a state legislator between 1985 and 1990. ". . . It kind of offended me, truthfully."

Brooks, who said he holds Perry "in the highest esteem," said that at some point after Perry began bringing lawmakers to the camp, the rock was turned over. Brooks could not recall exactly when. He said he did not know who turned the rock over.

Another local who visited the property with Perry and the legislators in those years recalled seeing the rock with the name clearly visible.

"I thought, 'This is going to embarrass Rick some day,' " said this person, who did not want to be named, fearing negative consequences from speaking on the subject.
Since the Post story came out, the Perry campaign has issued another statement:
"A number of claims made in the story are incorrect, inconsistent, and anonymous, including the implication that Rick Perry brought groups to the lease when the word on the rock was still visible. The one consistent fact in the story is that the word on a rock was painted over and obscured many years ago.

"Governor Perry and his family never owned, controlled or managed the property referenced in the Washington Post story. The 42,000-acre ranch is owned by the Hendricks Home for Children, a West Texas charity.

"Perry's father painted over offensive language on a rock soon after leasing the 1,000-acre parcel in the early 1980s. When Governor Perry was party to the hunting lease from 1997 to 2007, the property was described as northern pasture. He has not been to the property since 2006.

"In 1991 the Texas Legislature passed a bill to rename old, offensive place names."
Herman Cain was asked about the controversy during two morning show appearances today, and stated that he thought the name was offensive:
Businessman Herman Cain on Sunday called it "insulting" that the family of Rick Perry owned a hunting camp with a racially charged name well into the 1980s and possibly even later.

According to a Washington Post article that appeared Sunday, the hunting camp owned by the Texas governor was branded with the name "N—–head." The word — reportedly on a rock at the entrance of the 1,70-acre parcel — has been painted over and the camp renamed.

Perry has said it was changed in 1983 or 1984, but others suggest it may not have been covered until later — with one person estimating for the Post that it was as late as 2008.There "isn't a more vile, negative word than the N-word, and for him to leave it there as long as he did, until before, I hear, they finally painted over it, is just plain insensitive to a lot of black people in this country," said Cain, who is running against Perry and a group of others for the Republican presidential nomination.
I think we can all agree with Cain that the name was offensive, and it was the right thing for it  to have been obscured, and later changed by the appropriate Texas authorities. The question, though, is does it really matter whether the rock was pained over in 1983, 1985, or later?
I'm no Rick Perry fan for several reasons, but this story strikes me as much ado about nothing. Reaching back into the past and finding something like this was probably relatively easy for the Post reporter who wrote the story, but I don't see how it tells us anything about Rick Perry the 61 year old man, or what kind of President he would be. Rick Perry hunted at this camp, and his father owned a lease interest in it starting in the early 80s. They didn't own the property, they didn't control the property, and they didn't name the property. How are they responsible for any of this?
They're not, of course, but this is nonetheless embarrassing, as the unnamed Paint Creek resident quoted in the article predicted it would be when he first saw it. Something tells me that, if he could, Perry would just as soon go back in time and make sure that rock was painted over from Day One. The fact that it wasn't, though, doesn't really strike me as all that big of a deal, and hardly worth the bottom-of-the-fold front page treatment it gets in today's Washington Post.