Marco Rubio, The Next GOP Rising Star?
Quietly, Florida Senator Marco Rubio has been moving close to the front f the race for the Republican Presidential nomination.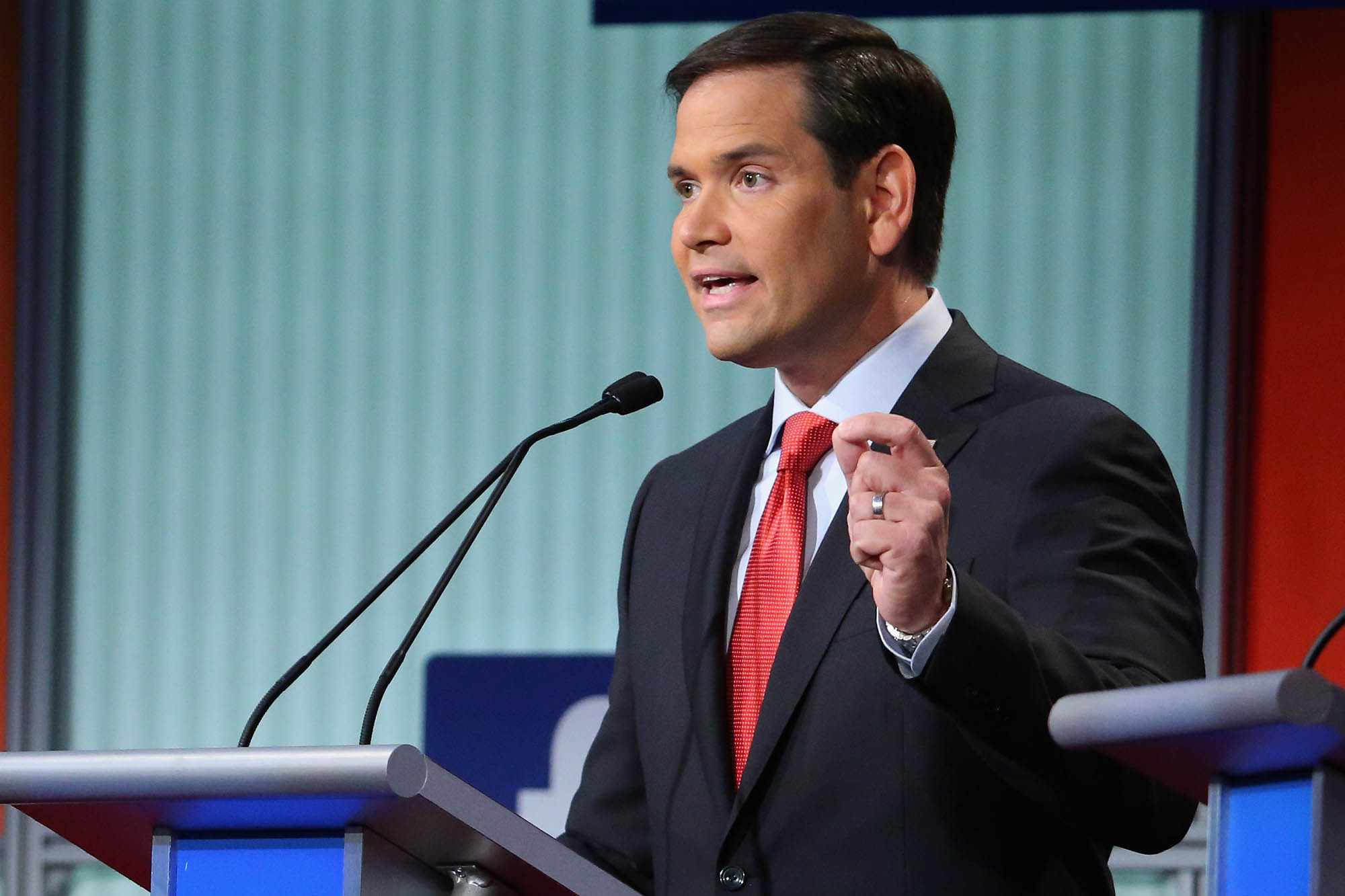 While most of the attention in the race for the Republican nomination remains focused on Donald Trump, Ben Carson, and Carly Fiorina, Nate Cohn notes that there's another candidate who seems to be slowly rising in the polls who could end up being the man to watch in the final months before voting starts next year:
A lot has changed since April, when Marco Rubio announced his presidential bid. Gov. Scott Walker of Wisconsin was the top candidate of mainstream conservative activists and donors. Jeb Bush seemed like a fund-raising juggernaut with natural appeal to the party's moderate voters, who play an underrated role in the Republican primary process. Mr. Rubio, a broadly appealing candidate but the top choice of few, looked boxed out.

Today, Mr. Rubio isn't blocked. Instead, he has a big opening.

Mr. Walker dropped out of the race, and Mr. Bush does not look nearly as strong as it seemed he might. Mr. Bush hasn't won many endorsements, he isn't faring well in the polls, and his impressive fund-raising reflects a narrow base of strong support from wealthy super PAC donors, not wide support by party elites.

Can Mr. Rubio take advantage of the opening? He hasn't quite had his moment in the media spotlight, he hasn't made big gains in the polls, and he hasn't earned many endorsements. But the political landscape surrounding his candidacy could not have changed much more in his favor over the last six months.

Mr. Walker's exit is the most obvious and recent development to help broaden the path ahead. Yes, Mr. Walker had lost nearly all of his support in the polls by the time he left the race, but he still had a significant level of support from Republican elites, and Mr. Rubio has picked up several former members of Team Walker.

Mr. Walker's withdrawal did more than release his old supporters. It narrowed the choice for mainstream conservative donors, voters and officials who had been waiting on the sidelines. Without Mr. Walker in the race, the choice for mainstream conservatives started becoming clearer. Unless they are willing to support an anti-establishment candidate like Ted Cruz, it's down to Mr. Rubio and Mr. Bush.

The choice between those two will undoubtedly be difficult for many conservatives in the party. But from the beginning, there were a fair number of conservatives who weren't likely to support Mr. Bush, and their choice has now become substantially easier.

Mr. Bush hasn't done much to make this a hard decision. He has struggled to gain traction with voters. And he's in danger of being caught in a feedback loop: His struggle to break through to voters has raised the doubts of party elites, making it more difficult for him to consolidate the elite support that could help him overcome the skepticism of voters and block viable rivals, like Mr. Rubio.

The sense that Mr. Rubio's position has improved is reflected in the betting markets, which show him rising steadily to a 29 percent chance of winning the nomination, more than twice the 13 percent he held before the last Republican debate. Mr. Bush is at 31 percent.

Mr. Rubio, however, will still need to capitalize on the voids created by Mr. Walker's exit and Mr. Bush's weakness. With well-received debate performances, he has been praised as the best communicator in his party and has strong favorability ratings. But he has not yet become the top choice of many party elites or voters; in fact, he holds about as much support in the polls as Mr. Bush, and far fewer endorsements.
Rubio's rise has been particularly apparent over the past several weeks in the wake of the second Republican debate and the withdrawal from the race of both Rick Perry and Scott Walker. As Cohn notes, to a large degree Rubio is now one of maybe three candidates who can be credibly said to have the kind of appeal to both the "establishment" and conservative wings of the GOP, with the other two being Jeb Bush and perhaps Ohio Governor John Kasich. Moreover, as Cohn notes, Rubio has done a fairly good job of closing the gap that once existed between him and the former Governor of Florida, although it's not at all clear that this has translated over to support from donors and other party insiders who still seem to be rallying behind Bush as the candidate best suited to beat Trump and win the General Election. Kasich, meanwhile, has an impressive resume and many of the same insider contacts that Rubio and Bush do, but the extent to which he's moderated his tone while Governor of Ohio has turned him off to much of the conservative wing of the party and it's not clear if he can get over that. Rubio, meanwhile, seems to be will situated to draw support from both of these wings of the part.
Much of Rubio's success so far, of course,, can be attributed to his resume, which includes both a considerable period in Florida state politics that included serving as Speaker of the state's House of Representatives and a 2010 Senate campaign in which he became one of the national faces of the Tea Party movement and manged to force a popular Republican Governor out of the primary race and then defeat him in a three-way race in the General Election. Rubio's Tea Party star was tarnished to some degree by his involvement in the effort to put together an immigration reform bill in the Senate, but in the time since then he has managed to repair at least some of those relationships while at the same time carving out a reputation as one of the top spokesmen on foreign policy in the Senate GOP Caucus. Combine this with the fact that he has done fairly well in both of the Republican debates so far, although it can't be said he set off any sparks, and it's not hard to see why he's starting to gain attention.
Looking at the polls, Senator Rubio's rise is quite easy to see, especially over the past month or so. Nationally, he's now in fourth place with an average of 9.9% according to RealClearPolitics. While this isn't quite as good as the 12-14% he was averaging in the months before Donald Trump entered the race it does reflect a significant turnaround for a candidate who many thought was starting to disappear as the summer went on. It's also worth noting that Rubio was in double digits and third place in three of the five polls that have been conducted since the last Republican debate. Rubio isn't doing quite as well just yet in Iowa, where his 7.7% average puts him in fifth place behind Ted Cruz, but it's worth noting that there have only been three polls in the Hawkeye State since the last debate, and Rubio has improved on his pre-debate numbers in all three of them. Rubio is also in fifth place, with a polling average of 7.0%, in New Hampshire but again the post-debate polling that has been conducted there shows a marked improvement in the Senator's fortunes in the Granite State. The situation is much the same for Rubio in South Carolina, where he averages 5.0% at the moment, but again the only poll taken in the Palmetto State since the debate shows him doing much better than he had been for most of the summer. Finally, Rubio is in fourth place with an average of 13% in his home state of Florida, but it's worth noting that the gap between 2nd place (Jeb Bush) and Rubio's position is only 1.7%. Clearly, then, Rubio is rising in the polls and seems set to be someone that could take on both Donald Trump and Ben Carson, who remain at the top of the Republican field.
With Rubio's seeming rise in the polls, of course, will come increased scrutiny, and increased attacks from other candidates. Indeed, Rubio started becoming a target of Donald Trump's attacks even before it was apparent that he was rising in the polls, and Rubio's campaign has responded in kind in a feud that promises to be on full display at the next debate. Additionally, Senator Rubio is starting to come under fire for his voting record in the Senate, which shows that he has been among the most frequent members to miss votes over the past several years. Rubio has tried to explain away this issue by arguing that most of the votes he has missed have been either relatively unimportant procedural votes or matters in which his vote would not have made a difference. As the old saying goes, though, when you're explaining you're losing, and it's easier for voters to digest the "Rubio misses a lot of Senate votes" attack than his explanation for why they shouldn't consider that a big deal. Additionally, there are still many on the right who have bitter feelings against him over 2013's immigration reform efforts. Assuming that Rubio continues his rise in the polls, you can expect that he will be attacked from all sides on these and other issues. If he can make through that, though, than the Senator from Florida is arguably well set to be a contender once the voting actually starts.