Clinton Wins, And Ends Any Reason For Joe Biden To Enter The Race
In addition to doing everything she needed to do last night, Hillary Clinton also destroyed whatever logic remained for a Joe Biden candidacy.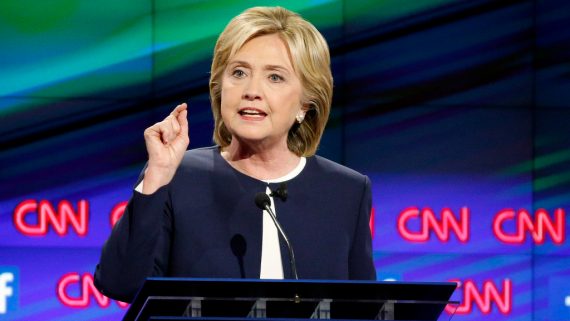 Unlike James Joyner I did not watch last night's Democratic debate, the Cubs and the Mets were providing much more entertainment value in their respective playoff games than any politician could from my perspective, however my review of the morning's wrap-up's of the affair would seem to indicate that his overall impression that Clinton walked away last night as the clear winner would seem to be largely correct:
On Tuesday night, after months of political heartburn, things finally started cutting Hillary Rodham Clinton's way.

Her performance at the first Democratic presidential debate was so commanding that even her greatest vulnerability — the lingering controversy over her private email practices as secretary of state — ended up redounding to her benefit.

After she crisply explained that she made a "mistake" using a private email server and defended her judgment, the moderator, Anderson Cooper of CNN, turned to her biggest threat in the primary campaign so far, Senator Bernie Sanders of Vermont, in hopes that he would attack her. Mr. Sanders instead came to her aid.

"Let me say something that may not be great politics, but I think the secretary is right — and that is that the American people are sick and tired of hearing about your damn emails," Mr. Sanders said to cheers and a standing ovation from the Democratic audience.

"Thank you!" Mrs. Clinton said, reaching out and shaking his hand. "Me, too! Me, too!"

All night, the debate played to Mrs. Clinton's advantage and to her opponents' limitations. From gun control and banking regulations to debt-free college and Social Security benefits, Mrs. Clinton positioned herself as a champion of liberals, young people, and the elderly — the very voters who make up the Sanders coalition — while also repeatedly reaching out to women, as an advocate for families and children (and as, potentially, the nation's first female president).

Mr. Sanders, whose plain-spoken disgust over the email controversy drew praise, looked sheepish and reactive at other points, hesitating to attack Mrs. Clinton forcefully over her ties to Wall Street, and running into trouble defending his past opposition to stricter gun control laws and immigration reform.

By the end of Tuesday night's debate, Mrs. Clinton had seized every opening to try to accomplish her chief goal: re-establishing trust with Democrats who have come to doubt her honesty and political competence after months of difficulties and shifting policy positions.

Right from her opening remarks, Mrs. Clinton sounded a liberal rallying cry, saying "the wealthy pay too little and the middle class pays too much" in taxes. She sought to create a bond with voters by saying she would judge free-trade deals, which are broadly unpopular on the left, by whether she could "look into the eyes of any middle-class American and say this will help raise your wages."

She called for increasing Social Security benefits for the poorest recipients and singled out older women who were "impoverished" because they had not earned enough money earlier in their lives.

And she was blunt in saying she has a liberal political philosophy but is also a pragmatic leader who would work with both Democrats and Republican to pass legislation.

"I'm a progressive, but I'm a progressive who likes to get things done," she said. "I know how to find common ground, but I know how to stand my ground."

(…)

The burdens on Mrs. Clinton were unusually heavy for the first debate of a presidential campaign, when candidates typically focus on introducing themselves to a national television audience and gently drawing distinctions with their rivals. Not so Mrs. Clinton: The continuing Republican attacks over her trustworthiness and judgment, particularly over her email have tarnished her in the eyes of many voters. Some are tired of endless Clinton melodramas, others tantalized by Mr. Sanders's left-wing candidacy.

Given Mrs. Clinton's vulnerabilities — she lags behind Mr. Sanders in polls of New Hampshire primary voters — she needed to use the debate to persuade voters to look beyond her political troubles and see her as likable, rather than programmed; as genuinely liberal, as opposed to strategic; and ultimately as electable, instead of as a damaged candidate compared with, say, Vice President Joseph R. Biden Jr., who is considering entering the race.

Mrs. Clinton's unspoken aim was to demonstrate such strength and spiritedness that Mr. Biden would see little point in challenging her for the Democratic nomination.

Indeed, her expertise as secretary of state translated into stature on the debate stage — a sophistication about global challenges and poise under fire. On dealing with President Vladimir V. Putin of Russia, Mrs. Clinton crisply described the ways that the United States' relationship with Russia had soured since Mr. Putin returned to the presidency.

"We have to stand up to his bullying," Mrs. Clinton said. "I think it's important, too, that the United States make it very clear to Putin that it's not acceptable for him to be in Syria, creating more chaos, bombing people in support of Assad."

Mrs. Clinton also put two rivals in their place when they challenged her judgment on foreign policy. Replying to former Gov. Martin O'Malley of Maryland, who questioned her 2002 vote to authorize the invasion of Iraq, she scoffed at "a lot of loose talk going on here" and noted how "pleased" she had been when Mr. O'Malley endorsed her in 2008.

And when another Democratic candidate, Lincoln Chafee, criticized Mrs. Clinton for "poor judgment calls" in authorizing the invasion of Iraq, Mrs. Clinton pivoted by noting that President Obama apparently had no problem with her judgment when he selected her as secretary of state.The most vexing challenge for Mrs. Clinton was how to handle Mr. Sanders. He has consistently taken the high road whenever controversy has engulfed her, as he did in refraining from trying to score points over her email controversy.

Mrs. Clinton is skilled at parrying direct attacks, like those she faced in 2008 from her Democratic rivals over the Iraq war, health care, and driver's licenses for illegal immigrants. With Mr. Sanders, she needed to find ways to undercut him without undercutting her own goals of appearing personable and appealing to his supporters to give her a second look.

Mrs. Clinton chose to challenge Mr. Sanders carefully on issues that are important to liberals, and more forcefully on gun control. She was the first to criticize another candidate, chiding Mr. Sanders over his distaste for the excesses of capitalism and his embrace of democratic socialism and political systems like the government of Denmark.

"We are not Denmark — I love Denmark — we are the United States of America," Mrs. Clinton said. "We would be making a grave mistake to turn our backs on what built the greatest middle class in the history of the world."
That analysis comes by Patrick Healy at The New York Times, and Karen Tumulty at The Washington Post largely agrees:
LAS VEGAS — Front-runner Hillary Rodham Clinton dominated the debate stage Tuesday night.

Her experience and self-assurance in a setting where she has found herself dozens of times put her in command as she and her four lesser-known rivals for the Democratic nomination stood side by side for the first time.

In several exchanges, she managed to put her leading challenger, the combative Sen. Bernie Sanders (I-Vt.), in an unaccustomed position — on defense.

At the same time, Clinton and Sanders offered their party a choice. She presented herself as realist who would work from within to improve the political system; he, as an unapologetic insurgent who would smash the old order.

Clinton appeared to be ­positioning herself for a general-election campaign against whichever Republican emerges from that party's nomination brawl.

"I'm a progressive. But I'm a progressive who likes to get things done. And I know how to find common ground, and I know how to stand my ground," said the former secretary of state, senator and first lady.

Sanders brought to the debate the same umbrage that has been drawing liberal crowds that number in the tens of thousands at his rallies across the country

He bristled as he spoke of what he said is "a series of unprecedented crises. The middle class of this country for the last 40 years has been disappearing."

"What this campaign is about is whether we can mobilize our people to take back our government from a handful of billionaires and create the vibrant democracy we know we can and should have," added the Vermont senator, who describes himself as a democratic socialist.

(…)

Clinton began the race as the most formidable non-incumbent front-runner in memory. She was thought to have learned from the mistakes of her first presidential campaign, in 2008. Her dominance was such that virtually the entire Democratic establishment was lining up behind her, and she appeared to have effectively cleared the field.

But the controversy over her use of a private e-mail account and server, rather than a government account and server, while she was secretary of state has deepened public misgivings about her character and honesty.

Meanwhile, Sanders has capitalized on the deep populist discontent within the Democratic base.

One of their sharpest exchanges came on the question of how much government muscle should be applied to reining in Wall Street.

Sanders, along with former Maryland governor Martin O'Malley, blamed the deregulation that took place during Bill Clinton's presidency for creating the conditions that sparked the financial collapse of 2008. Specifically, they cited Bill Clinton's role in the repeal of the Glass-Steagall Act, a Depression-era banking regulation that limited banks' financial activities.

"Let us be clear that the greed and recklessness and illegal behavior of Wall Street, where fraud is a business model, helped to destroy this economy and the lives of millions of people," Sanders said.

Hillary Clinton, who many liberals believe has been too close to Wall Street, said that she had used her influence as a senator from New York to press the banks to quit engaging in irresponsible financial speculation.

"But I'm telling you — I will say it tonight. If only you look at the big banks, you may be missing the forest for the trees," Clinton said.

The other candidates also revisited the question that had dogged Clinton in her earlier bid for the Democratic nomination: her vote in support of the 2003 invasion of Iraq.

Clinton, who has since said she regretted that decision, cited the man who beat her as validation that it was not a disqualifier.

"I recall very well being on a debate stage, I think, about 25 times with then-Senator Obama, debating this very issue. After the election, he asked me to become secretary of state," she said. "He valued my judgment, and I spent a lot of time with him in the Situation Room, going over some very difficult issues."

Clinton maintains a double-digit lead in the national polls, but Sanders is trailing her narrowly in Iowa, where the first caucuses are to be held Feb. 1, and is leading her in New Hampshire, which is set to hold its primary eight days later.

The debate was the first in a series of October events that Clinton hopes will change the trajectory of her struggling presidential campaign. Next week, she will testify before the House Select Committee on Benghazi, whose investigation she and her allies say is politically motivated and aimed at destroying her candidacy.

She did it again during the debate, pointing to a recent comment by House Majority Leader Kevin McCarthy (R-Calif.).

"This committee is basically an arm of the Republican National Committee," she said. "It is a partisan vehicle, as admitted by the House Republican majority leader, Mr. McCarthy, to drive down my poll numbers. Big surprise. And that's what they have attempted to do."
Heading into this debate, Hillary Clinton faced many of the same issues and risks that many frontrunners have faced before in similar situations. As the person at the top of the pecking order, she was likely to be the person most subjected to tough questions from the moderators and attacks from her fellow candidates, all of whom except Bernie Sanders were looking for some way to raise their own profiles in a campaign in which they have generally been treated as irrelevant also-rans. In Clinton's case, that meant that she would come under fire for many of her past positions on issues of concern to Democratic voters and the extent to which she has been seen to move to the left on certain issues in an effort to cater to both the Democratic base and to the voters who have coalesced around Vermont Senator Bernie Sanders. Clinton also faced the prospect of being attacked regarding the ethical issues that have arisen since she announced her candidacy, especially those regarding her use of a private email server and donations to the Clinton Foundation that seemed to coincide with favorable action from the State Department during her tenure. In addition, Clinton also needed to make sure that she went through the debate without committing any of the gaffes that could end up becoming a problem for her campaign, or that would end up creating the kind of doubts about her candidacy that would make the summer-long drumbeat for Vice-President Biden enter the race.
In both respects, it seems fairly clear that Clinton did what she needed to do, and likely did her campaign some big favors in the process.
On the first part, while Clinton did face some attacks from Bernie Sanders and the other candidates for her positions in the past, and most especially for her ties to Wall Street, the former Secretary of State handled those attacks with the same kind of skill that we saw during her exchanges with Barack Obama during the race for the 2008 Democratic nomination. In no small part, of course, Clinton's success in this area was helped by the fact that she was facing opponents who are far less formidable than Obama, or indeed almost any of the other candidates she faced seven years ago. Martin O'Malley, Jim Webb, and Lincoln Chafee were largely non-entities, while Vermont Senator Bernie Sanders apparently decided to stick to his previous strategy of only attacking Clinton on the periphery rather than going for the jugular as one might expect in a situation such as this. As a result, Clinton was able to push back against the attacks and tough questions she did receive rather deftly. Add to that the fact that she does not appear to have committed anything resembling a gaffe and that she managed to continue portraying herself as the natural successor to President Obama, and it seems fairly easy to score the debate as a win for Clinton simply because she did everything she needed to do and didn't do anything that could have possibly harmed her.
As with the two Republican debates, the big question going forward is what impact this debate will have on the race for the Democratic nomination. Given Clinton's performance, it seems likely that it will end up continuing the trend I discussed yesterday which is seeing Clinton's poll numbers recover from the slide that they had been in for most of the summer. To the extent that Democratic voters had developed any doubts about Clinton's viability as their party's standard bearer in 2016, those doubts were largely erased last night and that alone will help her campaign. Perhaps the biggest impact from last night's debate, though, will be felt by the man who wasn't on the stage, because as Marc Ambinder notes, Clinton's debate performance last night largely erased whatever remaining logic their might have been for Vice-President Biden to enter the race:
Going forward, Clinton's donor base will be mollified. Her supporters will be ecstatic. And the rest of the party will see her as a very plausible nominee.

Where, in this mix, can Joe Biden fit? What interests would his candidacy serve, aside from his own?

Biden's candidacy only works on the theory that Clinton is hemorrhaging support, or that her status as frontrunner is shaky, or that she seems unable to articulate a message capable of defeating an emboldened, excited Republican Party in the general election. On Tuesday, her preparation and experience, set against a rather underwhelming cohort of debaters, shows that none of these three conditions is operative.
To be honest, there wasn't much logic behind a potential Biden candidacy to begin with. While there is a tremendous amount of goodwill for the Vice-President inside the Democratic Party, and nationally outside of it, he has never really had much of a constituency inside the party outside, perhaps, of the blue-collar workers that he was largely sent to appeal to during the 2008 and 2012 Presidential campaigns, but that's a group that Clinton herself does well with as well. Biden can't really claim to have much appeal with the minority groups that make up the Democratic coalition, and the polling that includes his name indicates clear that African-Americans and Latinos both seem to be largely lining up behind Clinton. Additionally, as I've noted before, Biden has never been a very good campaigner on the national stage on his own and there's no reason he'd be any better this time around.
In the end, Joe Biden has always been what some pundits have called an "In Case Of Emergency" candidate who would step into the race in the event that Clinton's campaign floundered or collapsed. The fact that this is what seemed to be happening over the summer is one of the factors that led to much of the speculation about Biden entering the race, and likely also influenced his own decision to take a second look at getting in the race. Whatever logic that argument may have had before, though, it seems fairly clear that it no longer exists. Clinton is not going to collapse, and barring something extraordinary her campaign for the Democratic nomination is not going to collapse in a way that allows a candidate like Bernie Sanders to actually have a serious shot at winning the nomination. The only remaining possibility for that happening any time soon, it seems, would be Clinton's appearance before the Benghazi Committee next week, but unless that appearance goes far worse than most people seem to anticipate it seems unlikely that Clinton will do any real damage to herself, especially since it's clear that Democratic voters now seem to universally view the committee as nothing more than a partisan attack machine.
So, not only did Hillary Clinton win the debate last night, but in doing so she ended whatever logic their might have been for a Biden candidacy. Say what you may about the Vice-President, but one gets the impression that he is politically astute enough to recognize this and act accordingly.
Photo via Associated Press