Hillary Clinton Gets Some Good Polling News Ahead Of First Democratic Debate
With the first Democratic Presidential Debate just hours away, Hillary Clinton got some good polling news from Fox News Channel.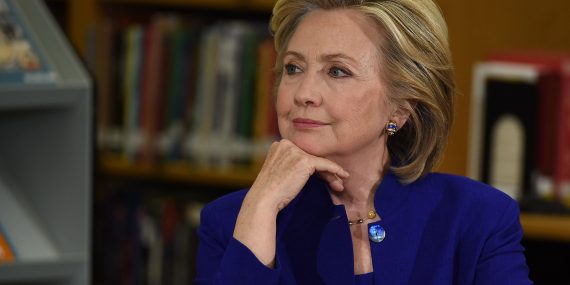 With the five Democratic candidates for President set to meet this evening in Las Vegas, there's some good news for Hillary Clinton in a new Fox News Channel poll:
Vice President Joe Biden trails Hillary Clinton for the Democratic nomination, yet he looks more electable than the former secretary of state against top Republicans.

As Democrats prepare for their first debate Tuesday evening, the latest Fox News national poll finds little movement in the primary. Clinton remains the front-runner among Democratic primary voters (45 percent), with Bernie Sanders (25 percent) and Biden (19 percent) behind her by about 20 percentage points. That's almost identical to where things stood three weeks ago.

Lincoln Chafee, Larry Lessig, Martin O'Malley, and Jim Webb each receive 1 percent or less.

Biden, who has yet to announce his candidacy, was invited to participate in the debate if he were to make it official; Lessig was not invited.

In hypothetical 2016 matchups with top-tier Republicans, Clinton trails all the Republicans tested. She trails Ben Carson by 11 points and Donald Trump by 5 points. Jeb Bush has a 4-point edge over Clinton, while Carly Fiorina is up by 3 points.

Biden fares better. He leads Trump by 13 points and tops Bush by 5 points. Biden is preferred over both Fiorina and Carson by 4 points. And Biden narrowly bests Marco Rubio by 1 point.

Though Clinton still dominates the Democratic primary race, the new poll confirms a significant decline in her support since summer. In June, her lead over Sanders was double what it is today (61 percent Clinton vs. 15 percent Sanders). And instead of trailing Trump by 5 points, she topped him by 17 points. Clinton was also up by 6 points over Fiorina then, while she's down by 3 now.
As a preliminary note, I would tend to discount at this point the head-to-head numbers that show Clinton trailing her potential Republican opponents while Joe Biden leads them. First of all, while we are well into the weeds of the races for the party nomination, the General Election itself is still thirteen months away and won't really begin until the Republicans and Democrats hold their conventions next summer. Polling of that race at this point, when neither party has even selected their nominee and it's not entirely clear what the main issues of the campaign will be, is really quite premature and not entirely useful for much of anything. With reference to Biden specifically, as with his polling in the Democratic field much of his showing in these head-to-head polls can be attributed to the fact that he isn't running right now. If that changes, it's likely that his numbers will fall just as Clinton's did. So while Republicans are likely to point to those numbers as if they are something significant, I'd recommend ignoring them for now.
Turning to the race for the race for the Democratic nomination, while these numbers are far below where Clinton was when the race began at the start of the summer, what's notable is that Clinton seems to have halted her slide in the national polls that made up so much of the news during the time period. To a large degree, of course, much of that decline can likely be attributed to the ongoing news that has been coming out on a regular basis regarding Clinton's use of a private email server while Secretary of State and the question of whether she handled classified information properly while using that system. Additionally, though, Clinton seems to have been a victim of both her own rather lackluster campaigning, the candidates who are in the race, and one potential candidate who has spent the better part of two months quite openly stoking speculation about his own plans. On the email side, the campaign's response to the growing story over the summer seemed to vacillate between dismissing the story entirely and hoping that it will just go away. Since that hasn't happened, the story has hung over her for months now, and is likely to be something that will come up in tonight's debate. At the same time, Vermont Senator Bernie Sanders, who now leads Clinton in the polls in New Hampshire and has become quite strong in Iowa, has captured a significant amount of attention and support among some Democrats, something that is perhaps best demonstrated by the fact that Sanders raised nearly as much as Clinton did in the just-concluded fundraising quarter. Finally, for the past two months Vice-President Biden has been quite openly engaging in the process of deciding whether or not he's running for President. He hasn't announced his intentions yet, and he won't be at tonight's debate, but he's obviously having an impact on the polls as these numbers suggest, and he appears to be hurting Clinton more than Sanders at this point. In the Fox poll, for example, a poll question that excludes Biden from the list of potential candidates has Clinton leading Sanders 54% to 28%, which is consistent with other numbers we've seen from other recent polls.
Given all of this, it's not surprising that we would see Clinton's numbers decline from the high's that they were at before this race really started, and of course that's led many pundits to suggest that Clinton's campaign is "in trouble," especially if Biden gets in the race. When you look at the numbers, though, that really doesn't seem to be the case. As Chris Cillizza notes this afternoon, this poll is largely good news for Hillary Clinton because it tends to show that the slide that she took over the summer has stopped and may indeed be starting to reverse itself. To some degree, Clinton has been helped in her standing among Democrats by House Majority Leader Kevin McCarthy's recent comments about the Select Committee investigating the Benghazi as well as revelations over the weekend by a former committee staffer who said he was directed to focus his work on Hillary Clinton rather than the Benghazi attack itself. Looking at the numbers, you can see evidence of a recent turnaround in both the RealClearPolitics and Pollster national averages as well. Obviously, Clinton is not in the same near-prohibitive position she was in prior to the start of the campaign, but she's still very well positioned, and assuming that Vice-President Biden doesn't run, and I agree with Daniel Drezner that all signs point to him not getting in the race at this point, we'll likely see her numbers improve as we get closer to the Iowa Caucuses unless something disastrous happens to her campaign.
As for tonight's debate itself, the question going is whether Clinton will be able to use it to shore up some of the problems she's been having of late and continue to climb back up in the polls moving forward. Clinton's last televised debate was aired some seven and a half years ago when she was fighting Barack Obama for the Democratic nomination in 2008, and while it's unclear what she'll be like after all this time it is quite true that she tends to come across very well in these forums. Bernie Sanders is a less conventional politician and it's unclear how he'll come across on a national stage, but it's perhaps even more important to see if he ends up attacking Clinton more directly than he has so far on the campaign trail. The same is true of the other candidates in the race, Martin O"Malley, Jim Webb, and Lincoln Chafee, all of whom are barely registering in the polls at this point. Even more than Sanders, these three candidates may seek to use tonight's debate as an opportunity to grab some national attention. In the end, though, much of the story of tonight's debate will depend on Clinton herself and how she does. Clinton herself is likely to face at least some attacks over her recent shifts in policy that seem to be clearly in response to the rise of Bernie Sanders. If she does well, though, then she will likely to continue to shore up her support heading into the important November through January period before voting begins. If she doesn't, or if other candidates are perceived as having scored points against her, then the speculation about Vice-President Biden entering the race is likely to be ratcheted up. In the end, then, this is all largely in Hillary's hands.