Hillary Clinton Apparently Having A Hard Time Deciding Why She's Running For President
A woman who has been running for President for at least eight years is apparently having trouble explaining why she wants to be President.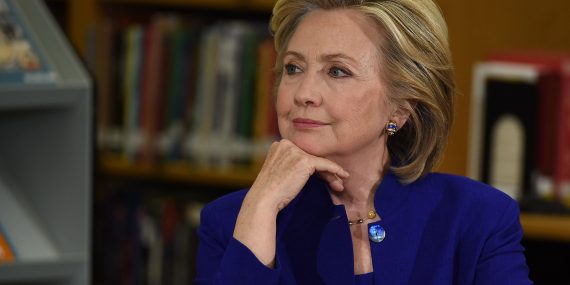 Hillary Clinton, who is in the middle of her second campaign for the Democratic Presidential nomination and has arguably been running for President in some sense of the word since her husband left office, is apparently still unable to articulate why she wants to be President:
At Hillary Clinton's campaign headquarters in Brooklyn, staffers are invited to complete a phrase that is written on a wall: "Hillary for …"

Beside it, staffers have plastered dozens of sticky notes with various words and phrases.

While the wall could be seen as a freewheeling experiment in the manner of a tech startup, it could also be regarded as symptomatic of a nagging problem for Clinton in the 2016 race: namely, the difficulty she has had in explaining why she's running for president.

"The wall of stickies makes me nervous, because she should be for one vision for America and then maybe she achieves that vision with a bunch of policies," said Democratic strategist Jamal Simmons. "I'm probably for most of the things on the stickies, but voters will have a tough time digesting a campaign with about a hundred policies."

David Axelrod, one of the masterminds of President Obama's 2008 victory, has persistently warned that Clinton needs to provide a clear rationale for why she's seeking the White House.

" 'Hillary: Live with it' is no rallying cry!" Axelrod tweeted last month while bemoaning that the Clinton camp was running a "grinding, tactical race."

Last December, Axelrod had warned that Clinton needed to show she was "running for a purpose and not just for a promotion." He has also said, "You have to stand for something, you have to fight for something, and people need to know what that is."

While Clinton loyalists might complain that Axelrod's frequent barbs reflect the bad blood generated during the 2008 race, others in the Democratic Party share his concerns.

"Nothing about the campaign reads as fresh and new, but rather as cautious, risk-averse and private," one Democratic strategist, who spoke on condition of anonymity, said of the Clinton campaign.

Independent observers, too, suggest that the former secretary of State has been slow to offer a summation of her reasons for seeking the presidency, beyond personal ambition.

Doug Muzzio, a professor of public affairs at Baruch College at the City University of New York, said Clinton could end up getting into a tangle similar to the one that famously ensnared Edward Kennedy. Asked in a 1980 TV interview, "Why do you want to be president?" Kennedy gave a vague, meandering answer that was perceived as sapping his momentum.

"She's got to have a really appealing message — two or three bumper stickers that essentially summarize her," Muzzio said, going on to suggest one such slogan.

"I think the bottom line is that she is ready, willing and able — and she could argue that the Republican field is not ready, and they might be willing, but are they able?"

The Clinton campaign did not respond to requests for comment on this story.

Team Hillary's apparent difficulty in boiling her candidacy down to a pithy message is all the more surprising because the same dilemma confronted her during her first run for the White House, in 2008.

While then-Sen. Barack Obama (D-Ill.) kept his campaign organized around the rhetorical anchors of "hope and change," Clinton cycled through messages at a rapid clip.

In January 2008, Politico's Ben Smith listed a number of slogans that had already been used before a single state had voted. Among them were, "Let the Conversation Begin," "Big Challenges, Real Solutions," "Renewing the Promise of America," "Working for Change, Working for You" and "Ready for Change, Ready to Lead."

"It's shocking that, given the 'coronation' criticism Clinton faced since 2007, they haven't developed a better rationale for the candidacy," the anonymous Democratic strategist told The Hill.
Obviously, a slogan in and of itself isn't going to make or break a campaign. In the grand scheme of things, a slogan is little more than an advertising tag. At the same time, though, the fact that Clinton and her army of advisers is seemingly unable to come up with a rationale for her campaign that can be easily summarized for voters is an indication of the criticism that many of have leveled against her campaign since it started in April. According to these critics, some of them Democrats, Clinton has not been able to provide an overall logic for her campaign or even a reason why she wants to be President that doesn't come off sounding like an argument for inevitability or the fact that she's running for President because, well, because she wants to be President. To a large degree, of course, part of this failure on the part of the campaign to articulate a message can be blamed on the fact that it has largely been on the defensive for the past several months. Between the ongoing questions about her use of a private email server, the rise of Bernie Sanders from insurgent candidate to seemingly serious candidate who raises nearly as much money has she does, and the ongoing speculation over Vice-President Biden's Presidential intentions. In this environment, it's been difficult if not impossible for the campaign to focus on a positive message, and the fact that her poll numbers have declined throughout this process has also likely shaped the way the campaign has approached the race. In the end, though, this still leaves Clinton campaign in the same position it was in during the 2008 campaign, with confusion about what her message is and why exactly she wants to be President. \
Clinton's position isn't unique, of course. Other Presidential candidates have also struggled with the issue of how to frame their campaign and how to explain why they want to be President, often to an extent that has been fatal to their campaigns. The most famous example of this, of course, came during  Roger Mudd's interview with Senator Ted Kennedy in November 1979 when Kennedy making the opening moves toward what eventually became his effort to defeat a sitting President for his parties nomination, something that had not happened in American political history for quite some time by then. During the interview, Mudd asked Kennedy why he wanted to be President, and Kennedy gave an answer that was called stammering, repetitive, and devoid of any actual content (you can watch the actual exchange in this video). The interview wasn't fatal in the sense that it ended Kennedy's campaign then and there, but it underscored the problems he would come to face the following year during what was already an uphill nomination fight against an incumbent President. Clinton doesn't have quite the uphill fight that Kennedy did 36 years ago, and she still seems to be the odds-on favorite to win the nomination, but if she can't even come up with something as simple as a theme for her campaign that explains why she wants to be President, she could be headed for trouble.