Joseph Kennedy III Enters Race Against Ed Markey For Senate
A familiar name has entered the race for the Democratic Senate nomination in Massachusetts.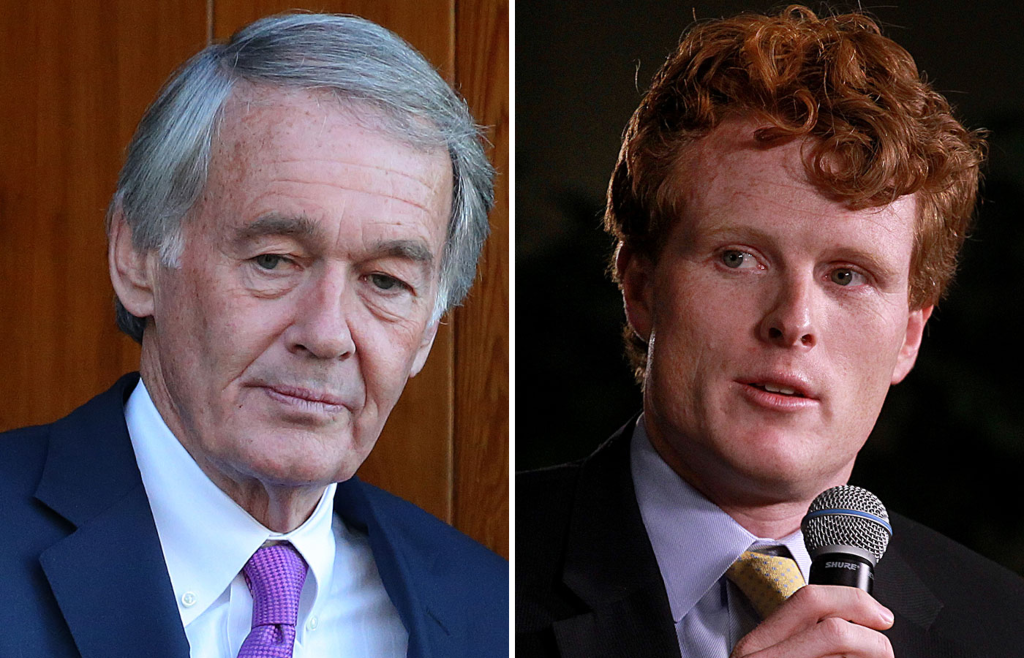 As had been rumored, Congressman Joe Kennedy III has announced his challenge to Senator Ed Markey for the 2020 Democratic nomination for Senate:
BOSTON — Rep. Joe Kennedy, the latest generation of the famous political family to hold office, announced Saturday that he would challenge Sen. Edward J. Markey in Massachusetts's Democratic primary, a bid certain to divide the party in the state and in Washington.

In the basement gym of a community center in East Boston, Kennedy cast his candidacy as part of a long-overdue revolution to change government and issued a rallying cry to those disheartened in the Trump era.

"Donald Trump has forced a reckoning in our nation, without question," Kennedy told the crowd. "But to meet this moment, it requires more than just beating him; it requires taking on a broken structure that allowed him to win in the first place . . . the daily acts of oppression and injustice that enabled 63 million Americans to believe he was the best steward of their dreams and hopes and aspirations."

Ahead of a rally here, Kennedy emailed supporters a video officially declaring his candidacy and mentioned the need for a new generation to take on "outdated structures and old rules," an implicit nod to the decades that separate him and his opponent.

Kennedy, who turns 39 next month, is the grandson of Robert Kennedy, who served as attorney general and was a senator representing New York when he was assassinated in 1968 during his bid for the presidency. He is also the great-nephew of President John F. Kennedy and Sen. Edward M. Kennedy.

Family was a strong theme at Kennedy's announcement, attended by a number of relatives, including his father and twin brother. As he began his announcement, Kennedy's toddler son, dressed in a light blue striped sailor's suit decorated with American flags, tugged on his leg.

Kennedy talked of his desire to defeat Trump and overhaul the Senate's partisan culture. "I'm running for the U.S. Senate to tear that down," he said, receiving cheers from the crowd.

While Kennedy is buoyed by his famous last name, he's also been held up as a rising star in the party, having been picked to deliver the Democrats' official response to President Trump's State of the Union address in 2018.

However, some in Massachusetts and the national Democratic Party see his candidacy as damaging. They argue: Why challenge a successful Democrat with nearly identical policy positions at a time when the real focus needs to be on defeating Republicans? Others say Kennedy is the future of the party and a primary challenge will strengthen, not weaken, whoever goes forward.

Markey, 73, has held the Senate seat since 2013 and served in Congress for 37 years before that. He has the backing of Sen. Elizabeth Warren (D-Mass.), who is seeking the Democratic presidential nomination.

Just ahead of Kennedy's event, Markey challenged him and other candidates in the race to a debate focused on climate change, Markey's marquee issue, the week of Nov. 11.

"I'm the author of the Green New Deal, along with my good friend Congresswoman Alexandria Ocasio-Cortez," said Markey, nodding to his work with the 29-year-old liberal favorite from New York.
More from The Boston Globe:
Joseph P. Kennedy III, descendant of Democratic royalty and four-term congressman, opened his campaign for the Senate Saturday framing his candidacy as an urgent calling to fix the "broken system" that has ignored the problems of many and laid the groundwork for the rise of Donald Trump, seeking to harness discontent coursing through the electorate as he kicks off a high-stakes generational challenge to incumbent Senator Edward J. Markey.

"Donald Trump has forced a reckoning in our nation, without question," Kennedy said, addressing a diverse crowd of more than 200 in a spartan gymnasium of the East Boston Social Centers. "But to meet this moment requires more than just defeating him. It requires taking on, clearly, a broken system, a calcified structure that allowed him to win in the first place."

Kennedy did not name his primary opponent, but implicit in his criticism was that Markey, who has been in Congress longer than Kennedy has been alive, has had his chance to repair the dysfunction of Washington, and failed.

Markey responded to the formidable challenge by calling on Kennedy and his two other primary challengers to agree to a debate in November solely focused on climate change, an issue on which the 73-year-old Malden Democrat has been working for more than a decade. The move was inspired by Markey's experience mingling with the youth climate strike participants Friday on Boston's City Hall Plaza, his campaign said.

"For the next generation, we can't wait," Markey said in a minute-long video released ahead of Kennedy's event, in which Markey highlighted his partnership with progressive icon Alexandria Ocasio-Cortez, the 29-year-old Democratic congresswoman from New York, on the Green New Deal. Ocasio-Cortez has endorsed Markey, and vigorously defended him as a crucial player in the climate change fight, helping muddy the generational change argument Kennedy and his supporters make.

With his famous political pedigree, it's not a straightforward task for Kennedy to pitch himself as a political outsider. Yet aspects of his rollout suggested contrasts he will likely play up over the next year of campaigning.

Kennedy, who served for two years in the Dominican Republic as a Peace Corps volunteer, effortlessly switched from English to Spanish at his announcement and again at his first stop afterward, a tour of Villa Victoria, an affordable housing complex in the South End and a hub of the city's Hispanic community.

Residents and employees at the complex responded warmly to Kennedy addressing them in their native language. Yahaira Objio, resident service program director at Villa Victoria, said she was pleased to hear him speak Spanish and to learn he had lived in the Dominican Republic.

"Maybe he knows more about us, about the need that we have. Maybe he's a strong candidate for us," she said.

(…)

Kennedy came out of the gate with endorsements from two big labor unions: the Charlestown-based Teamsters Local 25, which has 12,500 members, and IBEW Local 103, which has about 10,000 members and was an early backer of Representative Ayanna Pressley of Boston, who last year toppled a longtime incumbent.

"This is about doing what's best for working people," said IBEW Local 103 business manager Lou Antonellis. "Yes, that means being strategic about the long-term and putting leaders and advocates into the US Senate like Joe Kennedy III who will be able to fight for workers' rights, not just for the current generation but also for the next."

Markey's campaign will counteract any charges that the senator hasn't done enough to fix Washington by emphasizing his long record of leading on various policy fights, winning successes big and small, said John E. Walsh, Markey's top adviser.

"Washington has got to get a lot more like Ed Markey. . . . He's in there every day trying to fix it," said Walsh. "If this is going to be a debate about who can make Washington work better this is going to be a fun election for me."

Markey also has signaled he will seek to emphasize his humble blue-collar roots, which stand in contrast to his opponent's privileged background. Kennedy's entrance to the race has sparked anger among some rank-and-file Markey supporters who see Kennedy's challenge as motivated by a sense of entitlement.
As noted, the announcement by Congressman Kennedy does not come as a surprise as it has been rumored for the better part of a year that the younger Kennedy, whose Grand Uncles John F. Kennedy and Edward M. Kenned both represented Massachusetts in the Senate in the past, was interested in mounting a challenge against the much older Markey who is likely running for what would be his last term in Congress. Additionally, the younger Kennedy has long been held out as the member of his generation of the Kennedy clan most likely to return the family to the dominance of state politics it once enjoyed before Ted Kennedy passed away nearly ten years ago now.
Additionally, while Markey has been a Congressman or Senator from the Bay State longer than Kennedy has been alive he has not stood out in the manner that other politicians have. It is perhaps for this reason that a poll conducted prior to Labor Day showed him trailing the younger Kennedy:
Buoyed by youth and a dynastic name, Representative Joseph P. Kennedy III would hold an immediate edge over Senator Edward J. Markey should the 38-year-old congressman launch a primary challenge to the seasoned incumbent, according to a new Suffolk University/Boston Globe poll.

Kennedy would lead a five-person field by 9 percentage points, 35 percent to Markey's 26 percent, according to a survey of likely 2020 Democratic primary voters conducted by the Suffolk University Political Research Center.

And in a head-to-head matchup, Kennedy's advantage would grow even larger: 14 percentage points — 42 percent to 28 percent. He would best Markey in every age group and across wide geographic swaths of the state.

One of the poll respondents, Erin Callahan, 32, said she likes Markey and views him similarly to Kennedy politically. But she said she was moved by Kennedy's nationally televised response to the State of the Union last year, especially his theme of rejecting false choices.

"I remember watching the speech and thinking, 'Wow, that's what I wanted to hear,' " said Callahan, a Holyoke real estate agent who grew up on Martha's Vineyard. "I just like him as a politician. I think if he was named something else, I would still like him."

Still, the survey found that Kennedy's lead is, in part, owed to his famous surname, and also to the belief that he will be a better adversary to President Trump, and the desire of some voters to install a fresh, younger voice in place of the 73-year-old Markey, who has served on Capitol Hill since 1976.

"To me, it flips on its head the normal incumbent-versus-challenger axiom," said poll director David Paleologos, noting it's usually the challenger who opens trailing in the polls and must persuade undecided voters about why he or she is the better choice.

"Here, you have the opposite," he said. "If you're Ed Markey, you have to present a compelling reason to be returned to the Senate."
While it appears that there will be several candidates in the race for the Democratic nomination, it's like that this race will come down to a head-to-head race between Kennedy and Markey. To that extent, while this most recent poll was taken months ahead of the primary on March 3rd, the head-to-head matchup has to be the most concerning to the Markey campaign. It's also worth noting that, going back to future President Kennedy's first bid for Congress in 1946, no Kennedy has lost a primary or General Election in Massachusetts, a testament to both the power of the family name and the fact that the Kennedys know how to win elections.
Joseph P. Kennedy III has been in Congress since first being elected to succeed former Congressman Barney Frank in 2014 and represents a Congressional District that stretches from just outside Boston to the area to the west of Cape Cod. He is currently the only member of the Kennedy family holding public office since his cousin, Patrick Kennedy, declined to run for re-election to the House from Rhode Island back in 2001 and his father, Joseph P. Kennedy II, the son of former New York Senator and Attorney General Robert F. Kennedy, had retired from Congress in 1998. Prior to that, the younger Kennedy had graduated from Stanford University and received his law degree from Harvard University before entering private legal practice in advance of running for Congress. After winning the seat in 2012, Kennedy has been easily re-elected in each of his re-election bids in 2014, 2016, and 2018.
Obviously, whoever wins the Democratic nomination in March will win the election in November 2020. The question is whether Markey will continue to hold the seat or whether voters will decide to go with a new generation and, perhaps, the return of the Kennedy dynasty.