Trump Praises 'Very Good People' at Nazi Rally
The president's begrudging condemnation of evil didn't last long.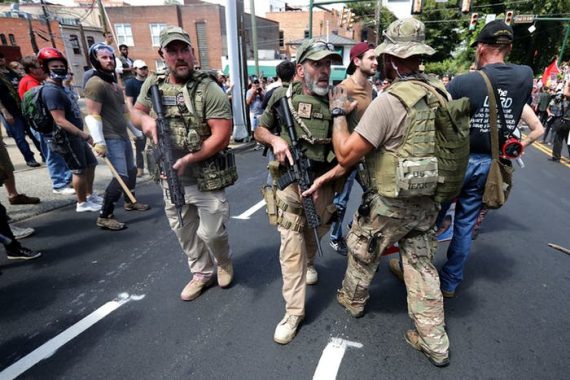 President Trump's initial instinct after this weekend's violence in Charlottesville was to blame "both sides." After two days of public outcry, he finally put out a message Monday condemning Nazis and the Ku Klux Klan. Tuesday, he was back to moral equivalence.
Glenn Thrush and Maggie Haberman for the NYT ("Trump Gives White Supremacists an Unequivocal Boost"):
President Trump buoyed the white nationalist movement on Tuesday as no president has done in generations — equating activists protesting racism with the neo-Nazis and white supremacists who rampaged in Charlottesville, Va., over the weekend.

Never has he gone as far in defending their actions as he did during a wild, street-corner shouting match of a news conference in the gilded lobby of Trump Tower, angrily asserting that so-called alt-left activists were just as responsible for the bloody confrontation as marchers brandishing swastikas, Confederate battle flags, anti-Semitic banners and "Trump/Pence" signs.

"Thank you President Trump for your honesty & courage to tell the truth," David Duke, a former Ku Klux Klan leader, wrote in a Twitter post shortly after Mr. Trump spoke.

Richard B. Spencer, a white nationalist leader who participated in the weekend's demonstrations and vowed to flood Charlottesville with similar protests in the coming weeks, was equally encouraged. "Trump's statement was fair and down to earth," Mr. Spencer tweeted.

[…]

No word in the Trump lexicon is as tread-worn as "unprecedented." But members of the president's staff, stunned and disheartened, said they never expected to hear such a voluble articulation of opinions that the president had long expressed in private. The National Economic Council chairman, Gary D. Cohn, and the Treasury secretary, Steven Mnuchin, who are Jewish, stood by uncomfortably as the president exacerbated a controversy that has once again engulfed a White House in disarray.

"I've condemned neo-Nazis," Mr. Trump told reporters, who interrupted him repeatedly when he seemed to equate the actions of protesters on each side.

He spoke of "very fine people on both sides." And of the demonstrators who rallied on Friday night, some chanting racist and anti-Semitic slogans, he said, "You had a lot of people in that group that were there to innocently protest and very legally protest."

Since the 1960s, Republican politicians have made muscular appeals to white voters, especially those in the South, on broad cultural grounds. But as a rule, they have taken a hard line on the party's racist, nativist and anti-Semitic fringe. Presidents Ronald Reagan, George Bush and George W. Bush roundly condemned white supremacists.

In 1991, President George Bush took on Mr. Duke, who was then seeking the governor's seat in Louisiana, saying, "When someone has so recently endorsed Nazism, it is inconceivable that someone can reasonably aspire to a leadership role in a free society."

But Mr. Trump, who has repeatedly said he is not prejudiced, has been equivocal in his public or private statements against white nationalists and other racist organizations.

[…]

By Tuesday afternoon, Mr. Trump's staff sensed the culmination of a familiar cycle: The president was about to revert to his initial, more defiant stance. As Mr. Trump approached the microphone in the lobby of Trump Tower on Tuesday, aides winced at the prospect of an unmediated president. With good reason.

"Alt-left" groups were also "very, very violent," Mr. Trump said early in his exchange with reporters.

He went on to assign "blame on both sides" — echoing his comments on Saturday, and reigniting a fight that has sunk staff morale after a brief bump in enthusiasm that followed the hiring of Mr. Kelly, who was to impose discipline on a chaotic West Wing.
The WaPo editorial board ("The nation can only weep"):
TUESDAY WAS a great day for David Duke and racists everywhere. The president of the United States all but declared that he has their backs.

When a white supremacist stands accused of running his car into a crowd of protesters, killing one and injuring 19, Americans of goodwill mourn and demand justice. When this is done in the context of a rally where swastikas are borne and racist and anti-Semitic epithets hurled, the only morally justifiable reaction is disgust. When the nation's leader does not understand this, the nation can only weep.

On Saturday, after the murder of an innocent protester in Charlottesville followed marches that included armed men and Nazi salutes, President Trump's instinct was to blame both sides. Widespread criticism followed, including the resignations of business leaders from a White House advisory council and condemnation from political leaders of both parties. On Monday, Mr. Trump read a prepared statement condemning white supremacists and racism, delivering it in a manner suggesting he neither wrote nor endorsed the words. On Tuesday, he removed any doubt: His initial reaction, putting Nazis and those protesting them on equal moral footing, is how he really feels.

"I think there's blame on both sides. You look at — you look at both sides," Mr. Trump said to reporters in Trump Tower, adding that there were "very fine people, on both sides." We've all seen the videotape: One side was composed of Nazis, Klansmen and other avowed racists chanting "Jews will not replace us." The other side was objecting to their racism.

Yes, there are good and moral Americans who oppose the removal of statues of Confederate generals. Yes, there are reasonable Americans who fear that slaveholding Founding Fathers will be the next target. Notwithstanding Mr. Trump's comments Tuesday, we don't find it difficult to distinguish between a monument to George Washington, say, and statues to Confederate generals that were erected in the 20th century with the goal of maintaining white supremacy.

There may be a time to debate such questions — but not, as any national leader with a sense of decency would understand, now. Not in a time of mourning, with the wounds so fresh. Not when Mr. Trump has not even bothered to call the family of Heather Heyer, the young woman mowed down on Saturday. Not when Americans are looking for a clear and unequivocal condemnation of the hatred that brought those 700 marchers to Charlottesville.

That car in Charlottesville did not kill or wound just the 20 bodies it struck. It damaged the nation. Mr. Trump not only failed to help the country heal; he made the wound wider and deeper.
The real-time reaction of those watching, even on Fox News, was stunned disbelief.
"What I just saw gave me the wrong kind of chills," a visibly stunned Chuck Todd said on MSNBC. "Honestly, I'm a bit shaken by what I just heard."

Unable to disguise her disgust, the Fox News host Kat Timpf said: "I'm still in the phase where I'm wondering if it was actually real life. I have too much eye makeup on to start crying right now."

Fox News host @KatTimpf absolutely goes off on Trump's "disgusting" presser: "I'm wondering if it's actually real life what I just watched." pic.twitter.com/BS0xFwxk3o

— Andrew Kirell (@AndrewKirell) Aug. 15, 2017

And on CNN, as the network cut away from President Trump's extraordinary 23-minute news conference at Trump Tower, the anchor Jake Tapper could not contain his astonishment.

"Wow," he said. "That was something else."

For a few visceral minutes on Tuesday, television's partisan lines dissolved as dumbfounded anchors reacted on-air — some in clearly personal ways — to Mr. Trump's fiery remarks, in which he seemed to cast equal blame on white supremacists and the demonstrators who marched against them during the weekend's deadly clash in Charlottesville, Va.

On Fox News, normally a redoubt of Trump support, the 5 p.m. co-hosts of "The Specialists" shook their heads, with the anchor Guy Benson saying that Mr. Trump "lost me" when he insisted that some "very fine people" participated in the white supremacist rally.
"They were chanting things like, 'Jews will not replace us,'" Mr. Benson said. "There's nothing good about that."

His co-host, Ms. Timpf, a libertarian pundit who contributes to National Review Online, exhaled deeply. "It was one of the biggest messes that I've ever seen," she said. "I can't believe it happened."

Disbelief also dominated the early reaction on MSNBC and CNN, where Mr. Tapper ended his afternoon show by directly addressing viewers.

"To anybody out there watching today who is confused and thinks, 'I thought that the Klan and neo-Nazis and white supremacists, I thought there was no debate about this thing among civilized people' — there isn't a debate about it," he said.
National Review's David French agreed:
Let's be very clear about what just happened at Donald Trump's press conference. He gave the alt-right its greatest national media moment ever. He even called some of them "very fine people."

[…]

To understand the significance of Trump's words, you have to understand a bit about the alt-right. While its members certainly march with Nazis and make common cause with neo-Confederates, it views itself as something different. They're the "intellectual" adherents to white identity politics. They believe their movement is substantially different and more serious than the Klansmen of days past. When Trump carves them away from the Nazis and distinguishes them from the neo-Confederates, he's doing exactly what they want. He's making them respectable. He's making them different.

But "very fine people" don't march with tiki torches chanting "blood and soil" or "Jews will not replace us." The Charlottesville rally was a specific "unite the right" rally that sought to bind the alt-right together with all these other groups. The alt-right wants it both ways. They want the strength in numbers of the larger fascist right while also enjoying the credibility granted them by Breitbart, Steve Bannon, Milo, and — today — the president of the United States.

The most pernicious forms of evil always mix truth and lies. So, yes, there were kernels of truth in some of Trump's statements. No question there were hateful, violent leftists in Charlottesville this weekend. And on the question of monuments, Trump is right to point out the lack of a limiting principle. We already know that some on the Left have their eyes set on demolishing or removing monuments and memorials that have nothing to do with the Confederacy, but all that pales in importance compared to his stubborn and angry attempts not just at moral equivalence (after all, no one on the Left committed murder this weekend) but at actually whitewashing evil.
Alas, at least one conservative commentator thought otherwise:
Charles Krauthammer and Laura Ingraham exchanged opposing views over President Trump's Q&A about the violence in Charlottesville, Va.

Ingraham said Trump would have been better served Tuesday to continue talking about infrastructure and not allow the press to "trap" him into talking about the unrest.

"To critique what he did today on the grounds that it distracts from the agenda… is a cop out," Krauthammer said of Ingraham's position.

"What Trump did today was a moral disgrace," Krauthammer said. "He reverted back to Saturday."
One hopes that most Republican leaders will take the position of Krauthammer and French, not Ingraham. I fear otherwise.
UPDATE (08:43): Thus far, the Krauthammers seem to be winning:
— Republican House Speaker Paul Ryan: "We must be clear. White supremacy is repulsive. This bigotry is counter to all this country stands for. There can be no moral ambiguity."

— Republican Sen. John McCain of Arizona: "There's no moral equivalency between racists & Americans standing up to defy hate & bigotry. The President of the United States should say so."

— Republican Rep. Ileana Ros-Lehtinen of Florida: "Blaming 'both sides' for #Charlottesville?! No. Back to relativism when dealing with KKK, Nazi sympathizers, white supremacists? Just no."

— Republican Sen. Rob Portman of Ohio: "We must speak out clearly against the hatred, racism and white supremacists who descended upon #Charlottesville."

— Republican Sen. Jerry Moran of Kansas: "White supremacy, bigotry & racism have absolutely no place in our society & no one – especially POTUS – should ever tolerate it."
Siding against the KKK and Nazis should be easy here. We'll see if it goes beyond simply issuing one-off statements.